Fantasy Football 2012: Ranking the Top 50 Running Backs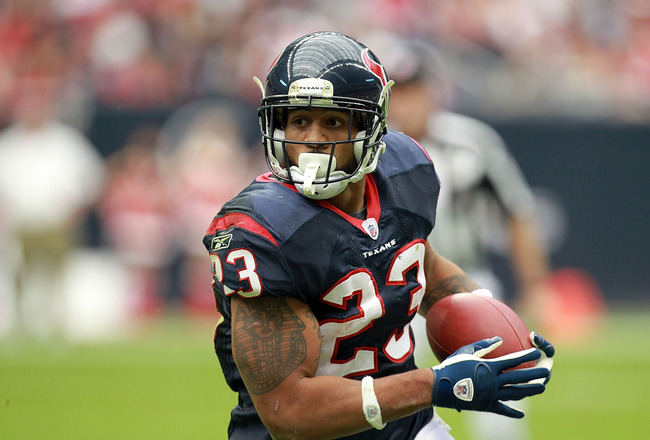 Ronald Martinez/Getty Images
The NFL season is right around the corner, which means that you should be getting your fantasy teams in order by now. The season begins in a little over a month, so there is little time to waste between now and then.
As you begin to do your homework for your upcoming draft, the running back position is arguably the most important to your football team. These players put up ridiculous numbers and can really lead you to a fantasy championship if you have a solid combination of a 1-2 punch. Getting at least three really good running backs for your roster is critical to fantasy success.
The good news is that there are many running backs to choose from in 2012, and some that may surprise you with a great season.
Here are the top 50 running backs for the 2012 fantasy season and your upcoming fantasy draft.
Nos. 50-40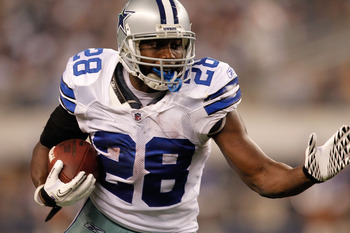 Tom Pennington/Getty Images
50. Joe McKnight, New York Jets
Joe McKnight has only 82 combined career rushing attempts in his first two seasons but could be in for his biggest season yet. With LaDainian Tomlinson no longer around and Tony Sparano as the new offensive coordinator, things are looking up for McKnight.
The Jets, of course, love to run the football, and the third-year runner will likely enter the season as the No. 2 back on this New York roster.
49. Kendall Hunter, San Francisco
Hunter isn't the biggest back in the world at 5'7", 200 pounds, but he is extremely quick and showed his value in his first season. Despite starting only one game, he finished the year with 473 rushing yards and caught 16 passes.
With Frank Gore's best days behind him, Hunter is a back who should see more carries in 2012 and could be worth a start or two on your fantasy team.
48. Taiwan Jones, Oakland
Taiwan Jones is one of the fastest players in the league, who will see an expanded role in his second year. He only touched the ball 16 times last year but has big-play ability and could eventually become the starter with Darren McFadden's lengthy injury history.
47. Ben Tate, Houston
Ben Tate has quickly proven to be one of the better backup running backs in the league. With only two starts under his belt in 2011, he managed to rack up 942 rushing yards and two touchdowns. Tate is a player you will like to have, especially with the injury issues surrounding Arian Foster.
46. Ryan Williams, Arizona
Williams missed his entire rookie season due to an ACL tear but should be ready by the time season begins in 2012. With the lack of depth at the running back position in Arizona, he should get plenty of opportunities to succeed. Don't expect huge numbers out of the gate, but Williams is a talented back that could earn some starts on your fantasy roster.

45. Isaiah Pead, St. Louis
Isaiah Pead was a second-round pick in last year's draft and should be the No. 2 runner behind Steven Jackson, a back who is getting up there in age and could breakdown at any moment. Pead is an elusive runner who has great hands, hauling in a combined 65 passes during his last two years at Cincinnati.
44. Daniel Thomas, Miami
Thomas has everything you look for in a running back—great size, instincts and power running—but he didn't produce much last year. Now, with the emergence of Reggie Bush, many wonder how much Thomas will be used this year. He only scored one touchdown all of last year, but he is worth a look in the later rounds. He has great potential.

43. Pierre Thomas, New Orleans
Thomas has not had a 100-yard rushing game since 2009, but he is a back who can be a solid No. 4 option. He plays in an electric offense, has averaged five yards a touch throughout his career and scored a touchdown in six games last year. Nothing special, but you can do a lot worse this late in the draft.
42. Evan Royster, Washington
If you know head coach Mike Shanahan, you know that he isn't consistent with his running backs. He will play whoever is hot, and there weren't many backs who finished the year as hot as Royster. He started the last two games of the season in 2011 and rushed for over 100 yards in both games. Expect him to split carries with Roy Helu.
41. Felix Jones, Dallas
Jones has a shaky injury history but does have big-play ability that makes him a decent option to plug in during those bye weeks. He will once again be the change-of-pace player in Dallas, but he also brings value to PPR leagues, hauling in 33 receptions in a limited role. I expect more playing time and increased numbers in 2012.
40. Donald Brown, Indianapolis
With a rookie quarterback in Andrew Luck, a productive running game can become his new best friend. That's where Brown steps in; as he is beginning to show that he can be a reliable player. He scored four touchdowns on 18 red-zone carries last season and averaged nearly five yards per touch.

Nos. 39-29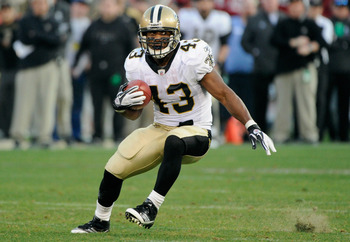 Thearon W. Henderson/Getty Images
39. Mikel Leshoure, Detroit
Mikel Leshoure missed all of the 2011 season due to injury but will still likely be the No. 1 back for the Lions in 2012. Picking up a starting running back in an offense as explosive as Detroit's, you really can't get much more value than that.
38. Michael Bush, Chicago
Bush finally showed some of his potential last season, racking up nearly 1,400 total yards and scoring eight touchdowns. Now Matt Forte will remain the man in Chicago, but Bush has shown enough explosiveness to where he will get his fair share of touches and help create one of the best 1-2 punches in the league.
37. Mark Ingram, New Orleans
Ingram only started four games and missed six games due to injury but still led the Saints with 122 rushing attempts. While his rookie season did not go as expected, it is clear that New Orleans wants him to be a big part of this offense. There is nowhere to go but up from here.
36. Stevan Ridley, New England
Ridley was a rookie last season who showed great potential, rushing for over 400 yards on only 87 carries. Now with BenJarvus Green-Ellis no longer around, Ridley looks to become the No. 1 option for New England.
35. James Starks, Green Bay
Only six teams rushed the ball fewer times than the Packers last season (395 total rushing attempts). While that does take away value from Starks, he will have a bigger role in 2012, especially with Ryan Grant no longer around. Starks led the Packers in rushing last year and has value in PPR leagues, hauling in 29 receptions in a limited role.
34. LeGarrette Blount, Tampa Bay
Not sure how much consistent playing time Blount well receive with Doug Martin now in the picture, but at the very least, he will be a big factor in goal line touches. He is capable of breaking off highlight-reel runs and should be looked at as a reliable backup running back on your fantasy team.
33. Jonathan Stewart, Carolina
Jonathan Stewart or DeAngelo Williams—it's really a toss-up, as they both will likely get similar amount of touches. Stewart really had his best season of his career last season, averaging over five yards a touch and scoring five touchdowns. He should be viewed as a valuable No. 3 back.
32. David Wilson, New York Giants
Wilson is only a rookie, but he should see a lot of playing time early on for the Giants. He was a first-round pick in the 2012 NFL draft, which obviously means New York thinks very highly of the young man. He will be a nice change-of-pace back who has great home-run ability.
31. Reggie Bush, Miami
Is Reggie Bush a true starting running back who can carry the load for an entire season? He had no problem doing so last season, rushing for over 1,000 yards for the first time ever and scoring seven touchdowns. There isn't much depth in Miami at the position, so you should expect another season of 200-plus carries.
30. Darren Sproles, New Orleans
Sproles was a player that had usually gone undrafted in years past, but he has found the ideal situation in New Orleans. He finished the 2011 season with over 1,300 total yards, scored nine touchdowns and caught 86 passes at the running back position. If that's not value for a No. 3 back, I don't know what is.
29. Beanie Wells, Arizona
Wells had the best season of his career last year, rushing for over 1,000 yards and scoring 10 touchdowns. With Ryan Williams coming back from injury, he will likely have to split carries, but it appears that Wells has finally figured things out and should have another productive season.

Nos. 28-20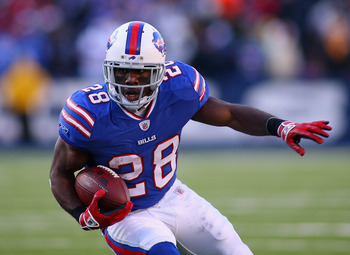 Rick Stewart/Getty Images
28. Peyton Hillis, Kansas City
Hillis may be a one-year wonder, but he will have plenty of chances on his new team. The Chiefs simply don't have a big back other than Hillis, so you can expect him to receive majority of the goal-line touches. He should also be a valuable receiver, as he has hauled in a combined 83 passes the last two years.
27. DeAngelo Williams, Carolina
Williams should have fresh legs after the lack of carries he has had over the last two seasons. Many owners may shy away from his lack of production, but this is still the guy who the Panthers signed to a $43 million contract—he will see a lot of playing time.
Williams has averaged over five yards a carry throughout his career, and should finally get back on track in 2012.
26. Toby Gerhart, Minnesota
Gerhart is a solid fantasy option, especially with the questions surrounding Adrian Peterson. In only five games as a starter last season, he racked up over 700 total yards and scored four touchdowns. He really impressed in limited playing time, so healthy or not, Gerhart should have increased production.
25. Roy Helu, Washington
Helu averaged over four yards a carry last year and also caught 49 passes in his rookie season. He showed several glimpses as to why he has a bright future at the running back position. With a more stable quarterback for Washington, Helu should have an even better second year for the Redskins.
24. Jamaal Charles, Kansas City
Charles will always have durability concerns, coming off a torn ACL last season, but he has said he will be cleared by the time the season begins.
He has rushed for over 1,000 yards twice in his first four seasons and is without question the best offensive weapon Kansas City has. If you can get Charles in the third or fourth round, you got the steal of the draft.
23. BenJarvus Green-Ellis, Cincinnati
Green-Ellis will finally get the opportunity to be a full-time starter in Cincinnati. He never got consistent touches in New England but still scored 24 touchdowns in the last two seasons combined. He has also never fumbled in his four-year career.
22. C.J. Spiller, Buffalo
I really like Spiller heading into the 2012 season. He is entering his third season and coming off a very productive 2011 season.
With Fred Jackson injury prone and getting older, Spiller should get plenty of touches. He finished last year with over 800 total yards and six touchdowns in limited playing time. He is an explosive player whom you could possibly get for cheap.
21. Ahmad Bradshaw, New York Giants
Bradshaw missed four games and still led the Giants in rushing attempts and finished the year with 11 total touchdowns. Now with Brandon Jacobs out of the picture, Bradshaw should continue to get a heavy dose of carries and help provide a balance to this Giants' offense.

20. Shonn Greene, New York Jets
Greene didn't quite pan out in 2011, despite rushing for 1,000 yards. The good news is that the Jets have Tony Sparano calling the shots as offensive coordinator, and he likes to have a power running game. Look for Greene to be used more often and have a better season in 2012.

Nos. 19-11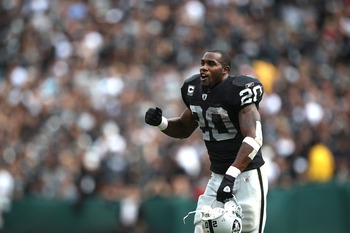 Jed Jacobsohn/Getty Images
19. DeMarco Murray, Dallas
Murray, in his first season, was well on his way to a 1,000-yard year before suffering an ankle injury that cut his season short. He has great talent and should continue to thrive in a loaded Dallas offense.
18. Isaac Redman, Pittsburgh
It doesn't look like Rashard Mendenhall is coming back anytime soon from last season's injury, so Redman will be the starter until further notice. He only has two career starts, but he did rush for over 100 yards in the playoff game against Denver last season. Running behind one of the better offensive lines, Redman should fill in nicely.
17. Willis McGahee, Denver
At the age of 30, McGahee was drinking from the fountain of youth last year, rushing for over 1,200 yards and scoring five touchdowns. He showed that he can continue to be a productive runner, and with Peyton Manning now leading the way, he should get plenty more touchdown opportunities.
16. Fred Jackson, Buffalo
You already know how I feel about C.J. Spiller, but Jackson will remain the man in Buffalo for now. He hasn't quite had that breakout fantasy season but is a playmaker, who had six 100-yard rushing games before suffering a season ending injury last season.
Jackson will have to share carries in 2012, but it would be a steal to pick him up in the third round or so.

15. Steven Jackson, St. Louis
Jackson is without question past his prime, but still became just the seventh back in NFL history to rush for at least 1,000 yards in seven straight seasons. He is the workhorse for the Rams' offense and has shown no problem in carrying the rock 300-plus times a season.

14. Marshawn Lynch, Seattle
Lynch had the best year of his career last season, rushing for over 1,200 yards and scoring 13 touchdowns. While he may not be that good again, Lynch has shown to be a productive runner when he actually gets the football. I expect another great season from the 26-year-old back.

13. Doug Martin, Tampa Bay
I'm not very high on rookies, but Doug Martin fits what Tampa Bay is trying to do with its power running game. Martin should get a ton of carries early on and has the playmaking ability to provide a much needed spark to this Buccaneers' offense. Not sure how many goal-line carries he will get, but the rookie should be very productive in 2012.

12. Frank Gore, San Francisco
Gore looked sluggish last season and it doesn't help that the 49ers have a promising back in Kendall Hunter. Still, Gore is the top running back on the team and will continue to get fed the rock quite a bit. If you don't have to reach, this would be a nice pickup, as he has rushed for more than 1,000 yards in five of the last six seasons.
11. Darren McFadden, Oakland
The injury history is the only reason he is outside the top 10. Still, the upside is too high to pass up, as this guy has the ability to put up monster numbers. Has yet to finish a complete season in his four-year career, but really, how many times can he continue to get hurt? I'll roll the dice.

Nos. 10-1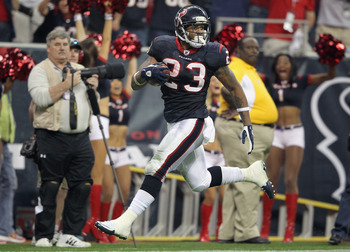 Jamie Squire/Getty Images
10. Michael Turner, Atlanta
I am concerned about the amount of carries Turner has had over the years, but he has remained healthy for the most part and is almost a lock to give you 1,000 rushing yards and double-digit touchdowns. It doesn't get much more consistent than Turner, who should be even better with more offensive weapons around him.

9. Adrian Peterson, Minnesota
I know he is coming off a major injury, but I just can't put AP out of the top 10. He is rehabbing well and appears on track to be ready for when the season begins. We all know what Peterson is capable of when healthy, and I'll take the risk in round two or three if he falls to me.
8. Ryan Matthews, San Diego
Matthews has No. 1-type running back talent but hasn't quite showed us that yet. He's heading into his third season, and you can expect him to really break out and give fantasy owners valuable production. Despite missing a couple of games and sharing carries last season, he still cleared 1,000 yards and scored six touchdowns.

7. Chris Johnson, Tennessee
I am not sure we will ever see the Johnson we saw in 2009, but I know we will see a better player than we saw in 2011.
Johnson is still one of the fastest players in the league and can break one at any given moment. Expect 1,000 rushing yards and many more touchdowns than we saw last year. He is worth the risk in late round two, or late round three.
6. Maurice Jones-Drew, Jacksonville
MJD is coming off of an injury and isn't quite happy with his team at the moment. Still, he has been one of the more consistent players in the league and is coming off his best season of his career, in which he led league in rushing with 1,606 yards. He will remain the workhorse for this offense.
5. Trent Richardson, Cleveland
Can you name another playmaker on the Cleveland Browns' offense? Richardson is a back who can contribute right away. He has a ridiculous combination of speed and power and will get plenty of opportunities to put up huge numbers. I normally shy away from rookies early on, but Richardson is the real deal at running back.
4. Matt Forte, Chicago
Matt Forte finally got his money, which will make him a happy man heading into the 2012 season. He is the Chicago offense and can help you in more ways than one. Not only will he clear 1,000 rushing yards and score double-digit touchdowns, he has also topped 50 receptions in every season of his career.
3. Ray Rice, Baltimore
Rice has without question been one of the more consistent players in the NFL. He has cleared 1,000 rushing yards the last three seasons and had his best touchdown production last season. Heading into his fifth year, Rice is one of the few backs you can count on 100 percent to deliver in 2012.
2. LeSean McCoy, Philadelphia
McCoy is a young running back who likely hasn't even hit his peak yet, which is scary for somebody who rushed for over 1,300 yards and scored 20 touchdowns. Playing on a stacked offense, McCoy should get plenty of opportunities in 2012.
1. Arian Foster, Houston
Despite missing a few games, he still rushed for over 1,200 yards and scored 12 touchdowns. He is the best running back in the NFL and should seriously be considered the No. 1 overall pick.

Keep Reading