Fantasy Football Rankings 2012: Top NFL Rookies You'll Want to Draft This Year
July 3, 2012

Jason Miller/Getty Images
Taking rookies and expecting big things for them in your fantasy football season is always a risky endeavor.
Sometimes it pays off, like it did last year if you nabbed Cam Newton or A.J. Green. Other times it blows up in your face, like it did last year if you nabbed Mark Ingram.
While it's always hard to project which rookies will hit the ground running, I've found three guys whom you should be targeting for next season. Two of them should give you solid numbers and be legitimate starters.
And the other has huge upside and should be taken as a backup with potential, namely in keeper leagues.
Fantasy football is right around the corner. Let the projecting begin.
Trent Richardson, Cleveland Browns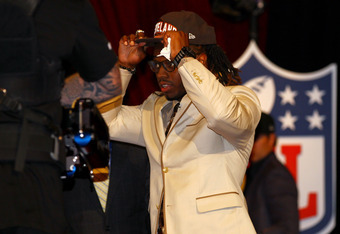 Al Bello/Getty Images
Richardson will be worth a second-round pick, mark my words.
Unlike last year's rookie running backs, whose general lack of production might have scared you away, Richardson isn't your run-of-the-mill rookie.
If you want a barometer for the type of season he should have, I suggest looking no further than the marks Adrian Peterson offered his rookie year.
In 2007, Peterson rushed for 1,341 yards and 13 total touchdowns, marking his arrival to the NFL in a big way. While I don't think Richardson will eclipse 10 rushing touchdowns, I do think he'll get you over 1,000 yards rushing and 400 yards receiving as the focal point of Cleveland's offense.
Richardson has the ability to be a top-10 fantasy back in his rookie year. While that might be too much to expect, using a second-round pick to land him will probably be necessary.
And worthwhile.
Michael Floyd, Arizona Cardinals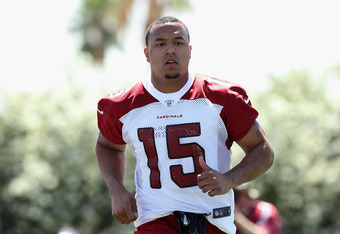 Christian Petersen/Getty Images
There isn't another rookie wide receiver as safe a fantasy option as Floyd. I would avoid Justin Blackmon like the plague, and most of the other rookie wideouts have question marks.
There isn't an A.J. Green to be had in this draft class.
But opposite Larry Fitzgerald—sure to attract double teams on a regular basis—Michael Floyd should be able to put up similar numbers to Julio Jones, who was the 19th-ranked receiver in standard-scoring leagues last season, after hauling in 54 receptions for 959 yards and eight touchdowns alongside Roddy White.
I wouldn't overpay for Floyd—if you're taking him before the seventh or eighth round, I think you're nuts—but as rookie wide receivers go, he's your safest bet.
Robert Griffin III, Washington Redskins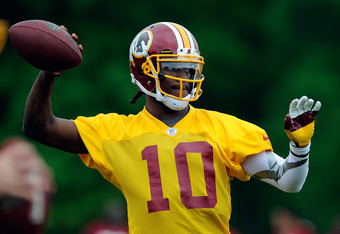 Patrick McDermott/Getty Images
Anything Cam Newton can do, RGIII can do...differently.
Comparing Griffin to Newton will probably be common this summer. Both were drafted high, were assured starting spots immediately and are mobile, talented quarterbacks.
But whereas Newton earned the majority of his value as a runner (706 yards, 14 rushing touchdowns) Griffin will surprise as an efficient passer in Washington next season. Like Newton, he'll rely on his legs early in his career to escape pressure, but I don't think he'll base his game on his ability to run.
Rather, look for him to finish right around 4,000 yards passing (like Newton), throw about 20 touchdown passes (like Newton) and turn the ball over fewer than 22 times (yup, you guessed it—that's how many turnovers Newton had). Griffin is a great fit in Mike Shanahan's system and has players like Pierre Garcon, Fred Davis and Josh Morgan to ease his transition.
Don't draft him to be your starter, but he could hold a lot of value as a backup or spot starter. If you're in a keeper league, his value goes up. If you are going to go with a rookie quarterback next season, avoid Andrew Luck; RGIII will have the easier transition.
And if he surprises us all, he could be the next Cam Newton. Even if he puts up big fantasy numbers in a different way.
Hit me up on Twitter—my tweets want Dwight Howard to just get traded already, too.