NFC North: Pro Football Focus Drops the Knowledge on Receiver Drops
July 2, 2012
Marc Serota/Getty Images
I always love a good number crunch and Pro Football Focus (along with Football Outsiders) crunches numbers in fine fashion.
This week they have a piece on drop rates for wide receivers over the last three years so I thought I'd spin it from a NFC North standpoint and see which NFC North players appeared on it, how they did and what it means going forward.
Pro Football Focus writer Khaled Elsayed states that:
For the purposes of this study, wide receivers need to have seen at least 125 catchable balls come there way during the three-year span. That bar for inclusion left us with 61 receivers to consider.
Now before we get into the swamp here, a few things to keep in mind. There is a difference between a target and a catchable ball. A target could be in the general vicinity of a player. It could be thrown away, miles over a players' head and still be a target.
A catchable ball is, as the article states, simply a ball which is either caught or dropped. I would add, again, that it's fairly easy to see whether a ball is a reasonably able to be caught or not.
So you will see in this article—as well as the source piece at PFF—that the amount of targets versus the amount of catchable balls are different.
The piece also doesn't break down year to year—in other words a player might have a horrendous year, followed by two great years but the overall stat for three years appears flat and show no improvement (or degradation of skills either for that matter).
Also let's keep in mind that there are even varying degrees of quality in catchable balls that are not accounted for.
Finally, catching the ball is only a portion of a receivers' job so even a guy who drops a lot of balls can be a great receiver.
The NFC North has several players in the PFF article.
Unsurprisingly to many, Brandon Marshall has the most drops on the list with 35—though that's only three drops ahead of the New England Patriots' Wes Welker.
That's right—Marshall is only a few drops ahead of one of the most reliable pair of hands in the league, especially last year.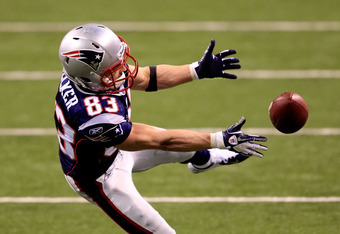 Chris Trotman/Getty Images
This highlights one of the 'rules to remember' we just talked about—Welker was the most reliable player on the planet in 2011 (save for one tremendously critical drop) but it appears as though he is right on par with the much more inconsistent Marshall.
Speaking of Marshall, I also believe that his drops highlight the problem that a lack of differentiating the quality of 'catchable balls' in the piece holds.
Wes Welker has had an elite quarterback throwing him the ball. Marshall has had a parade of mess since he became a Dolphin.
I'm pretty sure if we went shot-for-shot, a bunch of Marshall's catchable balls were lower quality than Welker's.
It doesn't mean Marshall is a better receiver than Welker or remotely more reliable—nor does it invalidate the article which makes some tremendous points. After all, Larry Fitzgerald has a ton of catchable balls from some horrific quarterbacks but is one of the most reliable players in the study.
It just highlights the limitations that we can deal with even in detailed film analysis.
Back on topic, Marshall (like Welker, Fitzgerald and Andre Johnson to name a few) in part has more drops because he has more opportunities. Marshall had the third-highest amount of catchable balls in the study—the more you are thrown to, the more chances you have to drop the ball.
All things being equal, Marshall needs to hold onto the ball more. He was ranked at 10th in drop rate with a percentage of 11.55 percent of catchable balls thrown his way dropped. He is slightly behind Dwayne Bowe (11.56 percent), way behind DeSean Jackson (12.95 percent) and well behind Green Bay receiver James Jones, who dropped an astonishing 14.39 percent of passes thrown his way.
Before we talk about Jones, one last note on Marshall. While he does have too high a frequency of dropped balls and always has, half of his drops came in one season—16 in 2008.
That one season skews his numbers a bit and certainly makes him look worse than he has been the last two years, where he dropped just 19 balls total. As a raw number, the 35 makes him look like a double-digit drop guy every season when in reality he had a spectacularly bad 2008 and two much better years after.
Back to James Jones. When people argue that he's someone the Packers should keep, this is the stat I would point to.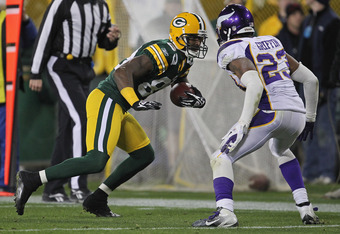 Jonathan Daniel/Getty Images
The more you are thrown to, the higher the chance you will accrue a larger number of drops, correct? Opportunity breeds stats. Holding hands with that is the reality that the less you are thrown to, the lower your drop percentage should be.
Jones only saw 139 catchable balls from one of the best quarterbacks in the league and yet dropped 14.39 percent of the few targets he saw.
In other words, when Jones had the chance to make a play, more than one times in ten he would drop the ball (literally).
As I have said before, we know what Jones is—a talented receiver who cannot achieve consistency. A guy who can turn a big play but just as easily choke it away.
A 14 percent drop rate from a situational player is just way too high.
Compare it to Nate Burleson, who dropped the tenth-most balls in the study, just one more than Jones.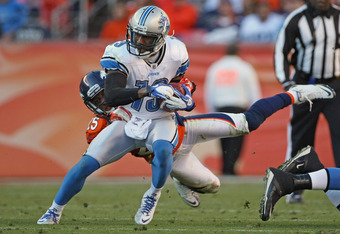 Doug Pensinger/Getty Images
Now before a bunch of you tell me "I told you so" on Burleson, the Lions wide receiver is not listed in the top 15 players with bad drop rates.
In other words, while he and Jones have virtually the same amount of drops, Burleson had twice the targets and nearly twice the receptions as well.
Jones had a much higher yards-per-catch and twice as many touchdowns, but you can chalk that up to different routes, roles and opportunities over the course of three years.
The fact remains that while they had similar amounts of drops, Jones' show up as worse because he squandered a much bigger percentage of his meager opportunities.
While Burleson might not have the bigger stats, he's reliable much more frequently than Jones is. I don't have PFF's number of catchable balls for Burleson—all I can do is add the drops to his catch total and extrapolate from there.
Even with the potential for error, I have Burleson at a drop rate of, at most, 10 percent—4 percent better than Jones with a lot more opportunity.
Calvin Johnson is also on the list—but before you choke on your lunch, it's only once and it's because he has the sixth-most catchable balls in the study with 258.
That he isn't mentioned again is good, even though he is also not mentioned as one of the most reliable receivers.
The problem with that is, he has twice the opportunities of most of the players on the list. His 258 looms large over players like Earl Bennett, who had just 127 catchable balls thrown his way and heads the list with a drop rate of just 3.15 percent.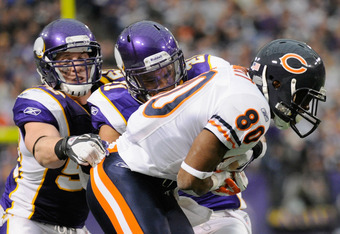 Hannah Foslien/Getty Images
That's not to take anything away from Bennett's reliable hands. However, look at Johnson's numbers for a second to put it in perspective.
Johnson had, according to Pro Football Focus, 258 catchable balls. His catch totals for the last three years were 67, 77, and 96, which total 240 catches.
Assuming I am calculating the same way as PFF, that's a catch rate of 93 percent, or a drop rate of just 7 percent.
That's astounding and far more impressive than all but Larry Fitgerald (3.27 percent) and Reggie Wayne (4.67 percent) who not only saw a low drop rate but a similar or higher volume of catchable balls as Johnson.
I don't have an answer to where the "floor" should be in a study like this but when Lance Moore and his 136 balls are on the list and Johnson isn't, something seems off. Or at least it's easy to miss context.
Back to Bennett; it should not be lost on anyone that Bennett is that reliable and doing what he should be doing—catching the few balls thrown his way. If rookie Alshon Jeffery stumbles, Bennett is the guy who should see more opportunity to be a factor. Certainly over Devin Hester, who makes the list of Bad Drop rates with 10.29 percent on just 136 catchable balls.
Jonathan Daniel/Getty Images
Like Jones, Hester lacks great hands and in Hester's case is still so very raw. Jones might drop a lot of balls, but he can run a route and makes big plays. Hester isn't that good. I look at this percentage and I wonder again why the Bears insist on trying to make him a bigger factor in the offense.
By the looks of it, he'll just drop the greater number of opportunities you throw his way.
A few last players of note.
Percy Harvin had the 10th most catchable balls with 232, but did not make an appearance on any other portion of the article. As with Burleson I don't have the complete data PFF uses, so I don't have the number of drops they used.
However, Harvin has 218 catches in his three-year career and even if I counted all the balls between 218 and his 232 catchable balls as drops, he has a tiny drop rate of 6 percent.
So if his beef with the Vikings is how much they use him, the answer is even more simple than before but really the same—use him more.
Donald Driver had 22 drops over the last three years, which shouldn't surprise anyone based on his declining ability and age but the 12.29 percent Drop Rate is a bit alarming.
He's signed this year, but this only highlights he is there for mentoring and leadership—not his hands. Still, it's not a good number.
Overall the piece is a very interesting look at one aspect of a wide receiver's job.
The NFC North's participation had few surprises—though the article helps us provide some context for guys like Brandon Marshall who you haven't seen as much of in the last few years if you weren't watching Miami Dolphin games.
Overall though, the bigger and more vital players are the guys who show up positively in the piece or not at all in the case of guys like Greg Jennings and Jordy Nelson.
On a list like this, that's just as important.