Can the Pittsburgh Steelers Take Inspiration from the Green Bay Packers?
June 29, 2012

Al Bello/Getty Images
There is little question the Pittsburgh Steelers need to improve their offensive line play in 2012.
Injuries to quarterback Ben Roethlisberger and running back Rashard Mendenhall down the stretch last season hampered their chances of repeating as division and conference champions. The Steelers allowed 42 sacks last year and five more in their playoff loss to Denver while only registering 35 sacks themselves.
This is not a recent trend. Under head coach Mike Tomlin, the Steelers have never allowed fewer than 40 sacks in a season.
Critics of Roethlisberger have often pointed to his patient style of waiting for a potential big play to happen before throwing as a reason why the sack totals have been so high.
However, further statistical analysis shows Pittsburgh allowed only 32 sacks in their 2005 Super Bowl Championship season and 36 in Roethlisberger's rookie season of 2004. Bill Cowher was the head coach of the Steelers those two seasons.
So it comes as no surprise that the Steelers drafted guard David DeCastro in the first round and tackle Mike Adams in the second. But what kind of immediate impact can they make?
In the Super Bowl era, only four teams have drafted offensive linemen in the first round and gone on to win the Super Bowl that season. Incredibly, the four teams have been the Green Bay Packers' four Super Bowl Champion teams.
Perhaps this speaks of some homage to Vince Lombardi as he was the coach of the Packers during their first two Super Bowl victories and still a revered figure more than 40 years after his death.
"Duels in the snow and cold November mud" would go hand-in-hand with drafting Gale Gillingham in 1966 and Bob Hyland in 1967.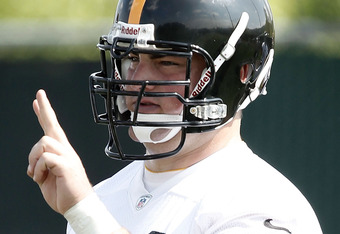 Jared Wickerham/Getty Images
The other two offensive linemen drafted in the first round by teams that followed were John Michels in 1996 and Bryan Bulaga in 2010.
Of these four players, only Bulaga started in the Super Bowl in his rookie season. Not even Gillingham, who became a five-time Pro Bowler and replaced Fuzzy Thurston at left guard in the Packers' lineup to start in Super Bowl II, started the Super Bowl in his first professional year.
And that's cause for concern. Not for the long term, but for 2012.
Since DeCastro and Adams are both projected to start at right guard and left tackle respectively, the Steelers are going to attempt to get immediate impact out of rookie offensive linemen. It's not unprecedented, witness Bulaga, but it's also asking a lot.  
Consider neither one of the Steelers' two Hall of Fame offensive linemen, Mike Webster and Dermotti Dawson, started in his rookie season. Granted, at the time the Steelers still had productive veterans at their positions when they were rookies, but it still shows while rookies can make a significant impact at skill positions on offense, it's less likely on the offensive line.
No criticism of the players taken by the Steelers this year. They filled a need, got the best players available and for the long term appear to have made significant pickups.
The only question is what kind of immediate gain DeCastro and Adams can give in the short term.