10 Players Who Can Carry Owners Through Their Fantasy Football Seasons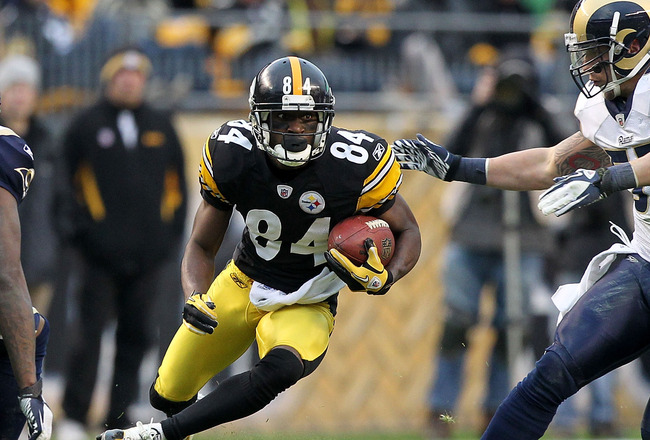 Karl Walter/Getty Images
There are always a few players that outplay their draft value and carry fantasy squads. The problem is first predicting who will be in line for a breakout season and then secondly, making sure to pounce on them before any of your other rivals can get their grubby hands on them.
We all know who the bona fide studs are (Aaron Rodgers, Arian Foster, Ray Rice, Calvin Johnson, etc.) in this league. That's why we draft those guys in the first round. However, it is those under-the-radar types (mind you, not off the grid) that emerge in fantasy leagues that carry squads.
Just think how much of an impact guys like Rob Gronkowski, DeMarco Murray, Jordy Nelson and Cam Newton had last year. All four players heavily outplayed their draft value and likely carried their fantasy squads to dominance.
So, who will be this year's (in what I will affectionately call) "Fantasy Carriers?"
Well, take a gander at this slideshow for potential answers.
Antonio Brown: Pittsburgh Steelers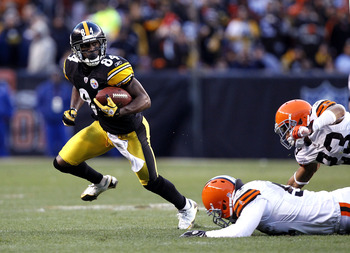 Matt Sullivan/Getty Images
While Mike Wallace and his protracted holdout may make up for all the headlines in Pittsburgh these days, the emergence of Brown will be the story in the "Steel City" this year.
Brown in coming off a career year in which he recorded 69 receptions for 1,108 yards. All he has to do is up his touchdown total of last year (two) and Brown will become a bona fide fantasy stalwart. I see no reason why he shouldn't.
With this being his third year in the league, expect Brown to take the next step in his game and blossom into a breakout player.
Doug Martin: Tampa Bay Buccaneers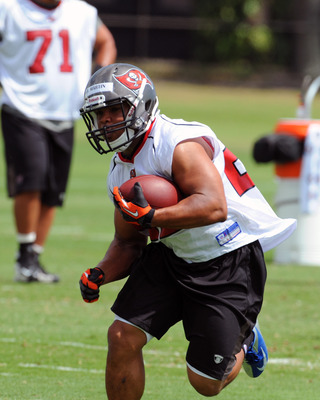 Al Messerschmidt/Getty Images
With the Bucs' getting underwhelming production from LeGarrette Blount last year, they could not resist taking the uber-talented Martin in the first round in April's draft.
Martin is fantastic dual-threat, who can run the ball equally well as catch it out of the backfield. He has the makeup of a Ray Rice clone. Remember, Tampa Bay is coached by Greg Schiano now, and he is the one who coached Rice in college at Rutgers.
So for Schiano and the Bucs to take Martin in the first round, you know they had to covet Martin a great deal. Look for him to get the majority of touches in Tampa Bay.
Robert Griffin III: Washington Redskins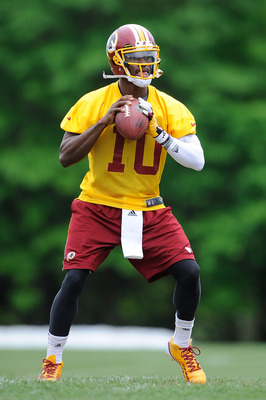 Patrick McDermott/Getty Images
With the way Cam Newton took the league by storm last season, many fantasy players will be looking for the next best thing. Enter RGIII.
Of course, expecting Griffin III to have a season on par with what Newton accomplished last year is a bit far-fetched; Griffin does, though, possess many tools that he could at least be a borderline top-10 quarterback this season.
Blessed with jaw-dropping athleticism and great football acumen, RGIII will have little trouble adapting to the NFL and should be a mainstay in fantasy circles for years.
C.J. Spiller: Buffalo Bills
Rick Stewart/Getty Images
This selection is based on a hunch more than anything.
It's hard to imagine Fred Jackson staying healthy all year long and that the Bills will not want to get a return on investment from their 2010 first-round draft choice in C.J. Spiller by giving him more touches in the Bills' offense.
When Spiller got his chance last year, he made the most of it, rushing for 561 yards and four touchdowns while also catching 39 passes for 269 yards and two touchdowns.
By the end of the year, Spiller will eventually be the top dog in Buffalo.
BenJarvus Green-Ellis: Cincinnati Bengals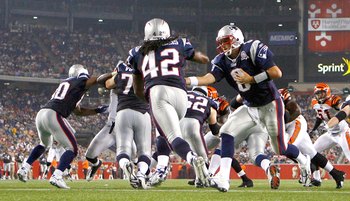 Jim Rogash/Getty Images
Over the last few years, the "Law Firm" has been one of the most underrated rushers in the league.
When you play in New England's potent passing offense, it is natural for a rusher to get lost in the shuffle as the Pats like to throw more often than hand it off.
But with Green-Ellis now in a new city and on a team that will utilize the run more often, he has a chance for a career year.
Roy Helu: Washington Redskins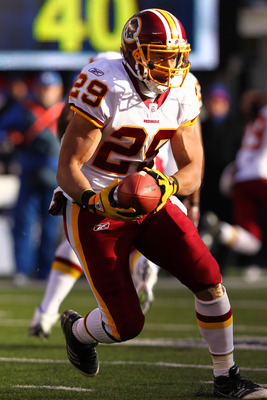 Al Bello/Getty Images
Once Mike Shanahan finally relented and made Helu the featured running back in the Redskins' offense late last season, Helu's game finally took off, as he finished the year with 392 rushing yards and 166 receiving yards in the last five games he played, while also scoring a combined three total touchdowns.
With the aforementioned RGIII upgrading the passing game, Helu will often be a target for RGIII on screen plays and dump offs.
Don't worry about Tim Hightower cutting into Helu's production, as Hightower doesn't have the ability to stay healthy nor does he have the fresh legs that Helu has.
A.J. Green: Cincinnati Bengals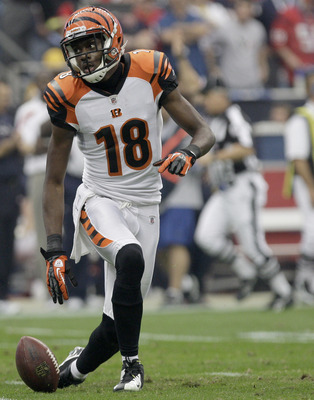 Thomas B. Shea/Getty Images
While most fantasy players are already familiar with the exploits of this gifted second-year receiver, Green is about to take that leap from merely just dependable and reliable to all-worldly.
You have to remember that the young Bengals offense is just starting to gel, and they'll want to build off their fine season in which they made the playoffs. The Andy Dalton to A.J. Green connection is just in its infancy, and you'll want this future stud part of your squad.
Dez Bryant: Dallas Cowboys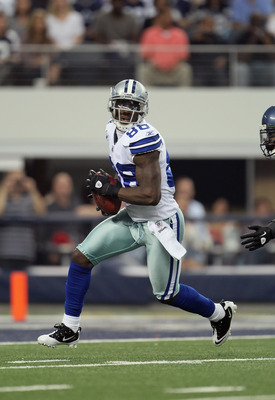 Jeff Gross/Getty Images
Much like Green, most savvy fantasy players know that Bryant is already one of the more rounded receivers in the game.
However, now entering that third magical year for receivers, Bryant is set to take off and separate himself from most of his peers.
Bryant will go into the season as a No. 2 receiver but has the upside to emerge as a No.1 receiver.
Aaron Hernandez: New England Patriots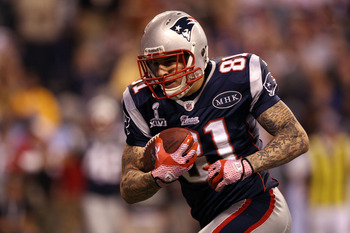 Ezra Shaw/Getty Images
Undoubtedly, Rob Gronkowski will garner all the preseason attention for tight ends, and rightfully so considering the outstanding season he is coming off of.
However, it is Gronkowski's teammate, Hernandez, who may benefit from teams paying too much attention to Gronkowski this year. Hernandez is not your everyday tight end, as he lines up in many formations as a wide receiver.
As such, he'll get a lot of single-coverage and should capitalize on his growing rapport with Tom Brady.
At the end of the season, don't be surprised if Hernandez has numbers that will rival No. 1 and No. 2 wide receivers. He's that talented.
Eli Manning: New York Giants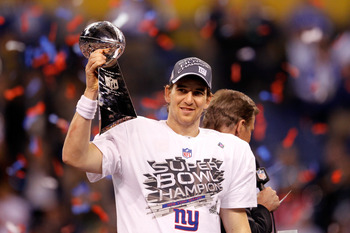 Rob Carr/Getty Images
Sure, you might say that Manning is justifiably getting his due after capturing his second Super Bowl championship, which happened to punctuate his best regular season ever (at least when it comes to statistical numbers).
However, Manning is hardly viewed as a top-10 quarterback when it comes to his fantasy appeal. This year, though, Manning will look for even bigger and brighter things as he still has great weapons at his disposal.
Sure the Giants lost Mario Manningham and Brandon Jacobs in the offseason, but they gained two versatile and young products in David Wilson and Rueben Randle via the draft to offset those losses.
With Manning having another year to gel with Hakeem Nicks and Victor Cruz, Manning could potentially end up as a top-five QB this year.
Follow me on Twitter @Stacdemon
Keep Reading