25 Most Disappointing Players in Major League Baseball so Far in 2012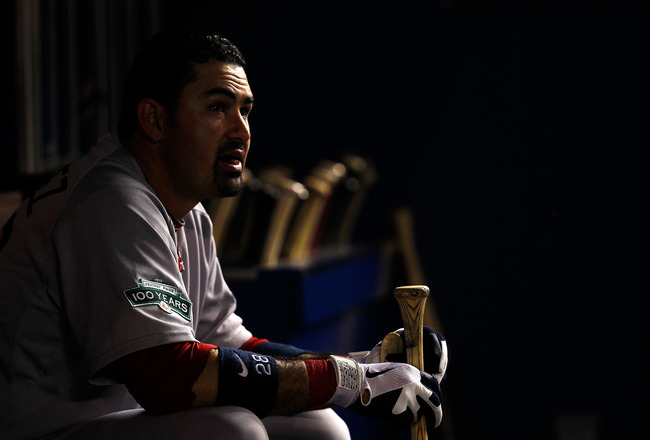 Yo, Adrian! What gives?
Sarah Glenn/Getty Images
Major League Baseball fans have been treated to some pleasant surprises so far this season.
Did you see R.A. Dickey coming? I sure as hell didn't. I have to admit that I didn't think Carlos Ruiz was so good either, and guys like Adam Jones, Austin Jackson and Melky Cabrera have been a lot better than advertised.
And my goodness, have you gotten a load of this Mike Trout guy? Dude's amazing.
If you're a baseball fan, you have to dig the pleasant surprises. They're half (or some large percentage, anyway) of what makes baseball so great.
It's too bad we have to live with the disappointments too. They're not nearly as cool.
For all the pleasant surprises baseball fans have been blessed with this season, they've also been cursed with plenty of disappointments. We all expected Tim Lincecum to be a lot better, we didn't think Adrian Gonzalez (pictured) would be so darn mediocre and we expected more out of young up-and-comers like Eric Hosmer.
And so on. There are disappointments in baseball every year, and this year is no different.
There's no point in ignoring them. In fact, let's go ahead and make like the Rolling Stones by shining a light on them.
Here's are the 25 most disappointing players of the 2012 Major League Baseball season.
Note: All key stats are from Baseball-Reference.com, but I prefer FanGraphs for WAR, etc. Just a heads up.
25. James Shields, Tampa Bay Rays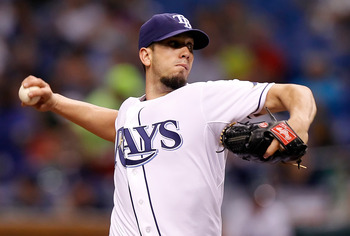 J. Meric/Getty Images
James Shields was one of Major League Baseball's most pleasant surprises in 2011. He went 16-12 with a 2.82 ERA, pitching 11 complete games. Four of those were shutouts.
No other pitcher had more than eight complete games last season, and only Derek Holland pitched as many shutouts in the American League (of all guys, right?).
This season, Shields has been more like his usual self. He's 7-5 through 16 starts with a 4.04 ERA, and he's been victimized by an increased tendency to put the ball in the happy zone. Hitters are hitting .273 off Shields after hitting just .217 off him last season.
We're also still waiting on Shields' first complete game.
He hasn't been a huge disappointment, mind you. But after what happened last year, a lot of people expected Shields to be a Cy Young contender this season.
So much for that.
24. Jhonny Peralta, Detroit Tigers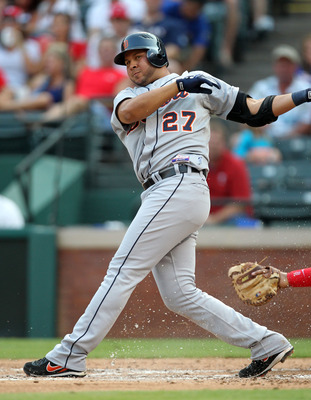 Layne Murdoch/Getty Images
It happened under the radar, but Jhonny Peralta had a damn good season in 2011. He hit .299/.345/.478 with 21 homers and 86 RBI.
He finished with a WAR of 5.2, a personal best and the third-best mark in the majors among shortstops behind two guys named Troy Tulowitzki and Jose Reyes.
This season, Peralta has regressed.
Peralta is only hitting .261/.335/.397 with four home runs and 22 RBI. His OPS has dropped about 100 points to .732, and his WAR currently checks in at 0.9.
That places Peralta right in the middle of the pack among shortstops, just below Derek Jeter and just above Marco Scutaro.
The bright side is that it's not like Peralta is sticking out like a sore thumb in Detroit. He's one of several Tigers who have disappointed this season.
23. Ike Davis, New York Mets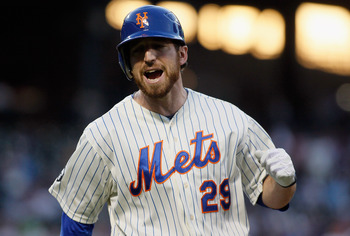 Mike Stobe/Getty Images
Mets fans had high hopes for Ike Davis heading into this season. After all, he hit .302/.383/.543 with seven home runs in just 36 games' worth of action last season, an impressive sample by any set of standards.
Davis has had a very hard time living up to the positive buzz.
Through 72 games, Davis is hitting .201/.281/.376 with a .657 OPS. He's striking out nearly 27 percent of the time he comes to the plate.
Granted, it was reported in March that Davis had contracted valley fever, a fungal infection that Conor Jackson once described as "mono on steroids." He hasn't complained, but there's no telling exactly how healthy Davis feels.
Healthy or unhealthy, there's no ignoring the reality of his season. Among qualified players, only four players across Major League Baseball have lower WARs than Davis, according to FanGraphs.
He's responded to high hopes by being one of the worst players in baseball.
22. Starlin Castro, Chicago Cubs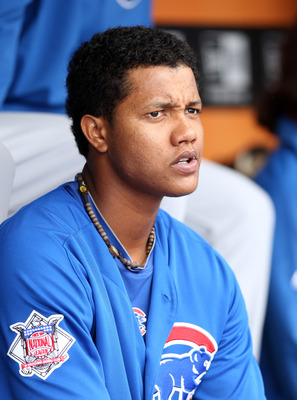 Ezra Shaw/Getty Images
Starlin Castro officially arrived last season. He hit .307 with a NL-best 207 hits, and he was a lone bright spot on a Cubs team that was otherwise pretty dreadful.
Many fans and experts were expecting Castro to take the next step towards superstardom this season.
No dice. Instead, he's taken a few steps back.
Castro is hitting .301 this season, but his .318 on-base percentage is a problem. He's shown horrendous plate discipline, swinging at too many pitches out of the zone and not taking any walks.
Castro has declined as a hitter, and he's also still enigmatic in the field. The advanced metrics actually suggest he's an above-average fielder, but there's no excusing his 12 errors. He needs to learn how to make both the tough plays and the easy plays.
He also needs to be more focused out on the field. Even for a player as young as he is, he's made too many mental mistakes.
In all, what's so frustrating about Castro is that he should have gotten better this season. Alas, he's gotten worse.
21. Albert Pujols, Los Angeles Angels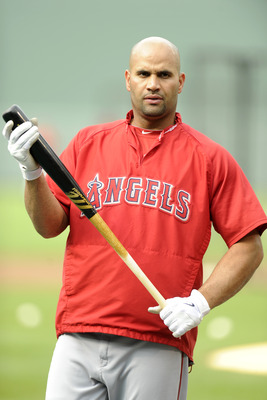 Mitchell Layton/Getty Images
It's been a tale of two seasons for Albert Pujols in Anaheim. Right now, we're witnessing the fun, happy-go-lucky second act.
Ever since the Angels gave hitting coach Mickey Hatcher the boot in the middle of May, Pujols is hitting .310/.394/.613 with a 1.007 OPS. He's hit 11 home runs and driven in 32 runs over 38 games. Classic Albert Pujols numbers.
Obviously, Pujols isn't on this list because of what's going on right now. He's on this list because of the first act of his 2012 season, which was about as enjoyable as the fourth Indiana Jones movie.
In his first 36 games with the Angels, Pujols hit .212/.248/.288 with a .536 OPS. He hit just one home run and drove in 14 runs.
Pujols has recovered nicely and is on his way to having a decent season by traditional MLB standards. But that slow start is the key reason why this season is going to go down as the worst of his career when all is said and done.
Oh, and did I mention he's being paid handsomely?
20. Clay Buchholz, Boston Red Sox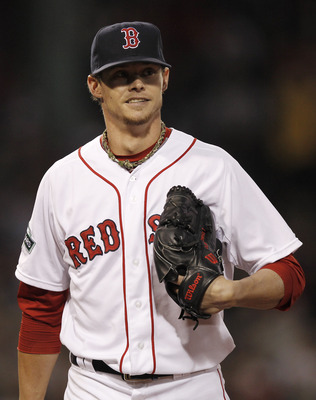 Winslow Townson/Getty Images
Clay Buchholz overachieved in 2010 when he won 17 games with a 2.33 ERA, but the Red Sox didn't need him to be that successful again in order to be a key part of their starting rotation. They just needed him to stay healthy and give them quality innings.
Up until recently, Buchholz has been able to stay healthy. The quality innings, however, took a long time to arrive.
Buchholz started the season by allowing at least five earned runs in each of his first six starts, posting an ERA of 9.09. He allowed 10 home runs in 32.2 innings pitched.
He has since settled down, posting an ERA of 3.35 over his last eight starts.
Despite his resurgence and his 8-2 overall record, Buchholz bears a WAR of 0.2, according to FanGraphs. That ranks him among Major League Baseball's worst starting pitchers.
19. Ervin Santana, Los Angeles Angels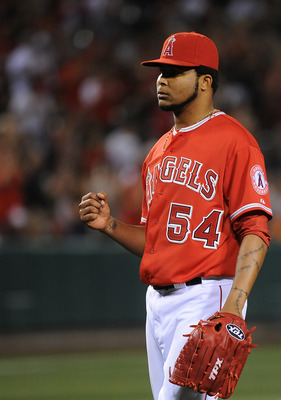 Lisa Blumenfeld/Getty Images
Ervin Santana won 17 games in 2010. In 2011, he posted a 3.38 ERA, lowest of his career. With him pitching out of the No. 3 spot in their rotation, the Angels looked absolutely loaded.
Yeah...that part hasn't worked out so well.
Santana has been the Angels' worst starter by a mile this season. He's lost eight games already, and he currently bears a 4.92 ERA that was up near 6.00 not too long ago.
Santana's strikeout-to-walk ratio has shrunk to 1.97, the lowest mark of his career to this point. He's given up 18 home runs already, putting him on a pace to give up 39 long balls this season.
And keep in mind that all of these numbers are slightly skewed by the one-hitter Santana threw against the Arizona Diamondbacks, which he followed up with a strong eight-inning performance against a hapless Dodgers team.
Even despite his recent surge, Santana's WAR for the season is an even 0.0, according to FanGraphs. He's right there alongside the Ubaldo Jimenez's and Barry Zitos of Major League Baseball.
18. J.J. Putz, Arizona Diamondbacks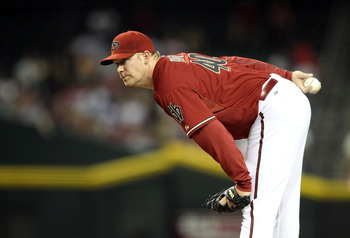 Christian Petersen/Getty Images
J.J. Putz was arguably the biggest unsung hero of last year's Diamondbacks team. He recorded 45 saves with a studly 2.17 ERA and a 5.08 strikeout-to-walk ratio.
But in true J.J. Putz fashion, Putz has come back down to earth this season. He's already blown three saves after blowing four all of last season, and he's dealing with an ERA up over 5.00.
Putz's strikeout-to-walk ratio is still strong. Just like Valverde, the difference is that he's not fooling anyone. Hitters hit under .200 off him in 2011, and they're hitting .253 off him this season with a .443 slugging percentage.
He's not getting hitters to chase as much as he did last year, and hitters are swinging and making contact more often when Putz does throw the ball in the zone.
Or, in plain English, hitters are teeing off when Putz throws strikes. Hard to be successful when they're doing that.
So it goes for Putz. The dude is incapable of stringing two good years together.
17. Yovani Gallardo, Milwaukee Brewers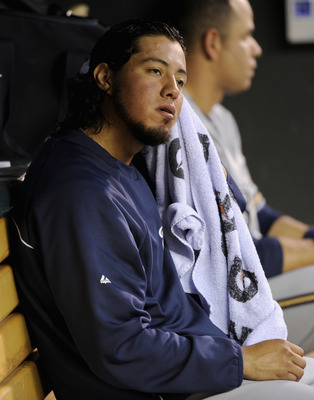 Hannah Foslien/Getty Images
Yovani Gallardo had his best season as a pro in 2011, going 17-10 with a 3.52 ERA and pitching over 200 innings for the first time in his career.
Heading into this season, many people (including me) were expecting Gallardo to form an impressive 1-2 punch with Zack Greinke. And with Prince Fielder in Detroit, the Brewers needed the Killer G's to form that 1-2 punch.
Greinke has held up his end of the bargain. Gallardo, on the other hand...not so much.
Gallardo got off to a brutal start this season before coming around in May, but for the most part, he just hasn't been anything special this year. He has a 6-6 record and a 4.14 ERA, and his WHIP is an ugly 1.40.
That's mostly due to his elevated walk rate. Gallardo's BB/9 was 2.56 last season, and it's up to 3.95 this season. The walks have hurt, and Gallardo hasn't helped himself by giving up more hits and more extra-base hits this season.
There's still plenty of time for Gallardo to salvage this season, and the good news is that he has been trending in the right direction. But the Brewers and everyone else were expecting him to be a lot better than he has been this season.
16. Jon Lester, Boston Red Sox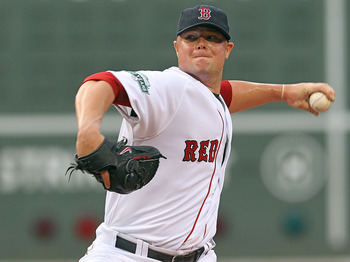 Jim Rogash/Getty Images
Jon Lester was pretty good in 2011, but he wasn't his usual self. He didn't strike as many hitters out, and he really struggled down the stretch when the Red Sox needed him to be at his best.
The popular theory is that he struggled because he got fat on fried chicken and beer, which is wont to happen if one consumes too much of either (trust me).
The hope was that Lester would bounce back like nothing ever happened, but he hasn't. He's been merely decent this season.
Lester is currently 5-5 with an ERA of 4.53. His 3.68 FIP suggests that he's pitched a lot better than his ERA indicates, but any Red Sox fan will vouch that Lester can only blame himself for much of the trouble he's had to go through this season.
For example, only three of the 10 homers Lester has given up this season have been solo home runs. Opponents are actually slugging .485 against him with men on base, as opposed to .401 against him with nobody on base.
Put simply, he's gotten himself in trouble, and all too often, he's been unable to get out of trouble. Not exactly an ace-like habit.
15. Ian Kennedy, Arizona Diamondbacks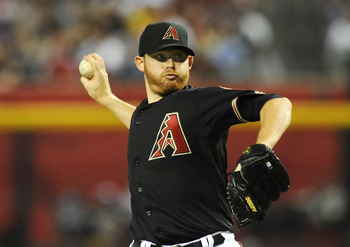 Norm Hall/Getty Images
Something got into Ian Kennedy in 2011. He'd had a breakthrough season in 2010, but I doubt anybody expected him to win 20 games with an ERA under 3.00.
Kennedy did just that, establishing himself as one of the National League's top pitchers in the process. He was a big reason why the Diamondbacks were able to shock the nation by winning the NL West.
He hasn't been the same this season. Kennedy has a record of 5-7 with a 4.42 ERA and a 1.35 WHIP through 15 starts.
Kennedy has actually upped his strikeout-to-walk ratio from 3.60 to 3.95 this season. Unfortunately, he just hasn't been able to fool hitters. They hit .227 with a .361 slugging percentage against him last season and are hitting him at a .282 clip with a .469 slugging percentage this season.
Things only seem to be getting worse for Kennedy. Dating back to the start of May, he's lost seven of his last nine decisions.
I don't usually say stuff like this, but maybe the beard needs to go...?
14. Mark Reynolds, Baltimore Orioles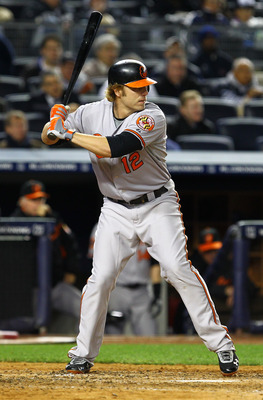 Al Bello/Getty Images
Mark Reynolds will never be confused for a great all-around player, but fans at least know to expect a ton of home runs from him each year. Between 2009 and 2011, only Albert Pujols and Prince Fielder hit more homers than Reynolds.
So far this year, Reynolds has just six dingers in 54 games and 170 at-bats.
That puts him on pace to hit...drumroll...a grand total of 13 home runs.
Yup, it's that bad. For whatever reason, Reynolds hasn't been able to drive the ball as well this year as he has in years past. Per FanGraphs, his HR/FB rate has dropped all the way to 12.5 percent. It's typically right around 20 percent.
What's worse is the fact that Reynolds is still striking out a ton. He's striking out about 30 percent of the time, and he's on pace to strike out 134 times in about 120 games.
His power was his only saving grace before this season. Without it, he's basically useless.
13. Eric Hosmer, Kansas City Royals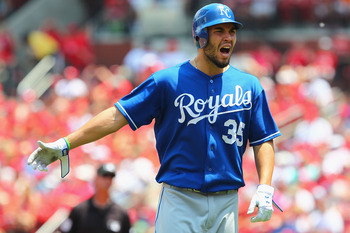 Dilip Vishwanat/Getty Images
It was easy to get excited about Eric Hosmer's future last season. He hit .283 with five homers and 17 RBI in his first 23 games, and he finished the season by hitting .349 with another five home runs in the season's final month.
All told, Hosmer hit .293/.334/.465 with a .799 OPS, 19 homers and 78 RBI. Solid numbers for a rookie.
Thus far in 2012, Hosmer has failed to live up to the numbers he posted last season. On the contrary, he's taken a few steps back.
Hosmer was still toiling under the Mendoza line as late as May 25, and even his strong showing in June hasn't helped him out all that much. He's only hitting .221/.290/.373 with nine homers and 35 RBI.
Hosmer's BABIP is .222 at the moment, and common sense tells us that figure should go up as the season progresses. Even still, there's a limit to how much progress he'll be able to make this year because pitchers have clearly found the holes in his swing and have had no trouble exploiting them.
This season is a classic reality check for Hosmer. All he can do is take it and learn from it.
12. Mat Latos, Cincinnati Reds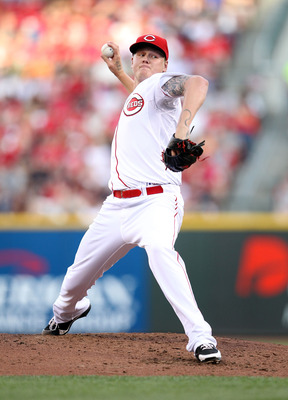 Andy Lyons/Getty Images
The Reds gave up a lot to get Mat Latos this offseason, and the hope was that he would harness all his impressive ability and become a Cy Young contender.
So far, no such luck.
Latos is coming off an excellent 13-strikeout performance against the Milwaukee Brewers, but his numbers for the season leave a lot to be desired. His ERA is 4.77 and his WHIP checks in at 1.33. Opponents are hitting .261 and slugging .490 against him.
That .490 opponents' slugging percentage is the sixth-highest mark among qualified major league starters.
The easy explanation is that Latos misses pitching at Petco Park, and this is true...to an extent. He's actually been a lot worse on the road than he has been at Great American Ballpark this season, as he's compiled a 1-1 record and an ERA over 7.00 in six road starts.
At home, however, he's given up 12 home runs in 59.2 innings pitched, a HR/9 of 1.81. His HR/9 at Petco Park last season was 0.79.
All told, Latos has already given up a career-high 17 home runs, putting him on a pace to give up nearly 40 dingers this season.
He's basically the Reds' very own A.J. Burnett.
11. Cliff Lee, Philadelphia Phillies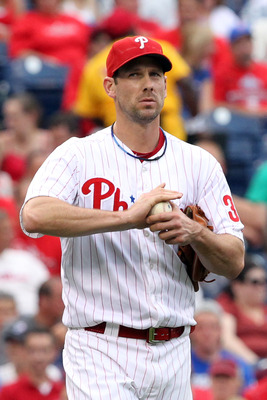 Hunter Martin/Getty Images
One can't help but feel sorry for Cliff Lee. He hasn't been that great this season, but he hasn't been bad enough to deserve being winless heading into July.
Lee is 0-4 on the season through 12 starts, with a 3.72 ERA and a 1.13 WHIP. His strikeout and walk numbers are about the same, but he's been done in by a few extra hits allowed this season. After hitting him at a .226 clip last season, opponents are hitting Lee at a .252 clip this season.
It's been especially bad with men on base. In those situations, opponents are hitting .321 off Lee with a .532 slugging percentage. Hitters hit .205 off him with a .316 slugging percentage with men on base last season.
Unfortunately for the Phillies, Lee is trending in the wrong direction. Since May 20, he has a record of 0-3 and an ERA over 5.00.
The Phillies, meanwhile, have sunk to last place in the NL East.
Things ain't what they used to be in Philly. Lee is just one problem among many.
10. Dan Haren, Los Angeles Angels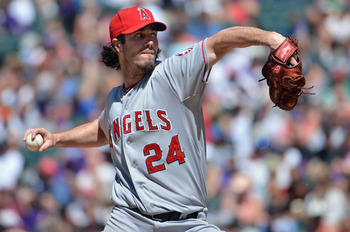 Doug Pensinger/Getty Images
Dan Haren has been one of the most underappreciated pitchers in baseball for a while now. Between 2007 and 2011, the only pitchers who compiled a higher WAR than him, according to FanGraphs, were Roy Halladay, CC Sabathia and Justin Verlander.
Haren hasn't been the same pitcher this season. Through his first 15 starts, he's put together a record of 5-7 with a 4.24 ERA and a 1.37 WHIP.
Haren hasn't been able to expand the zone like he usually does. Hitters are swinging at fewer of his pitches outside the strike zone, which has contributed to his elevated walk rate. And since they're not doing him any favors by chasing, they're having an easier time teeing off on his fastball, which was never an above-average pitch to begin with.
After hitting him at a .235 clip last season, batters are hitting Haren at a .280 clip this season, with a .458 slugging percentage to boot.
Yes, Haren has lost a tick off his fastball, but that's only part of the reason he's struggling this season. Hitters just look like they're wise to his act. That's not a good thing for a pitcher who needs deception to get by.
9. Jose Valverde, Detroit Tigers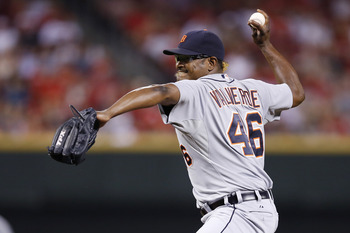 Joe Robbins/Getty Images
Jose Valverde was one of baseball's top closers in 2011. He led all relievers with 49 saves, and he didn't blow a single save despite the fact he had a habit of making things interesting.
This season, Valverde blew a save on Day 1, giving up two earned runs on three hits against the Boston Red Sox way back on April 5. He's blown two more saves since then.
Valverde's other numbers don't look so good either. He's sitting on an ERA slightly over 4.00, and his WHIP is sitting at 1.45. His walk rate, which was high enough last year, has ballooned to 5.28 BB/9 this season.
As if that wasn't bad enough, Valverde's strikeout rate has taken a tumble. He struck out 8.59 batters per nine innings this year, and he's striking out 6.21 batters per nine innings this year.
In short, one of baseball's top closers has become one of baseball's most mediocre closers.
Yet Valverde still makes a display every time he manages to record a save. Not cool, dude.
8. Ubaldo Jimenez, Cleveland Indians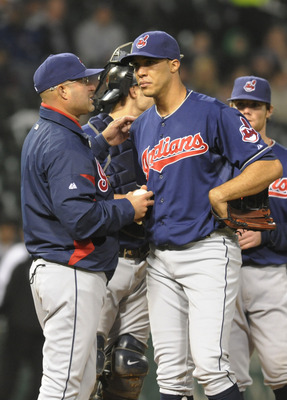 David Banks/Getty Images
The Cleveland Indians made a dumb trade when they sent four prospects to the Colorado Rockies to acquire Ubaldo Jimenez last season. They were hoping to get the guy who was unhittable way back in 2010, but instead, they got the guy who was very hittable in the first half of the 2011 season.
Not much has changed this season. Jimenez is 7-6 with a 4.69 ERA and a 1.54 WHIP through 15 starts, and the same problems that plagued him are even worse this year.
Jimenez can't strike hitters out like he used to. His K/9 was at 8.60 last season, and it's down to 6.62 this season. To make matters worse, his BB/9 is 5.40, the highest such mark in the major leagues among qualified starting pitchers.
Jimenez hasn't been able to limit the damage when men get on base. He walks more hitters than he strikes out with ducks on the pond, and batters hit him at a .257 clip with a .444 slugging percentage.
There's no doubt the Indians would like to have this one back.
7. Hanley Ramirez, Miami Marlins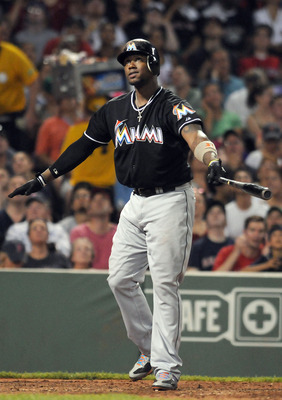 Darren McCollester/Getty Images
Between 2007 and 2009, Hanley Ramirez was one of the best players in baseball.
He took a step back in 2010, and he took an even bigger step back in 2011. He couldn't stay healthy, and he sure as hell couldn't stay happy.
All of that was supposed to be in the past. Ramirez came into the 2012 season healthy and apparently quite happy over at third base with Jose Reyes at short. It was easy to buy into the notion that he was going to return to form this season.
Nope.
Ramirez is hitting .260/.335/.443 with a .778 OPS, and the only reason his numbers look that good is because he hit .322/.364/.525 in May. For the most part, he's been a big disappointment.
Health doesn't appear the problem. The problem has more to do with his pitch selection and his inconsistent swing mechanics. He's only 28 years old, but he looks like a hitter in his mid 30s who needs to break himself down and build himself back up again.
Whatever the issue is, the Ramirez of a couple years ago is long gone.
6. Heath Bell, Miami Marlins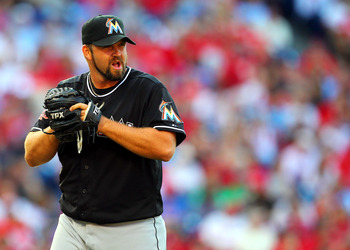 Rich Schultz/Getty Images
Savvy fans could see the warning signs when it came to Heath Bell in 2011. He recorded 43 saves, sure, but his strikeout numbers took a huge dive, and he gave up a few more extra-base hits.
The Marlins ignored the warning signs and inked Bell to a three-year contract worth $27 million. They needed a closer, and they identified him as the best available.
Oops.
Bell got off to an absolutely horrendous start in 2012, allowing eight earned runs in his first 6.2 innings with just five strikeouts and eight walks. He blew his first two save opportunities.
Bell has settled down since then, but he's still dealing with an ERA well over 6.00 and a WHIP of 1.80.
His strikeout rate is actually higher than it was last year, but it's not because he's getting hitters to swing and miss. His swinging strike percentage is below six percent. It was 10.6 percent a couple years ago.
Instead, hitters are laying off the stuff out of the zone, hence the reason Bell has a 5.40 BB/9.
Take note, kids. This is why you don't pay closers the big bucks. Just go and find one in your own backyard.
5. Justin Upton, Arizona Diamondbacks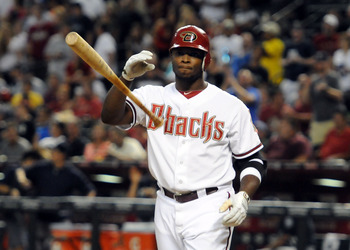 Norm Hall/Getty Images
Oh, Justin Upton. What are we going to do with you?
A pattern is starting to develop in Upton's career. He was really good in 2009, fell back down to earth in 2010, was truly excellent in 2011 and has stumbled back down to mediocrity in 2012.
Upton's .275 average and .358 OBP this season aren't bad numbers. The concerning part is his .401 slugging percentage, which is way, way down from the .529 slugging percentage he posted in 2011. He's getting his hits, but he's not driving the ball.
When Upton makes contact, he tends to hit ground balls or line drives. His fly-ball rate is down to 34.4 percent this season, and his HR/FB rate is down too.
Not surprisingly, he has only seven homers and is on pace to hit just 15 or so this season.
With his talent, Upton should be a 30-30 guy every season. He's an upgraded version of his brother, but not as much of an upgrade as he should be.
4. Jose Reyes, Miami Marlins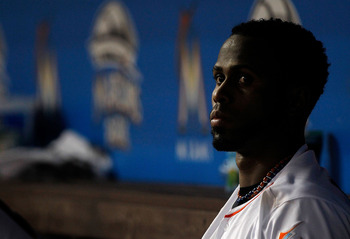 Mike Ehrmann/Getty Images
The Heath Bell contract was a mistake by the Marlins. The Jose Reyes contract was an even bigger mistake.
When the Marlins signed Reyes for six years and $106 million this offseason, they figured they were getting the same guy who led the National League with a .337 batting average last season, tacking on 16 triples, seven home runs and 39 stolen bases.
They haven't gotten that version of Reyes. The version they've gotten is hitting .269/.346/.380, with six triples and two home runs. He's supposed to be one of the league's best leadoff hitters, but he's been one of the league's worst leadoff hitters this season.
Reyes hasn't just been a disappointment offensively. He has a -0.8 UZR and a -13 DRS (defensive runs saved). Statistically, that makes him one of baseball's worst defensive shortstops.
So oddly enough, this version of Reyes is more like the 2009/2010 version of Reyes: a good player, but not a star.
Gee, who besides everyone saw this coming?
3. Rickie Weeks, Milwaukee Brewers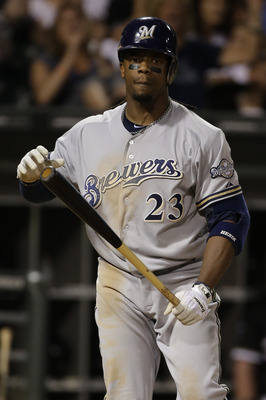 John Gress/Getty Images
Despite only playing in 118 games, Rickie Weeks managed to hit 20 home runs last season while batting .269/.350/.468. He posted a 3.7 WAR, according to FanGraphs, second among National League second basemen.
With Fielder gone, the Brewers needed Weeks to be at his best this season to help pick up the slack. Instead, what they've gotten is Weeks at his worst.
We're nearly into July, and Weeks is still batting under .200. He's hitting .185 with a .307 OBP, to be exact, with a .312 slugging percentage that makes one's head ache.
Weeks is hitting just as many fly balls this season as he did last year. What's changed is that his HR/FB rate has dropped from 16.3 percent in 2011 to 9.1 percent this year. When he hits the ball in the air, he's had a tendency to get under it.
Of course, the Brewers should feel lucky when Weeks does hit the ball. His strikeout rate is up over 29 percent this season.
That's Mark Reynolds territory, my friends, and it's a place Rickie Weeks does not belong.
2. Adrian Gonzalez, Boston Red Sox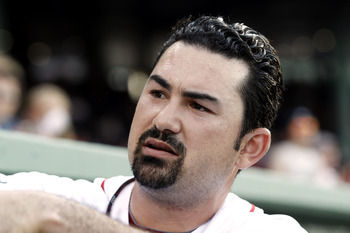 Winslow Townson/Getty Images
Adrian Gonzalez's first season in Boston was a huge success. He hit .338/.410/.548 with 27 home runs and 117 RBI, posting a 6.6 WAR that ranked third among all major league first basemen, according to FanGraphs.
The only downside was Gonzalez's mysterious loss of power that he suffered after the All-Star break, which of course saw him participate in the Home Run Derby.
The Red Sox are still waiting for Gonzalez's power to return.
This season has been a struggle for Gonzalez. He's hitting .269/.322/.412, and all three of those numbers are well below his career averages.
The low slugging percentage is particularly concerning. Gonzalez has hit just six home runs this season, and even doubles have been hard to come by.
He's still hitting well when he goes to the opposite field, but not when he pulls the ball. Gonzalez hit .363 with 13 home runs when he pulled the ball last year. This year, he's hitting .244 with three home runs when he pulls the ball.
They say Gonzalez has lost bat speed. They may be right.
1. Tim Lincecum, San Francisco Giants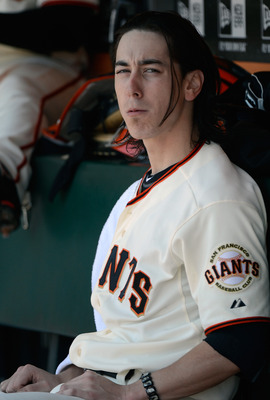 Thearon W. Henderson/Getty Images
The raw numbers say that Tim Lincecum was better in 2011 than he was in 2010. Or at least his ERA said so, as it dropped from 3.43 to 2.74.
The periphery numbers (K/9, BB/9, FIP, etc.) all suggested that Lincecum was about the same in 2011 as he was in 2010. He didn't get better. He just got luckier.
This season, bad luck has found Lincecum. His strikeout rate is the highest it's been since 2009, but his walk rate, opponents' batting average and opponents' slugging percentage are all up. He hasn't been as awful as his 5.60 ERA suggests, but he certainly hasn't been good.
Especially not with men on base. When pitching out of the stretch, Lincecum's strikeout-to-walk ratio drops to 1.10 and hitters hit .274 off him with a .411 slugging percentage.
Yes, it looked like Lincecum turned a corner in his most recent start against the Los Angeles Dodgers, and that's a good sign. But before you get too excited, remember this:
It was the Dodgers.
If you want to talk baseball, hit me up on Twitter.
Keep Reading