NFL Top 100 0f 2012: 8 Players Who Should Have Made the List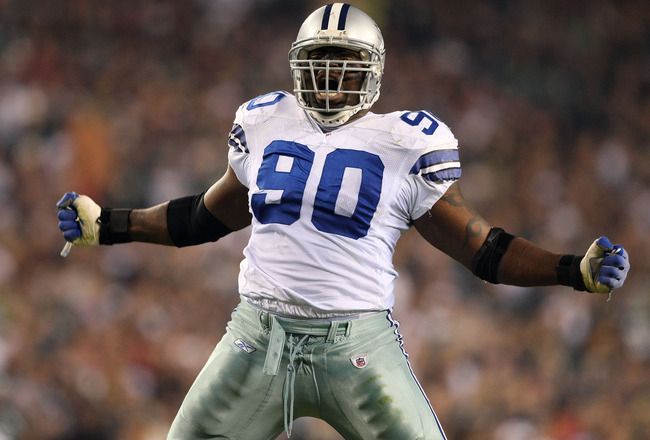 Al Bello/Getty Images
NFL.com's "top 100 players of 2012" list contained a few shock inclusions, and they came at the expense of some equally surprising omissions.
One of the game's elite nose tackles fell off the list altogether, while a veteran defensive end who still manages to be the sole pass-rush threat for a regular playoff contender also failed to make the cut.
Two perennial 1,000-yard receivers have the right to be miffed by their absence on the list, presumably thanks to the implication they are products of their respective quarterbacks.
Here are the eight players who belong on the list but didn't make it.
Robert Mathis, DE, Indianapolis Colts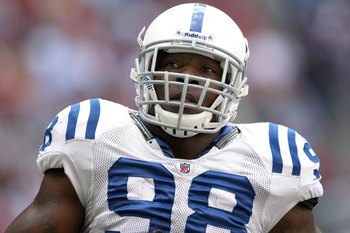 Stephen Dunn/Getty Images
Apparently, 41.5 sacks and 14 forced fumbles in the past four seasons was still not good enough to grant Robert Mathis sufficient respect amongst his peers. The 31-year-old defensive end led the lowly Indianapolis Colts with 9.5 sacks in 2011.
Mathis out-performed his more illustrious partner in crime, Dwight Freeney, who still managed to make the list again. It seems that Mathis is destined to spend his entire pro career in Freeney's considerable shadow.
That's hardly fair for a player who has notched 83.5 career sacks and forced 39 fumbles. Mathis possesses arguably the quickest takeoff in the league and has turned the strip-sack into an art form.
Perhaps moving the 6'2", 245-pound speedster to rush linebacker in a 3-4, will finally see Mathis get the accolades he deserves.
Joe Haden, CB, Cleveland Browns
Rob Carr/Getty Images
Cleveland Browns youngster Joe Haden simply belongs on any list of this type. The 23-year-old cornerback has taken just two seasons to establish himself as perhaps as the best young player at his position in the NFL.
After a stellar rookie campaign in 2010, quarterbacks stayed away from Haden in 2011, and as a result, he didn't snare a single interception. This statistic probably played the biggest part in Haden's omission from the list.
However, one statistic never tells the whole story, and Haden still excelled in 2011. The Browns ranked second in the entire in league in pass defense, and that was largely due to Haden's ability to shut down the opposition's best receiver.
He plays with a natural aggression and is at his best when utilising press techniques. As he continues to refine his man-coverage skills, Haden will soon become one of the few cover men no quarterback wants to test.
Marques Colston, WR, New Orleans Saints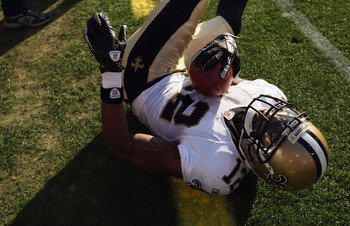 Ezra Shaw/Getty Images
Marques Colston has exceeded 1,000 yards in five of his six seasons, yet still didn't make the list. The 29-year-old is a savvy pass-catcher able to be a threat anywhere on the field.
Sure-handed and tough over the middle, Colston is a precise and intelligent route-runner, who makes the tough catches in traffic and gets yards after the catch. The 6'4", 225-pounder also has deceptive speed and can stretch a defense deep.
Colston has stayed ahead of Devery Henderson, Lance Moore and Robert Meachum and continues to be Drew Brees' favourite target for a reason. While many may feel that he is a product of Brees, Colston's numbers deserve to be respected on their own merit.
Jay Ratliff, NT, Dallas Cowboys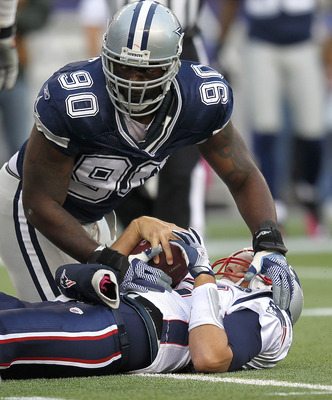 Jim Rogash/Getty Images
It defies belief that Jay Ratliff didn't make the list. The most athletically gifted nose tackle in the NFL continues to be the linchpin of the Dallas Cowboys' defensive front.
No other nose tackle in the game can match Ratliff's quickness and flair for playmaking. He is one of the finest interior pass-rushers in the league.
The 30-year-old's sack numbers were poor in 2011, but Ratliff spent more time as a 2-gapper in Rob Ryan's scheme. Despite being undersized by modern standards for the nose tackle position, Ratliff is a match for most centers. His off-the-snap speed and long arms help him split double teams and be a force behind the line of scrimmage.
Despite regular calls to move him to defensive end, the Cowboys refuse to shift Ratliff from the middle of their defense, and that's a wise decision.
Antonio Brown, WR, Pittsburgh Steelers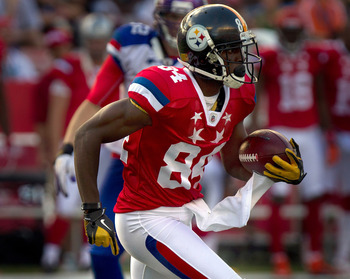 Kent Nishimura/Getty Images
Antonio Brown emerged from relative obscurity to enjoy a breakout campaign for the Pittsburgh Steelers in 2011. In his second season, Brown collected 69 receptions for 1,108 yards.
A dangerous slot receiver, Brown has excellent hands and deceptive speed. The diminutive pass-catcher is excellent at exploiting the gaps in zone coverage and is a major threat with the ball in his hands.
Possessing underrated return skills, Brown is an explosive open-field runner who does most of his damage after the catch. Deep threat Mike Wallace may grab the headlines, but Brown is the real difference maker in Pittsburgh's pass offense.
He became the Steelers' most productive clutch receiver as the season progressed and will only get better.
John Abraham, DE, Atlanta Falcons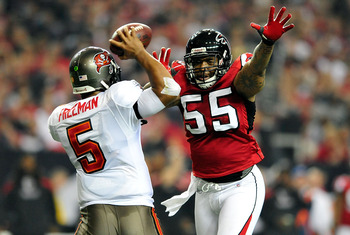 Grant Halverson/Getty Images
John Abraham continues to defy Father Time to remain one of the NFL's best pass-rushers. A technically astute player, Abraham has crafted an extensive repertoire of moves over his 12 pro seasons and excels at setting up and defeating blockers.
A wily veteran, Abraham's smarts have kept him lethal, as his athletic gifts have deteriorated. Since joining the Atlanta Falcons in 2006, Abraham has recorded 58.5 sacks, including 22.5 in the past two seasons alone.
Those are very impressive numbers, especially considering the Falcons do not posses another elite defensive lineman to share the load with Abraham. Even at 34, Abraham remains the one player on Atlanta's defense that opponents must game plan specifically to stop.
Vincent Jackson, WR, Tampa Bay Buccaneers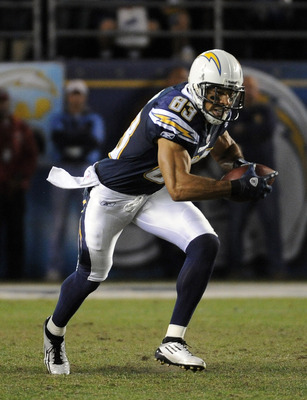 Harry How/Getty Images
Several contract disputes with former employers the San Diego Chargers, have often distracted people from just how good Vincent Jackson is. The 29-year-old is as physically dominant as any wideout in the league and offers a big-play capability few others can match.
At 6'5" and 230 pounds, Jackson can overwhelm corners in press coverage and out-muscle safeties in the deep zones and across the middle. Not many receivers in the game are as prolific going deep as Jackson.
His ability to stretch defenses is invaluable, and he has averaged over 17 yards per reception in each of the last four seasons. Jackson certainly benefited from Norv Turner's offensive design and the play of Phillip Rivers, but he is a natural playmaker, capable of dominating on any team.
He rebounded in 2011 to haul in 60 passes for 1,106 yards and nine touchdowns. If he can match that production in his first season with the Tampa Bay Buccaneers, there will be no more excuses not to call Jackson elite.
Reggie Bush, RB, Miami Dolphins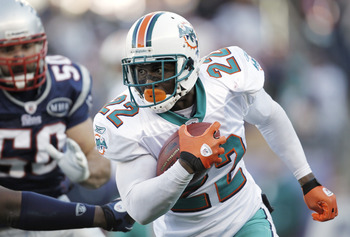 Winslow Townson/Getty Images
Reggie Bush is one of the more polarizing players in the NFL. There is often a clear divide between those fans and pundits who believe he is nothing more than a return man and receiver and those who believe Bush can be an every-down running back.
In 2011, the second overall pick in the 2006 draft went a long way to proving his doubters wrong. Bush carried a poor Miami Dolphins offense and finally eclipsed 1,000 yards rushing.
The 27-year-old averaged an impressive 5.0 yards per carry on his way to 1,086 yards on the ground and six touchdowns. He showed that he still has the knack for the big play by going 76-yards for the score in a Week 15 matchup against AFC East rival, the Buffalo Bills.
Bush is still a dangerous receiving threat, evidenced by his 43 receptions for 296 yards, and has lost none of his speed. What he has gained is improved vision and a better understanding of running play designs.
Bush used his first real chance to be a featured back to show that he can carry the load on the ground and still put up good numbers and produce highlight-worthy plays.
Keep Reading