Analyzing the Danger of Young Superstars Like Mike Trout and Bryce Harper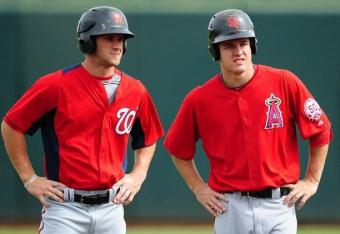 Photo via Yahoo! Sports

Major League Baseball fans have every right to feel spoiled when they watch Mike Trout and Bryce Harper play ball. It's not every year that two players with so much talent and so much promise come along.
Shoot, we should consider ourselves lucky if we get one player as talented as Trout or Harper every five years.
The two of them have been up in the majors for just about two months at this point, and everyone agrees that they are budding superstars. Rookie of the Year awards are in order for both of them, and Trout could very well make a run at the American League MVP award if the energy he has brought to the Los Angeles Angels holds up.
The two of them are already being compared to all-time greats. Trout reminds Troy E. Renck of The Denver Post of Rickey Henderson, and Harper has been compared to the likes of Mickey Mantle (MLB Network) and Pete Rose (Sporting News).
Baseball fans and pundits alike tend to make comparisons such as these whenever highly touted prospects first show up in the majors. All too often, these comparisons tend to be wasted words.
A lot of young men try to make it in pro baseball. Relatively few succeed. Even the best young players don't pan out a lot of the time.
That's what's so great about Trout and Harper. They are panning out.
And at the same time, that's what's not so great about them. They are living, breathing validations of the high expectations that fans, experts and team executives tend to place on top prospects. They are an excuse for not just fans and pundits to get reckless with high expectations, but teams too.
Before they were major league stars, Trout and Harper were just two more hyped prospects in a long line of hyped prospects. The fact that they've actually made good on the hype makes them members of a rare breed.
Most hyped prospects fail to become impact major leaguers. Some fail because the pressure is too much. Others fail because irresponsible bosses buy into the hype too soon. Some fail because of a mix of both.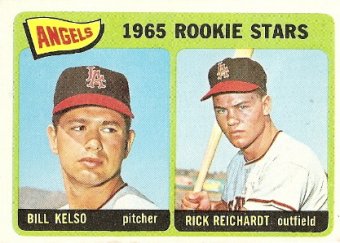 Photo via 1965topps.blogspot.com
A guy like Rick Reichardt comes to mind as an example of a player whose career was ruined by an excess of pressure. If the name doesn't ring a bell, he was billed as the next Mickey Mantle back in the early 1960s, and a fierce bidding war ultimately resulted in the Los Angeles Angels signing him as an amateur in 1964. He got a $200,000 signing bonus, an absurd amount of money in that day and age. The bidding war itself is what convinced Major League Baseball to create its draft.
Per Baseball-Reference.com, Reichardt only got to play in 57 minor league games in 1964, in which he put up merely decent numbers. The Angels decided to call him up to the big leagues anyway in September, and he collected just six hits in 37 at-bats the rest of the way. It was clear that he wasn't ready.
It wasn't until 1966 that Reichardt became an everyday player. He hit .288 with 16 home runs for an Angels squad that finished under .500.
That season should have been the start of something big for Reichardt, but that didn't end up being the case. He never really improved drastically as a player, and it didn't help that he had to have an operation to remove a kidney in 1967. He was out of baseball by 1974.
In 1985, Reichardt told the Los Angeles Times that the pressure to live up to the "next Mickey Mantle" got to his head.
"'It was very tough to live up to, trying to be the next Mickey Mantle,' he said. 'It was very tough for a young player like me.'"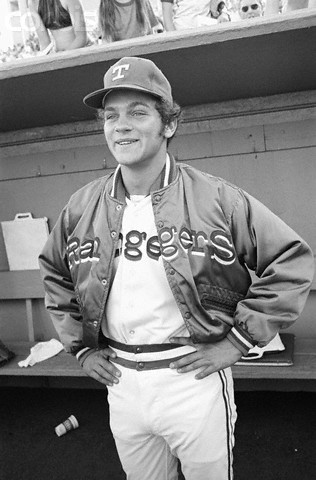 Photo via blogs.dallasobserver.com
David Clyde comes to mind as an example of a player whose career was ruined by blatant mistreatment. After the Texas Rangers drafted Clyde No. 1 overall in 1973, team owner Bob Short decided to use Clyde as a means to draw fans to the ballpark. He didn't wait for Clyde to accumulate any experience in the minors. Instead, Clyde made his major league debut at the age of 18, just three weeks after his final high school start.
Clyde won his first start, but he would win just 17 more games in a career that was cut short due to injuries and simple ineffectiveness. He was out of baseball by the time he was 24.
Anyone who remembers Rick Reichardt and David Clyde remembers them for what should have been rather than what was. You'd think that their failures would be viewed as a valuable lesson never to expect too much of young baseball prospects, but that's a proud tradition that is continued today.
If anything, it's only getting worse.
We live in a day and age where people care more about players who might be stars than they do about players who actually are stars. This is why drafts are more popular now than they've ever been, and the hype machine is a thing that's particularly tough for Major League Baseball.
Darren Rovell, who will soon be re-joining ESPN, explained why on the night of the 2012 MLB First-Year Player Draft:
2 main reasons why MLB Draft is unwatchable: People never heard of players & players won't play any time soon for MLB club.

— darren rovell (@darrenrovell) June 5, 2012
He's right, you know.
People don't know baseball prospects because they have no way of keeping up with college or prep baseball players the same way they do with college or prep football/basketball players, and most people are smart enough to realize that there's a long road ahead between the draft and the major leagues.
But like any product, the draft must be sold. For now, the best way to sell it is with player comparisons. Experts who work for both MLB and publications like Baseball America draw attention to the draft by suggesting that Prospect X might be the next coming of Superstar Y. The draft is sold by experts who are selling it by telling people who these mysterious kids might grow up to become.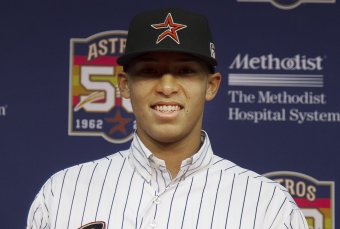 No pressure, Carlos. All you have to do is be the next A-Rod.
Bob Levey/Getty Images
Take this year's No. 1 overall pick, for example. The Houston Astros selected Carlos Correa, a 17-year-old shortstop out of the Puerto Rican Baseball Academy. It was immediately noted on MLB.com that Correa had drawn comparisons to Alex Rodriguez from some scouts. Baseball America (subscription required) wrote well before the draft that he's more like Troy Tulowitzki or Ryan Zimmerman.
This is a lot of pressure to live up to. It's hard enough for a player to live up to being the No. 1 overall pick in the draft. It's even harder for a player to live up to being compared to the greatest No. 1 overall pick in draft history and two of the best infielders of the last 10 years.
Correa isn't the only 2012 draft pick who bears such lofty expectations. Baseball America compared Byron Buxton to Matt Kemp and Mike Zunino to Jason Varitek. They went second and third in the draft, respectively.
People aren't expecting top prospects like Correa, Buxton and Zunino to simply establish healthy careers in the major leagues. They're expecting them to develop into some of the game's best players, and soon.
If Trout and Harper can do it, so can they, dammit.
It's up to the teams that control these players to be careful and remain patient. But rest assured, the temptation to call them up before they are 100 percent sure they are 100 percent ready will be there. It's a mistake a lot of clubs have made over the years, and it's a mistake clubs will continue to make.
The obvious counterargument is that there's more awareness of the potential mistreatment of young players now than there's ever been before, and this is true. Front office people know their baseball history. They know exactly what happened with Reichardt, Clyde and all the other hyped prospects who never made good on the hype that was placed on them.
Baseball people know that it's better to be smart and patient with young players than it is to be excitable and reckless.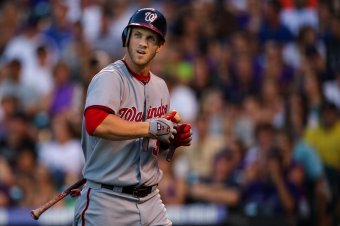 Bryce Harper can't even buy a beer. Not that he would want to, of course.
Justin Edmonds/Getty Images
But this is where the potential danger of the success of both Trout and Harper resides. Trout is 20 years old. Harper is merely 19 years old. Yet they've both taken to the big leagues like ducks to water, and they look like they're well on their way to very fruitful careers.
They're making it difficult to remember that they're both one in a thousand. They are not the norm.
Fans should be careful about accepting them as the norm. The experts should be even more careful.
If baseball executives accept Trout and Harper as the norm, some good careers are going to be ruined before they even start.
If you want to talk baseball, hit me up on Twitter.
This article is
What is the duplicate article?
Why is this article offensive?
Where is this article plagiarized from?
Why is this article poorly edited?