MLB Trade Scenarios: Baseball Fans' 'Trade Them Now' Team
Harry How/Getty Images
About two weeks ago, I published an article that listed MLB's "Trade Me Now" team—a team in which players likely want out of their current locations.
Now, I'm going to explore it from another angle—the fans' perspective.
Because of performance, contract, attitude or other perceived reasons, fans no doubt have opinions on players that they would love to see ridden out of town on a rail.
Without further ado, here is MLB's "Trade Them Now" team,
Catcher: Nick Hundley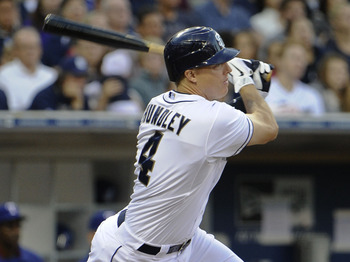 Denis Poroy/Getty Images
San Diego Padres catcher Nick Hundley was rewarded with a three-year, $9 million contract with a team option for $5 million for the 2015 season.
Hundley hit .288 last season, a full 46 percentage points better than his career average of .242 up to that point.
This year, Hundley has simply been awful, with a slash line of .172/.234/.269/.503. Thankfully, he doesn't yet qualify for the batting title, or else he'd have one of the lowest batting averages in MLB history.
The Padres have young Yasmani Grandal waiting in the wings—what are they waiting for? Grandal is hitting .326 at Triple-A Reno and has a career .311 average in the minors. It doesn't make sense to keep him in the minors at this point.
First Base: James Loney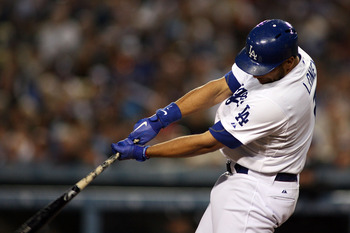 Jeff Golden/Getty Images
The Los Angeles Dodgers are scrambling right now, a team devoid of offense without slugger Matt Kemp and possibly without the services of right fielder Andre Ethier for a little while.
Ethier left Wednesday's game against the San Francisco Giants in the first inning with a left oblique injury.
If you were thinking worst-case scenario as far as what else could go wrong with the Dodgers, an injury to Ethier would certainly be it.
Oblique injuries generally lead to DL stints, and if that's the case, the Dodgers are in trouble.
First baseman James Loney is not a guy the Dodgers can turn to for a lift, that's for sure. Loney has the third-worst OPS in the majors among first basemen (.645), the worst slugging percentage (.333) and the second-lowest RBI total (21).
With the deep pockets of the new Dodgers' ownership group, it's likely that they'll be looking for better options at first base during the offseason.
Most fans would like to see that change happen now.
Second Base: Ryan Raburn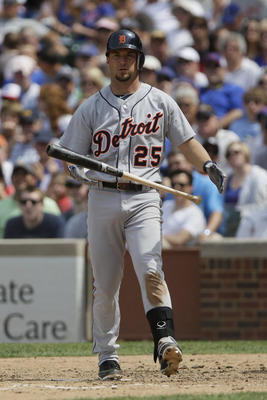 John Gress/Getty Images
Someone is seriously going to have to explain to me why Detroit Tigers second baseman Ryan Raburn still holds down a roster spot.
Raburn was given about a 60 percent bump in pay for the 2012 season, up to $2.1 million from $1.3 million in 2011, when he hit .256 with 14 HR and 49 RBI.
Raburn should be giving money back.
Thus far, he's hitting .168 with one homer and eight RBI.
For a team scrambling to get above .500 and fight for postseason positioning, Raburn absolutely has to be the guy to go.
He's a "trade them now" candidate for sure, just not sure the Tigers get can get much more than a bucket of batting practice baseballs for him at this point.
Shortstop: Brendan Ryan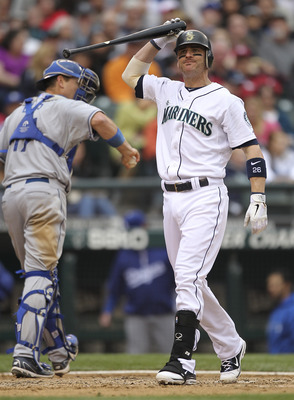 Mariners SS Brendan Ryan throwing his bat away in disgust—an all-too common theme this season.
Otto Greule Jr/Getty Images
Seattle Mariners shortstop Brendan Ryan will never be confused with Hall of Fame player Cal Ripken Jr.
Heck, right about now, Ryan wouldn't be confused with Mario Mendoza, either.
Ryan is currently hitting just .182 for the offensively-challenged Mariners, and it's clear that his glove (just two errors) is the only thing keeping him in the lineup.
While the Mariners offense is better this year than last, when they were dead last in the American League in runs scored, I'm pretty sure they don't want an automatic out in the No. 9 hole in their lineup.
Third Base: Juan Uribe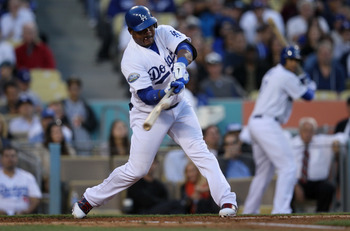 Stephen Dunn/Getty Images
The Los Angeles Dodgers feature one of the worst-producing corner infields in the majors. We already discussed first baseman James Loney.
Now, meet his sidekick, third baseman Juan Uribe.
After an injury-filled 2011 campaign that saw Uribe hit just .204 with four HR and 28 RBI, he has followed up that putridity with an equally-rotten .217 average with exactly one home run in 37 games.
The $16.5 million that is still owed to Uribe through next season will make it very difficult to unload him, but for Dodgers' fans, they'd likely want ownership to pay all of his remaining salary just to get him out of town at this point.
Outfield: Vernon Wells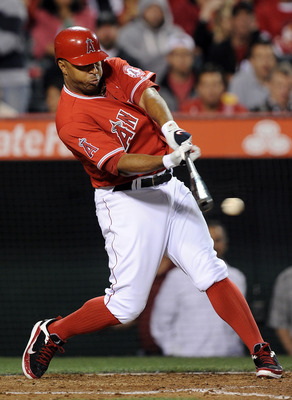 Harry How/Getty Images
Los Angeles Angels left fielder Vernon Wells is currently on the disabled list rehabbing from surgery to repair the UCL in his right thumb.
Wells isn't expected back until after the All-Star, and when he returns, it's likely to a seat on the bench.
With an outfield featuring Mark Trumbo, Mike Trout and Torii Hunter, the Angels feature the best record in baseball since late April.
Manager Mike Scioscia isn't going to mess with success, so Wells will be left in limbo.
Fans would no doubt love to see a trade happen, but Wells has what is largely considered one of the worst contracts in baseball.
With approximately $53 million still owed to Wells through the 2014 season, the chances of any team willing to take him on are slim to none.
Wells is truly one of the nicest guys in all of baseball—but it's about business.
Outfield: Nyjer Morgan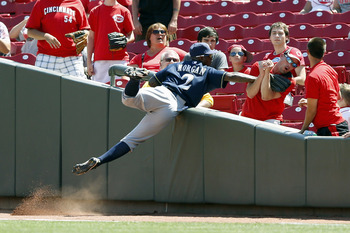 Joe Robbins/Getty Images
Milwaukee Brewers center fielder Nyjer Morgan spent time both in Pittsburgh and Washington before wearing out his welcome. That time could be coming in Milwaukee as well.
First, there was the record 138 plate appearance streak without recording a run batted in to start the season. Then, there's the current .233/.301/.290 slash line.
Now, Morgan is tussling with fans. While the incident was likely not a big deal, it just adds to the growing list for Morgan, who eventually found his way out of both Pittsburgh and Washington for similar infractions.
Are Brewers fans now getting tired of the same old routine?
Milwaukee could well be cleaning house if they are unable to turn things around before the trade deadline. Morgan could well be a casualty, and fans may not mind at all.
Outfield: Alfonso Soriano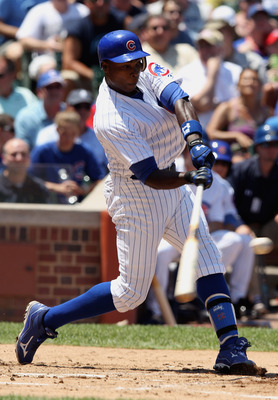 Scott Halleran/Getty Images
On June 16, Chicago Cubs outfielder Alfonso Soriano drew the ire of fans when he failed to run to first base after scorching a line drive down the third base line in a game against the Boston Red Sox.
To Soriano's credit, it appeared that third baseman Will Middlebrooks had caught the ball. However, he then dropped it, and with Soriano still standing in the batters' box, easily threw him out at first.
Cubs' fans booed lustily, while teammates defended Soriano following the game.
It was a bang-bang play, and Soriano really shouldn't be held accountable for failing to run the play out. However, was it more the fans voicing their frustration for a $136 million player who hasn't been perceived to be worth the money?
Soriano's trade value has never been higher, with the most home runs of anyone in the National League since May 15. The Cubs are willing to pay the vast majority of Soriano's remaining contract to facilitate a deal, and it's likely that Cubs fans won't be hurt to see him leave, either.
Starting Pitcher: Daniel Hudson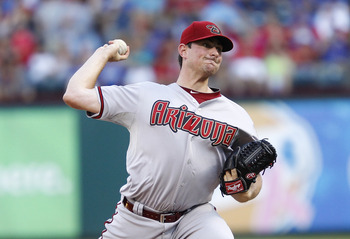 Rick Yeatts/Getty Images
Arizona Diamondbacks starting pitcher Daniel Hudson was pulled from his start on Tuesday night against the Atlanta Braves after experiencing elbow soreness in the second inning.
The injury was described as forearm tightness, but Hudson admitted that his elbow issues have kept him from properly finishing off pitches.
"I've always had soreness in there," Hudson said. "With my arm action, I just kind of figured it came with the territory."
Hudson later told the team that he had been experiencing soreness in the elbow for the last few starts, something that apparently came as a complete shock to manager Kirk Gibson.
"We were unaware his elbow was sore," Gibson said. "That's certainly something that's alarming."
Alarming? You think?
How is it that a pitcher doesn't tell his own team about lingering pain? I certainly understand players playing through pain, it's been going on for many decades in baseball.
But when a pitcher can't be honest with his team and let them know about a lingering issue, especially when it involves an elbow, that's a lot more than alarming.
Hudson put his team in jeopardy by not disclosing his pain, plain and simple.
If I were a D-Backs fan, I'm not so sure I want someone on my team who can't be honest with management about what's going on.
Hudson, you're a pitcher who has pain in your arm—how do you not tell your team about that?
Starting Pitcher: Josh Beckett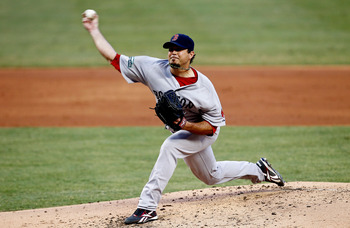 Sarah Glenn/Getty Images
If this were an odd-numbered year, maybe Boston Red Sox starting pitcher Josh Beckett wouldn't find fans barking for his ouster.
Ever since his arrival in Boston in 2006, Beckett has seen great times in odd-numbered years, but the even-numbered ones haven't treated him so kindly.
Not this his actions and comments have helped his cause any, mind you.
Red Sox fans already have a sour opinion regarding player accountability, and Beckett's questionable comments regarding last year's clubhouse scandal and this season's golf outing did not go over well.
Combine that with the fact that Beckett's performance thus far in 2012 hasn't been memorable, and the fact that he's on the disabled list with shoulder issues makes for a perfect storm in terms of a current lack of fan support.
Relief Pitcher: Brian Fuentes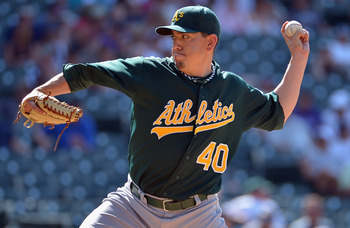 Doug Pensinger/Getty Images
Relief pitcher Brian Fuentes' time with the Oakland Athletics has not been a walk in the park.
Last year, Fuentes famously called out manager Bob Geren for the way he was being handled. This year, Fuentes was given his chances to close once again, but he simply spit the bit.
Now, Ryan Cook is handling the closing duties on most nights for the A's, and Fuentes serves as a $5 million mediocre reliever (6.85 ERA in 25 appearances).
Ugh.
Maybe the trade market will open up to move Fuentes to a team in need of an expensive whiner.
Doug Mead is a featured columnist with Bleacher Report. His work has been featured on the Seattle Post-Intelligencer, SF Gate, CBS Sports, the Los Angeles Times and the Houston Chronicle.
Keep Reading