Welcome to Wednesday's St. Louis Rams "News and Notes at Noon", the preeminent source for all major Rams headlines and other information of interest for Rams Nation with brief commentary and analysis.
Rams Hidden Treasure: Running Back
Mike Sando of ESPN feels that the running back situation in St. Louis could exceed offseason expectations.
In this piece, Sando points to the fact that the Rams finally have a young runner (second rounder Isaiah Pead) behind three time Pro Bowl back Steven Jackson. St. Louis views Pead as a future feature back.
In addition, Sando asserts that the Rams like seventh round rookie Daryl Richardson.
In my opinion, this year's running back depth will be the best the Rams have had since Jackson took over as a full-time starter in 2005 after backing up Hall of Fame inductee Marshall Faulk as a rookie.
Pead can do it all, bringing good speed, quickness and hands to the backfield. Richardson looks to potentially be the best No. 3 running back St. Louis has had during the Jackson era and possesses a very nice burst.
Taking a Look at Brian Quick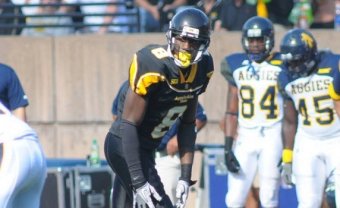 Eric Nagel of Turf Show Times posted a nice analysis of Rams rookie wide receiver Brian Quick.
Among other things, Nagel shared video of Quick during his days at Appalachian State running different routes and making different types of catches before analyzing them on an individual basis.
If Quick can be quick to acclimate himself to the speed of the NFL after playing at the NCAA Division II level, he has a great chance at starting for St. Louis in 2012 and using his 6'4' frame and impressive athleticism to make a significant contribution as a rookie for a team desperately needing help at wide receiver.
Could the Rams Go From Worst to First?
Mike Sando suggests that St. Louis has a chance to go from worst to first this year, according to this piece at ESPN.
Sando, though, says that the Rams chance to win the NFL West is an outside chance. Coming off a 2-14 campaign in a division that was won by a 13-3 team (the San Francisco 49ers), it would be foolish for Sando to give St. Louis much more than a punchers chance to win the west.
That said, Sando does feel that Sam Bradford is the division's most talented quarterback and that the defensive line will be a force. Finally, he asserts that St. Louis is due to have some good luck on the injury front this year, something that could greatly help the quest for a divisional title.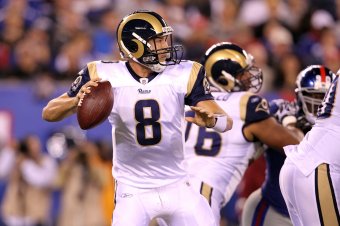 Al Bello/Getty Images
Although I do not expect the Rams to win the division this year, I do fully expect the Rams to enter the final month of the season in contention for a wild card berth.
Whether they end up earning that spot is anyone's guess right now, but I do expect to see a competitive team that is in the mix down the stretch in the NFC playoff hunt.
St Louis Rams Positional Unit Grades
Turfshowtimes.com posted this piece grading the Rams various positional units.
Of all units, running back and cornerback received the highest overall marks while the offensive line and wide receivers received some of the lowest ranking assessments.
For the full report, please click the aforementioned above-linked piece.
As of right now, I would rank the defensive line as my top unit followed closely by the cornerback and running back position.
I will be posting my own positional unit grades next week.
An Early Look at the 2013 NFL Draft from a Rams Perspective
In case you missed it, here is my early look at the 2013 NFL Draft and some of the positions that may require additional reinforcement after this season and what prospects might be good fits for the Rams at those spots.
A few of the players mentioned include wide receiver Robert Woods of USC, versatile offensive lineman Barrett Jones of Alabama and the University of Miami's Ray Ray Armstrong, a 6'4' safety.
Have a great day as always, STL Rams Nation.