AL Cy Young Award Rankings: Healthy Angels Ace Jered Weaver Reenters Top 5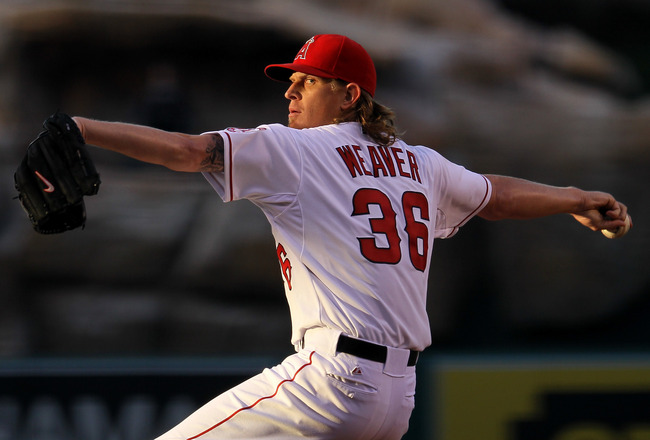 Stephen Dunn/Getty Images
At the time Los Angeles Angels ace Jered Weaver went on the disabled list last month, he was a leading contender for the American League Cy Young Award.
While he spent several weeks on the DL, the rest of the field in the AL passed him by. It would be up to Weaver to prove that he belonged once he was activated from the DL.
Welp, he did that. Weaver's first start off the disabled list last Wednesday was a big success, as he effectively proved with his domination of the San Francisco Giants that he is still one of the American League's best pitchers.
So this week, he's back in the top five of my weekly American League Cy Young Award rankings.
Here is this week's top five.
Note: Feel free to check out last week's rankings.
Honorable Mentions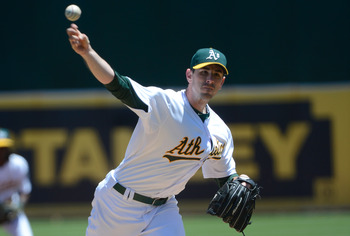 Brandon McCarthy
Thearon W. Henderson/Getty Images
Jason Hammel, Baltimore Orioles
He's pitched 17 scoreless innings in his last two starts, running his record to 8-2 and lowering his ERA to 2.61. He's a threat to climb into the top five, but I need to see him keep up his recent success against American League teams.
Matt Harrison, Texas Rangers
Harrison has allowed a grand total of four earned runs this month, lowering his ERA from 4.41 to 3.24 in the process. He is now tied for the AL lead with 10 wins. Good stuff...but he's another guy who needs to prove he's for real against AL competition.
Brandon McCarthy, Oakland A's
I had McCarthy listed as a dark horse Cy Young contender before the start of the season, so it pleases me that he's currently sitting on a 2.54 ERA. It's too bad he can't stay healthy.
Brandon Morrow, Toronto Blue Jays
It's been a while since we last saw Brandon Morrow out on the mound, and he may not be back for a while still. He's 7-4 on the season with a 3.01 ERA, and he's the only pitcher in baseball with three complete-game shutouts.
David Price, Tampa Bay Rays
Price is tied for the AL lead with 10 wins and he has a solid 2.95 ERA. He's been inconsistent this season, however, making him one of the AL's more frustrating aces.
CC Sabathia, New York Yankees
Sabathia was in my top five last week, but he didn't look so sharp in his most recent start. He only gave up one earned run against the New York Mets, but they collected nine hits off him in 5.2 innings. It was just another reminder that Sabathia isn't invincible this season.
5. Jake Peavy, Chicago White Sox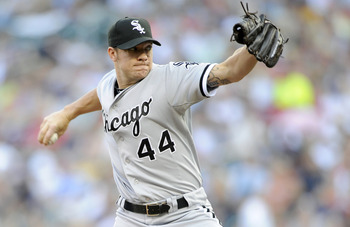 Hannah Foslien/Getty Images
Last Week: No. 5
Every year, there's always at least one guy who can never seem to catch a break.
This year, it looks like Jake Peavy is that guy. He's been consistently good all season, but he just hasn't gotten enough support from his team.
Peavy has lost three decisions in a row to fall to 6-4 on the season, but don't let his record fool you. The final scores of the games he's lost were (in order) 1-0, 1-0, 2-1, and 4-1.
So in his four losses, he's gotten a grand total of two runs of support. Incredible.
Peavy himself has held up his end of the bargain. He currently ranks third in the American League with 104.2 innings pitched, his 2.84 ERA ranks seventh and his 0.99 WHIP ranks fourth. His 3.75 strikeout-to-walk ratio ranks fifth in the American League.
If he had better luck, Peavy could very well be 10-0 or better right now. Wins are overrated (yeah, I'm one of those guys), but a record like that would certainly put him higher in the running for the AL Cy Young Award.
Perhaps Kevin Youkilis can help his cause.
4. C.J. Wilson, Los Angeles Angels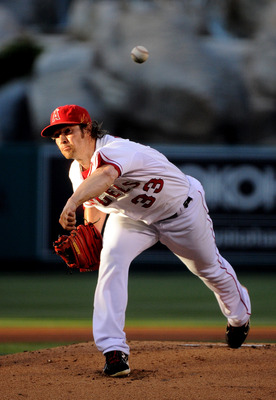 Lisa Blumenfeld/Getty Images
Last Week: No. 3
Entering his start against the San Francisco Giants last Tuesday, C.J. Wilson was working on a string of six straight starts in which he had allowed one earned run or fewer.
So much for that. Wilson allowed 10 hits and five runs (three earned) in 6.1 innings against the Giants. He just wasn't sharp.
On the bright side, he only walked one hitter, and he did end up picking up his eighth win of the season thanks to an abundance of run support. Wilson is now 8-4 on the season with a 2.44 ERA that ranks third in the American League.
And despite the fact he gave up 10 hits, Wilson still boasts a studly .203 opponents' batting average. That ranks fifth in the AL. His .273 opponents' slugging percentage is tops in the AL.
And this guy is supposed to be the Angels' No. 3 starter. Not bad.
3. Jered Weaver, Los Angeles Angels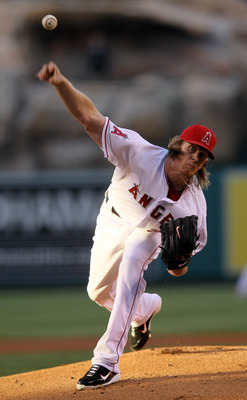 Stephen Dunn/Getty Images
Last Week: Unranked (honorable mention)
I had some commenters argue in the last couple of weeks that Jered Weaver still deserved to be in the top five despite the fact he was on the disabled list.
I kept him out because "lower-back injury" is one of the scariest phrases in the baseball lexicon. I needed to see him come back and dominate again before placing him back in the top five.
Weaver did just that. In his return to the Angels rotation last Wednesday, he limited the Giants to two hits over six scoreless innings, walking just two and striking out three. He picked up his seventh win and lowered his ERA to 2.40.
Only Chris Sale has a lower ERA in the American League, but Weaver tops the charts in WHIP at 0.91. His .189 opponents' batting average is also tops in the AL. His strikeout-to-walk ratio of 3.53 ranks in the top 10.
And of course, Weaver has a no-hitter on his Cy Young resume.
Only—what?—nine other pitchers in the American League have done that this season? Something like that.
2. Chris Sale, Chicago White Sox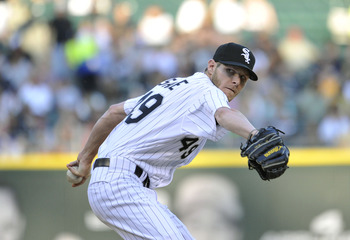 Brian Kersey/Getty Images
Last Week: No. 2
Chris Sale got a reality check at the hands of the Los Angeles Dodgers back on June 15. They knocked him around for five earned runs on seven hits and four walks in just 5.2 innings of work.
Just like that, baseball's hottest pitcher cooled down in a hurry.
Sale proceeded to get hot again in his start against the Milwaukee Brewers last Friday. He pitched eight scoreless innings, giving up four hits and a walk while striking out seven.
Sale borrowed some of Peavy's bad luck, so he wasn't able to walk away with a win. He did, however, lower his ERA to an AL-best 2.24. His 0.96 WHIP ranks second, his 9.07 K/9 ranks fifth, his 3.87 strikeout-to-walk ratio ranks third and so on.
As I've noted before and will continue to note until the end of time, Sale has already set a new career high in innings pitched with 88.1. Since he's not exactly as strong as a bull, I can't help but be concerned about his durability going forward.
But for now, Sale can go toe-to-toe with anybody. He and Peavy are a formidable duo.
If only the rest of Chicago's rotation could pick up some slack...
1. Justin Verlander, Detroit Tigers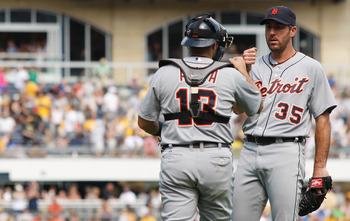 Jared Wickerham/Getty Images
Last Week: No. 1
Justin Verlander didn't have his best stuff on Sunday against the Pittsburgh Pirates. His fastball never climbed higher than 97 miles per hour, and he was forced to overcome a late game-tying two-run homer off the bat of Garrett Jones.
It was by no means an easy day at the ballpark.
It's therefore pretty impressive that Verlander walked away with his MLB-leading fourth complete game. He upped his record to 8-4, and he lowered his ERA to 2.52.
Verlander ranks fourth in the AL in ERA and third in the AL in WHIP at 0.97. He leads the AL in innings pitched, strikeouts and his 4.04 strikeout-to-walk ratio ranks second.
You get the sense that some people out there are convinced that Verlander has taken a few steps back this season. He's doing well, but he's certainly not headed towards another Cy Young Award, and there's no way in hell he's winning another MVP award.
Don't be so sure. Per Baseball-Reference.com, Verlander was 9-3 with a 2.54 ERA and a 4.23 strikeout-to-walk ratio through 16 starts in 2011.
His numbers through his first 16 starts this season are uncannily similar. I consider this to be key proof of my theory that Verlander is actually a cyborg.
Last Week's Rankings
CC Sabathia
Elsa/Getty Images
5. Jake Peavy, Chicago White Sox
Steady as she goes.
4. CC Sabathia, New York Yankees
I'm probably higher on him than most, but he has some bouncing back to do this week.
3. C.J. Wilson, Los Angeles Angels
Down one, but hanging in there.
2. Chris Sale, Chicago White Sox
Steady as she goes.
1. Justin Verlander, Detroit Tigers
Watch your back, John Connor.
If you want to talk baseball, hit me up on Twitter.
Keep Reading