MLB Trade Rumors: Ideal Destinations for Top 25 Stars on the Market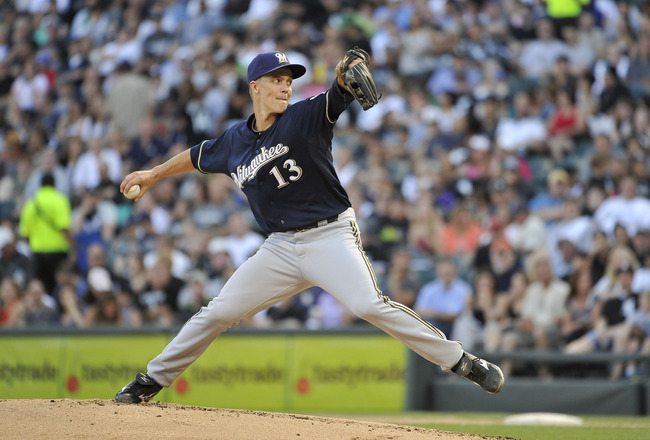 Brian Kersey/Getty Images
Now that Kevin Youkilis has kicked off the 2012 MLB trade season with his swapping of Sox, so to speak, the next few weeks will certainly get interesting for the rest of the trade market.
There a quite a few big names being bandied about in terms of trade speculation, and the next month or so will provide plenty of drama, as buyers and sellers will eventually be identified.
Baseball pundits and various amateur wannabe analysts will be pondering which star goes where and which destinations are the most likely landing spots for those names being discussed.
With that, I'll throw my hat in the ring and give my best educated guess as to where each player could find themselves by the end of July.
Speculating is so much fun, isn't it?
Honorable Mention: Jason Giambi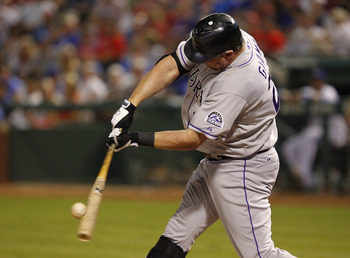 Rick Yeatts/Getty Images
Ideal Destination: New York Mets
The Colorado Rockies have given no indication that they plan on being sellers at the trade deadline, but with a record of 28-45 entering play on Wednesday, it's safe to assume they won't be buying.
Pinch-hitter/backup first baseman Jason Giambi could be a veteran put on the market if the Rockies decide they are selling. With a salary of just $1 million, Giambi would be a great fit for the Mets, given their financial constraints.
Giambi has become a respected clubhouse leader as well. His postseason experience could prove invaluable to the young stars in New York.
Brandon Lyon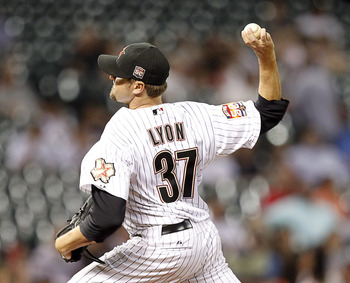 Bob Levey/Getty Images
Ideal Destination: New York Mets
With the recent injury that landed closer Frank Francisco on the disabled list, coupled with ongoing struggles from others, the New York Mets seem keen on adding bullpen help.
Houston Astros reliever Brandon Lyon could be a great fit. With a 2.79 ERA in 31 appearances, Lyon would bring stability to a Mets bullpen that's ranked last in the National League with a 5.21 ERA.
Lyon is in the final season of a three-year, $15 million deal and is still owed roughly $3 million for the remainder of 2012.
Huston Street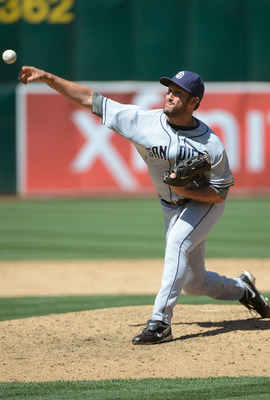 Thearon W. Henderson/Getty Images
Ideal Destination: Cincinnati Reds
After missing a month with a strained lat muscle, San Diego Padres closer Huston Street is healthy and dealing once again.
Since his return on June 5, Street has given up just two runs in nine appearances, notching seven saves along with a win.
With the Padres likely to be sellers at the trade deadline, it's assumed that Street would become available. With ownership still not resolved, Street's salary of $7.5 million, which comes with a a $9 million option for next season, may be too much to bear.
In Cincinnati, Street would be a great complement to left-handed flamethrower Aroldis Chapman, who has blown two consecutive save opportunities.
Jonathan Broxton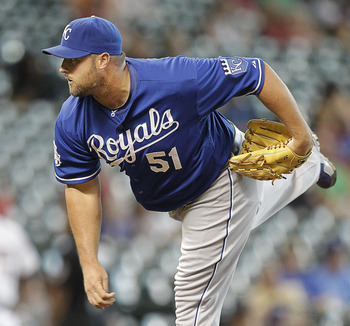 Bob Levey/Getty Images
Ideal Destination: New York Yankees
Kansas City Royals closer Jonathan Broxton has performed brilliantly this season in the absence of Joakim Soria, who was lost in spring training to a second Tommy John surgery.
With a 1.52 ERA and 19 saves, Broxon has returned to the form that saw him dominate for the Los Angeles Dodgers in the late 2000s. While the velocity may not have fully returned, his ability to get the job done in the late innings has indeed come back.
With that said, Broxton is likely not a long-term answer for the Royals. Either Soria, Aaron Crow or Greg Holland will be in the mix in 2013, so Broxton will likely be offered up at the trade deadline.
The New York Yankees make perfect sense as a landing spot. Adding another top-shelf pitcher to a bullpen that includes David Robertson and Rafael Soriano would give the Yankees a powerful back-end trio for the playoff push without costing an arm and a leg. Broxton would only cost the Yankees around $1.7 million at the deadline.
Shaun Marcum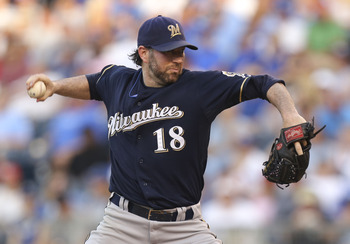 Ed Zurga/Getty Images
Ideal Destination: Anywhere but Milwaukee
The status of Milwaukee Brewers starting pitcher Shaun Marcum is certainly up in the air, especially given his recent elbow discomfort.
Marcum cut short a throwing session on Monday after experiencing discomfort in his right elbow. Marcum was placed on the disabled list last week, retroactive to June 14, and the Brewers had hoped that Marcum would only miss two starts. Monday's news may extend that disabled-list stint.
The Brewers weren't planning to address Marcum's contract status until the end of the season, and if Milwaukee was declaring themselves as sellers, Marcum likely would have been available.
However, given his current issues, many teams are unlikely to be willing to offer much of anything in return.
My gut feeling is that if Marcum is able to avoid an extended stay on the disabled list, Milwaukee will look for any offer that gets him out of town the quickest.
Edinson Volquez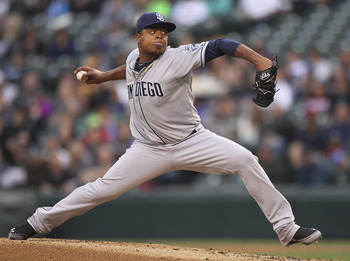 Otto Greule Jr/Getty Images
Ideal Destination: Pittsburgh Pirates
The San Diego Padres are expected to be sellers at the trade deadline, but according to GM Josh Byrnes, his veterans will come at a cost.
"If we sell, it will be at very high prices," Byrnes said earlier this month. "We can keep [Chase] Headley and Volquez beyond this year. We want to keep [Carlos] Quentin (who can become a free agent after the season). And [Huston] Street has a mutual option. So I wouldn't be surprised if the prices are higher than people think."
Volquez is 4-7 with a 3.82 ERA in 16 starts. The concern for Volquez is his home/road splits, with pitcher-friendly Petco Park much more to his liking.
Pittsburgh might turn out to be a good fit for Volquez. With Charlie Morton now lost for the season and Jeff Karstens struggling, Volquez would add depth to the rotation. With a salary of just $2.238 million this year and under team control next year, it fits within the Pirates' limited budget.
Francisco Liriano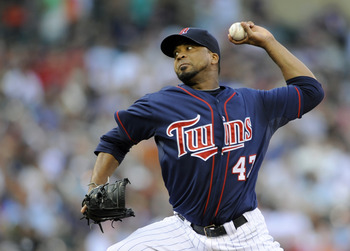 Hannah Foslien/Getty Images
Ideal Destination: Toronto Blue Jays
Since returning to the starting rotation in late May, Minnesota Twins pitcher Francisco Liriano has started to turn around what looked like a dismal 2012 season.
In his last six starts, Liriano has posted a 2.41 ERA, dropping from a high of 8.47 to his current 5.30.
While possible suitors may still be wary of adding a pitcher who has shown great potential, but posted largely inconsistent numbers, Liriano may still have value at the trade deadline.
The Blue Jays might be a possibility. Manager John Farrell has worked wonders with troubled pitchers, and given the injuries that three-fifths of the starting rotation have endured, the Jays could certainly use some help.
Jose Mijares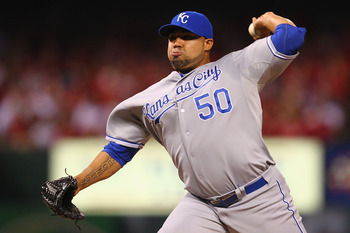 Dilip Vishwanat/Getty Images
Ideal Destination: Los Angeles Angels
It's still not a safe assumption that the Kansas City Royals will be sellers at the trade deadline, given the relative weakness of the AL Central.
At five games under .500, the Royals are only five games out of the lead, so anything is possible at this point. With more than four weeks left until the trade deadline, GM Dayton Moore will likely wait until the last possible moment to decide his team's fate.
If, in fact, they are selling, reliever Jose Mijares will likely be a hot commodity. With a stellar 1.84 ERA in 36 appearances, Mijares could be one of the more highly sought-after non-closers at the deadline.
The Los Angeles Angels have seen great improvement in their bullpen over the past several weeks, especially since adding Ernesto Frieri to the mix. But Ken Rosenthal of FOX Sports believes the Angels are still in the hunt for late-inning help.
Adding Mijares won't break the bank for owner Arte Moreno, who has already committed $145 million to this year's payroll. Mijares is only making $925,000 this year and would be under team control through the 2014 season.
Shane Victorino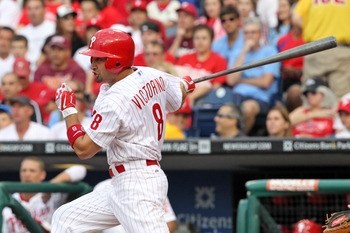 Hunter Martin/Getty Images
Ideal Destination: Toronto Blue Jays
The Philadelphia Phillies have yet to declare their intentions leading up to the MLB trade deadline. With a win on Tuesday night, the Phillies are still four games under .500 and eight games behind the Washington Nationals in the NL East.
GM Ruben Amaro stated back in May that his team would be sellers if there wasn't a drastic turnaround, and barring a major winning streak in the coming weeks, that could prove to be the case.
Center fielder Shane Victorino would be a prime-candidate trade chip for Amaro. In the last season of a three-year, $22 million contract, it's unlikely that Philly will offer Victorino a multi-year deal, given their current payroll and commitments to several stars.
The Toronto Blue Jays could be a great destination for Victorino. While Colby Rasmus has performed admirably with 14 HR and 44 RBI, adding Victorino would give the Jays a great combination of speed and defense. Rasmus could slide over to left to keep his production in the lineup.
Placido Polanco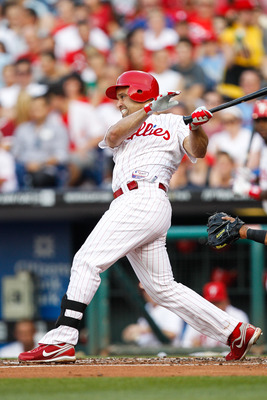 Brian Garfinkel/Getty Images
Ideal Destination: Baltimore Orioles
Much like teammate Shane Victorino, Philadelphia Phillies third baseman Placido Polanco is in the final season of a three-year contract and likely isn't a part of the team's future.
Polanco's health has not been a concern this year. He's played in 64 of 76 games for Philly with a .282 average. The Orioles could benefit greatly from Polanco's postseason experience. In addition, acquiring Polanco would facilitate the move of Chris Davis to first base and either put Mark Reynolds on the bench or on the trade block.
If the Orioles are serious about contending for the first time in 15 seasons, veterans like Polanco are what they need.
Brett Myers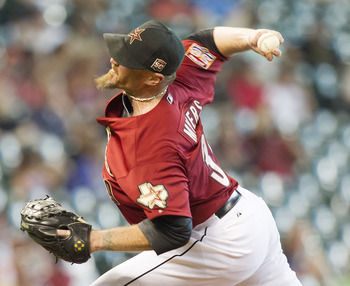 Bob Levey/Getty Images
Ideal Destination: New York Mets
How about a package deal with closer Brett Myers and reliever Brandon Lyon to the New York Mets?
That's a trade that would certainly go a long way toward fixing what ails the Mets' bullpen. Both Myers and Lyon are in the final year of their contracts. Myers does have an option for the 2013 season, but that option could possibly be waived.
With the addition this season of a second Wild Card, the Mets have a clear opportunity to make some hay in the NL East. GM Sandy Alderson has already stated his desire to fix his bullpen. This trade would accomplish that.
Jeff Francoeur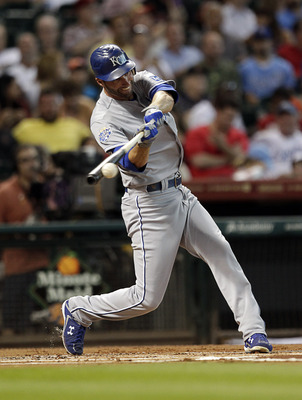 Bob Levey/Getty Images
Ideal Destination: Pittsburgh Pirates
The Kansas City Royals have a young and promising prospect in Wil Myers who is getting closer to major league-ready with each passing day.
Myers has continued his hot hitting since his promotion to Triple-A Omaha, hitting .313 with 11 HR and 33 RBI in 39 games. When he gets the call to join the big-league club, the Royals will have a decision to make about incumbent right fielder Jeff Francoeur.
The Royals are reluctant to part with Francoeur, who signed a two-year, $13.5 million contract extension last year. His clubhouse leadership and top-shelf demeanor have been welcomed by teammates and management alike.
But at the same time, the Royals won't get in the way of Myers' development, and GM Dayton Moore won't be afraid to jettison veterans if they're selling at the trade deadline.
Francoeur would be a nice fit in Pittsburgh. With young outfielders who are struggling (Jose Tabata, Alex Presley), adding Francoeur would give the Pirates an excellent veteran presence and an infusion of offense.
Carlos Lee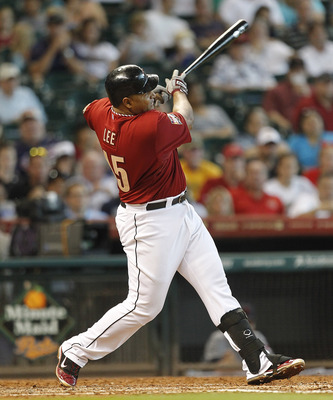 Bob Levey/Getty Images
Ideal Destination: Los Angeles Dodgers
Another of the veteran Houston Astros expected to be available at the trade deadline, first baseman Carlos Lee may not have as many suitors due to his age and declining production.
However, Lee is still hitting .295, and despite his obvious diminished power, he is still able to provide clutch hits for a contending team.
At best, Lee would be a rental player. For that reason, the Los Angeles Dodgers could be a good fit.
The Dodgers are expected to be major players in free agency this coming offseason, with new ownership and an infusion of cash at the ready. But that doesn't preclude them from adding Lee, who is in the final season of a six-year, $100 million contract.
Justin Morneau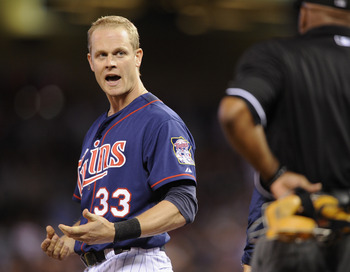 Hannah Foslien/Getty Images
Ideal Destination: Minnesota Twins
The Minnesota Twins' first baseman/designated hitter is still trying to work his way back from the concussion suffered in 2010. While he's stayed relatively healthy, it's been met with mixed results.
Morneau is hitting .229 with 10 HR and 34 RBI. Morneau's biggest issue has been against left-handed pitching. Morneau is hitting just .087 (6-for-69) against southpaws.
With about $22 million still owed to Morneau through next season, it's highly unlikely that the Twins would find a willing suitor. Morneau is best suited to stay right where he is.
Josh Willingham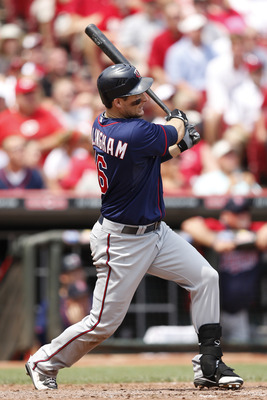 Joe Robbins/Getty Images
Ideal Destination: Seattle Mariners
Call me crazy, but I actually like the idea of outfielder Josh Willingham in the Seattle Mariners' lineup.
ESPN recently floated the notion of the Minnesota Twins moving either Willingham or Denard Span. Yes, the Mariners have a bevy of young outfielders, but none of them is providing the expected production.
With the Mariners' young corps of pitchers (Danny Hultzen, Taijuan Walker, James Paxton) ready to make the leap to the majors within the next year or so, adding a veteran like Willingham who can still produce might make sense. The Twins would certainly be willing to take young outfield help in return.
Jeremy Guthrie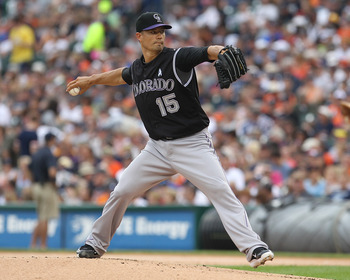 Dave Reginek/Getty Images
Ideal Destination: Colorado Rockies
Colorado Rockies starter Jeremy Guthrie has actually thrived in his new role in the Rockies' bullpen.
Guthrie has pitched 6.2 scoreless innings in his two appearances out of the 'pen. Since the Rockies moved to a four-man rotation with each starter being limited to 75 pitches, they like Guthrie's ability to bounce back quickly and provide quality middle-relief innings.
In addition, as Ken Rosenthal of FOX Sports reports, the Rockies won't give up Guthrie unless they can get salary relief or comparable value in return, which is unlikely given Guthrie's current ERA of 6.34 and dismal first-half performance.
The new system in Colorado definitely appears to be to Guthrie's liking, so staying right where he is may be the ideal situation.
Alfonso Soriano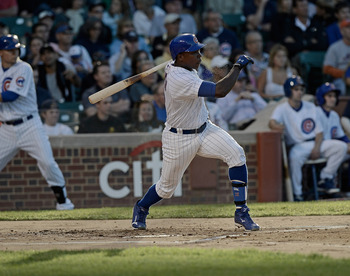 Jonathan Daniel/Getty Images
Ideal Destination: Baltimore Orioles
In their most recent batch of interleague games, the Chicago Cubs featured an outfield of Tony Campana in left, David DeJesus in center and Bryan LaHair in right, with Alfonso Soriano as the designated hitter.
The role clearly suits Soriano. In 20 games as a DH, Soriano has a .381 average with seven home runs, 19 RBI and a 1.219 OPS.
With the most home runs in the National League since May 15, Soriano's trade value has never been higher.
The Baltimore Orioles could absolutely benefit from that type of production, especially if the Cubs pony up the bulk of the money remaining on Soriano's contract, which calls for roughly $47 million through 2014.
Jason Vargas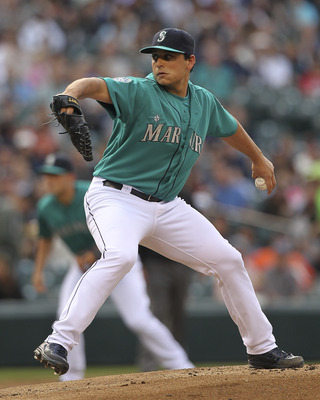 Otto Greule Jr/Getty Images
Ideal Destination: Boston Red Sox
Seattle Mariners starting pitcher Jason Vargas is not an ace and will never be confused for one, but he is a workhorse who eats innings.
Aside from his June 20 start against the Arizona Diamondbacks which pushed his ERA up from 3.95 to 4.66, Vargas has been serviceable this season. While not flashy, Vargas fills a need for contending teams that are in the market for quality mid-rotation help.
The Boston Red Sox are definitely in need of help for their rotation, especially with injuries to both Josh Beckett and Clay Buchholz. Vargas would be affordable and under team control through the 2013 season. At this point, the Red Sox could use all the help they can get.
Francisco Rodriguez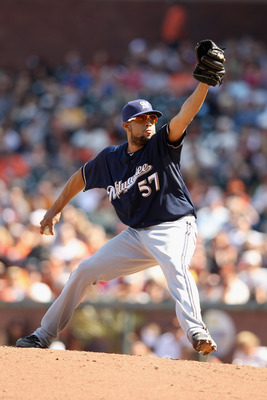 Ezra Shaw/Getty Images
Ideal Destination: Detroit Tigers
The rumor mill regarding Milwaukee Brewers reliever Francisco Rodriguez has been strangely quiet this season, but that could change in a heartbeat as the trade deadline draws near.
The Brewers have yet to indicate their intentions, but one could assume that K-Rod would likely be made available if Milwaukee decides to sell.
Rodriguez told Adam McCalvy of MLB.com that it would be his preference to stay in Milwaukee, but still harbors a desire to close, which won't be happening in Milwaukee with John Axford around.
Since Rodriguez accepted arbitration with the Brewers and signed for one year and $8 million, he doesn't have no-trade protection.
The Tigers might be a solid fit. Detroit's bullpen is the third-worst in the American League with a 3.76 ERA, and closer Jose Valverde hasn't exactly produced the success that defined his 2011 season.
K-Rod would likely be a rental player for the Tigers, but his presence in the bullpen would be a welcome addition.
Wandy Rodriguez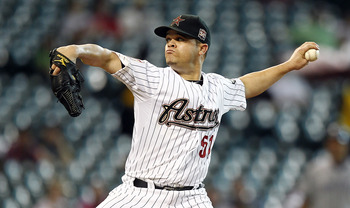 Bob Levey/Getty Images
Ideal Destination: San Francisco Giants
Much like last season, the status of Houston Astros pitcher Wandy Rodriguez is a hot topic as the trade deadline nears.
While Rodriguez wasn't moved last season, that's unlikely to be the case this year.
The San Francisco Giants have been rumored to be taking a look at Rodriguez, and I like the fit there.
Rodriguez would clearly benefit from the spacious confines of AT&T Park and act as insurance if Tim Lincecum is unable to find any consistency.
Carlos Quentin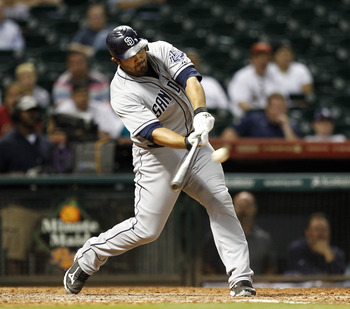 Bob Levey/Getty Images
Ideal Destination: Cleveland Indians
Will he stay or will he go? That seems to be the biggest question concerning San Diego Padres outfielder Carlos Quentin.
With ownership still not settled in San Diego, Quentin could find himself on the trading block in a matter of weeks. And, no doubt, teams will be pushing to add his bat.
Rumors have quite a few teams interested, including the Detroit Tigers, New York Yankees, Texas Rangers and Toronto Blue Jays. The Cleveland Indians, however, might be the best fit.
Left field has been a black hole in Cleveland, first with Shelley Duncan and now with Johnny Damon. Adding Quentin would easily fill that void and provide a much-needed right-handed bat in a Tribe offense loaded with left-handed hitting.
Jed Lowrie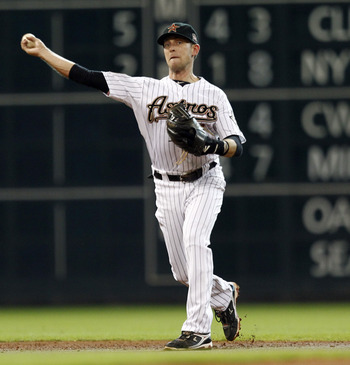 Bob Levey/Getty Images
Ideal Destination: Pittsburgh Pirates
While the Houston Astros are expected to be selling off pricey veterans before the trade deadline, they're sure to get offers on others as well, most notably shortstop Jed Lowrie.
This is where the Pittsburgh Pirates should swoop in. The Bucs swung and missed on free agent Clint Barmes, but with Lowrie, they'll get instant offense. In addition, Lowrie is under team control through 2014, which fits in well with the cost-conscious Pirates.
Cole Hamels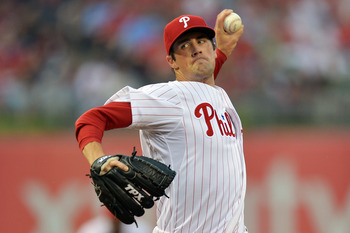 Drew Hallowell/Getty Images
Ideal Destination: Los Angeles Dodgers
The Philadelphia Phillies have not declared their intentions for the trade deadline, but the status of pitcher Cole Hamels is certainly a hot topic.
Considering that there has been no progress in talks regarding a long-term contract extension, the likelihood that Hamels will be made available is high.
The Dodgers have long been known to covet Hamels and would be the ideal destination. A rotation featuring Clayton Kershaw, Hamels, Chad Billingsley and a rejuvenated Chris Capuano would be lethal indeed. It would give the Dodgers great depth, with Aaron Harang and Ted Lilly on the back end, if Lilly's shoulder progresses well in rehab.
Zack Greinke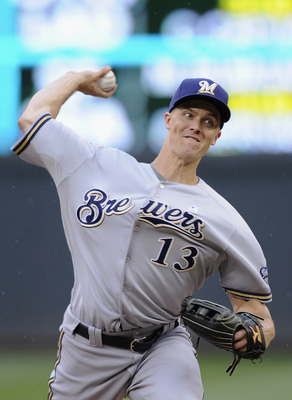 Hannah Foslien/Getty Images
Ideal Destination: Chicago White Sox
The Milwaukee Brewers are telling teams that star pitcher Zack Greinke is "not yet" available, but that could change soon.
The Chicago White Sox have already shown a willingness to be all in this season with their acquisition of third baseman Kevin Youkilis. They should continue that all-in mentality by going after Greinke.
With Philip Humber on the disabled list, John Danks lost for the season and Gavin Floyd's inconsistent effort throughout, Greinke would give the White Sox another great weapon at the top of their rotation alongside Jake Peavy.
Ryan Dempster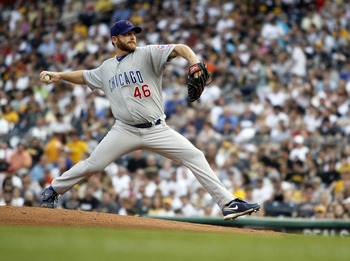 Justin K. Aller/Getty Images
Ideal Destination: Baltimore Orioles
While he is currently on the disabled list with a strained lat muscle, it's still likely that Chicago Cubs starting pitcher Ryan Dempster will be a hot commodity on the trade market in the coming weeks.
Dempster's injury isn't considered serious, and it's assumed he'll miss the minimum amount of time on the DL, although Doug Padilla of ESPN reported that Dempster might miss another week after his original 15-day stint expires.
While that may throw a bit of a kink into trade talks, if Dempster shows he's healthy upon his return, the Baltimore Orioles would be a great landing spot.
The O's bullpen has been terrific all season and often has bailed out a shaky starting rotation. Adding Dempster would give the O's a legitimate shot to make the playoffs and take pressure off a bullpen that is often taxed.
Matt Garza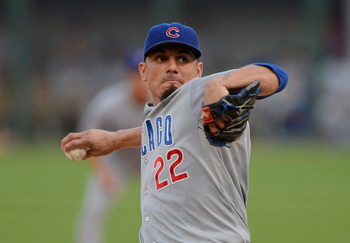 Jonathan Daniel/Getty Images
Ideal Destination: Toronto Blue Jays
Chicago Cubs pitcher Matt Garza has not come to terms on a long-term extension with the team, and as the trade deadline approaches, the chances of that happening become even slimmer.
Garza is going to come at a cost. Because he's still under team control through next season, he'll come at a higher cost than teammate Ryan Dempster.
Bidding teams will have to come up with the right package of prospects in return, plus have a willingness to sign Garza long-term.
For this reason, I believe the Toronto Blue Jays are the best fit. The Jays have prospects to spare without burning their farm system, and Garza alongside Ricky Romero and Brandon Morrow atop the Blue Jays' rotation would be a formidable trio in the competitive AL East.
Doug Mead is a featured columnist with Bleacher Report. His work has been featured on the Seattle Post-Intelligencer, SF Gate, CBS Sports, the Los Angeles Times and the Houston Chronicle.
Keep Reading