St Louis Rams: Tuesday's Rams News and Notes at Noon
June 26, 2012

Dilip Vishwanat/Getty Images
Welcome to Tuesday's St Louis Rams "News and Notes at Noon," the go-to source for all major Rams headlines and other information of interest with brief analysis and commentary for Rams Nation. 
Chris Long and Robert Quinn On Elite 2015 List
According to a report by Matt Williamson of ESPN (as shared in this piece by Ryan Van Bibber of Turf Show Times), St. Louis defensive ends Robert Quinn (22) and Chris Long (27) will be elite pass-rushers in 2015. 
In fact, Williamson projects Quinn as the fourth best pass-rusher in 2015 and Long at No. 6.
The report, as shared by Van Bibber, stated the following on Quinn: 
Choosing the top three pass-rushers on this list was easy to do. As it stands, there is a drop-off from Pierre-Paul, Smith and Miller to Quinn. But that is just because we haven't seen as much from Quinn, who has a chance to be a special player while showing impressive flashes during his rookie season. His adjustment to the NFL was more difficult than that of most rookies due to the lockout and the time he missed during his final season at North Carolina. But he is an extremely explosive player with terrific pass-rush potential. Amazingly, Quinn will be only 25 when the 2015 season begins.
For more on Long, please click the above-linked piece from Van Bibber at TST. 
I expect both Long and Quinn to make a major impact this year, as I analyzed and discussed in this recent submission. 
 
Sam Bradford Leads Efforts in Race For the Cure 
On Saturday, St. Louis quarterback Sam Bradford led efforts in the Susan G. Komen Race for the Cure event downtown and spoke to the vast audience. 
More than 50,000 people participated in the event, per Nick Wagoner of stlouisrams.com and this article. 
Bradford, for his part, was honored to play a role for the worthy cause:
It means a lot. Everyone told me to wait until race day to find out what it's all about and I thought I knew how important this was but to get up there on stage today and see so many survivors and so many supporters come out early on Saturday morning and show their support, it just says so much about breast cancer and how much it affects people, how much it takes to fight. It's just really special to be a part of.

I thought I knew how big of an event this was in St. Louis but I truly found out today just how big it was. I'm really glad I got involved. It truly is an honor to be the chair of this event.

I haven't had a personal connection to breast cancer. My mom has friends that have had it, I think everyone knows or has someone in their life who has been affected by some kind of cancer. I think the fact that it's so widespread is really what drew me to it.
St. Louis mayor Francis Slay showed tremendous appreciation for Bradford and the Rams' efforts related to the event: 
The race and the whole event has grown dramatically over the years and it's good to see that the Rams and their players have really been a big part of this and have been a big help to make this as successful as it's been. We really appreciate it.

Certainly everybody knows Sam Bradford and really respects him as an athlete. To see him come out here and show this kind of support for the community really provides a boost for the effort and I think also, we love him as an athlete, but it really shows he has a strong human side. He and the Rams organization are just a great asset to this community all the way around.
Dede Hoffman, the board chair of the St. Louis affiliate of the Komen Foundation, shared these thoughts regarding the Rams importance to the event: 
This is a task we could not do without organizations like the Rams and many of our city community partners. The Rams have been wonderful from loaning us facilities to loaning us people. It's been fabulous. We are a sports town and it means a lot to us.

 
Rookie Week Teaches Rams Tremendous Lessons
According to a recap of Rams rookie week by stlouisrams.com senior writer Nick Wagoner, various St Louis rookies learned a great deal through a myriad of orchestrated events last week. 
Molly Higgins, the Rams' vice president of corporate communications and civic affairs, stated the following regarding the aforementioned rookie week: 
We introduced 'rookie week' in 2010 as a way to get the rookies acclimated to the St. Louis community as well as the various opportunities and responsibilities associated with being a St. Louis Ram. We are an organization that believes we have a tremendous platform as a professional sports team to bring attention to causes and help address needs in our community. The week was designed to get them thinking about those opportunities and responsibilities and what will be expected of them moving forward.

One of our primary organizational objectives is to be a good community partner. With that in mind, we felt that it was important to engage the rookies in some charitable events immediately, so they better understand that charitable commitment.
Various rookies shared their thoughts in regard to last week's event, as posted in Wagoner's above-linked report, including second-round running back Isaiah Pead:
I think it's been beneficial for us, it was a humbling experience to be giving back to the community and definitely changing the community by building playgrounds and building houses where a tornado hit. It's about reaching out to everywhere we can in the state while we can and reaching out to our fanbase.
Rookie linebacker Aaron Brown summed up the week's events in this manner: 
What I took away mostly is it's always good to give back to the community. We are so blessed to be in the position we are, it takes nothing to shake some hands or make a kid smile even if it's just an hour out of the day or 10 hours.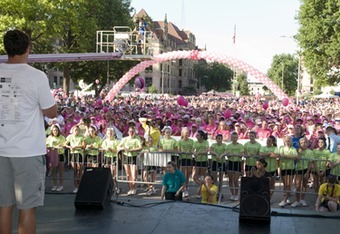 Darian Stewart's Best Day Ever
Mark McCarter of The Huntsville Times shared a terrific piece on St. Louis safety Darian Stewart and his recent collegiate graduation from the University of South Carolina. 
Although many NFL players might say that being drafted, signing their first NFL contract was their best day ever, Stewart would disagree, calling his graduation day his best day yet: 
My best day ever. Just for my Mama to see me walk across the stage...

It was like I was incomplete and I needed to get it done. I felt like I should go back. I'm glad I did. This was to help me further, after my career.
Stewart, 23, had 84 tackles last season, primarily as a starting safety. In addition, he racked up three sacks, two forced fumbles and an interception. 
Stewart signed with the Rams as an undrafted free agent, reminding us that good players can indeed be added after the seven-round NFL draft is complete. 
If you do not believe me, just ask one of these undrafted players: Antonio Gates, John Randle, Warren Moon or former St. Louis superstar Kurt Warner. 
On this slow news day, you might want to take a look at a piece that slipped under the radar during my first few months at Bleacher Report, my top 10 all-time undrafted free agents or late-round picks from the NFL, NBA and MLB.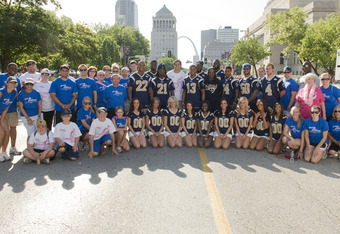 Others detailed in my article included Scottie Pippen, Albert Pujols and Dennis Rodman, among others. 
New NFL Show Coming to NFL Network
Finally, even more NFL coverage is coming to a TV set near you next month. According to this piece from nfl.com, the NFL Network will kick off a new four-hour-a-day morning show called "NFL AM" on July 30. 
For much more regarding the new show, please click the aforementioned link above. 
Have a great day as always, STL Rams Nation.