NL Rookie of the Year Rankings: Wade Miley, Wilin Rosario Making Strong Push
Wade Miley has allowed one run in each of his past four starts.
Ed Zurga/Getty Images
The past week wasn't a good one for a few leading contenders for NL Rookie of the Year.
Maybe it was the final week of interleague play. Maybe it was the hot weather that roasted most of the country. Or maybe it was just a bad week for a handful of players that have been playing well and were due for a bit of a slide.
Whatever the reason, the struggles among the players at the top of our rankings allowed for those in the lower spots to make a move up. It's not a radical reshuffling, but one player is beginning to look like he could give Bryce Harper a serious run for postseason honors.
Here are this week's five leading contenders for the NL Rookie of the Year award.
5. Wilin Rosario, Colorado Rockies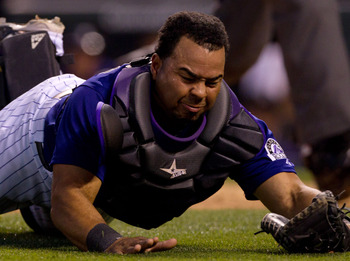 Justin Edmonds/Getty Images
Last week: No. 5.
As the Colorado Rockies slog through a terribly disappointing season, one bright spot is emerging in the everyday lineup.
In six games since last week's rankings, catcher Wilin Rosario batted 8-for-24 (.333) with two home runs, two doubles and five RBI. That's pushed his slash average up to .245/.278/.516. Not terribly impressive at first glance, but Rosario leads all major league rookies with 11 home runs and his 32 RBI are tops among first-year National Leaguers.
The Rockies would surely like to see that batting average improve. But if Rosario finishes with 20 homers, that will probably be an acceptable trade-off.
More important will be his defense. Rosario needs to get better at blocking pitches. No catcher has allowed more passed balls than Rosario's 10. And the 19 wild pitches on his account are tied for the third-highest total in the majors as well.
But Rosario does have agility behind the plate, as he demonstrated Monday night on this diving catch of a bunt attempt.
4. Zack Cozart, Cincinnati Reds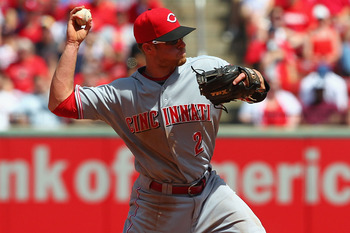 Dilip Vishwanat/Getty Images
Last week: No. 3.
Why does Zack Cozart get bumped down one spot in this week's NL Rookie of the Year rankings? Well, the guy behind him had a better week. And Cozart struggled, batting 4-for-22 (.182) in his past five games.
Some might argue that Wilin Rosario should be ranked higher than Cozart, given his higher home run and RBI totals. But Cozart is still hitting for a higher average (.254). More importantly, Cozart has played 19 more games than Rosario, compiling 117 more at-bats.
Maybe that makes Rosario's numbers more impressive, but I feel that Cozart should get credit for being a starter all season and playing well enough to stay in the lineup every day.
Cozart's defense is a big reason he stays in the regular lineup. Based on Ultimate Zone Rating, Fangraphs ranks him as the third-best shortstop in the National League and the ninth-best in the majors. His five defensive runs saved are the second-best total among NL shortstops.
3. Wade Miley, Arizona Diamondbacks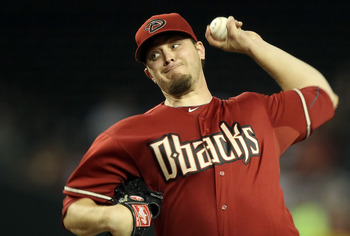 Christian Petersen/Getty Images
Last week: No. 4.
Wade Miley has been pitching so well that keeping him in the No. 4 spot yet again just didn't seem right.
Facing the Chicago Cubs on Sunday, Miley gave up one run and three hits over eight innings. He also struck out seven batters. It was the fourth consecutive start in which the left-hander had allowed only one run.
During that four-game span, Miley has given up 18 hits in 30.2 innings with 28 strikeouts and only two walks.
His 2.19 ERA is tied for third among major league starting pitchers. His WHIP of 1.01 is tied for the fifth-best total in the NL.
With Ian Kennedy struggling, Daniel Hudson trying to rebuild strength in his injured shoulder and Joe Saunders on the disabled list, Miley has provided some stability to the D-Backs' starting rotation when his turn comes up. Trevor Bauer joining the rotation this week could give Arizona an impressive rookie tandem through the rest of the season.
2. Kirk Nieuwenhuis, New York Mets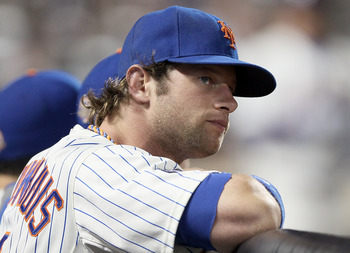 Elsa/Getty Images
Last week: No. 2.
The past week wasn't a great one for Kirk Nieuwenhuis, as Mets manager Terry Collins sat him down against left-handed starting pitching a couple of times.
With Nieuwenhuis batting .192/.300/.250 against lefties, it's hard to argue with Collins' logic in such matchups. Not to mention that Scott Hairston has an 1.003 OPS against left-handed pitching. Kind of a no-brainer, even if it might stunt Nieuwenhuis' development a bit. The Mets, after all, are in contention for a division title.
During the five games Nieuwenhis did get into the lineup, he batted 1-for-11 (.091) with seven strikeouts. That dropped his batting average to .280, which is still tied for the highest mark among NL rookies with Bryce Harper and Norichika Aoki.
If he continues to struggle and Wade Miley keeps pitching well, Nieuwenhuis might get pushed down a spot in next week's rankings.
1. Bryce Harper, Washington Nationals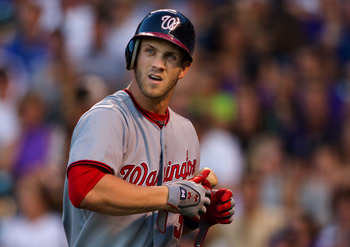 Justin Edmonds/Getty Images
Last week: No. 1.
The front-runner for NL Rookie of the Year had a pretty bad week. In seven games since our last set of rankings, Bryce Harper went 4-for-23 at the plate with one RBI and seven strikeouts. Perhaps not coincidentally, the Nationals went 3-4 in those seven games.
One reason for Harper's recent performance might be a sore back that he's been receiving treatment on, according to Adam Kilgore of the Washington Post. That's led to questions that maybe Harper plays the game just a bit too hard, which seems silly on the face of it. Isn't that what you'd want from any player, especially a rookie?
But perhaps Harper can play a bit smarter, which Nats manager Davey Johnson intends to talk to him about. Plus, you figure Harper will eventually learn to choose his spots as he continues to play in the major leagues.
Harper continues to lead NL rookies in OPS at .848. His .280 batting average is tied for the top mark, while he also has the highest on-base percentage among his fellow NL first-year players at .361. Only Wilin Rosario has a higher slugging percentage than Harper's .487.
Follow @iancass on Twitter
Keep Reading