2012 New York Jets: 6 Players Who Are Entering a Make-or-Break Season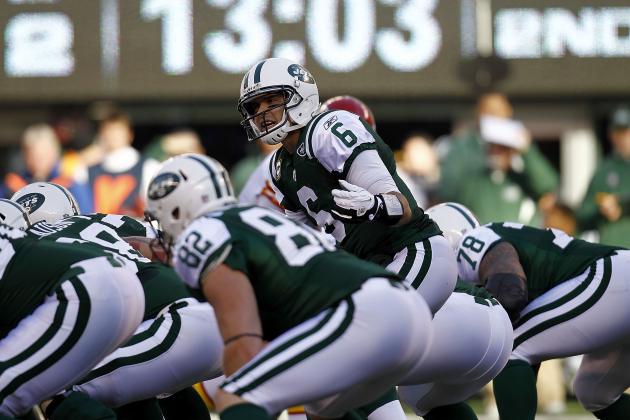 Jeff Zelevansky/Getty Images

The NFL is a ruthless, physically demanding league that does not give credence to past accomplishments, nor does it let one skate by based upon personal accolades. The 2011 New York Jets learned this lesson the hard way.
Although head coach Rex Ryan guaranteed a Super Bowl victory for Gang Green, the team followed up its promising 2009 and 2010 campaigns with a clunker in 2011. The Jets posted an 8-8 record, while dropping their final three games and failing to secure a playoff berth.
To make matters worse, their crosstown rival New York Giants went on to win their second Super Bowl in five years. In short, 2011 was a humbling experience for Jets players, coaches and fans alike. In fact, the Jets created more questions than answers with their overall performance last season.
The Jets are coming to a crossroads in 2012.
There is an immense amount of pressure on several players to improve upon the mediocre performances they turned in last year. If this becomes the second failed season in as many years, there is a good chance there will be wholesale changes throughout the organization next offseason.
However, many people forget that, just a year ago, this team was being talked about as a legitimate Super Bowl contender. There are talented players all over the field who are capable of putting the team on their back during any given week. The only question is whether several other key players will step up and become more productive.
The 2012 season is a make-or-break year for the Jets as a whole. However, there are several individuals who are nearing the point in their respective careers in which they are either going to have to prove themselves as productive NFL players, or they are going to be out of a job in the near future.
Let's examine six players on the Jets roster who must show improvement throughout next season if they want to remain key components of the team's future.
Begin Slideshow

»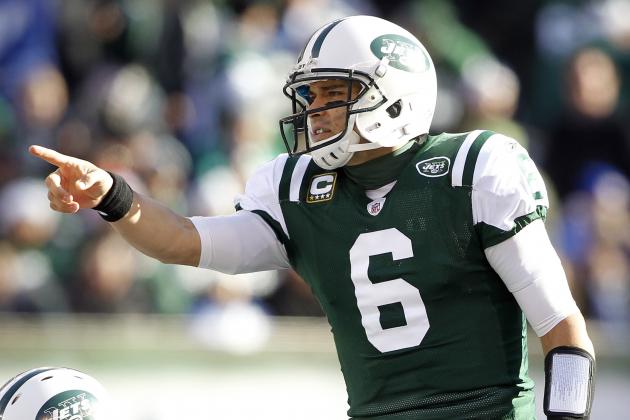 Rich Schultz/Getty Images

In terms of raw statistics, Mark Sanchez had his most productive season last year. Sanchez threw for more yards (3,474), touchdowns (26) and for a higher completion percentage (56.7) in 2011 than in either of his first two seasons.
However, those statistics do not tell the whole story.
When under pressure, Sanchez completed only 36.1 percent of his passes for an average of 3.4 yards per attempt. To complicate matters further, general manager Mike Tannenbaum traded for Tim Tebow and hired a new offensive coordinator in Tony Sparano during the offseason. With the acquisition of Tim Tebow, the team has sent a message to Sanchez that he must improve in the near future, or he will no longer be considered a long-term option at the quarterback position.
The issue with Sanchez is that his skill set is not compatible with the high-octane passing offenses that many successful teams currently possess. In the last few seasons, teams such as the Giants, New England Patriots, Green Bay Packers and New Orleans Saints have all made deep playoff runs with high-powered, pass-heavy offenses that employ complementary rushing attacks.
In fact, the Giants were the first team in NFL history to have been ranked last in the league in rushing and still win the Super Bowl. This shows that the league is currently transitioning away from the days where the ground-and-pound offense was the dominant style of play. It's now moving toward an era in which strong-armed quarterbacks are expected to make big plays, throwing down the field to talented wide receivers.
However, the Jets offense employs a run-first, pass-second approach that relies heavily on short-yardage play-action passes over the middle of the field. At this point in his career, Sanchez has not demonstrated that he has the arm strength downfield to take the offense to the next level.
Due to Sanchez's lack of ability to throw the ball down the field, many defenses have stacked the box with seven or eight players to stop the run. This has made running an effective offense extremely difficult with a one-dimensional quarterback.
If Sanchez cannot prove that he is capable of stretching out a defense by passing the ball downfield effectively, the Jets may have a new quarterback in 2013.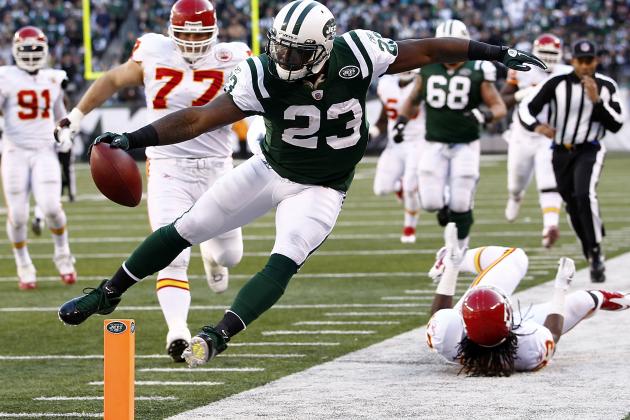 Jeff Zelevansky/Getty Images

If the Jets are seriously considering keeping Sanchez as their long-term starter at quarterback, it is imperative that they have a formidable rushing attack for the 2012 season.
Last year, the Jets had high hopes that Shonn Greene would emerge as a true No. 1 running back. Although Greene did a serviceable job in attaining over 1,000 yards rushing for the first time in his career, he was a one-dimensional player who was only effective between the tackles.
Greene ranked 27th in the NFL in yards per carry and seemed to lack breakaway speed (4.63 40-yard dash). His mediocre speed made him easy to cover out of the backfield and, therefore, he was a below-average receiving threat.
Although Greene established himself as an average NFL running back last year, the reason the team gave him an entire season to prove his ability was because of his stellar rookie year in which he produced 5.0 yards per carry. Even without elite speed, Greene has shown the ability to use his field vision to be an effective NFL running back.
The question is whether he will ever be able to be effective on a consistent basis. Last season, he showed that he is not dynamic enough to carry the offense's rushing attack single-handedly.
With the departure of LaDainian Tomlinson, Greene will have every opportunity to prove his critics wrong in 2012. He will more than likely start the season as the team's feature running back. However, with younger and faster alternatives in Joe McKnight and Terrance Ganaway behind him on the depth chart, Greene will have to become a more dynamic player for the Jets in 2012 if he wants to see a more significant workload.
He is turning 27 this season, so it's now or never for the four-year NFLer.
Nick Laham/Getty Images

Before the beginning of last season, the Jets were widely regarded as having one of the best offensive lines in the NFL. With Nick Mangold (C), D'Brickashaw Ferguson (LT), Damien Woody (RT) and Brandon Moore (RG), there were stable, productive players at each position.
However, with the departure of Woody before the start of last season, the team turned to Wayne Hunter to fill the right tackle position.
Hunter, a nine-year veteran out of Hawaii, has good size and stands 6'5" while weighing in at 318 pounds. However, Hunter had a terrible first season as a starter. He allowed 11 sacks, 11 hits on the quarterback, and 32 quarterback pressures.
Although he has the build to be a successful NFL player, he possesses average strength and athleticism. He is not particularly powerful at the point of attack, and he tends to lose his technique when facing the league's better defensive linemen.
Furthermore, he is not strong enough to be an interior lineman, yet he is not athletic enough to play the tackle position. In a league where defensive linemen are becoming increasingly athletic and versatile, Hunter is having trouble staying productive.
By default, it appears that he will own the starting right tackle position heading into training camp. However, he is currently the weak link on an offensive line heavily depended upon to open up rushing lanes and jump-start the offense. If Hunter does not drastically improve his technique 2012, the team will move in another direction in 2013.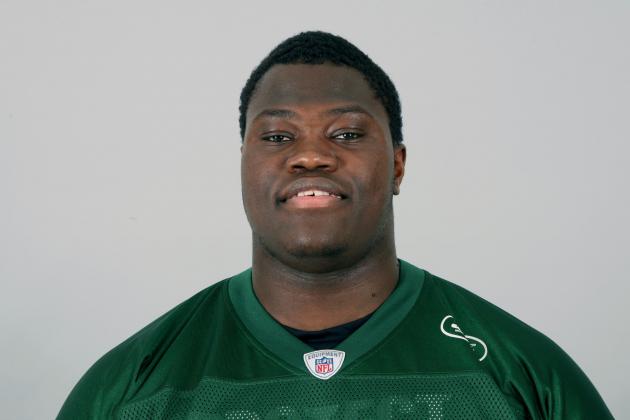 Handout/Getty Images

Perhaps the only reason that Hunter is still considered the starting right tackle for the Jets is because 2010 second-round pick Vladimir Ducasse has shown little promise during his short career.
In his rookie year, Ducasse was expected to battle Matt Slauson for the left guard position and then transition over to right tackle after Woody retired. However, Ducasse never came close to challenging Slauson for the left guard position. Furthermore, when Woody retired before last season, it was Hunter who took over at right tackle, leaving Ducasse in a reserve role.
Many have begun to wonder whether the 6'5", 325-pound player out of UMass will ever live up to his potential.
Heading into training camp, Ducasse will have the opportunity to battle Hunter for the starting right tackle position. Ducasse is actually a relatively reliable run blocker, but he needs drastic improvement in his pass-blocking technique.
If he can prove to the coaching staff he has the ability to progress in 2012, we may see Vladimir Ducasse on the field sooner rather than later. However, if he continues down his current path, he may become a career backup.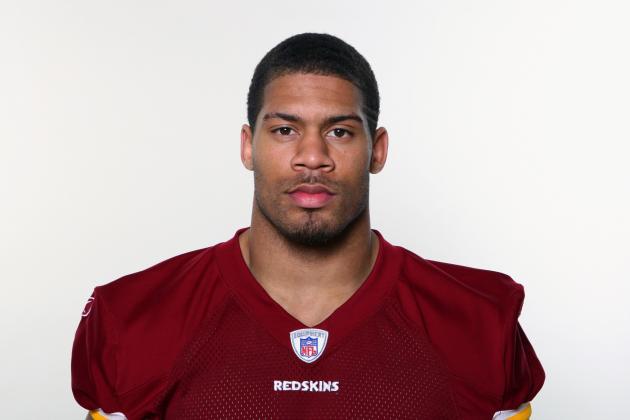 Handout/Getty Images

Although LaRon Landry was not even with the Jets last year, he has spent the majority of the last two seasons on the injured reserve. Landry has been held back by an Achilles injury, and although ESPN New York reports that his health is progressing, he still has not fully healed an injury that occurred almost two years ago.
On the field, Landry's overall talent has never been an issue. He is a ball-hawking strong safety who is capable of effectively playing the run or dropping into coverage.
If he can stay healthy, he would be a welcome addition to a defense that sorely lacked production from the safety position last season. His presence in the middle of the field would be a deterrent to receivers and could allow the Jets' talented cornerbacks to make more plays on the ball.
However, if Landry does not stay healthy for a third consecutive season, the future of a once-promising career would become extremely uncertain.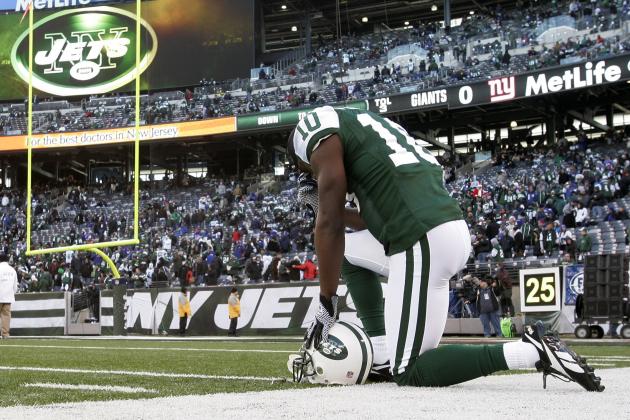 Rich Schultz/Getty Images

Santonio Holmes is an excellent football player. He is a strong, fast receiver who is capable of getting off the line of scrimmage and stretching deep zones. In short, Holmes is a playmaker who must be accounted for at all times by an opposing defense.
However, the reason this is a make-or-break season for the seventh-year veteran out of The Ohio State University is not at all due to a lack of talent.
In the Jets' season finale in Miami last season, The Star-Ledger reports that Holmes engaged in arguments with teammates and coaches throughout the course of the contest. He was eventually benched by then-offensive coordinator Brian Schottenheimer. Tomlinson elaborated on Holmes' behavior after the game via Jets.com:
Let me just say there were some guys in the huddle that were unhappy with Tone [Jets WR Santonio Holmes]'s demeanor. When you have a group of guys that's fighting their butts off, and one guy, for whatever reason, their demeanor's not with them, you're going to get some guys to say something to him and tell them how they feel. That's what you got today.
If almost any other player had pulled the antics that Holmes demonstrated throughout the course of last season, there would be no question that they would have been cut by the team in the offseason. However, last offseason Holmes signed a five-year, $45 million contract extension with the Jets. It would be nearly impossible for the team to get anything of equal value back for him on the trade market, so there was no way in which the team could cut ties with Holmes that made sense.
That being said, if he does not improve his relationship with his teammates this season, and the Jets again fail to have a successful year, the team may just cut ties with Holmes regardless.