Fantasy Baseball: 10 Latest Buy Low Fantasy Trade Options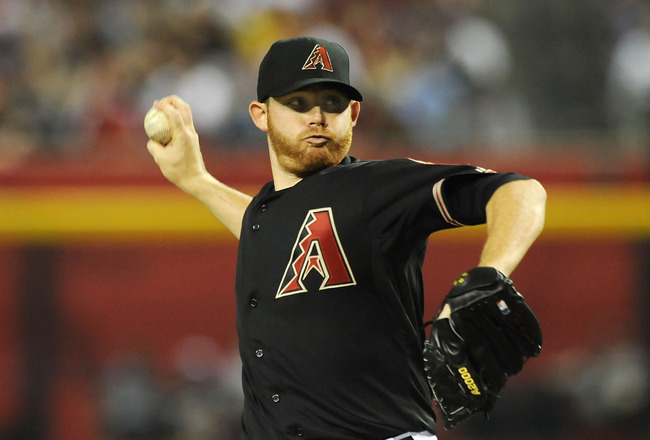 Ian Kennedy is a notrious second-half pitcher.
Norm Hall/Getty Images
It's that time of the year where fantasy owners start losing patience with their players.
With each bad start or each continued struggle at the plate, some brand name players are becoming more available at a cheap price.
It's players like these that can help you make a playoff run.
Some players are notorious for getting off to bad starts and then tearing it up after the All-Star break.
Here's a list of some players who have the ability of turning it around once the All-Star game rolls by.
Carlos Santana, C/1B, Cleveland Indians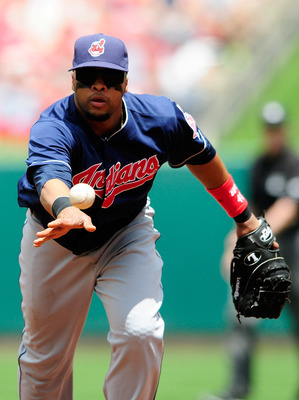 Santana has been a big disappointment so far.
Jeff Curry/Getty Images
2012 stats: .230 BA, 5 HRs, 29 RBIs, 29 Rs
After hitting 27 home runs last season, Carlos Santana has only hit five bombs so far.
Coming into the season, Santana was considered a top-three catcher, but he hasn't performed like it at all.
But that could be changing soon.
Santana played better after the All-Star break last year: He hit .249 with 14 homers after the break. He also has his best slugging months ahead of him. In 2011, Santana's slugging percentage increased every month. He ended up with clips of .500 and .516 in August and September, respectively.
His HR/FB rate has been nearly cut in half. Don't expect that trend to continue.
Dustin Pedroia, 2B, Boston Red sox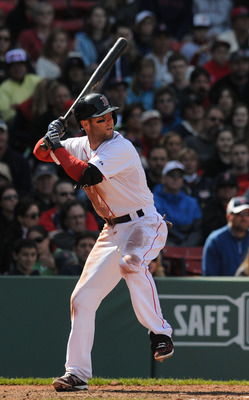 Pedroia finds his groove in the second half.
Darren McCollester/Getty Images
2012 stats: .268 BA, 5 HRs, 28 RBIs, 37 Rs, 3 SBs
After having a 20/20 season in 2011, Dustin Pedroia has certainly fell short of expectations this year.
Pedroia normally offers fantasy owners solid production in batting average, home runs and steals for a second baseman.
Pedroia was a consensus top-three second baseman before the year began, but now he has dropped outside of the top 15.
This is a good time to buy low.
Pedroia is a career .350 hitter in July. He also owns career-best marks of a .401 OBP, .535 SLG and a .938 OPS in the month.
On average, Pedroia performs better after the All-Star break.
Cameron Maybin, OF, San Diego Padres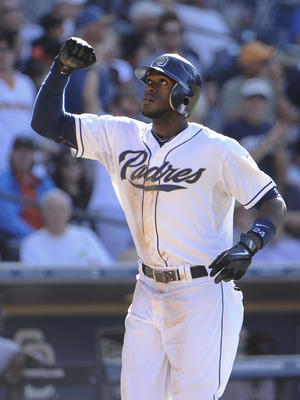 Maybin can be a nice addition for stolen bases.
Denis Poroy/Getty Images
2012 stats: .207 BA, 3 HRs, 22 RBIs, 33 Rs, 15 SBs
Cameron Maybin finally showed his potential last season when he hit .264 and swiped 40 bags. This year has been a struggle, though.
Maybin's BABIP is a dismal .254 on the season. His lifetime BABIP average is .317, so expect his current BABIP to rise and his poor batting average to increase as well.
Maybin's biggest asset, though, is his speed. And while his 15 steals have been good for owners, it could even get better.
Last year, Maybin had 12 steals at the All-Star break. He then went on to steal 28 bases after the break.
Maybin had a higher batting average in the second half, and it's no surprise he was able to steal more bases. Expect more of the same from the young speedster this season.
Ian Kennedy, SP, Arizona Diamondbacks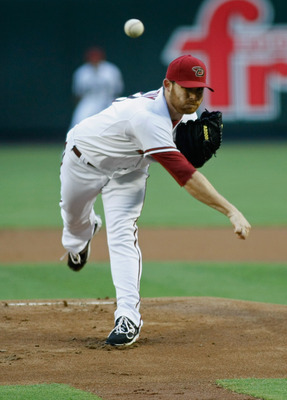 Kennedy seems to get it going in the second half.
Ralph Freso/Getty Images
2012 stats: 93.2 IP, 5-7, 4.42 ERA, 83 Ks, 1.35 WHIP
For the last two seasons, Ian Kennedy has been a second-half pitcher.
In 2010, Kennedy posted a 4.12 ERA before the All-Star game and then a 3.38 ERA after. Last season, Kennedy was at 3.44 before a remarkable 2.11 ERA after the break.
Kennedy could end up doing the same this year.
His 3.81 FIP suggests that he's actually pitching better than his 4.42 ERA. Also, his BABIP of .325 is insanely high this season. In '10 it was at .256 and last season it was .279. Expect that number to fall, and his ERA should follow.
Send Kennedy's owner an offer. You should be able to get Kennedy for cheap heading into the second half.
Tim Hudson, SP, Atlanta Braves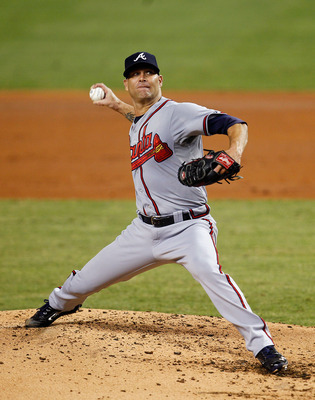 Hudson isn't owned in enough leagues.
Sarah Glenn/Getty Images
2012 stats: 65 IP, 5-3, 3.88 ERA, 44 Ks, 1.22 WHIP
For some reason, fantasy owners are not interested in Tim Hudson. He's owned in 89 percent of ESPN leagues, but in he's owned just 70 percent of Yahoo! leagues.
His numbers aren't bad; five wins and sub-4.00 ERA are very suitable of being on a roster. So, if he's available in your league, pick him up now.
Last year, at the age of 36, Hudson turned in a great second half. He was 8-6 with a 3.57 ERA at the All-Star break, but then went 8-4 with a 2.83 ERA after.
Hudson has also pitched better than his numbers indicate. He owns a 3.16 FIP, which could be a good indicator that his 3.88 ERA will fall. His LOB percentage is also at 65.7, so I would expect that number to improve as well.
Ike Davis, 1B, New York Mets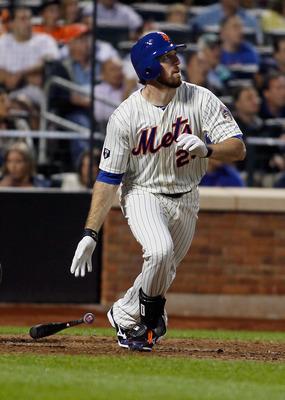 Davis is starting to turn it around.
Mike Stobe/Getty Images
2012 stats: .190 BA, 8 HRs, 36 RBIs, 22 Rs
Ike Davis got off to such a terrible start, that even a nice little eight-game hitting streak couldn't get him above .200.
But it seems like Davis is finally showing positive signs.
Believe it or not, it's hard to hit a home run when you're hitting more ground balls. That has improved lately, though, as Davis has three homers in his last 10 starts.
Even if Davis finishes the year with a .245 average and 20 home runs, that means he was a productive hitter in the second half.
Chances are you can get Davis on the wire, but you could also trade for him without giving much up.
J.J. Putz, RP, Arizona Diamondbacks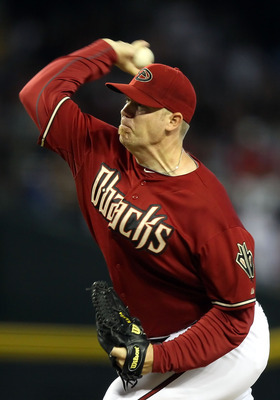 Putz will try to recapture the second half magic from last year.
Christian Petersen/Getty Images
2012 stats: 24 IP, 13 SVs, 5.25 ERA, 27 Ks, 1.25 WHIP
J.J. Putz has been a pretty big disappointment so far, but he should find a way to turn it around.
In fact, he already has started to get it going. He has only given up earned runs twice in his last 14 innings pitched. During that span, his ERA is 2.57 and his K:BB ratio is at 15:6.
These are nice stats to see, especially looking at his resume during the second half last season. After the All-Star break in 2011, Putz was dominant, going 24-for-24 in save chances and posting a 0.77 ERA.
If you need closer help, I suggest sending Putz's owner a proposal. He's a middle-tier guy that won't break your bank.
Bud Norris, SP, Houston Astros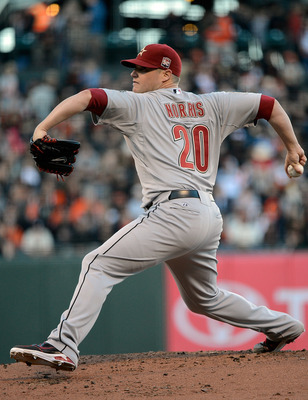 Norris will be coming back on Thursday.
Thearon W. Henderson/Getty Images
2012 stats: 73 IP, 5-4, 4.81 ERA, 81 Ks, 1.42 WHIP
Bud Norris is currently on the DL, but he should be making his return with a start against the Padres on Thursday.
Norris has electric stuff; his 9.99 K/9 rate is evidence of that. It's because of this high strikeout rate that Norris is valuable.
Yes, he plays for the Astros and their offense ranks in the lower half of most categories, but Norris can still put up good numbers.
His 4.81 ERA doesn't tell the full story, because his FIP sits at 3.93. Plus, his ERA is bloated after one lousy start (when he gave up nine earned runs in 1.2 innings against the Rockies).
Norris could be available in your league, and I highly suggest adding him for Thursday's start. He'll also be worth adding for the rest of the season as well.
Ryan Zimmerman, 3B, Washington Nationals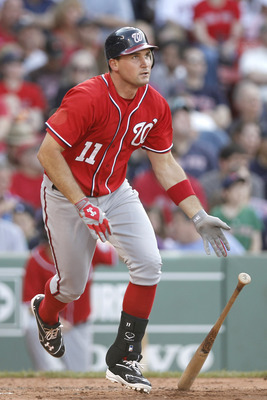 Zimmerman's struggles continue.
Winslow Townson/Getty Images
2012 stats: .223 BA, 3 HRs, 23 RBIs, 29 Rs, 3 SBs
Ryan Zimmerman continues to struggle. A slow April has turned into a slow May has turned into a disappointing start.
But the All-Star break might be exactly what he needs.
In his career, Zimmerman is a much better hitter in the second half. His lifetime average is .269 before the break, but it's .302 after.
More recently, last season, Zimmerman entered the break with a .254 mark and watched it climb all the way to .289 at the end of the season.
Zimmerman might just be hitting .223 this year, but don't be surprised if he finishes closer to .270.
Mike Leake, SP, Cincinnati Reds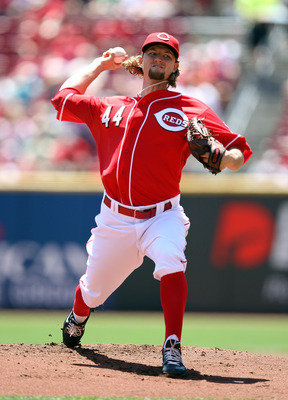 Leake is starting to turn things around.
Andy Lyons/Getty Images
2012 stats: 82.2 IP, 2-5, 4.46 ERA, 58 Ks, 1.32 WHIP
Mike Leake is finally starting to put together good outings.
His ERA peaked at 7.11 after getting lit up by the Nationals on May 11, but he's gotten his ERA all the way down to 4.46 now.
He hasn't pitched as bad as his numbers imply. In fact, his xFIP of 3.58 is actually lower than his 3.68 xFIP last season. In 2011, he finished with a 3.86 ERA.
His LOB percentage is also down from the last two years. His mark of 66.7 percent should get closer to his career average of 72.5 percent.
Leake won't cost you much right now, and he might not even cost you anything if he's available on the wire. Take your chance on Leake, he's low risk/high reward right now.
Keep Reading