What Do We Ultimately Hope to Learn in NFL Minicamps?
June 26, 2012

Justin Edmonds/Getty Images
Most NFL fans are aware that minicamps just wrapped up around the league, but that doesn't mean they know what to look for in the performances from their favorite teams. While some view the camps as a glorified walkthrough for players to simply get acquainted (or reacquainted) with each other, there are things observers can take away from the gatherings. 
Minicamps aren't useless, and there are three big areas NFL fans and experts can focus on to see if things are going smoothly for a team.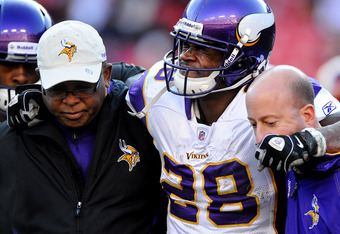 Patrick Smith/Getty Images
Players returning from injury
The biggest thing we can learn from a minicamp is how a team's injured players are doing. Whether they were hurt during the previous season or opted for offseason surgery, etc. how they move at minicamp can be a huge indicator of their recovery. 
For example, if a guy returning from a serious knee injury—like Adrian Peterson—is moving and cutting well and is able to run at full speed, then there is a good chance he'll be ready to open the season. If the team is still taking it easy with him and moving him through the process slowly, then it's likely he will need extra time. 
Teams can have seasons made or broken based on returning players they are relying on. Minicamp is the first time to see them in action after the previous season. How they perform can be a big indicator of the upcoming season.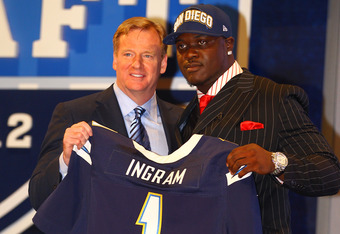 Al Bello/Getty Images
How rookies/new players will be used
NFL rookies are more relied upon than ever to make a serious impact early in their careers. Though they have their own rookie minicamps in May, the full-team camp is the first time to see them blend with the veterans on the field.
It is the first chance for us to see where those rookies fit in not only on the team's depth chart, but also what positions they will fill. Also, if rookies get a bunch of reps in minicamp it is an indication that they are ready to step in right away and contribute.
This can also apply to offseason acquisitions. It is the first time they will be on hand with the rest of the team and it should become apparent how they will be used and where they fit in on the roster.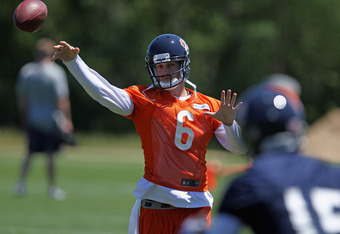 Jonathan Daniel/Getty Images
The timing of quarterbacks and receivers 
After a few months off, players can understandably lose a bit of the sharpness that they had at the end of the previous season. But nowhere is that timing and edge more important than the connection between quarterbacks and receivers.
A team's passing game is developed in the offseason, when passers and receivers hone their timing and get on the same page. Minicamps are a huge part of that process. If signal-callers and their pass catchers are already connecting, then putting together a solid passing game shouldn't be a problem. But if they are starting from square one in June, then it could take a while for things to get clicking.
The development of chemistry is a huge part of an offense's success, and minicamps are the first time we get a chance to see how far a long a team is in that process.