Robert Griffin III: Richard Hurd Arrested and Charged for Attempt to Extort RG3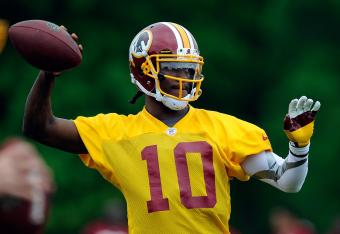 Patrick McDermott/Getty Images
Update: Monday, June 25 at 3:15 p.m. ET
More details have been released about Richard Hurd's alleged extortion attempt on Robert Griffin III.
According to Rich Tandler of RealRedskins.com:
"Hurd communicated that he had derogatory information on a client of B.D., and that he intended to release that information to the media to damage or injure the reputation of B.D.'s client unless the client paid Hurd a substantial sum of money," states the affidavit.
B,D. would likely be Ben Dogra, RG3's agent. It makes more sense when considering that the agency Hurd contacted was in St. Louis, a location that Creative Artists Agency (Dogra's employer) has an office.
Hurd is being held with bond set at $25,000.
---------END OF UPDATE--------
Baylor's basketball team has had no shortage of controversy, drama and legal problems surrounding it in recent years, and there is now another incident to add to the growing list.
According to 254Sports, Richard Khamir Hurd, a former Baylor Bears basketball player, has been arrested and charged with extortion against No. 2 overall NFL draft pick and Heisman-winning QB Robert Griffin III.
The report states that the 25-year-old is being held in McLennan County Jail as of Monday morning, and is set to appear before Federal Magistrate Jeffrey C. Manske at 2 p.m.
There were no details released on why he was arrested except an alleged connection to an "attempt to extort" the new Washington Redskins quarterback.
254Sports found that FBI agents arrested Hurd and returned him to Waco, site of the Baylor campus. Special Agent Eric Vasys was contacted by telephone and said he would not talk about the incident until after the court date.
Hurd was a walk-on back in 2004 and played with the team for four seasons, mostly as a bench player that saw limited time on the court. He averaged 1.9 points and 1.2 rebounds in 66 career games.
According to Adam Shear of ABC's Waco affiliate, KXXV, this is not the first time that Hurd has had legal problems and was arrested in 2008 on sexual assault charges.
Bleacher Report will keep you informed with the latest breaking news, updates and analysis surrounding this alleged extortion attempt of Robert Griffin III as more becomes available throughout the day and week.
This article is
What is the duplicate article?
Why is this article offensive?
Where is this article plagiarized from?
Why is this article poorly edited?