MLB
MLB Power Rankings 2012: Which Hot Teams Are Charging into the Top 10?

Jeff Golden/Getty Images
June 25, 2012
The 2012 MLB Power Rankings have changed a bit in the recent week.
Here are some teams that have entered the top 10 due in large part to their recent momentum.
Los Angeles Dodgers (43-30)
Chris Capuano has become the talk of LA after his recent seven-inning outing against the Angels. Not only that, he has become the ace of the staff with the second-lowest ERA in Major League Baseball (3.22).
The Dodgers' bench has been effective batting runs in while Matt Kemp is on the DL.
Bobby Abreu and Tony Gwynn have been great outfield replacements for Kemp.
Abreu is batting third and is a great fill-in power hitter until Kemp fully recovers.
Shortstop Dee Gordon is batting .220 but is a great defender, and his speed on the basepaths is invaluable.
He has scored 33 times and stolen 23 bases, one less run and stolen base than all of last year's games he played in.
Baltimore Orioles (41-31)
Baltimore is currently second in the AL East, 2.5 games behind the Yankees. Rookie Wei-Yin Chen has been good for the Orioles, striking out 61 batters and only walking 27 with a WHIP of 1.313.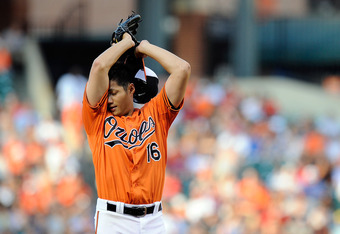 Patrick McDermott/Getty Images
He is the best starter for this Orioles staff and looks to get even better.
Center fielder Adam Jones is eighth in the league in 19 home-runs and slugging .561.
As the summer progresses, Jones and the underdog Orioles will continue to over-perform and challenge the Yankees for the AL East lead. 
Cincinnati Reds (39-32)
Brandon Phillips is having another good offensive year, with a .775 OPS with 39 runs scored and 72 hits. Joey Votto has had a great June, batting .471 with 15 RBI and an OPS of 1.380.
Aroldis Chapman had blown a few saves recently, which may prompt manager Dusty Baker to take him out of the closer position and reinsert him as a set-up man and short reliever. 
If he does that, the Reds should continue to add to their lead in the NL Central.
Los Angeles Angels of Anaheim (40-33)
Mike Trout has become one of the frontrunners for Rookie of Year while adding to the Angels offense.
He has become a mainstay in the outfield, and during Albert Pujol's early year slump, Trout hit the ground running.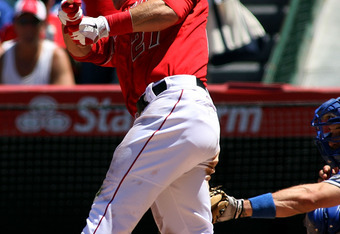 Jeff Golden/Getty Images
He is batting a red-hot .338, an OPS .931 and, thanks to his wheels, he has 21 stolen bases.
CJ Wilson was great in Texas, and nothing has changed in his move to Anaheim.
He is a potential Cy Young award winner this year, and his lights-out pitching has earned him a WHIP of 1.148, 79 strikeouts and 39 walks. 
Here is my Power Rankings Table:
| | |
| --- | --- |
| New York Yankees | The Yankees' bats have been on fire, as Cano, Jeter and Swisher have been on tears recently. Relief pitchers Robinson, Logan and Soriano are the keys to the Yankees winning the AL East. |
| Texas Rangers | Josh Hamilton, Yu Darvish and the Rangers bullpen have been bulldozing the AL West and don't look to stop anytime soon. |
| Los Angeles Angels of Anaheim | CJ Wilson, Mike Trout and Pujols are creeping up on Texas. That five-game gap looks hard to bridge, though. |
| Los Angeles Dodgers | The Dodgers have one of the best rotations in baseball, and when Kemp comes back into the lineup, they will have one of the better bats, too.  |
| Washington Nationals | We all know about Stephen Strasburg, Jordan Zimmerman and Bryce Harper. But Tyler Clippard is one of the best closers in the National league since earning the job. The Nationals' success is tied to Clippard's performance.  |
| Baltimore Orioles | Adam Jones, Nick Markakis and Matt Wieters need to keep hitting so that the rotation has enough of a cushion to win games. Jake Arrieta, Brian Matusz and Tommy Hunter need to get their acts together.   |
| Cincinnati Reds | The starting pitching for the Reds has been iffy, and Chapman's woes as the would-be closer continue. Joey Votto, Brandon Phillips and Jay Bruce have hit the Reds into the NL Central lead.  |
| Tampa Bay Rays | The Rays have been average this past week, losing a series to Washington but beating the Phillies. The bullpen has been great. Once Longoria is back in the lineup, the Rays become more of a contender in the AL East. One has to hope the hamstring tear won't haunt him for the rest of the season.  |
| San Francisco Giants | Lincecum is still pitching poorly and has not recorded a win in his past nine starts. Barry Zito is on the mound tonight, so expect him and Matt Cain to share this burden. |
| Chicago White Sox | With the trade from Boston, 3B Kevin Youkilis will nicely fill in the hole at third for the White Sox. He is a great defender and has great plate discipline. If the outfielders' bats hit up a bit, the White Sox can put more of a gap between them and the rest of the AL Central.  |
Like the new article format? Send us feedback!