Toronto Blue Jays Look to Continue Hot Offensive Streak
June 24, 2012

Sarah Glenn/Getty Images
OK, so maybe my timing isn't perfect.
Forget Sunday's shutout loss to the Miami Marlins.
The Toronto Blue Jay's offense is looking as good as it has all year. And it couldn't have come at a better time.
The Blue Jays had a disastrous home series against the Washington Nationals June 11-13. Pick whatever low-point you'd like:
Getting Swept.
Losing starting pitcher, Brandon Morrow to the 15 day DL, and maybe longer.
Losing starting pitcher, Kyle Drabek for the season.
Scoring seven runs in three games.
Or my personal (least) favorite: Watching the golden boy himself, Bryce Harper, run rampant around the bases. Collecting seven hits in the series.
The Jays had reached a dismal point in their season. That was until they lost Drew Hutchison to injury just nine pitches into their next game against the Philadelphia Phillies. It was time for the offense to wake up.
And it has.
In the nine games since getting swept by the Nationals, the Jays have gone 6-3. It's a pretty good mark for a team that's typically been terrible against the National League.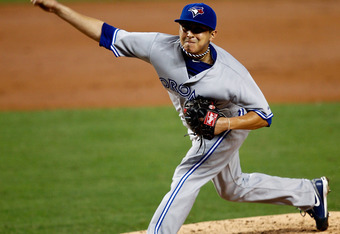 Sarah Glenn/Getty Images
The solid play certainly hasn't come from their pitching. In case your memory escapes you, just harken back to Sunday's performance. Robert Coello seems to impress hardly anybody except for the Blue Jays. Which is a little scary. And staff ace Ricky Romero has just been so-so. In the last six games, Toronto has allowed five runs or more in all but one game.
No bueno. 
But what has been good are the Blue Jays bats. And more specifically Brett Lawrie.
Since moving to the leadoff spot on June 5th, Lawrie has been hot. He's gotten on base in every game since June 9th (a 13-game span). And he's gotten a hit in 11 of those games. Exactly how you what your lead-off hitter to perform.
Lawrie's hot-streak has had a trickle down effect on his team. They've scored six or more runs in six of their last eight outings.
Now the Jays will put interleague play in the rear view and move on to a three game series in Boston. It's a crucial series for both squads who are looking to move up in the AL East standings.
The Red Sox will most certainly expose the current rotation that the Blue Jays have to offer. So the pressure on the offense to perform will remain.
It will be interesting to see what the addition of the artist formerly known as Adam Lind will do for the team. Especially in what could prove to be a pivotal series for Toronto.
A series victory could put them in the buyers market during the trade deadline. But if Toronto gets swept by the BoSox, Blue Jay fans might have to set their sights on next year.
Or maybe I'm just being dramatic. I mean, it is only June.