Detroit Lions vs. Green Bay Packers: The Battle of the Best in the NFC North
June 21, 2012

Jonathan Daniel/Getty Images
There isn't a team in the NFL that is put together better than the Detroit Lions. That isn't hometown pride speaking; it's a fact. The Lions have managed to assemble one of the best balanced rosters in the NFL.
There are teams that have better athletes at some positions, but on balance, it's astonishing how formidable the Lions have become across the board since 2009.
If NFL teams had to be better at everything than their competitors to win a Super Bowl, the Giants—with the 27th-worst total defense during the regular season—wouldn't have won the Lombardi Trophy last season.
Green Bay won 15 games last season with the 32nd-worst total defense in the league.
Love those inconvenient stats.
The truth is that no team is perfect. Winning isn't about doing everything right; it's about doing enough right each week to put up at least one more point than your competitor. And there are lots of ways to accomplish that.
Every week, in every NFL city in the country, coaching staffs formulate game plans that attempt to minimize their opponent's strengths and exploit their weaknesses.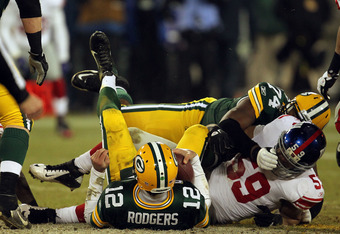 Jonathan Daniel/Getty Images
How do you beat a Tom Brady, Aaron Rodgers or Drew Brees? You keep them off the field as much as possible and harass them non-stop when they're on it. That usually means that you pressure them consistently with as few players as possible and keep the clock running by moving the chains down the field on offense.
In the Lions' 23-16 Week 7 loss to Atlanta last year, Detroit managed to move the chains on only one of a dozen third-down conversion attempts.
Detroit put up 41 points against the Packers Week 17 last season. That's usually enough to win a football game. Unfortunately, the Lions let Matt Flynn stay on the field long enough to score 45 points.
How do you beat a good defensive team like the 49ers, Baltimore or Houston? You take what they give you. If they jam the run, you air it out. If they give you five yards a carry because they are choking off the aerial attack, you burn them that way.
There are very few NFL teams that can consistently stop both a credible pass-and-run attack. In fact, there are very few teams that can stop a passing onslaught alone of the type Detroit can mount every week.
A balanced ground game threat would make the difference between another 10-6 season and an NFC North division title for the Lions.
It was interesting to read a recent ESPN post by resident NFC North blogger Kevin Seifert where he comments on the Packers apparent disdain for establishing a better balance between their running and passing attacks.
If the Lions have an edge during their 2012 season matchups against Green Bay, it will be because Detroit still believes that the option to run the ball effectively (Jahvid Best, Mikel Leshoure and Kevin Smith) can be a situational game-breaker.
Barring injuries, Detroit will have a better balanced roster than the Packers this year, especially on defense. On offense, it will make for two great shoot-out contests. Both teams have an elite cadre of offensive skill players.
Last year, the Lions intended to put together a formidable Best/Leshoure running tandem, but injuries left Detroit dependent on winning on the arm of Matthew Stafford. That didn't work out so badly.
This year, Best and Leshoure should be a real threat. Meanwhile, the Pack has grown even more dependent on the arm of Aaron Rodgers by not re-signing Ryan Grant and relying on James Starks to control the clock.
It will be interesting to see which approach wins the battle for the crown of maybe the toughest division in the NFC. That's why I love this game. Victory is never decided by guys like me standing on the sidelines.
Super Bowls are won by the teams that perform well enough to win key matchups. The Detroit Lions are not one or two seasons away from challenging the best team the AFC can offer. They are capable of doing that this year.
And they very well could.