Angels Lead Countdown of the Top 17 Hitting Trios in Fantasy Baseball Right Now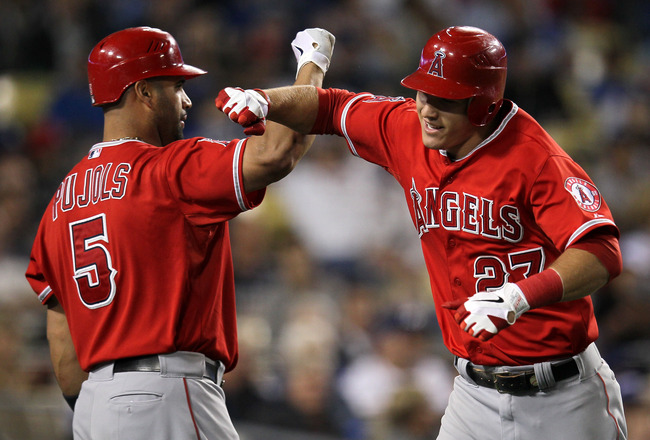 Angels stars Albert Pujols (8 HR, .327 BA since May 22), Mike Trout (19 steals, .338 BA) and Mark Trumbo (not pictured) have crushed opposing pitching in the last 45 days.
Stephen Dunn/Getty Images
The following slideshow touts the 17 greatest hitting trios in fantasy baseball right now (one listing per MLB club).

Why 17 instead of 15 or 20 teams? In the final analysis, 17 clubs absolutely deserved to be represented here.

The countdown criteria is simple: I factored in each threesome's statistical track record (15 days/30 days/seasonal) and then combined it with my own expectations for the group from this point forward.

In case you were wondering, hitters from the Royals, Nationals and Mets comprised the final cuts.

Enjoy the show!
17: Adam Jones, Chris Davis, J.J. Hardy: Baltimore Orioles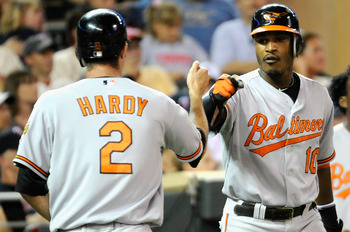 Hannah Foslien/Getty Images
Jones: 18 HR, 39 RBI, 47 Runs, 9 Steals, .302 BA
Davis: 12 HR, 31 RBI, 32 Runs, .283 BA
Hardy: 11 HR, 28 RBI, 36 Runs, .247 BA

Skinny: At first, I wanted to include the Royals (Billy Butler, Mike Moustakas, Alex Gordon) over the Orioles' trio. The 15-day numbers, especially with Hardy (.164 batting), are somewhat deflating.

But since Kansas City's stars weren't setting the fantasy world on fire either, the allure of Adam Jones was simply too great to ignore.

Chris Davis's numbers have flattened out a bit in recent weeks. But I'm still high on a dual-position talent (1B/3B) who's coming off an eight-game stretch (June 6-14) that yielded a .382 batting average with three homers, eight RBI and eight runs.

In all, Davis has done a good job of quietly living up to the fantasy expectations that were so high just three years ago.

But this ranking ultimately is a reflection of Jones' many gifts, both as a centerfielder and power/speed dynamo on offense. Barring injury, he should be a top-20 fantasy asset for the next five years.
16: Joe Mauer, Josh Willingham, Trevor Plouffe: Minnesota Twins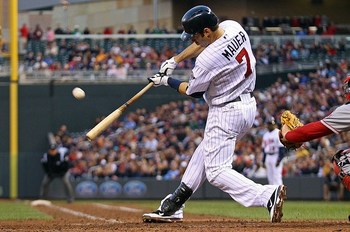 Photo Credit: US PRESSWIRE
Mauer: 3 HR, 32 RBI, 33 Runs, 3 Steals, .314 BA
Willingham: 14 HR, 46 RBI, 39 Runs, 2 Steals, .279 BA
Plouffe: 14 HR, 25 RBI, 26 Runs, .252 BA

Skinny: We could have easily gone with Ben Revere (12 steals, .309 batting) or Denard Span (seven steals, .285 batting) for the third slot, but Plouffe has two significant factors in his favor:

1. Among the shortstop-eligible talent, Plouffe leads the fantasy realm with 14 homers this season.

2. Since May 22, Plouffe has been raking the ball everywhere, tallying 10 homers, 18 RBI, 18 runs and a scintillating .350 batting average.

Regarding Mauer, there's a certain coolness to his fantasy status to date.

For starters, he has great symmetry with RBI, runs and batting average. He also has balance on the field, racking up double-digit starts at catcher, first base and designated hitter.

By extension, fantasy owners should be motivated to acquire Mauer (.356 batting since May 21) in trade talks. By any means necessary.
15: Michael Bourn, Martin Prado, Dan Uggla: Atlanta Braves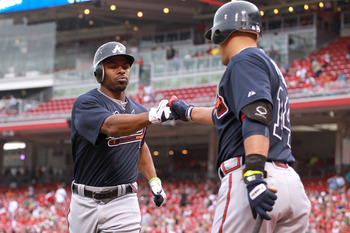 Andy Lyons/Getty Images
Bourn: 6 HR, 22 RBI, 42 Runs, 18 Steals, .310 BA
Prado: 5 HR, 28 RBI, 42 Runs, 7 Steals, .313 BA
Uggla: 11 HR, 42 RBI, 48 Runs, .248 BA

Skinny: Prado's 30-day tally for runs, steals, batting average, on-base percentage (.345), OPS and walk-to-strikeout ratio (6/10) help compensate for his diluted power.

By extension, he's a reasonable candidate to post career-highs in runs (100), RBI (66) and batting average (.320); regarding steals, he's setting new personal records with each theft from this point forward.

Uggla has always been a lock for 27 homers and 82 RBI. But never once has he posted an on-base percentage above .370—let alone his current number of .376. One would think that a free-swinging power hitter like Uggla (six homers since May 22) wouldn't have enough plate discipline to maintain such high marks.

But his excellent walks-to-strikeout ratio (25/29) and rock-solid OBP in the last 30 days suggest that Uggla is primed to have a significant breakout in the coming weeks—and hopefully, the coming days.

As for Bourn, let's keep the predictions short and sweet: He's the odds-on favorite, among outfielders, to possess the best combination of runs, steals and batting average by season's end. He's an absolute beast in three categories.
14: Buster Posey, Melky Cabrera, Angel Pagan: San Francisco Giants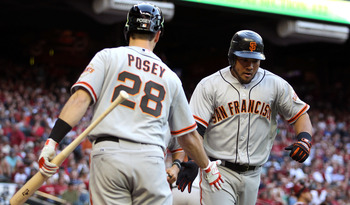 Christian Petersen/Getty Images
Posey: 8 HR, 36 RBI, 25 Runs, 1 Steal, .293 BA
Cabrera: 6 HR, 35 RBI, 48 Runs, 10 Steals, .363 BA
Pagan: 5 HR, 25 RBI, 33 Runs, 12 Steals, .300 BA

Skinny: If Pablo Sandoval hadn't missed substantial time with a hand injury, perhaps a different San Francisco trio would rank higher in the countdown.

But then again, who's to say that Sandoval (five homers, 19 RBI, 20 runs, .304 batting) would have better marks than Pagan anyway?

Pagan has been a three-category rock for the Giants, one of the few MLB clubs without a double-dight home run hitter at this point.

Regarding Posey and Cabrera, we're talking about two of the best players at their respective positions. Posey will hopefully parlay that .349 on-base percentage into bigger numbers in homers, RBI and batting average for July, August and September.

And Cabrera, one of the 10 most complete fantasy assets right now, could flirt with 260 hits by season's end. Wow!
13: David Ortiz, Adrian Gonzalez, Dustin Pedroia: Boston Red Sox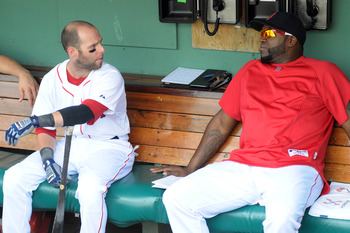 Darren McCollester/Getty Images
Ortiz: 18 HR, 49 RBI, 48 Runs, .313 BA
Pedroia: 5 HR, 26 RBI, 35 Runs, 3 Steals, .269 BA
Gonzalez: 5 HR, 36 RBI, 32 Runs, .257 BA

Skinny: From a seasonal perspective, the Ortiz-Pedroia-Gonzalez dynamic probably doesn't warrant this ranking.

But it's impossible to believe the trio will collectively struggle like this in the next three months—especially when Jacoby Ellsbury and/or Carl Crawford return to the Boston lineup.

This cushy ranking has certainly been earned over the years. Back in March, Pedroia and Gonzalez were Round 2 picks, and Ortiz managed to break through the top 40 despite having no fielding position to call home.
12: Jason Kipnis, Asdrubal Cabrera, Shin-Soo Choo: Cleveland Indians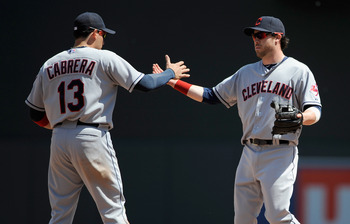 Hannah Foslien/Getty Images
Kipnis: 11 HR, 41 RBI, 46 Runs, 17 Steals, .276 BA
Cabrera: 8 HR, 31 RBI, 34 Runs, 2 Steals, .300 BA
Choo: 6 HR, 24 RBI, 43 Runs, 9 Steals, .276 BA

Skinny: Outfielder Michael Brantley (32 RBI, 31 runs, nine steals, .282 batting) deserves props for a strong season to date (after a slow start).

But all in all, I'm comfortable with the above trio representing the Tribe.

Remember the rankings for second base from last week? I caught plenty of heat for assigning a No. 6 slot for Kipnis from this point forward...and truth be told, I might have been wrong on that front. He's batting at a .306 clip since May 22, with five homers and 11 steals.

Regarding Cabrera (.321 batting since June 6), you might notice that only three second base/shortstop combos are included in this countdown.

With that logic, Kipnis and Cabrera are no worse than the No. 3 middle-infield pairing in the fantasy realm.
11: Justin Upton, Paul Goldschmidt, Aaron Hill: Arizona Diamondbacks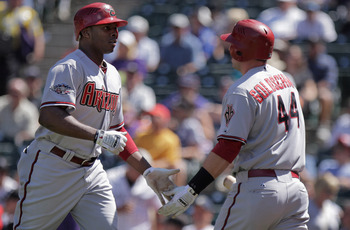 Doug Pensinger/Getty Images
Upton: 6 HR, 27 RBI, 43 Runs, 8 Steals, .258 BA
Goldschmidt: 9 HR, 30 RBI, 28 Runs, 6 Steals, .285 BA
Hill: 10 HR, 31 RBI, 31 Runs, 6 Steals, .291 BA

Skinny: Let the record show that Jason Kubel (eight homers, 41 RBI, .297 batting) and Miguel Montero (seven homers, 38 RBI) are both deserving assets for this countdown.

But you cannot host a Diamondbacks discussion without first mentioning Justin Upton and the baby steps he's making (two homers, .313 batting since June 6) toward fulfilling his top-20 potential during spring training.

The same holds true for Goldschmidt, an embedded part of the Diamondbacks' young core and one of a few MLB first basemen with 55 strikeouts and a plus-.350 on-base percentage (as of June 21).

As for Hill, he might be the hottest middle-infield hitter on the planet. His awesome 30-day marks (five homers, 16 RBI, .385 batting) only take a backseat to his 15-day tally in batting average (.408).
10: Matt Kemp, Andre Ethier, Dee Gordon: Los Angeles Dodgers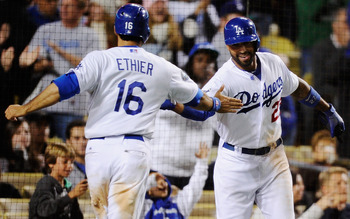 Kevork Djansezian/Getty Images
Kemp: 12 HR, 28 RBI, 30 Runs, 2 Steals, .355 BA
Ethier: 10 HR, 55 RBI, 34 Runs, 1 Steal, .286 BA
Gordon: 1 HR, 15 RBI, 31 Runs, 21 Steals, .228 BA

Skinny: You won't find a funkier trio in this countdown—and that's a good thing.

Kemp's greatness has been well chronicled in The Fantasy Blog since early April, so much that his pre-disabled list numbers are still holding up against the best outfielders in fantasy.

And for those who can't stay awake to hear Vin Scully call Dodgers home games on DirecTV's "Extra Innings" package, Ethier currently ranks second in RBI (tied with Miguel Cabrera) and sits just one point shy of a .350 on-base percentage.

As for Gordon, that .228 batting average sticks out like a sore thumb. But thankfully, the same can be said about his steals count (21), which rates No. 2 in all of baseball (behind Tony Campana).
9: Joey Votto, Brandon Phillips, Jay Bruce: Cincinnati Reds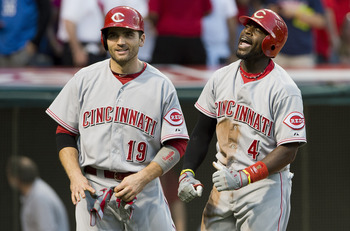 Jason Miller/Getty Images
Votto: 13 HR, 45 RBI, 45 Runs, 4 Steals, .367 BA
Phillips: 9 HR, 42 RBI, 38 Runs, 2 Steals, .288 BA
Bruce: 16 HR, 46 RBI, 38 Runs, 4 Steals, .251 BA

Skinny: Since May 22, Votto holds the following rankings among first basemen: First in runs (21), first in hits (45), first in doubles (13), sixth in homers (six), sixth in RBI (17), fourth in steals, first in batting average, first in on-base percentage (.526), first in slugging (.768) and—surprise—first in OPS (1.294).

One last measure of greatness: Very few players can dominate the walks-to-strikeouts ratio like Votto (55/54). His plate discipline is off the charts.

Phillips' early-season lethargy reeked more of bad luck than an eventual physical decline (although steals are a legitimate concern). His 30-day numbers (seven homers, 27 RBI, 21 runs, .324 batting) are up, and the first-place Reds are steamrolling toward a playoff berth.

For the third spot, neither Drew Stubbs nor Zack Cozart have done enough for three months to warrant a ranking over Bruce, whose strong power numbers (16 HR/46 RBI) carry greater weight than a .218 batting average in the last 30 days.
8: Jose Bautista, Edwin Encarnacion, Brett Lawrie: Toronto Blue Jays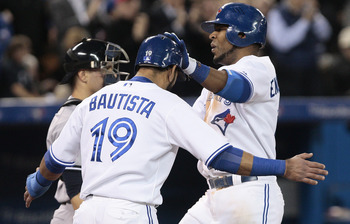 Abelimages/Getty Images
Bautista: 22 HR, 52 RBI, 46 Runs, 4 Steals, .232 BA
Encarnacion: 20 HR, 48 RBI, 40 Runs, 6 Steals, .283 BA
Lawrie: 7 HR, 29 RBI, 37 Runs, 9 Steals, .287 BA

Skinny: How's this for weird? All three Blue Jays have third-base eligibility (this won't be the case in 2013), a factoid that certainly boosts their value for upcoming trade talks.

Forget about Bautista's low batting average for a moment. If you had someone else's money in Vegas, you'd bet the house that Bautista will win the American League home run title. From May 22 alone, he has crushed 11 dingers.

Regarding Encarnacion, two isolated days of fantasy success typically don't tell the full story, but in his special case, it was validation of a tremendous run in April and May and the necessary fuel to believe in a prosperous finish.

On June 18 and 19, Encarnacion belted two homers, the first moon shots since he suffered a hand injury in early June (hit-by-pitch). This two-day glory was the perfect ending to a 30-day period that included a .310 batting average and six homers.
7: Carlos Beltran, Matt Holliday, Yadier Molina: St. Louis Cardinals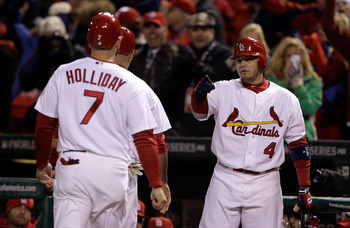 Rob Carr/Getty Images
Beltran: 19 HR, 48 RBI, 41 Runs, 7 Steals, .311 BA
Holliday: 12 HR, 42 RBI, 43 Runs, 2 Steals, .286 BA
Molina: 9 HR, 37 RBI, 29 Runs, 6 Steals, .323 BA

Skinny: In most fantasy leagues, none of the above trio was selected in the first three rounds of 12-team roto drafts. And yet, each player has been a formidable asset at his respective position.

Beltran has quietly helped fill the Grand Canyon-sized void of Albert Pujols missing from the Cardinals lineup.

Holliday is batting at a .378 clip with two homers in the last 15 days; and Molina might be the best five-category catcher in all of baseball.

At age 29, Molina is well on his way to shattering career highs in runs (55), hits (145), homers (14), RBI (65), steals (nine), batting average (.305), OBP (.366) and OPS (.814).

That's an absurd occurrence, especially for a talent who is no longer playing for a free-agent contract. (He signed a lucrative extension in the spring.)
6: Giancarlo Stanton, Hanley Ramirez, Jose Reyes: Miami Marlins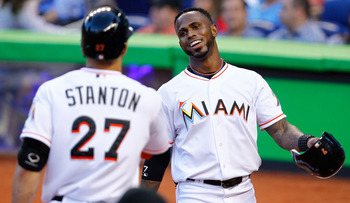 Sarah Glenn/Getty Images
Stanton: 14 HR, 42 RBI, 36 Runs, 3 Steals, .269 BA
Ramirez: 11 HR, 37 RBI, 37 Runs, 10 Steals, .259 BA
Reyes: 2 HR, 16 RBI, 31 Runs, 16 Steals, .274 BA

Skinny: The seasonal numbers with the three players don't exactly tell the whole story.

Stanton's majestic May (.436 OBP/.760 slugging/1.198 OPS) coincided with the Marlins' greatest month in franchise history (21-8).

Reyes boasts a .308 batting average and .373 on-base percentage from the May 22-June 21 window, largely erasing a poor start with his new club.

And Ramirez (.292 batting since May 22) has the capacity to match or eclipse his 2010 numbers in runs (92), homers (21), RBI (76), steals (32) and batting average (.300).

Put it all together, and I'm willing to make an easy leap of faith on the superstars' behalf. This threesome could carry Miami to a postseason berth.
5: Paul Konerko, Adam Dunn, Alejandro De Aza: Chicago White Sox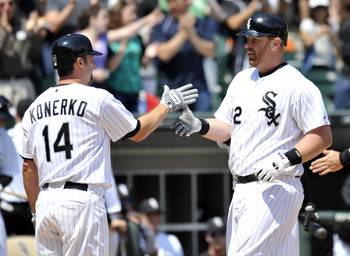 David Banks/Getty Images
Konerko: 13 HR, 39 RBI, 35 Runs, .354 BA
Dunn: 23 HR, 53 RBI, 42 Runs, .225 BA
De Aza: 4 HR, 28 RBI, 47 Runs, 14 Steals, .297 BA

Skinny: Konerko was the hottest hitter on the planet from May 14-29 (.568 batting, five homers), and from June 4-19, he was merely a superstar asset, batting .317 with two homers. As a function of that, he's a healthy lock for 30 home runs—and an eighth season of 28-plus homers since 2004.

It's impossible to ignore Dunn's prodigious marks in homers, RBI, runs, on-base percentage (.369) and OPS (.923), but check this out: Dunn has struck out 109 times and drawn only 55 walks this season. Couple that with the aforementioned .225 average, and there's really no viable explanation for his uncanny ability to get on base.

Regarding De Aza, you'd be hard-pressed to find a more productive outfielder taken after Round 24 in 12-team drafts (excluding Mike Trout). In fact, it would be hard to identify a better middle-round outfielder in the crucial categories of runs, steals and batting average (excluding Trout, once again).

And to think, Manny Ramirez and Vladimir Guerrero likely had more fantasy cachet than De Aza heading into spring training.
4: Derek Jeter, Robinson Cano, Curtis Granderson—New York Yankees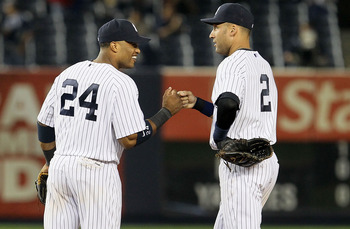 Jim McIsaac/Getty Images
Jeter: 7 HR, 25 RBI, 40 Runs, 5 Steals, .313 BA
Cano: 14 HR, 33 RBI, 47 Runs, 1 Steal, .299 BA
Granderson: 21 HR, 41 RBI, 47 Runs, 3 Steals, .252 BA

Skinny: If we could use multiple combinations of trios from the same MLB club, the Yankees might field three or four groups in the top 15.

And yet, the Jeter-Cano-Granderson trinity probably has the greatest fantasy upside from this point forward.

Cano boasts supreme marks with on-base percentage (.365) and slugging (.545), and from a categorical standpoint, he's a good bet for 25 homers, 100 runs and a .300 batting average.

Among shortstops, Jeter ranks fourth in runs, first in hits, seventh in homers, third in batting average (100 minimum at-bats) and sixth in on-base percentage (.364). By extension, Jeter and Cano comprise the middle infield of my most recent seasonal all-star team.

Regarding Granderson, he has nicely fulfilled my preseason prophecy of a top-10 ranking among outfielders, and for consecutive seasons, he's on track to finish with 40 homers and 110 runs.
3: Josh Hamilton, Adrian Beltre, Ian Kinsler: Texas Rangers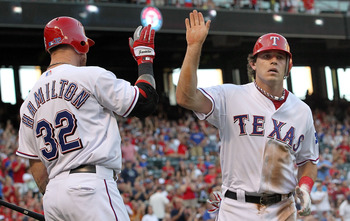 Ronald Martinez/Getty Images
Hamilton: 22 HR, 64 RBI, 45 Runs, 6 Steals, .331 BA
Beltre: 12 HR, 45 RBI, 38 Runs, 1 Steal, .314 BA
Kinsler: 7 HR, 35 RBI, 53 Runs, 13 Steals, .276 BA

Skinny: One could easily make the argument that Hamilton (the No. 1 player in fantasy), Kinsler (MLB leader in runs) and Beltre (top-6 third baseman) deserve the top spot in this countdown.

But when it comes to separating baseball's most elite threesomes, it's fair to downgrade Kinsler for his so-so batting average and middling home-run production (compared to last year).

It's also fair to mention Hamilton's .247 "slump" in the last 30 days after breathlessly lamenting his nine-homer, 15-RBI binge over a six-day span last month (May 7-12).

Finally, if Beltre is going to match his per-season averages in homers (30) and RBI (103) from the last two years, he better get cracking. But his 2010-11 averages in runs (83), batting average (.308) and steals (1.5) are certainly within reach.
2: Miguel Cabrera, Prince Fielder, Austin Jackson: Detroit Tigers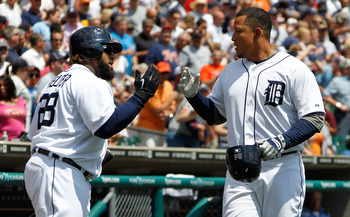 Gregory Shamus/Getty Images
Cabrera: 14 HR, 55 RBI, 40 Runs, 3 Steals, .308 BA
Fielder: 11 HR, 45 RBI, 35 Runs, 1 Steal, .306 BA
Jackson: 7 HR, 30 RBI, 35 Runs, 7 Steals, .324 BA

Skinny: Miggy Cabrera (.366 on-base percentage) was my No. 1 fantasy asset heading into the season, a ranking that somehow failed to predict Josh Hamilton would rack up nine homers and 15 RBI in a six-day span.

That aside, Cabrera has been great, but hardly dominant to this point, which suggests his own Hamilton-esque window of reckoning is on the horizon.

With Fielder, it would be a stretch to say he'll replicate last year's output in homers (38) and RBI (120). On the flip side, though, I love Prince's chances of tallying 90 runs and batting above .320 for the surging Tigers.

Also, I'll be surprised if his on-base percentage and OPS marks aren't comfortably above .400 and .900 by season's end.

And with Jackson, who's a good bet to shatter personal bests in homers, RBI and batting this season, the Tigers become the countdown's only team to boast .300 or above seasonal hitters at all three slots.
1: Albert Pujols, Mark Trumbo, Mike Trout: Los Angeles Angels of Anaheim
Dustin Bradford/Getty Images
Pujols: 11 HR, 43 RBI, 33 Runs, 4 Steals, .255 BA
Trumbo: 17 HR, 48 RBI, 33 Runs, 4 Steals, .324 BA
Trout: 6 HR, 28 RBI, 40 Runs, 19 Steals, .338 BA

Skinny: Fantasy GMs everywhere certainly couldn't cut Albert Pujols, the greatest hitter of this century, during a massive slump that covered all of April and parts of May. They couldn't trade him in 12-team leagues—at least not at the slugger's typical sky-high market value.

But true to form, Pujols eventually caught fire and began making up for lost time. Since June 5, he's batting .354 with three homers, and from a 30-day perspective, Pujols boasts a .327 average with three steals, eight homers and 25 RBI.

On June 20, Pujols and Trumbo both earned top-six rankings for the 20 best 1B-eligible assets from this point forward.

A day later, I was happy to recognize Pujols (456 homers, 1,372 RBI and a lifetime average of .326), Trout (10 steals, .357 batting since June 6) and Trumbo (11 homers, 30 RBI, .312 batting since May 22) as fantasy baseball's best offensive trio right now.
Keep Reading