Toronto Blue Jays: Colby Rasmus, Jose Bautista Share AL Best of the Night Honors
June 20, 2012
Mike McGinnis/Getty Images
Evil shape-shifting robots and comic book villains are going to be gunning for the Toronto Blue Jays, for they have uncovered the secret of unlimited power.
It turns out it's not that complicated. All you need is a batting order with Colby Rasmus and Jose Bautista in it.
Rasmus and Bautista showed off their unlimited power on Tuesday against the Milwaukee Brewers at Miller Park. More than once, in fact. The two of them combined to hit four solo home runs, each of which ended up being crucial in a game the Jays eventually won by the final of 10-9.
To boot, these homers came in bunches.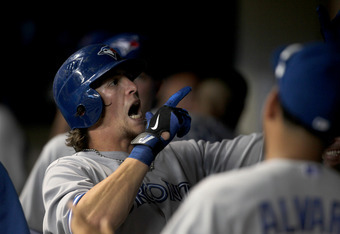 Mike McGinnis/Getty Images
When Rasmus, hitting second in John Farrell's batting order, came up to bat with one out and nobody on in the top of the sixth inning, the Jays were down 4-2. He launched a home run, his 11th of the season, to right to make it 4-3.
Up next was Bautista, and he launched his 21st home run of the season into the left field stands to tie the game up at 4-4. Not wanting to be left out of the fun, Edwin Encarnacion made it three straight with a long home run to left-center field to give the Jays the lead.
MLB.com has the video highlights of Toronto's back-to-back-to-back jacks. Per ESPN Stats & Information, it was the first time three Jays hitters had hit consecutive home runs since Vernon Wells, Corey Koskie and Shea Hillenbrand touched up David Wells, then of the Boston Red Sox, in 2005.
However, those three straight homers would have been for naught had it not been for the heroics of Rasmus and Bautista in the ninth inning.
The Jays were trailing 9-8 at the start of the ninth, but John Axford couldn't hold them. Rasmus led off with a home run that just barely got over the wall and inside the right-field foul pole. His second home run of the game and 12th on the season tied the score at 9-9.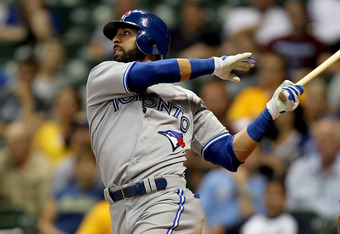 Mike McGinnis/Getty Images
Just as he did in the sixth, Bautista followed with a home run of his own, No. 22 on the season, to right field to give the Jays a 10-9 lead.
MLB.com has the video highlights of those dingers, too. Though he made it somewhat interesting, Casey Janssen made them hold up in the bottom half of the ninth, closing out a 10-9 win for the Jays.
So two teammates went back-to-back twice in the same game. That has to be pretty rare, right?
Yup. Once again according to ESPN Stats & Information, the last pair of teammates to go back-to-back twice in the same game was Craig Biggio and Lance Berkman in 2005. The last time two Blue Jays did it was in 2001, when Raul Mondesi and Carlos Delgado accomplished the feat against Kansas City.
Perhaps we shouldn't be so surprised. Toronto is having all sorts of trouble with its pitching staff, but Rasmus and Bautista have been keeping the power coming for a couple weeks at this point.
Per Baseball-Reference.com, Rasmus is hitting .324 with nine home runs and 20 RBI over his last 26 starts. Bautista, meanwhile, already has 10 home runs in the month of June, the most by any player this month.
Yeah, they can hit. Tuesday night was a high point for both of them, so I'm going to do something I've only done once before. Rasmus and Bautista are going to share today's American League "Best of the Night" award, which is typically reserved for individual studs.
Hey, sometimes you just have to mix it up. The next time two teammates hit back-to-back homers twice in the same game, I'll do it again.
If history is any indication, this should happen again in about seven years, give or take.
If you ever want to nominate somebody for American League "Best of the Night" honors, hit me up on Twitter.