Fantasy Baseball 2012: Top 10 2-Start Pitchers for June 18-24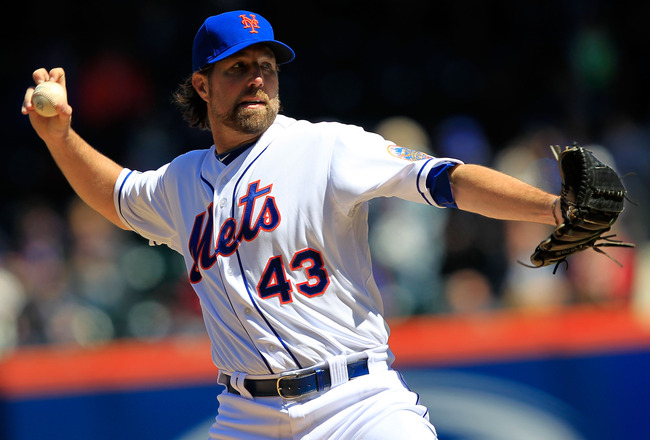 In his last six starts (spanning 45.2 innings), Mets pitcher R.A. Dickey has a 5-0 mark, 0.79 ERA, 0.64 WHIP and amazing 58/4 strikeout-to-walk ratio.
Chris Trotman/Getty Images
The following slideshow is a top-10 ranking of two-start pitchers for the week of June 18-24.

The listing does not necessarily account for a pitcher's season-long prospects, nor does it promise sustained dominance from this point forward. It's merely an educated guess of which starters will shine the brightest over the next seven days.

For a full listing of two-start pitchers, click here.

Enjoy the show!
10: David Price, Tampa Bay Rays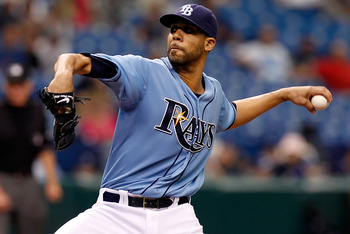 J. Meric/Getty Images
2012 Stats: 8-4, 3.01 ERA, 1.29 WHIP, 78/30 K-BB ratio

While it's true Price surrendered seven runs to the Mets in his last start, that's not why he only ranks 10th here, beating out Matt Garza, Matt Harrison, Aaron Harang and Scott Diamond for countdown honors.

With a pair of roadies against unfamiliar opponents (Nationals, Phillies), I fear that Price won't get under the magical threshold of three runs or less in both outings. Hence, the middling status for one of baseball's best pitchers.

Targets: One win, 13 strikeouts and 3.20 ERA.
9: Mat Latos, Cincinnati Reds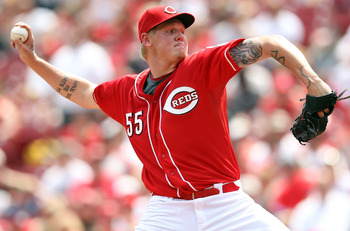 Andy Lyons/Getty Images
2012 Stats: 5-2, 4.64 ERA, 1.37 WHIP, 66/26 K-BB ratio

Latos's ERA marks have been consistently deflating all season, but there's still much to love about a power pitcher with unlimited potential.

Like his five combined walks in his last five starts. Or the 10 straight outings without a loss (and five wins). Or the four efforts of seven-plus strikeouts in that span.

Now, if he could only hold teams to three runs or less over the next few starts.

Targets: One win, 14 strikeouts and 3.30 ERA against the Indians (road) and Twins (home).
8: Wade Miley, Arizona Diamondbacks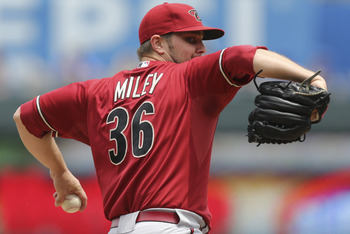 Ed Zurga/Getty Images
2012 Stats: 7-3, 2.39 ERA, 1.04 WHIP, 49/17 K-BB

As seasonal regrets go, I have great remorse for dropping Miley after an underwhelming outing against the Mets on May 4 (four runs allowed, four strikeouts).

Since then, the southpaw has allowed just 13 runs in his last 48.1 innings (2.43 ERA), while collecting four victories and 30 strikeouts.

To be fair, it's not like Miley set the minor leagues on fire from 2008-11 (3.69 ERA, 1.35 WHIP); but he has certainly proven himself to be a superb fantasy asset in the majors.

As a bonus, he draws two home dates with the Mariners and Cubs this week.

Targets: One win, 12 strikeouts and 2.90 ERA.
7: Clay Buchholz, Boston Red Sox
Marc Serota/Getty Images
2012 Stats: 7-2, 5.38 ERA, 1.53 WHIP, 55/33 K-BB

There may be no more complex asset than Buchholz, the talented, but embattled pitcher who needed four consecutive outings of two or less runs just to get his ERA below 6.00.

(Think about that for a second. Wow!)

But just like Americans, in general, fantasy owners can be a forgiving bunch, especially with pitchers boasting a 0.56 ERA and 0.75 WHIP in their last two starts (with 15 strikeouts).

Delusional thinking or not, it's not a stretch to believe Buchholz (2.48 ERA since May 19) has profoundly turned a corner in his career path. It also helps that he has home dates with the Marlins and Braves this week.

Targets: One win, 15 strikeouts and 2.95 ERA.
6: Lance Lynn, St. Louis Cardinals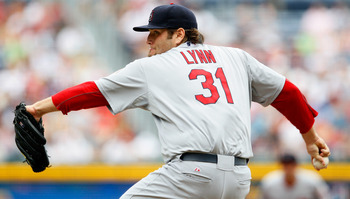 Kevin C. Cox/Getty Images
2012 Stats: 10-2, 2.42 ERA, 1.09 WHIP, 86/27 K-BB

For reasons unknown, Lynn's best year in the minors (2009—three different levels) can hardly compare to his April-June greatness in the majors.

Of his 14 starts this season, Lynn has allowed just three runs or less 13 times...and that one "clunker" resulted in four runs and five strikeouts on May 18. (Boo-hoo.)

The real question for this countdown: Can Lynn bring the heat in two road clashes with the Tigers and Royals?

Lynn may be the majors' first 10-game winner and a candidate to be the National League starter in the All-Star Game, but this test may be too daunting for top-five status.

Targets: One win, 13 strikeouts and 3.10 ERA.
5: Jake Peavy, Chicago White Sox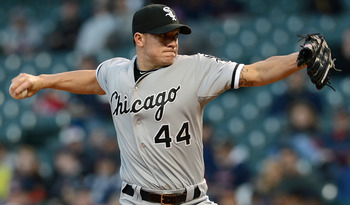 Jason Miller/Getty Images
2012 Stats: 6-2, 2.91 ERA, 0.97 WHIP, 78/22 K-BB

In hindsight, I should have cleared out one more spot for Peavy in the Fantasy All-Star Team, Pre-Father's Day Edition. His mastery in WHIP alone should have sealed the deal.

But with each superb start, Peavy simply draws closer to garnering a spot on the American League All-Star team; and with each dynamite effort, I take greater pride in trading for the Alabama native back in April, surrendering two closers in the process (Huston Street, Brandon League).

For the week, Peavy has home encounters against the Cubs and Brewers.

Targets: Two wins, 14 strikeouts and 2.90 ERA.
4: Matt Cain, San Francisco Giants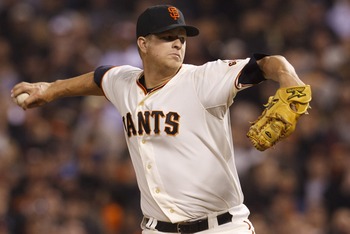 Jason O. Watson/Getty Images
2012 Stats: 8-2, 2.18 ERA, 0.85 WHIP, 96/16 K-BB

As a fantasy moderate, I am trained to find the good from all troubling stats.

Unfortunately though, I can also derive the bad from great events. Even historic ones.

Take Matt Cain's perfect game from June 13 (against the Astros). It was only the 22nd outing of its kind in MLB history. It was also the culmination of a seven-wins-in-seven-games streak (with 56 strikeouts) that has to end soon. The law of averages demands it.

This isn't to say that Cain has been pitching over his head—far from it. But I'm also a believer in what goes (way) up...will eventually come (slightly) down. In other words, Cain is due for a mild letdown this week, facing both the Angels and A's in enemy territory.

Targets: One win, 14 strikeouts and 3.00 ERA.
3. CC Sabathia, New York Yankees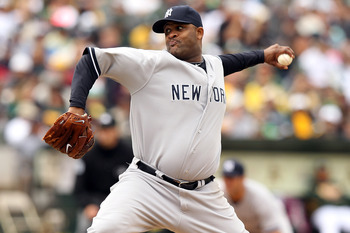 Ezra Shaw/Getty Images
2012 Stats: 8-3, 3.70 ERA, 1.27 WHIP, 92/26 K-BB

It's been a while since I've written anything about Sabathia, and that's not necessarily a bad thing.

During the Yankees' prodigious 19-4 run in their last 23 games, Sabathia quietly racked up three wins and 33 strikeouts. On a grander scale, Sabathia has allowed just two or less runs in seven of his nine starts.

If I was a betting man, I'd wager Sabathia falls short of last year's output in ERA (3.00) and strikeouts (230); but I like his chances of meeting or eclipsing the marks in wins (19) and WHIP (1.22).

Targets: One win, 14 strikeouts and 2.85 ERA against the Braves (home) and Mets (road) this week.
2. R.A. Dickey, New York Mets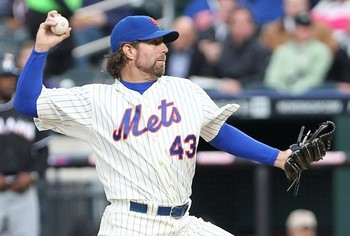 2012 Stats: 10-1, 2.20 ERA, 0.94 WHIP, 90/19 K-BB ratio

From every angle, Dickey's numbers have been nothing short of absurd—in a good way.

In his last six starts (spanning 45.2 innings), Dickey has a 5-0 mark, 0.79 ERA, 0.64 WHIP and a Cliff Lee-esque strikeout-to-walk ratio (58/4); and in that span, he has gone four straight starts without surrendering one earned run.

Since May 16, Dickey also ranks second in wins, and first in ERA, K/BB ratio, opponents' batting average (.163) and WHIP, among starting pitchers.

And in his last 10 starts, Dickey has yielded two or less runs eight times...with just 11 total runs in that span (72.2 innings).

But enough about the past. Does Dickey have the stuff to halt the streaking Yankees (nine straight wins)...and CC Sabathia on Sunday? Uh, maybe, or...yes, definitely!

Weekly targets: Two wins, 15 strikeouts and 2.70 ERA.
1. Cole Hamels, Philadelphia Phillies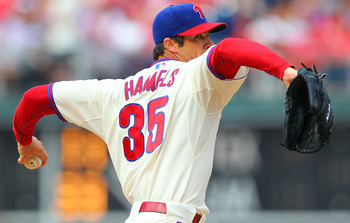 Rich Schultz/Getty Images
2012 Stats: 9-3, 3.34 ERA, 1.09 WHIP, 92/19 K-BB ratio

In April, there may have some debate over where Hamels stood among the elite pitchers in fantasy baseball.

But his glorious May of five wins, a 2.13 ERA, 0.95 WHIP, 36/9 K-BB pretty much erased all doubts on that front.

My take: Not only is Hamels the best fantasy pitcher on the Phillies right now (ahead of Cliff Lee and the injured Roy Halladay), his only peers—from a deeper perspective—may be Justin Verlander and Clayton Kershaw.

Hence, the No. 1 ranking over fantasyland's hottest pitchers (Matt Cain/R.A. Dickey)...and the ace from baseball's best team (Sabathia). For the week, Hamels has home dates with the Rockies and Rays.

Targets: Two wins, 16 strikeouts and 2.65 ERA.
Keep Reading