San Francisco Giants' Matt Cain: Now in the Hall of Fame Discussion?
June 16, 2012

Ezra Shaw/Getty Images
Before this year, Matt Cain had never won more than 14 games in a season. He'd never eclipsed the 200-strikeout mark. In fact, coming into 2012, Cain didn't even have a winning career record (69-73).
After the Giants' right-hander pitched one of the greatest games in major league history on Wednesday night, it appeared as though the humble hurler had finally arrived on the big stage. Sure, there was the 2010 postseason in which Cain was brilliant, posting a 0.00 ERA and 0.94 WHIP while helping the Giants to their first World Series title since 1954 when they were called the New York Giants.
But as good as those 21.1 innings were under the bright lights of October, they were still 21 innings in what was thus far a career filled with hard-luck losses primarily due to anemic offensive support for a very talented starting pitcher.
Then the calendar flipped over to 2012. Then came a $127 million dollar contract extension from San Francisco's front office. Then came seven-straight wins. Then came Wednesday night.
After flirting with no-hitters on several occasions (taking a no-hitter into the seventh inning five previous times in his seven-year career), Cain faced 27 Houston Astros on June 13 and retired them all—14 of them via the strikeout.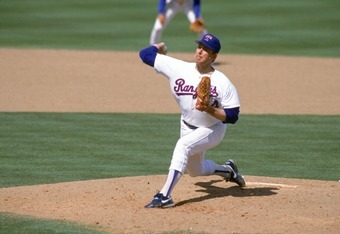 Rick Stewart/Getty Images
According to Bill James' statistical scoring system, rating individual pitching performances in baseball history, Cain's nine innings that night tied Nolan Ryan's seventh no-hitter in 1991 as the second most dominant effort ever (Kerry Wood's famed 20-strikeout performance as a rookie for the Cubs in 1998 being the highest-rated).
Cain is now firing on all cylinders, and just as his teammates displayed in the 10-0 rout of the Astros on his perfect night, San Francisco's offense is finally rewarding his efforts. In Cain's 13 starts thus far in 2012, the Giants have averaged 4.6 runs/game. By contrast, the offense averaged just 3.4 runs in games started by Cain last season.
The fact that Cain is finally putting up numbers that many of his teammates, coaches and Giants fans knew he was always capable of, coupled with his history-making start Wednesday night, begs the question: Could we be witnessing the blossoming of a Hall of Fame career?
Here's why we just might be:
First, Cain is just 27, meaning he is just entering the prime of his career. If he stays healthy, which hasn't been a problem so far for the 6'3", 230-pounder, he could pitch at least another 10 seasons.
If Cain averages just 13 wins over the next decade, it would give him over 200 wins for his career. In an era of bullpen specialists and dominant closers, with a serious question as to whether we'll ever see another 300-game winner, reaching the 200-win plateau is quite an accomplishment.
Cain's career ERA is currently a stellar 3.28, and his lifetime WHIP is currently a stingy 1.17. Add to that his postseason heroics and arguably one of the top single-game pitching performances of all-time, and a Hall of Fame candidacy sounds reasonable.
All of this is not to mention any future achievements, such as additional All-Star appearances (Cain currently has two and is a no-brainer for a third this July), Cy Young awards (he is certainly in the running so far this season) and postseason starts.
Another important factor to consider in evaluating Cain's potential to compile Hall of Fame credentials is that his biggest nemesis thus far—lack of run support—may be overcome, as not only are his teammates producing more offense than in years past, but the future of San Francisco's offense looks bright.
With Buster Posey back from a severe ankle injury and hitting like he never missed a beat (.294, 7 HR, 33 RBI), Pablo Sandoval continuing to hit like he did as a rookie (currently hitting .316, 5 HR, 18 RBI despite missing several weeks with a hand injury), newcomer Melky Cabrera leading the league in hitting and making a case for an extension with San Francisco, and young stars in the making like Gary Brown in the farm system, getting more than four runs in offensive support shouldn't be a problem for Cain in the years to come.
And if there was any question as to whether Cain's game would be affected by his huge contract extension prior to this season his 8-2 start, 2.18 ERA and the perfect game should be answer enough.
While his perfect game has truly thrust Matt Cain into the national baseball consciousness, those around him have always known he has it in him to be an elite starter.
Now that the stats are beginning to reflect this, it bears keeping in mind that No. 18 has the potential to find his image on a Cooperstown plaque someday given the change in trajectory his career has taken this season.
There might not be another starting pitcher in the game who entered the season with a sub-.500 record that you could say that about.