LA Dodgers Fans Get off Scot-Free in Men's Journal's 'Obnoxious Fan' Poll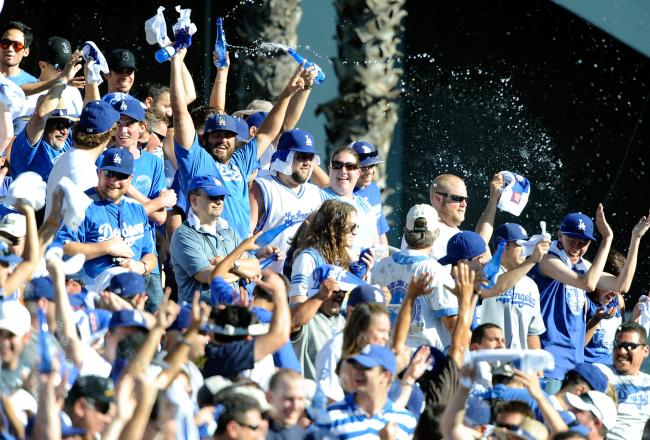 Kevork Djansezian/Getty Images
The July issue of Men's Journal will hit newsstands on Friday, and it features a survey that should appeal to baseball fans.
After appealing to them, this survey will get baseball fans to arguing. 'Tis the way of things.
The magazine went out and surveyed 100 different major league ballplayers, asking them to determine who the most hated player in baseball is, who the least-respected manager is, who the biggest trash talker is, and so on.
Men's Journal also asked players which city has the most obnoxious fans. According to Yahoo! Sports, here's the top three, as determined by the players:
1. Philadelphia, 36 percent
2. San Francisco, 22 percent
3. New York, 12 percent
Philadelphia at the top? Makes sense. Philly fans boo Santa Claus and have been known to boo hometown players. They travel to other cities and boo other players too. They can definitely be described as "obnoxious."
San Francisco fans second? As a resident of the Bay Area, I can see that. Giants fans have gotten awfully cocky ever since the team won the World Series in 2010, and there are a lot more of them now.
Thousands have jumped on the Giants bandwagon, and they make all the true Giants fans look bad (and since they're annoying, you can imagine how bad the bandwagoners are).
New York fans third? I assume this has a lot to do with Yankees fans, in which case I can't disagree. They are, after all, a disagreeable bunch, and they have a bad habit of thinking Derek Jeter is still 27 years old.
You're disagreeable too, Boston fans, so don't even start.
So yeah, I can get behind this list. An awful lot of fans that deserve to be scorned are about to get their comeuppance when this issue of Men's Journal starts circulating on Friday.
I only have one question: With Dodgers fans as bad as they are, how the heck did Los Angeles fans not make it into the top three?
Come to think of it, there should be a special place for Dodgers fans alone in the top three. That's where they belong.
OMG HATER ALERT! SOUND THE ALARM!
What? Come on, don't look at me like that. Calling Dodgers fans obnoxious barely qualifies as an opinion. There's too much evidence out there that suggests this is a fact.
Calling Dodgers fans obnoxious doesn't do them justice. They're more like world-class jerks, and they have this reputation in large part because of all the horror stories that have been told about Dodger Stadium over the years. The recent violent incidents at Dodger Stadium haven't helped matters at all.
Obviously, the Bryan Stow incident is the big one. Stow, a Giants fan, was beaten nearly to death in the Dodger Stadium parking lot last April. His beating effectively blew the lid off the thug culture that has existed at Dodger Stadium for years.
Sandy Banks of the Los Angeles Times wrote a great column about it shortly after the Stow beating took place.
"The violence has spotlighted an open secret: a thug-like mentality and uncivil stadium culture that has been spiraling for years toward violence," wrote Banks.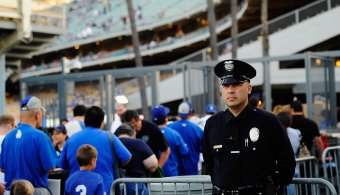 The police showed up in great numbers after the Stow incident.
Kevork Djansezian/Getty Images
Public pressure forced then-Dodgers owner Frank McCourt into action. Dodger Stadium was supposed to have been made into a safer place, but there was another violent incident outside the stadium just last month. According to the Associated Press, police said a man in his 20s was kicked repeatedly in the head by one man while three other men held him down.
Thankfully, the victim walked away with non-life-threatening injuries.
This happened just a year after security measures were ramped up to ensure that another Stow incident would never happen again outside Dodger Stadium. These measures have surely helped, but the fact is that the people who are coming to the games haven't changed. Until they do, it's not going to be safe outside Dodger Stadium.
It's not exactly safe inside the stadium either. If you go to YouTube and type in "Dodger Stadium fights," the results will keep you occupied for a few hours.
In her column, Banks recalled getting a text message from her daughter that read: "Omg ma i'm horrified by the fans here. they give la a horrible name. They are acting like animals!!"
This sounds remarkably similar to a text that Stow sent to a cousin on the night he was beaten. Per the Los Angeles Times, he said he was "scared inside the stadium."
Violence and the simple threat of violence are only part of the problem when it comes to Dodgers fans. The cliche is that they show up in the third inning and leave in the seventh, but they sure as heck make their opinions known in the four innings that they bother to show up for. And indeed, they spare nobody.
Not even Chris Paul, star point guard of the Los Angeles Clippers. He took in a game at Dodger Stadium with his young son back in April, and the fans in attendance let them have it when they were shown on Dodger Stadium's video screen.
Via the Associated Press:
Paul took his 2-year-old son to a Dodgers game on Sunday. They were both wearing Dodgers caps and his son waved at the crowd. ''They booed me bad,'' he said. ''I was just happy that my son didn't know what was going on.''
Come on, people. It's not CP3's fault that David Stern didn't want him to play for the Lakers. He's entitled to watch a baseball game in peace. And for Pete's sake, his son is two freakin' years old. Don't ingrain it in his head that he's going to be booed every time he waves to a crowd of people wearing blue.
Then again, people who don't deserve to be booed tend to get booed at Dodger Stadium. Dodgers fans even took to booing Matt Kemp a couple weeks after they booed Paul.
In what became a rather famous string of tweets, San Francisco Chronicle beat writer Hank Schulman told the world all about that, starting with this one:
Many fans here booed when Kemp misplayed Melky ball, didn't reach Arias RBI single.If that's what they were booing, they're total idiots.

— Henry Schulman (@hankschulman) May 8, 2012
Then came this:
Now they're chanting "MVP, MVP" for Kemp. These really are the worst fans in baseball.

— Henry Schulman (@hankschulman) May 8, 2012
Even after a tremendous amount of backlash, Schulman continued to trust what his eyes and ears had told him:
Now I'm getting Tweets saying fans weren't booing Kemp. Just booing a Giants run. What a load of crapola. They were booing Kemp, period.

— Henry Schulman (@hankschulman) May 8, 2012
If it is true that Dodgers fans were booing merely because the Giants got a run, well, that's not a whole lot better. If you feel compelled to boo every time the opposition scores a run, baseball's not for you, my friend.
If they were indeed booing Kemp, he should consider himself lucky that he didn't get mooned. Thanks to Deadspin, we know that happened to Chad Billingsley earlier this season.
Now, the Men's Journal survey that identified Philadelphia, San Francisco and New York fans as the most obnoxious fans in baseball was determined by players.
Because LA fans didn't crack the top three, you might be thinking that players are oblivious to what is going on around them when they visit Dodger Stadium. They're just there to play ball, and the fans don't get in the way.
Not true. The players are acutely aware of what the fans are saying and doing when they play at Dodger Stadium.
Here's a passage from Out of My League, Dirk Hayhurst's (damn good) memoir of his brief tenure with the San Diego Padres in 2008:
Some fanbases are more aggressive than others. It's well known that Phillies fans are some of the meanest on earth. The Bronx houses that typical New York bravado, and Boston has a good reputation for verbally punishing anyone who dares challenge their Sox. But the fans in LA are nothing to scoff at. From the minute they started filing in for batting practice until the completion of the game, they were on us.

"Hey Fifty-Seven, nice career numbers. Whose [take a wild guess] did you suck to get up here?"

"Hey, Hayhurst, I hope you pitch tonight so we can get an easy win."

"Hayhurst, give me a ball, you [effing] douche."

"Hey, Hayhurst, I got your Dodger dog right here!"
Pretty bad, huh?
But wait...there's more. Hayhurst and the other Padres relievers couldn't even find refuge in the visiting bullpen:
Fans yelled down at us from above, screaming how we sucked. When we tuned them out, bags of trash came sailing down on top of us. Then cups of beer were dumped over, sending us to find cover in the pen's tiny bunker. Fights intermittently broke out in the stadium -- it was actually more fun to watch police haul away fans who were duking it out than it was to watch the game, since when the police stepped in to keep the peace, they got showered with beer from the upper levels too.
If you've been to Dodger Stadium before, all of this should sound familiar.
Heck, the one time I went there, I must have witnessed at least six or seven fights and some guy looked at me like he wanted to kill me when I dared to cheer when Sammy Sosa hit a home run.
I was 12 at the time, surely no threat to him.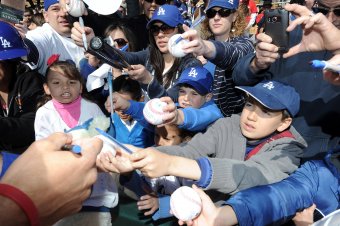 A few examples of totally harmless Dodgers fans.
Harry How/Getty Images
Are all Dodgers fans loud and obnoxious oafs whose favorite activities include yelling, boozing and fighting?
Hell no. At least, not as far as I can tell. I went to college with a few hardcore Dodgers fans, and they seemed okay. I've interacted with plenty of Dodgers fans on the message boards of this site, not to mention on Twitter, and some of them seem cool, too.
Some, but not all. Some come off as exactly the kind of people who give Dodgers fans such a bad name. As is the case with Philadelphia, San Francisco and New York fans, the unsilent minority ruins it for everyone else.
Even the good Dodgers fans should know that this is true.
By virtue of the lesser Dodgers fans, it's therefore baffling to me that Los Angeles fans didn't make the cut in Men's Journal's top three. If San Francisco fans are in the top three for being obnoxious, then Dodgers fans should be on the list for their unique blend of obnoxiousness and general thuggery.
There are only two rational explanations for the fact that LA fans didn't make the cut.
One is that the bulk of the 100 players surveyed by Men's Journal play on the East Coast. Players on that side of the land don't have to spend too much time in Dodger Stadium on a year-to-year basis.
But since San Francisco fans made the cut, that doesn't seem at all likely. And that brings us to explanation No. 2:
That Los Angeles fans are No. 4 on the list.
If they're any lower than that, the list is wrong.
If you want to talk baseball, hit me up on Twitter.
This article is
What is the duplicate article?
Why is this article offensive?
Where is this article plagiarized from?
Why is this article poorly edited?