Oakland Raider Aaron Curry Uses Twitter to Bash Fan's Graduation Speech
June 15, 2012

Harry How/Getty Images
The advent of social media is our generation's great double-edged sword. For professional athletes and celebrity figures alike, this is especially true. 
Over the past few years, we have witnessed countless athletes invite a wave of embarrassment and scorn for the less than tactful things they have published in a public domain. 
Aaron Curry of the Oakland Raiders is the newest member of that fraternity. 
As reported by DullesDistrict.com, Curry was a guest at the graduation ceremony for Heritage High School in Leesburg, Va., on June 10.   
As a disclaimer, I will add that this isn't the Washington Post, and that I can't claim that the person who posted this is an accredited writer of any sort. But Twitter doesn't lie, and there is a reason why tweets are date stamped.
That said, let's get to the matter at hand.   
June 10 was a big day for one graduating senior, Owen Gotimer, who grew up in the Seattle area and was a huge fan of Curry's from his years as a member of the Seattle Seahawks.
When news reached Gotimer that Curry would be in attendance to witness his cousin—and Gotimer's friend—graduate, the West Coast native was rightfully excited.  
Gotimer, who was the 2012 senior class president, delivered a commencement address and made his walk across the stage. Afterwards, he was able to meet Curry and score a few photos with the Raiders linebacker before resuming the rest of his graduation festivities.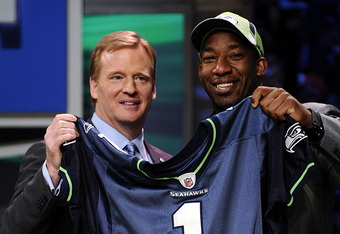 Jeff Zelevansky/Getty Images
Perfect day, right? Wrong.  
Shortly after graduation, it was discovered that Curry had been posting play-by-play updates of Gotimer's commencement speech on his Twitter page.  
Suffice to say, none of it was terribly flattering. 
Now, this is normally where I would post the tweets myself or provide a direct page link to the actual Twitter feed, but Curry has since deleted the tweets.
If you do want to see the entire Twitter exchange between Curry, Owen and his brother Patrick, take a peek here. 
In a nut shell, it's Aaron Curry telling the digital community about how awful and ill-conceived Gotimer's speech was during graduation. No subtlety, no tact, just a bunch of 'LOL's, a "really really stinks" and a 'sux' for good measure. 
The fact that the Gotimer brothers later confronted Curry via Twitter, asking him to explain himself, is representative of how taken back Owen and his family were by Curry's scathing comments. 
I'm sure they would have appreciated an apology as well.  Instead, they got a fetid, freedom of speech geared response that encapsulated how oblivious Curry was to the impact of his words. 
This isn't Winston Churchill or Barack Obama we're talking about. In fact, I doubt any high school senior in the country has the oratory skills required to move nations and edify Curry's strict demands with regard to public speaking.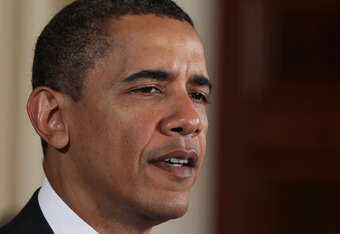 Mark Wilson/Getty Images
No, the fact is that this was a high school senior on arguably the biggest day of his life to date who ended up having to choke down a massive amount of disappointment.
Most of us would agree that public speaking is one of the more terrifying concepts known to man.  Now, factor in that you're 18, graduating from high school and having to address several hundred friends, family, faculty, strangers and one of your favorite professional athletes. 
Curry, like the other seven or so billion people on this planet, is entitled to his opinion. But when you take to Twitter to bash a kid who you just took pictures with, it becomes less about one's opinion and more about one's lack of decision-making abilities.
Needless to say, we can now canonize Curry as yet another athlete who lost track of what he was putting out on Twitter. 
It's unfortunate, especially in this instance, as it didn't occur between two players airing a mutual grievance or come from an athlete going through trying personal matters. Instead, it was an athlete spewing vitriol about a kid who idolized him.
I simply hate seeing this type of thing. Curry could have been the bigger man and tweeted something positive like "at this graduation, good looking out for young folks, got to meet a couple of fans #TGBTG."
It's instances like this that make many of us, especially the younger and infinitely more positive among us, lose faith in the idea that professional athletes can still be looked up to as role models. 
This isn't the end-all-be-all for the Twitterverse or for Owen Gotimer and his family. 
I'm sure Owen that will go on to college and that Twitter will continue to be the soul-sucking, all encompassing social conduit that it is. 
It's yet another cautionary tale, though, and one that Aaron Curry and the rest of his peers should take to heart.