Philadelphia Phillies: Should the Philadelphia Phillies Pursue Ben Sheets?
June 14, 2012

Ezra Shaw/Getty Images
Ben Sheets might be trying to make a comeback again.
According to Tim Dierkes of MLB Trade Rumors, the 33-year-old right-handed pitcher threw for scouts from the Los Angeles Angels of Anaheim, the New York Yankees, the Atlanta Braves and the Philadelphia Phillies.
The Philadelphia Phillies are in need of some type of spark, and Ben Sheets might be able to provide that for a very low price.
The low price would come from the fact that he hasn't pitched since 2010. He has been incredibly susceptible to injury throughout his career, and that has cost him a substantial portion of his career up until this point.
While it may seem risky to sign a pitcher with such a questionable past, the low cost would help mitigate that risk.
From the reward standpoint, Sheets has been a very effective pitcher when he has been healthy. Even though he has a sub.500 (90-92) career record, his career ERA is 3.97.
His record is less than ideal simply because he pitched most of his career for the Milwaukee Brewers when they were not very strong contenders.
It very well could be a good thing for the Philadelphia Phillies to take this risk. Quite frankly, they need to do something.
However, their hands are somewhat tied by their already high payroll. Therefore, they need to find someone who has the potential to make a large impact at a low price.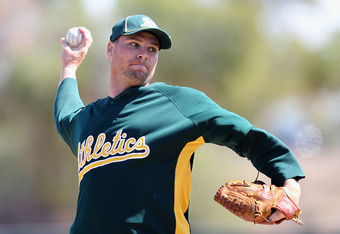 Christian Petersen/Getty Images
If Sheets is able to put together some of the strong ERAs he had channeled in the past, he would definitely be worth a look from the Philadelphia Phillies. If it doesn't work out, then the financial loss would be relatively small. Why not take a risk?
Whether you think I know everything or nothing about Major League Baseball, you should follow me on Twitter or become a fan on Facebook and keep in touch. I love hearing what you all have to say!