Tim Lincecum Is on the Cusp of Becoming MLB's Next Phenom Flameout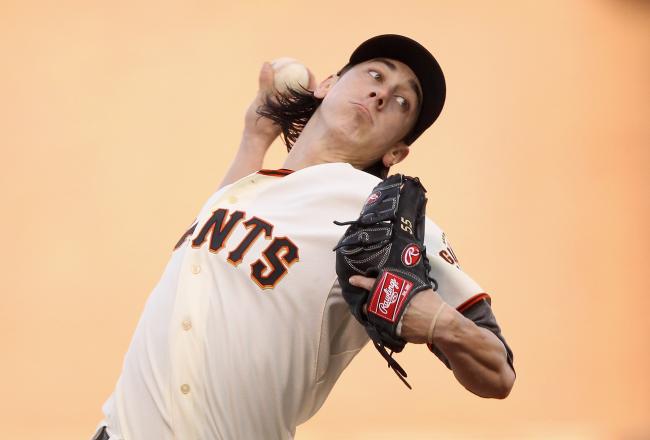 Ezra Shaw/Getty Images
The Tim Lincecum situation has gotten serious.
We're in the middle of June, and the San Francisco Giants' two-time Cy Young Award winner has an ERA of 6.00. He hasn't won a game since April 28, and the Giants have lost each of his last eight starts.
Bruce Bochy recently admitted to baseball analyst Jim Bowden (via CBSSports.com) that he and general manager Brian Sabean had a discussion about skipping one of Lincecum's starts or just moving him to the bullpen for a spell. That gives you an idea of just how worried the Giants are about their 27-year-old hurler.
But for now, the Giants are going to stay the course.
"Right now, the best thing is to keep throwing him out there," said Bochy this week, via MLB.com.
It goes without saying that the Giants are simply going to keep hoping for the best with Lincecum on the mound.
The Giants don't have much choice in the matter. They're paying Lincecum over $18 million this season, and his track record suggests pretty clearly that he's simply not this bad.
The track record says one thing, Lincecum's numbers this season say another thing entirely.
Lincecum's ERA is ugly, but what's really ugly are his velocity numbers and his walk numbers. According to FanGraphs, Lincecum's average fastball velocity is down to just over 90 miles per hour this season, the lowest it's been in his brief career.
The velocity decline is the first thing people notice when watching Lincecum's starts, but just as painful is the way in which he seems to have no clue where the ball is going from pitch to pitch. He's getting ahead easily enough, as his first-pitch strike percentage is up to 60.5 percent this season. But he's not throwing strikes efficiently at all, which is a big reason why he's averaging over 18 pitches per inning this season. He's also walking 4.88 batters every nine innings.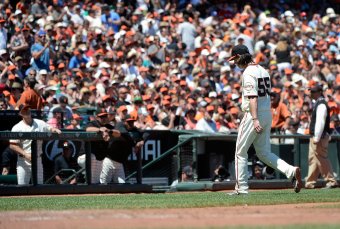 An all-too-common sight this season.
Thearon W. Henderson/Getty Images
There are times when Lincecum shows flashes of his old self. He'll occasionally zip a few fastballs through the zone at 93 mph and then get hitters to swing over the top of off-speed stuff in the dirt. In these moments, it's easy to forget that there's something wrong with Lincecum.
The good vibes have tended to unravel as soon as Lincecum finds himself in a jam. Per Baseball-Reference.com, Lincecum has a 3.40 strikeout-to-walk ratio and a .242 opponents' batting average with nobody on base. With runners on base, his strikeout-to-walk ratio drops all the way to 1.08, and hitters hit him at a .294 clip.
Because things get so much worse with runners on base, what's happening is that more runners are getting on base. Which means Lincecum is dealing with more runners in scoring position.
With runners in scoring position, he has a 0.59 strikeout-to-walk ratio and a .337 opponents' on batting average.
In the past, Lincecum could just rear back and blow hitters away when he got in trouble or make them think he was going to rear back and then make them look silly with his cartoonish off-speed stuff. When he needed to make a pitch, he could make one.
He can't do this anymore, and it's doing a number on his confidence.
Marcos Breton of the Sacramento Bee wrote an article recently about how much Lincecum has changed this season. He used to be cocky, even rude at times. Now he's quiet and apparently just as baffled by his struggles as everyone else.
"I'm just trying to grind it out and find a way out of this hole," he said after his loss to the Texas Rangers on Sunday.
Lincecum's loss of confidence is understandable—these things tend to happen when people struggle at their jobs, especially when they have to perform their job in front of tens of thousands of people. Plus, you have to sympathize with Lincecum because he knows as well as anyone what kind of pitcher he used to be. He fully realizes that he's not himself this season.
As far as why he's not himself this season, all anybody can do is speculate. His velocity issues and his struggles out of the stretch indicate that there's something physically wrong with him. Players obviously can't hide injuries in this day and age, but he could be dealing with a dead arm. He also could just be out of shape, which could be a result of his offseason weight loss.
Or maybe all of this was inevitable. You know, just like we all said it would be back when Lincecum first broke into the big leagues.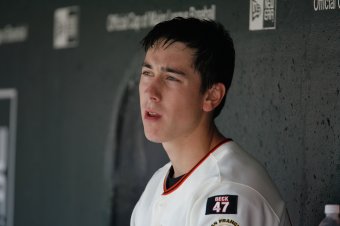 Maybe it's the long hair...? Just throwing it out there.
Greg Trott/Getty Images
You remember that, right? When the world first caught a glimpse of Lincecum back in 2007, there was plenty of excitement to go around. At the same time, geniuses and armchair dingbats alike both looked at him and determined there was no way he was going to remain so dominant for a prolonged period of time. He was too small, and his mechanics were too violent.
He's still small, and his mechanics are still violent. What's changed is his velocity and control and, by extension, his confidence. All three are gone now.
We've seen this happen before. Hundreds of young pitchers who have broken into the big leagues with their power stuff suddenly reached a point where they simply lost it. Most of the time, it's due to injury, which was the case with guys like Mark Prior, Scott Kazmir, Chien-Ming Wang and so on. It happened to Dwight Gooden, too, though there was more going on there than just injuries.
Kazmir is long gone. Prior hasn't been seen in the big leagues since 2006. Wang is still around, but he's a shell of his former self. They are just three of many pitchers who came, saw, conquered for a few years and then disappeared.
There's a chance Lincecum will join their ranks.
Thankfully, there is hope. Greg Maddux came up as a hard thrower, but all of his success came when he was throwing his fastball in the mid-to-high 80s with pinpoint location. Pedro Martinez lost his velocity too, but he was able to keep pitching. Josh Beckett doesn't throw that hard anymore, and he's still around. Bartolo Colon hasn't had his fastball in a looooong time, but he's still ticking too.
Over or under a 4.50 ERA for Lincecum this season?
You don't need velocity to be effective, you just need excellent control and a good brain between your ears.
We're finding out this season that Lincecum doesn't have excellent control. He can hit the corners every now and then, but not with any consistency. It doesn't help that he's used to using his off-speed stuff to get swings and misses, not looking strikes. The fact that he seems legitimately shell-shocked by what's going on is a sign that he's too overwhelmed by his struggles to think his way out of them. It's either that, or he's suffering from paralysis by analysis.
Sooner or later, Big Time Timmy Jim will have to come to grips with the reality that he's going to have to reinvent himself as a pitcher. He'll need to rethink how he utilizes his repertoire of pitches, and he's also going to have to give serious thought to changing his mechanics.
What used to work is no longer working, and what used to work will probably never work again. Lincecum can either deal with it, or he can join all the other flameouts that have come and gone throughout MLB history.
If you want to talk baseball, hit me up on Twitter.
This article is
What is the duplicate article?
Why is this article offensive?
Where is this article plagiarized from?
Why is this article poorly edited?