How Bryce Harper, Mike Trout Rank Among Best MLB Rookie Duos of Last 10 Years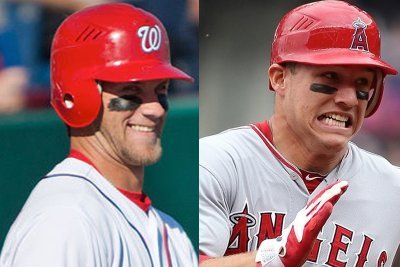 Photo courtesy businessinsider.com
On Monday night, Los Angeles Angels rookie phenom Mike Trout almost single-handedly delivered a victory for his Halos over the Los Angeles Dodgers in the resumption of the Freeway Series.
In a game that was sloppy from the outset, filled with baserunning blunders, errors and walks, Trout simply stole the show. A towering home run blast in the fourth, his sixth of the season, an opposite-field RBI single in the sixth to tie the game, and then his actions in the top of the ninth that set up the go-ahead run.
Trout drew a walk after falling behind 1-2 against Dodgers closer Kenley Jansen, then promptly stole his 15th base of the season. Albert Pujols drove Trout home with a broken-bat single to left that would lead to the 3-2 victory.
Count both Pujols and Angels manager Mike Scioscia among the biggest believers in Trout.
"He just doesn't take anything for granted," Pujols said of Trout. "He goes out there and plays hard every day -- dive for a ball, stealing a base, getting his walk, bunting. Everything you can ask for from a perfect player, he has it. He's just amazing."
Ditto from Scioscia.
"Mike in the batter's box is as advanced as any 20-year-old I've ever seen," Scioscia said.
Pretty heady stuff.
Conversely, Washington Nationals rookie outfielder Bryce Harper is creating his own waves in the nation's capital with his play as well. Harper was 3-for-4 on Monday night at the Rogers Centre, helping his Nats beat the Toronto Blue Jays 6-3. Harper is now hitting .295 on the season with six HR, 18 RBI and a .908 OPS. Harper is also hitting .364 in the month of June thus far, while Trout leads all major leaguers with a .354 since his call up on April 28.
So, where does the duo of Trout and Harper compare to rookie duos of the last 10 seasons? Let's take a look.
Begin Slideshow

»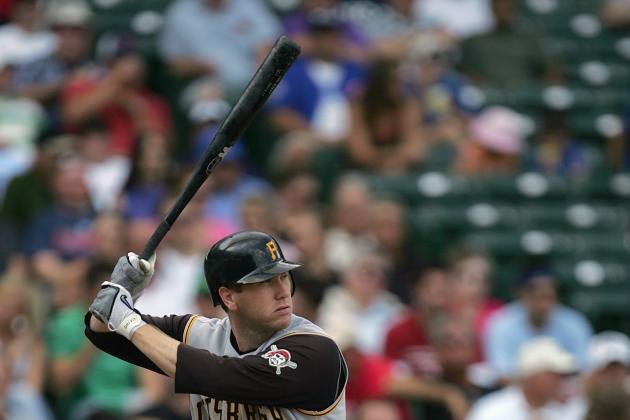 Jonathan Daniel/Getty Images

When Jason Bay broke through with the Pittsburgh Pirates in 2004 after being involved in the trade that saw Brian Giles heading to the San Diego Padres, Bay paid off immediately, hitting .282 with 26 HR and 82 RBI to win the NL Rookie of the Year Award.
Over in the American League, Oakland A's shortstop Bobby Crosby showed considerable promise as well, hitting 22 HR with 64 RBI, winning the AL Rookie of the Year Award pretty handily despite hitting just .239.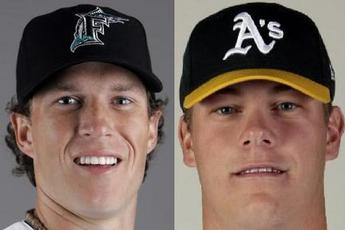 Photo courtesy lehighvalleylive.com
In 2009, Florida Marlins outfielder Chris Coghlan opened eyes with his play, hitting .321 with nine HR and 47 RBI, placing in the top-10 for the batting title and winning the NL Rookie of the Year Award. Unfortunately for the Marlins, that has turned out to be Coghlan's best year to date.
Over in the AL, Oakland A's closer Andrew Bailey showed considerable promise of his own, racking up 26 saves to go with a 6-3 record and 1.84 ERA. However, since that time, Bailey has suffered a spate of injuries that has landed him on the disabled list often, and has yet to make an appearance in the 2012 season after being traded to the Boston Red Sox.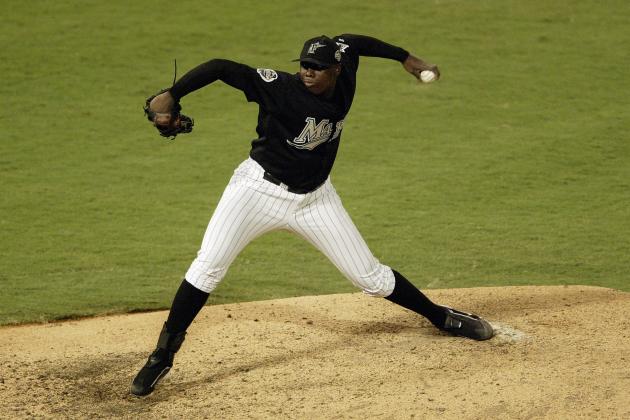 Ezra Shaw/Getty Images

In 2003, Florida Marlins starting pitcher Dontrelle Willis burst onto the scene, earning a call up in early May and posting a 14-6 record with a 2.30 ERA, helping the Marlins win their second World Series championship.
In the American League, Kansas City Royals shortstop Angel Berroa was impressive in his own right, hitting .287 with 17 HR and 73 RBI to narrowly beat out New York Yankees rookie outfielder Hideki Matsui. That would be Berroa's best year in baseball—he hasn't played since 2009. Ditto for Willis, who has wandered around trying to catch on with several teams in recent years while tries to re-discover that early magic.

Photo courtesy usatoday.com
In 2005, Philadelphia Phillies first baseman Ryan Howard only appeared in 88 games, but the body of work provided in that limited action was more than enough to earn him Rookie of the Year Award honors.
Howard hit .288 with 22 HR and 63 RBI in that first season, going on to hit a mammoth 58 home runs the following year.
In the AL, A's closer Huston Street showed promise of his own, posting a nifty 1.72 ERA while racking up 23 saves with a 5-1 record in his rookie campaign.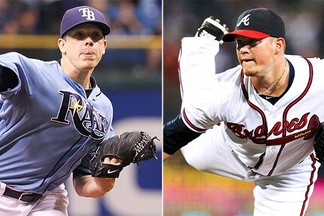 Photo courtesy thesportsofa.com
In 2011, Tampa Bay Rays starting pitcher Jeremy Hellickson and Atlanta Braves closer Craig Kimbrel became the first pitching tandem to capture Rookie of the Year Award honors for their respective leagues.
Hellickson was brilliant in his first full season as starter, posting a 13-10 record and 2.95 ERA, while Kimbrel was lights out for the Braves, posting a 2.10 ERA with 46 saves and 127 strikeouts in just 77 innings.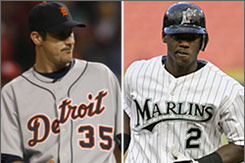 Photo courtesy usatoday.com
In 2006, Florida Marlins shortstop Hanley Ramirez immediately made the Boston Red Sox pay for trading him, narrowly winning the NL Rookie of the Year Award over Washington Nationals third baseman Ryan Zimmerman with a .292 average, 17 HR and 59 RBI.
Meanwhile in the American League, Detroit Tigers rookie starting pitcher Justin Verlander was an integral piece of the starting rotation that helped lead the Tigers back to the World Series for the first time in 22 seasons. Verlander was 17-9 with a 3.63 ERA.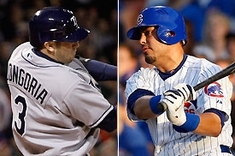 Photo courtesy mlb.com
The Tampa Bay Rays have seen winning become almost second nature since 2008, not coincidentally the same year that third baseman Evan Longoria burst onto the scene.
Longoria hit .272 his rookie season, hitting 27 HR with 85 RBI, earning unanimous selection as the AL Rookie of the Year Award winner.
Chicago Cubs catcher Geovany Soto won his Rookie of the Year Award pretty handily as well, hitting .285 with 23 HR and 86 RBI, capturing 31 of 32 first-place votes at the end of the season.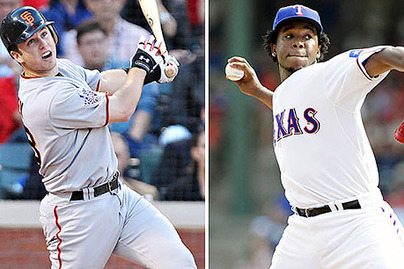 Photo courtesy espn.go.com
The 2010 season saw two rookies who helped lead their respective teams to the World Series, and one who led his team to the top of the heap after 56 years of futility.
The arrival of Buster Posey in San Francisco was highly anticipated, and while he appeared in seven games in 2009 as a late-season call-up, he arrived for good on May 29, 2010. Posey was as advertised, hitting .305 with 18 HR and 67 RBI, and being lauded for his outstanding handling of a great Giants' pitching staff.
Texas Rangers closer Neftali Feliz wasn't too shabby either. Feliz posted 40 saves with a 2.73 ERA with 71 strikeouts in 69.1 innings, helping his Rangers win their first-ever American League pennant.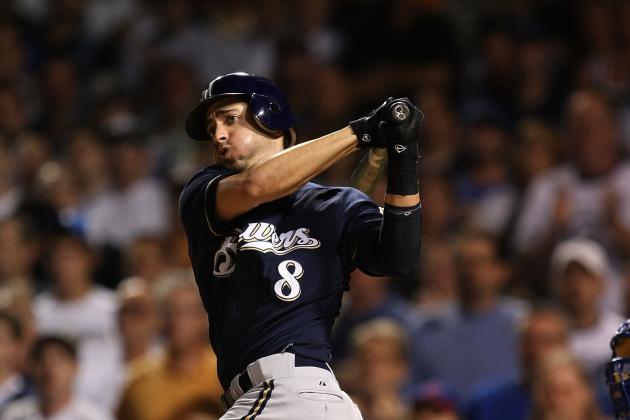 Jonathan Daniel/Getty Images

Milwaukee Brewers slugger Ryan Braun didn't make his debut until May 25, 2007, but the effort he put forth in just over four months of play was eye-popping.
Braun hit .324 with 34 HR and 97 RBI in just 114 games, leading the National League with a .634 slugging percentage. Braun was the easy choice for NL Rookie of the Year Award honors.
In the American League, a diminutive second baseman with plenty of confidence wowed teammates and opponents alike with his first full season as well. Dustin Pedroia hit .317 in his rookie year, with 8 homers, 50 RBI and helped the Boston Red Sox win their second World Series championship in four seasons.
Both players have since gone on to win Most Valuable Player Award honors as well.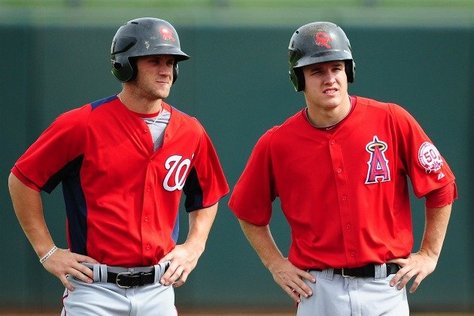 Photo courtesy sports.yahoo.com
Yes folks, for me, 19-year-old Bryce Harper and 20-year-old Mike Trout are the best rookie tandem over the past ten seasons, and easily one of the best rookie tandems of the 21st century thus far.
These two players, who were ranked the No. 1 and No. 2 prospects heading into this season by just about every reputable baseball expert, have absolutely lived up to that billing, and more.
It's no coincidence that the Angels are on a 15-4 tear right now, and have been the best team in baseball over that time span. Trout's presence at the top of the Halos' lineup has transformed these once-hitless Angels into a smooth-running offensive machine.
Harper has played all three outfield positions almost flawlessly thus far for the Washington Nationals, and has also shown he's more than capable of handling anything that comes his way.
Harper and Trout have been a welcome sight in baseball, and their presence on their particular teams has given hope for a very bright future in both Anaheim and Washington, D.C.
Doug Mead is a featured columnist with Bleacher Report. His work has been featured on the Seattle Post-Intelligencer, SF Gate, CBS Sports, the Los Angeles Times and the Houston Chronicle. Follow Doug on Twitter, @Sports_A_Holic.