St. Louis Rams: Tuesday's Rams News and Notes at Noon
June 12, 2012

Al Bello/Getty Images
Welcome to Tuesday's St. Louis Rams "News and Notes at Noon," the one stop source for all major Rams headlines and other updates of interest for Rams Nation. 
First-Round Rookie Michael Brockers Eager to Learn and Become a Force for the Rams 
According to an article from Tom Zimmerman of the St. Louis Post-Dispatch, Michael Brockers is eager to learn and ready to listen: 
I'm feeling pretty good. Everything's coming pretty smoothly. At first, I was hit with a lot of different plays, different techniques. But as I go on, through OTAs and minicamps, I feel I'm getting better and better every day. I'm getting off the ball, learning techniques they're teaching, understanding what to do.

I feel like the adjustment from college to (the first) minicamp was tough. I was tired, sweating profusely. Now I feel pretty good. I'm not too winded. I understand what I have to do and I have to play my part.
Brockers has impressed fellow defensive linemen Kendall Langford and William Hayes with his hard work and willingness to listen and take advice, among other things, as they clearly express in the above-linked column. 
It seems that Brockers is coming along nicely and looks to be on track to earn a starting spot.  His presence, particularly on running plays, should be of great benefit to this defense in 2012.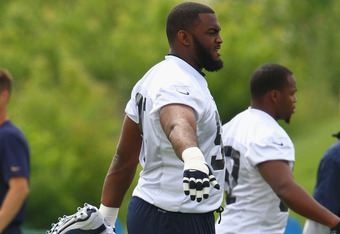 Dilip Vishwanat/Getty Images
More on Brockers Via Ron Clements of CBS Sports
Ron Clements of cbssports.com shared several tidbits regarding Michael Brockers, the 14th pick of the 2012 NFL Draft, as you can read here. 
One of many brief reports on Brockers has the big DT sharing these thoughts about his progress: 
Every day I come out here to get better and it shows on film, little steps of improvement. By the time the season starts, I'll be an all-around player.

 
Rams Wide Receiver Steve Smith Out to Prove Himself in St. Louis 
According to this piece from Aditi Kinkhabwala for nfl.com, wide receiver Steve Smith is eager to prove himself in St. Louis. 
Smith, a 2009 Pro Bowl selection after pulling in 107 catches that year, has not been the same since a knee injury and subsequent micro-fracture surgery in late 2010. 
Smith, though, wants to prove to people that he is still a great player:
In the NFL, it's not what have you done. It's what are you doing right now. When you get hurt, you lose a little steam. People forget about you and doubt you. I want to remind the coaches here I'm a great player. 
Andrew Burton/Getty Images
As Kinkhabwala reports, Smith is obviously impressed with young gunslinger Sam Bradford: 
He is so accurate. His accuracy is just amazing. He can really put a ball in the smallest of windows.
If truly healthy and fully recovered, Smith should prove to be a terrific asset for the Rams this year while aiding in the development of the passing game. 
New NFL Power Rankings See Rams Beginning to Attain More Respect
Although checking in at No. 26 on anyone's NFL power rankings would be a slap in the face for the likes of a significant majority of NFL teams and their respective fans, it is a sign of progress for St. Louis.  
In this slideshow, Ryan Alfieri of Bleacher Report asserts his belief that the defense could be much improved this year, vaulting the Rams forward towards some semblance of respectability. 
I would agree with Alfieri in regard to the Rams D.  I believe it should be much improved this season due to better health, an infusion of talent via free agency (Cortland Finnegan, Kendall Langford, Jo Lonn-Dunbar, etc.) and the additions that came via the 2012 NFL Draft (Michael Brockers, Janoris Jenkins and Trumaine Johnson in particular.)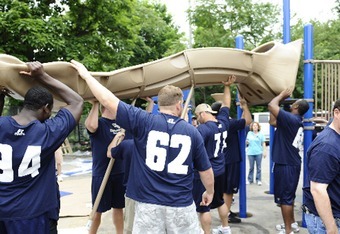 The St. Louis Rams Continue to Give Back 
Tony Softli of 101sports.com reports on the Rams fourth annual "Playground Build" which took place, this time, at the Fairmont City Library Center in Fairmont City, Illinois. 
Softli shares background on the Rams extensive community work in the St. Louis metro which dates back to 1995.
Rams Chief Operating Officer and Vice President of Football Operations Kevin Demoff feels strongly about the work the organization has done and continues to do in the community:
We do a day of service every month when we shut the building down, but this is the one where all the players are there, the coaches, all the scouts and staff. It's a scope large enough, when you build a playground, to get everybody involved in for the day. (It's) something people look forward to, and today here in Fairmont City is a great opportunity to build a playground for a community that doesn't have one. The nearest playground is eight miles away.

"This is one of the things that gives us the most joy, is giving back to the community, reminding people we are here 365 days a year, figuring out ways to get our staff connected with youth and families, making St. Louis a better place to live.
For much more on this event, please check this report from ksdk.com 
New Position by Position Look at Each of the NFC West Rosters
Mike Sando of ESPN shares a a position by position look at each of the NFC rosters here. 
Of all positions, tight end stands out as the position the Rams have loaded up on in terms of numbers. St. Louis currently has nine tight ends, whereas no other divisional opponent has more than six. 
On the other end of the spectrum, the Rams are easily carrying the least amount of linebackers (nine) in the division. Seattle has 11, San Francisco has 13 and Arizona has a staggering 15 LBs currently on its 90 man offseason roster. 
With 89 players, St. Louis is currently the only team in the division below the 90 man roster limit. 
Have a great day as always, STL Rams Nation. 
Shane Gray covers the St. Louis Rams daily as a Featured Columnist for Bleacher Report. You are encouraged to check out the rest of his work here. Gray also owns and operates stlramscentral.com.