Delayed Impact: What the Denial of Tony Hargrove's Appeal Means for the Packers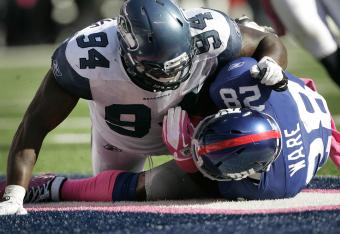 Rich Schultz/Getty Images
Eight games—you can say it out loud, and it doesn't improve the taste it leaves in Green Bay Packers fan's mouths.
With the denial of his appeal by judge Stephen Burbank, defensive lineman Anthony Hargrove is done for half the season, so get used to it.
How bad is it really? Eight games is an eternity, but what does it really mean for the Packers?
The Packers knew this might happen, so as the Packers usually are, they are well covered.
First of all from a financial aspect, the Packers did a great job making sure they didn't get burned.
According to Tyler Dunne at the Journal-Sentinel back on May 2nd:
The hard-charging defensive end signed for one year at the veteran's minimum of $825,000 and the contract contained no bonus money. Because of the league's minimum salary benefit program, Hargrove will count only $540,000 against the team's cap.
It was a low-risk, high-upside contract for the Packers.
From a football standpoint, Hargrove's suspension could prove more problematic if things don't fall the way the Packers hope.
With Hargrove out, Ryan Pickett is the veteran who has to shoulder the load next to some unproven players. Pickett himself hasn't exactly been Pro Bowl material during his 10-year career, so when I say step it up, it really means "play better than ever before."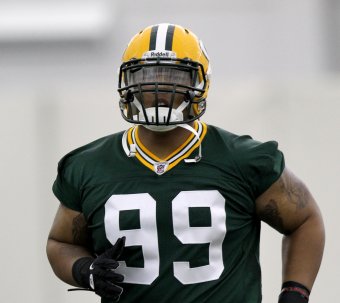 Mike McGinnis/Getty Images
The likely player to take up the position Hargrove is exiting (at least temporarily, though who knows?) is rookie Jerel Worthy.
Worthy is transitioning from defensive tackle to end, but his explosiveness, strength and nose for the football make him an intriguing player at the other end and a potential source of all sorts of havoc in opposing backfields.
While he will be facing bigger, stronger and quicker offensive linemen than he did in college, Worthy will also have players like Clay Matthews, fellow rookie Nick Perry, A.J. Hawk and B.J. Raji pulling attention in other directions.
Really, the situation does seem to be one in which Worthy has every chance to excel.
You could assume that Worthy was taken, in part, because the Packers knew there might be trouble and could lose Hargrove. Further, Hargrove was unlikely a long-term answer at the spot—we will now get an extended look at the guy who might be.
I just mentioned the linebackers, and Hargrove's suspension makes speedy improvement on their play equally as vital as the defensive line.
I watched several games from last season recently, and while I applaud the ferocity with which Clay Matthews attacks the quarterback, more than once he got burned because the play went over his head to a player in the flat.
Of course, it's easy to isolate and counter a player on a defense when he's the only one making plays nine times out of 10.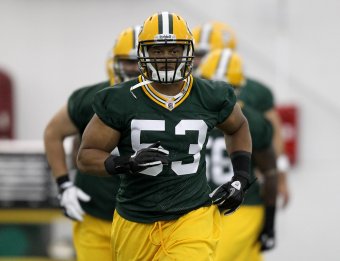 Mike McGinnis/Getty Images
That's where Nick Perry comes in. Perry is changing from defensive end to linebacker, and he needed to do so swiftly and effectively regardless of Hargrove's status. The suspension just reminds us that, as a unit, this team needs to improve.
With Hargrove out and another rookie in his place, Perry has to be able to take some focus off of Matthews and the other side of the field if the front seven are to get the pressure on the quarterback that they so desperately need.
As with Worthy, Perry will have to flatten his learning curve.
Ultimately, this is a result the Packers expected. While there are a lot of new parts to fit into the machine, by and large the Packers have plenty of people who can do the job.
The defense was never as bad as the 32nd ranking makes it look—it just needs to get back to the level of play we've seen in prior years.
That was something it was going to have to do with or without Hargrove.
This article is
What is the duplicate article?
Why is this article offensive?
Where is this article plagiarized from?
Why is this article poorly edited?

Green Bay Packers: Like this team?