Atlanta Braves: 5 Reasons Chipper Jones Must Be Kept Around After Retirement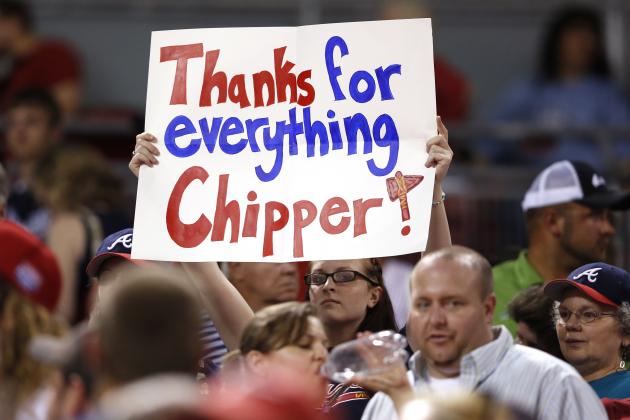 Joe Robbins/Getty Images

Chipper Jones has done it all. Throw in there, being a seven-time All-Star, NL MVP, NL batting champion and not to mention a World Series, and you have yourself an extremely decorated player.
All these awards, however, cannot sum up what Jones has meant to the Atlanta Braves in his career with the team.
He has done so much for them, on and off the field, that at this moment he is irreplaceable.
It looks like after this 2012 season, Jones will finally be hanging up the cleats and calling on retirement. Even should he do that, there are so many positives that he could bring to the table if he was to stay with the Braves in some sort of capacity. Maybe a coaching role, or maybe a role that involves him just being around the players and the fans.
Either way, this perennial Braves All-Star is a player that the team should take a serious look into keeping around for many beneficial reasons.
Here are just five reasons why it will be so imperative for the Atlanta Braves to keep Chipper Jones around, even after he retires from playing in the MLB.
Begin Slideshow

»
Scott Cunningham/Getty Images

After playing so many years in the big leagues, it can sometimes be tough to let that go and leave the game completely for a player.
You have to think, these guys have had baseball on their mind since Little League. Once in the majors that is all that consumes them. Whether it is in the offseason training, spring training, the regular season, or the postseason, baseball is on their mind seven days a week.
Be it summer, spring, fall or winter, it is all baseball, everyday, for these guys.
For Chipper Jones it will be no different once he finally retires.
No guarantees he will come to the team to help in some sort of capacity after he finishes his playing career, but at some point there will be a void he feels next year. If anything, keeping him on with the Braves will allow himself to bridge that gap from active player to retired player.
Not only would that help the Braves, but also Jones in that tough transition time that all professional ball players must go through.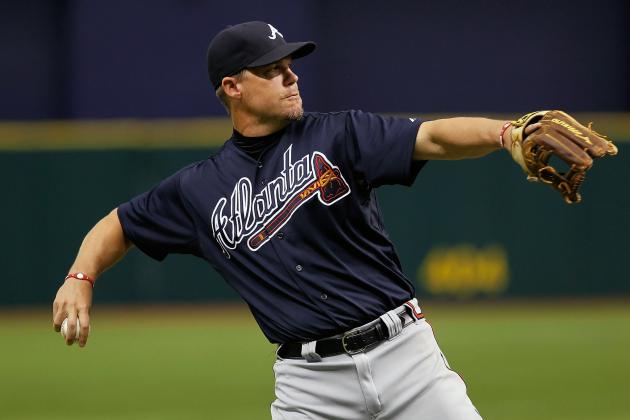 J. Meric/Getty Images

Not that the Braves need much help in this department, as they are a well respected, and generally competitive, team. Nonetheless, keeping Jones on the team in some sort of non-playing role could benefit them when they want to bring in top free agents to fill missing pieces of their puzzle.
Players talk to each other when it comes to deciding which team to play for, especially when moving to a place they are not well familiar with. Having such a big talent, and former top player himself, in the organization, Jones may be able to sway players opinions on coming to Atlanta.
Jones himself seemed to love playing in Atlanta and can back up whatever he says by the fact that he stayed to play his whole career in the city.
That speaks volumes.
If you were a young free agent, looking to sign somewhere, and the Braves were interested in you, it would make a huge difference should Chipper Jones come and talk to you about signing.
In the end, if Jones was to stay on with the Braves in some sort of way, it would by no doubt benefit the team in the long run. If he was able to use his influence as a possible future Hall of Famer to land big name talent for the Braves, that would just be a bonus to the rest of the stuff Jones brings.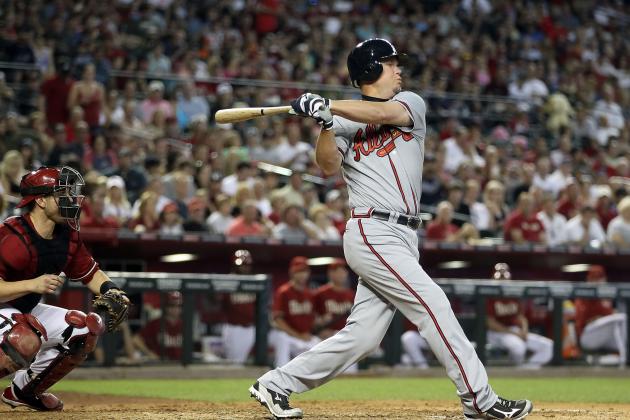 Christian Petersen/Getty Images

There is no doubting that Chipper Jones could bring a wealth of knowledge to a team should he decide to put himself into a coaching role.
Or, if he did not want the full responsibility of committing to be a coach, just the hints and tips he could give players just being around the team would be unmeasurable.
He was one of the best players in the league, and possibly the best at his position during his prime years, and a player with that level of play would have many pointers to give to young up-and-comers.
It would be a shame for the Braves to let this type of player not contribute to the team still, just because he retires. Again, there is no guarantees that Jones will still want to be this connected to the game but if he does then it would hugely benefit the team.
He has won all kinds of awards in the baseball world, including a World Series championship early on in his career (1995). The type of experience that Jones could bring to the table would definitely contribute to a teams success.
If the Braves were ever to make it back to the World Series in the next few years, having Jones in the locker room with guys would be a good way to make sure they are all prepared for what they will go through.
After all, in his long career surely Jones has seen it all in baseball. The leadership and experience he could bring to a club just being a part of it is so great it would be hard to turn down.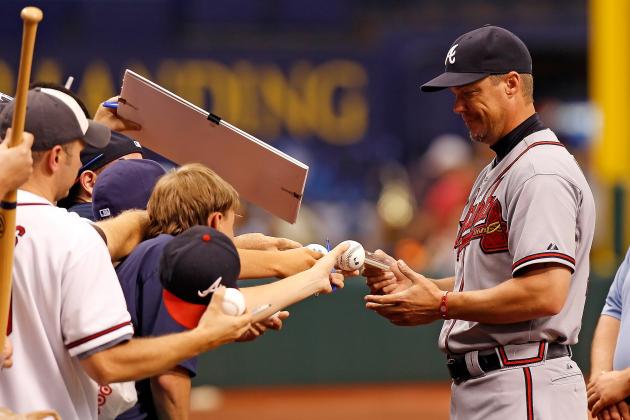 J. Meric/Getty Images

Being part of the Atlanta area for so long, and growing up nearby in the state of Florida, Chipper has used his talents to not only excel on the field but also to give back to the community.
He does so much for the states of Georgia and Florida, and especially the Atlanta area. Over his time with the Braves, Jones has organized so much to help out, the Braves website tells us.
He has organized a celebrity golf tournament which has raised over $1 million for the Cystic Fibrosis Foundation, and other helpful causes.
Jones also has his own Chipper Jones Family Foundation which reaches out to help people through programs like Around the Horn, Take 'em Deep, and Helping for the Holidays. All of these programs help to benefit families and youth in need, living in the Atlanta area.
Outside of his own charity work, Jones does a lot with the Braves organization.
He does meet and greets, signs autographs and provides tickets and t-shirts to under privileged youth for them to experience a MLB game.
Jones also dedicates some of his time to helping bring awareness to prostate cancer. This is a campaign done by the MLB during Father's Day and Jones is the Braves spokesman.
All these things that he does, not for himself, but for other people, exemplify the type of person that Jones really is. If the Braves do not put an effort to keep him around the team, they will surely miss a person like this when they realize how valuable he was to their organization.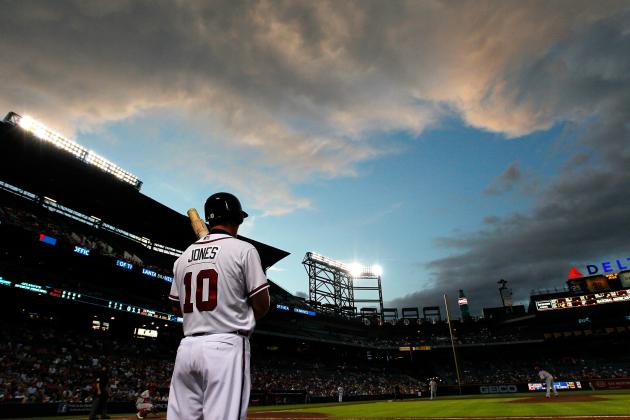 Kevin C. Cox/Getty Images

The single most important reason for him to stick around with the club after retirement is the fact that Chipper Jones is the face of the franchise.
Sure, eventually that rein will have to handed down, to possibly Jason Heyward, but that still needs grooming. There is no better player to entrust that grooming of the next generation to than Jones.
Even though the Braves organization needs Jones to be around for a little while longer, they have to realize that he will not be around forever. Someone, a younger player, needs to step up and take on that responsibility of being that face of the franchise for them.
However, at the moment, Chipper is still the fan favourite and it would be devastating for him to walk away from the Braves completely. If he is able to stay on somewhere within the Braves organization he will be able to help them out immensely.
Since he has a ton of popularity among Braves fans, if they were able to use him to promote the team it would sell tickets like crazy. Putting him into a public relations role where he can reach out to fans would make their trips to the ballpark memorable and wanting to come back.
Jones still needs to be an active part of this organization until he can help groom, or see, that a new player has taken his spot. At the moment, however, being the face of the franchise is still in Jones' court.