10 Biggest Rags-to-Riches Players in the NFL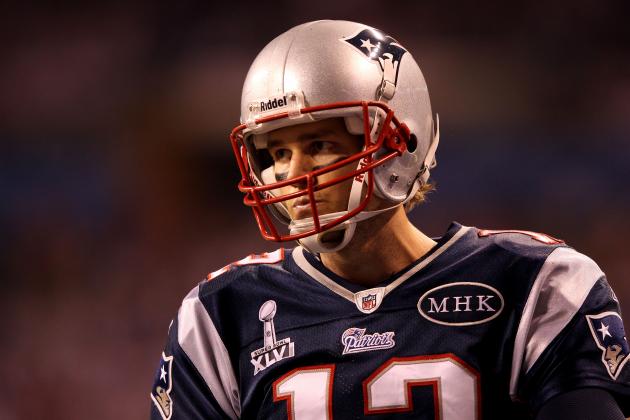 Jamie Squire/Getty Images

The NFL is filled with players that were passed over for whatever reason only to ultimately go on to have very successful careers.
These initially undrafted, unwanted players have immeasurable skills that multiple teams' front offices fail to see at first.
Sometimes these players are late bloomers. Sometimes they are gamers, non-practice players who just need a coach or a general manager to take a chance on them.
This is the case with the following list of players. They all found found themselves in that position, got that chance, embraced it and got paid.
Here are the top ten biggest rags-to-riches players in the NFL.
Begin Slideshow

»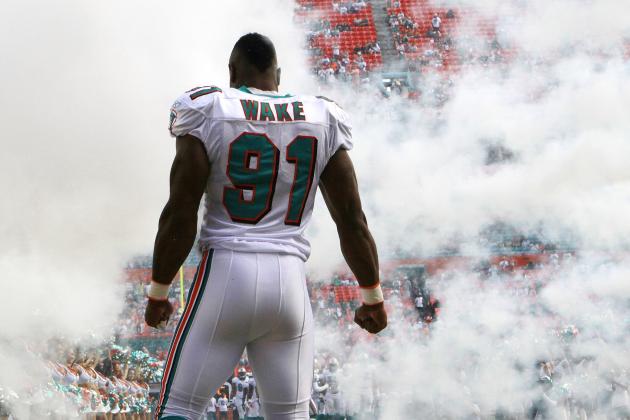 Marc Serota/Getty Images

Two seasons ago, Cameron Wake had 14 sacks, which was good enough to rank third best in the league. While he had a bit of a down year last season, with 8.5 sacks, he is one of the NFL's premier pass rushers.
In 2005, Wake went undrafted out of Penn State. The New York Giants signed him as a free agent in April 2005, but released him just two months later.
After his brief stint with the Giants, Wake was out of professional football completely for two years until he signed with the BC Lions of the Canadian Football League in May 2007.
Wake spent two seasons in the CFL, piling up multiple awards including Rookie of the Year and Most Outstanding Defensive Player of the Year, twice. He also led the league in sacks both years, with 16 and 23 sacks respectively.
After the 2008 CFL season, a number of NFL teams came calling. He ultimately signed with the Miami Dolphins for a four-year deal worth $4.9 million plus a $1 million signing bonus.
Wake made an immediate impact in his first game with Miami, recording two sacks, four tackles for a loss and a forced fumble.
Since then he has made the Pro Bowl, and was just rewarded with a four-year contract extension in May worth $49 million, with $20 million guaranteed.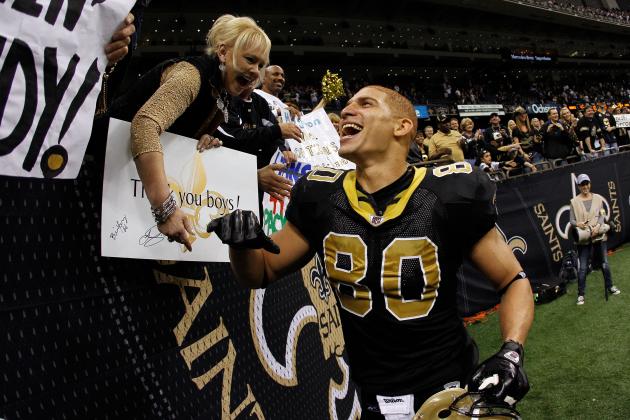 Chris Graythen/Getty Images

Jimmy Graham was a marginal basketball player at the University of Miami, averaging six points per game in his best year. After using up his eligibility in basketball, he decided to play football for a year in 2009.
While he finished his 2009 season at Miami with an underwhelming 17 receptions for 213 yards and five touchdowns, his record was good enough for the New Orleans Saints to draft him with the 95th pick in the third round of the 2010 NFL draft.
In his first season with the Saints Graham had a respectable rookie year, coming away with 31 receptions for 356 yards and five touchdowns.
Last season, he erupted. In his second year, he became Drew Brees's favorite target. Graham led all tight ends with 99 receptions, and ranked seventh in the league in receiving yards and fourth in touchdowns.
Considering the new deal that fellow tight end Rob Gronkowski just got from the New England Patriots, eight years for $55.23 million with $13.17 million guaranteed, Graham is due for his payday soon.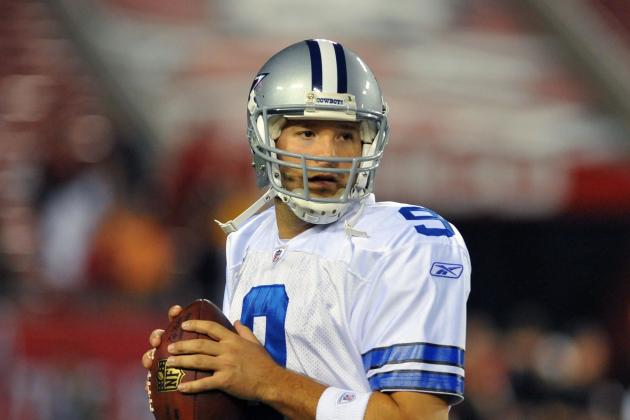 Al Messerschmidt/Getty Images

In 2006, Tony Romo was named the Dallas Cowboys starting QB by Bill Parcells. He replaced former No. 1 overall pick Drew Bledsoe.
Since then, Romo has been named to the Pro Bowl three times.
Romo went undrafted in 2003 due to a small school bias. While he put up outstanding numbers and received multiple awards during his collegiate career, he was doing it all at Eastern Illinois University in the Ohio Valley Conference.
Since being named the starter, Romo has consistently ranked among the top ten quarterbacks in the league; ranking high every year from 2007 to 2011 except 2010.
Last season he ranked third in passing TDs, third in completion percentage, seventh in passing yards and fourth in QBR.
Although Romo has not had any significant post-season success, he has cashed in. In 2007, he signed a six-year $67.4 million contract with $30 million guaranteed.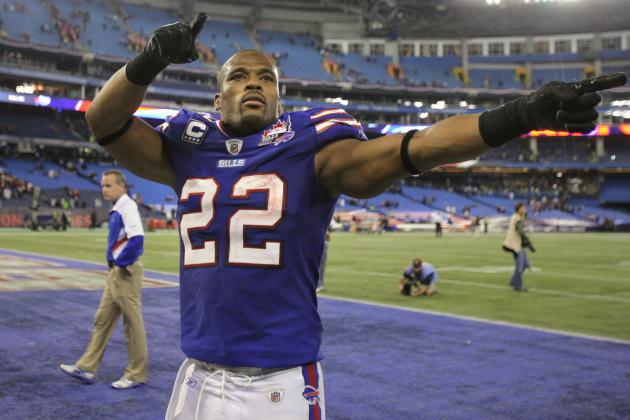 Tom Szczerbowski/Getty Images

After years of being looked over, plus stints with the Sioux City Bandits of the United Indoor Football League and the Rhein Fire of NFL Europe, 31-year-old running back Fred Jackson finally got his first big contract from the Buffalo Bills this offseason.
The contract is for three years, $10.8 million with $3 million guaranteed. While it is not a huge contract, it is a far cry from the $200 a week he was making with the Sioux City Bandits.
Jackson has been with the Bills since 2007, but was used sparingly as he was low on the depth chart, behind Marshawn Lynch. In 2009, he was named the starter in week 12. During 2009 he eclipsed 1,000 rushing yards for the first and only time in his career to date.
Last season, Jackson was having his best season until he fractured his fibula in week 11 and was placed on injured reserve. During the time of his injury, he ranked third in the NFL in rushing with 934 yards through ten games.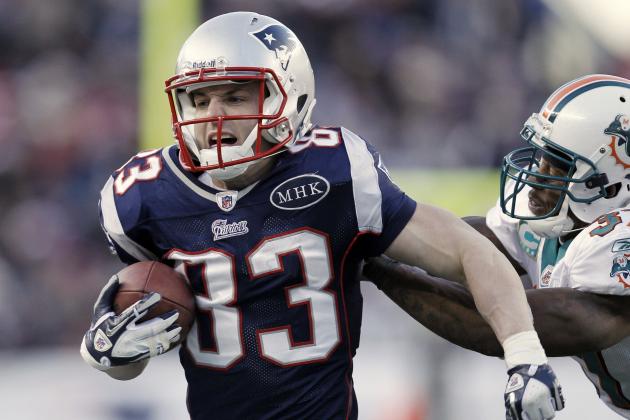 Winslow Townson/Getty Images

Despite being just 5'9'', 185 lbs, and contrary to other people's opinions, Wes Welker is definitely not too small to play in the NFL.
After going undrafted in the 2004 draft Welker signed with the San Diego Chargers, only to end up being released after the first game of the season. From there he signed with the Miami Dolphins, who traded him to the New England Patriots for a second and seventh round draft pick in 2007.
With the Patriots, Welker quickly became Tom Brady's favorite receiver, which in turn earned him four trips to the Pro Bowl. He also led the league in receptions three times.
Last season, Welker had 122 receptions for 1,569 yards. He also ranked sixth in receiving TDs and second in receiving yards per game with 98.1.
While he may not get another long term deal from New England, he did sign a one-year contract this offseason for $9.515 million, which is fully guaranteed. Pretty nice chunk of change for a short guy.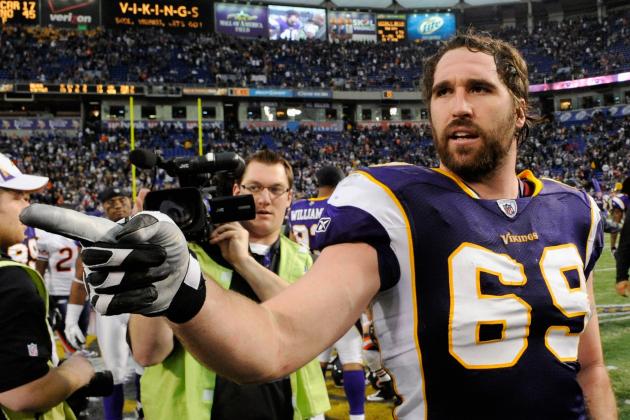 Hannah Foslien/Getty Images

As a fourth-round draft pick by the Kansas City Chiefs in 2004, defensive end Jared Allen of Idaho State showed he belonged right away.
In his rookie season, Allen totaled nine sacks. His second season, he again performed well, totaling 11 sacks, and following that up with 7.5 in his third season and 15.5 in his fourth.
After his fourth season in Kansas City, the Minnesota Vikings offered Allen a six-year $73.26 million contract with $31 million guaranteed, and he signed it. At the time, the deal was the richest for any defensive player in NFL history.
With the Vikings, Allen has proven to be worth the money. In each of his first two seasons with Minnesota, he recorded 14.5 sacks.
Last season Allen led the league in sacks with 22 and was named NFC Defensive Player of the Year.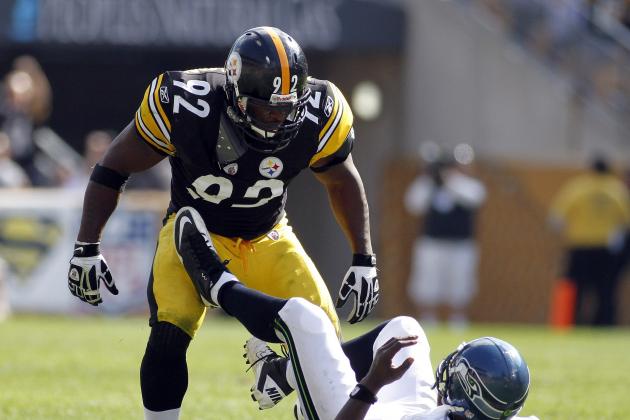 Justin K. Aller/Getty Images

Linebacker James Harrison signed with the Pittsburgh Steelers as an undrafted rookie in 2002. After spending two years on and off the practice squad and being released three times, he signed with the Baltimore Ravens in 2004.
Baltimore sent Harrison to NFL Europe to play with the Rhein Fire before cutting him. After thoughts of retirement, the Steelers signed him again out of necessity, after Clark Haggans got injured.
In 2004, Harrison made Pittsburgh's final roster and has remained there ever since.
During that time, he has been named to the Pro Bowl five times, has been a two-time Super Bowl champion and in 2008 was named NFL Defensive Player of the Year.
In 2009 Harrison got his first big contract, signing a six-year deal for $51.175 million with $20 million guaranteed. It was a good thing too, since a lot of his money just heads back to the NFL due to all the fines he incurs.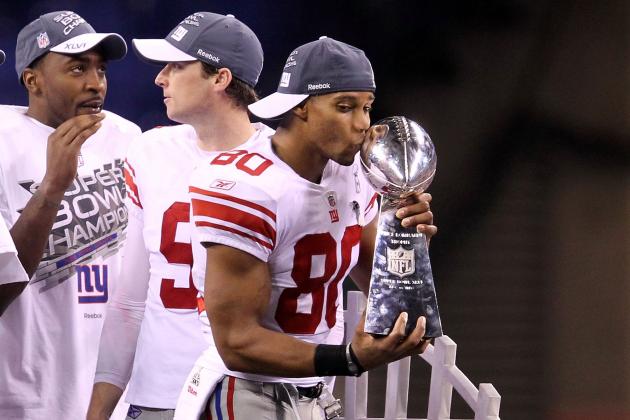 Andy Lyons/Getty Images

Even though New York Giants' wide receiver Victor Cruz is only scheduled to make $540,000 next season, he will be getting paid handsomely very soon.
Cruz signed with the Giants in 2010 as an undrafted rookie and has found himself in the right place at the right time.
After a strong 2010 preseason, he left such a good impression that he made New York's final roster. However, he ended up having to wait a season for his big break, as an injured hamstring ended his year prematurely.
In 2011, after the Giants lost wide receiver Steve Smith in free agency and receivers Mario Manningham and Domenik Hixon to injuries, Cruz moved up the depth chart.
Capitalizing on his newfound playing time, Cruz became Eli Manning' go-to deep threat.
For the season, Cruz ranked ninth in the NFL in receptions, third in total receiving yards, sixth in TDs and third in receiving yards per game.
He also was a major contributor to a Super Bowl Champion team, and was named as a Pro Bowl alternate.
Not bad for an undrafted rookie.
His salsa dancing is going to be expensive, though.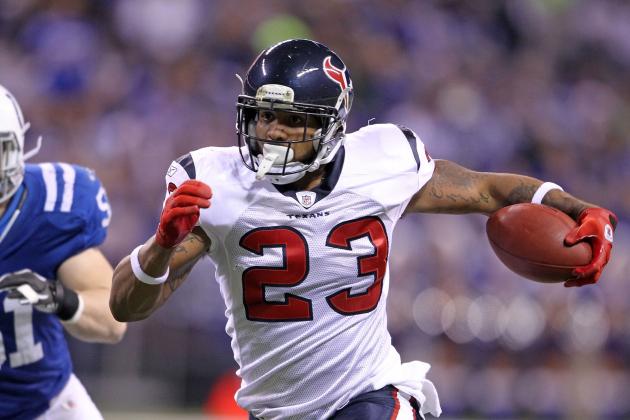 Andy Lyons/Getty Images

It's hard to believe that after a solid college career at the University of Tennessee, one in which he put up numbers good enough to be the school's second all-time leading rusher, that running back Arian Foster went undrafted in 2009.
After going undrafted, Foster signed with the Houston Texans. While he did not show much in his rookie year with the Texans, only carrying the ball 54 times for 257 rushing yards, Foster proved to be a revelation in his second season.
In 2010, Foster busted onto the NFL scene, leading the league in rushing with 1,616 yards and rushing TDs with 16, all while being named to the Pro Bowl.
After rushing for 1,224 yards last season in just 13 games and earning another trip to the Pro Bowl, Foster got paid.
In March, Foster and the Texans agreed to a five-year deal worth $43.5 million, with $20.75 million guaranteed.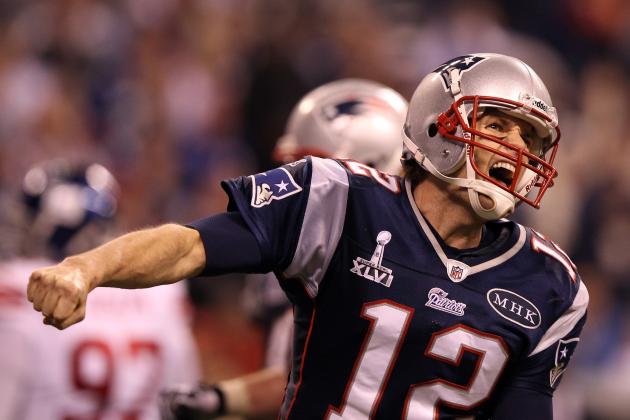 Ezra Shaw/Getty Images

A seven-time Pro Bowler, three-time Super Bowl champion, two-time Super Bowl MVP, two-time NFL MVP and two-time NFL Offensive Player of the Year—all of these are accolades earned by the 199th pick in the 2000 NFL draft.
Should I have mentioned Gisele Bündchen, too?
Because he was not athletic looking, and had a putrid NFL combine performance including a 5.2 40-yard dash, New England Patriots' QB Tom Brady was dismissed by many teams.
While it is corny to say, it still remains true—all of those tests couldn't measure Brady's heart, determination or will.
Every NFL observer and front office person saw what they couldn't measure after New York Jets' linebacker Mo Lewis took out New England starting QB Drew Bledsoe.
With Bledsoe injured, Brady was thrust into the starting role in his second season. All he did was lead the Patriots to a Super Bowl victory that year. And the rest is history.
Since then, Brady has led the Pats to a total of four more Super Bowls (albeit losing two) on his way to being considered one of the best quarterbacks in NFL history.
He signed his latest contract in 2010. It was a five-year deal for $78.5 million with $48.5 million guaranteed.