Ranking Rob Gronkowski and the Best Tight Ends in the NFL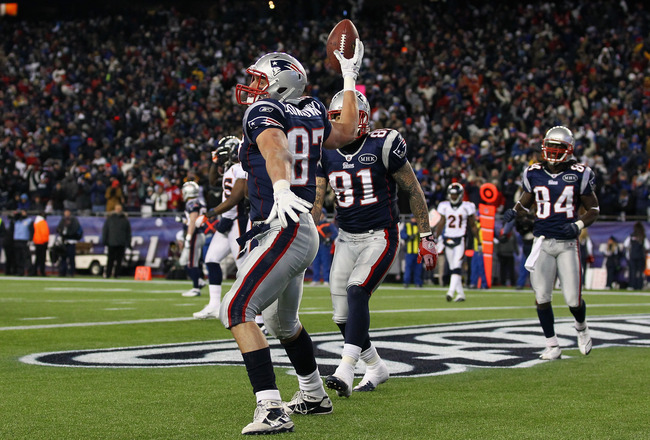 Al Bello/Getty Images
The New England Patriots just invested six years and $54 million in tight end Rob Gronkowski, making him the highest-paid player at his position in the NFL.
After a breakout season in 2011, it's no shock that the Patriots decided to make this move as "Gronk" established himself as one of the best tight ends in the league.
Here's a look at where Gronkowski ranks among the best tight ends in the NFL right now.
1. Rob Gronkowski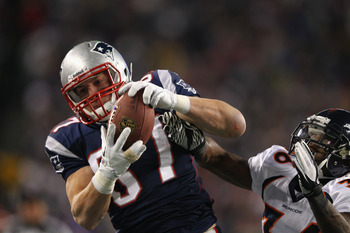 Al Bello/Getty Images
Mr. "Yo Soy Fiesta" may not be everyone's favorite person, but no one can deny what he did on the field in 2011.
Gronkowski had 90 receptions for 1,327 yards and a whopping 17 touchdowns. Considering that he's only 23 and has Tom Brady throwing to him, Gronk probably has a spot in the Pro Bowl locked up for the next decade or so.
In just two NFL seasons, Gronkowski has piled up 132 receptions for 1,873 yards and 27 touchdowns.
He's one of the NFL's top playmakers right now. He has outstanding hands, finds ways to get open and is extremely quick off the line when you consider his size (6'6" and 265 pounds). He's also getting better as a blocker every game. He has positioned himself as the best at his position in the NFL right now.
The Patriots were wise to lock Gronkowski up with that six-year, $54 million contract.
2. Jimmy Graham
Thearon W. Henderson/Getty Images
Graham led all tight ends with 99 receptions in 2011, he was also second with 1,310 yards and 11 touchdowns. He's just 25 years old and has become a key component of the New Orleans Saints' pass-heavy offense.
Quarterback Drew Brees clearly trusts him already, and after his breakout season in 2011, things will likely only get better as he enters his third year in the NFL.
Like Gronkowski, Graham has already proven to be an outstanding receiver, but at 6'6" and 260 pounds, he's also developing as a blocker. It wouldn't be surprising if he posted even better numbers in 2012.
3. Vernon Davis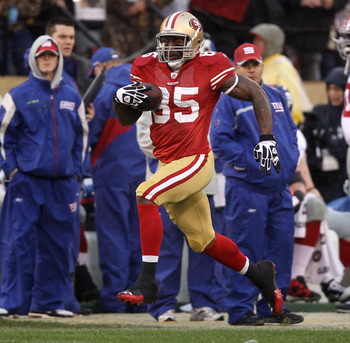 Ezra Shaw/Getty Images
Vernon Davis continues to realize his immense potential for the San Francisco 49ers. While the team finished 29th in the NFL in passing offense (183.1 yards per game), the Maryland product still had a solid season in 2011.
Davis caught 67 passes for 792 yards and six touchdowns last season. Over the past three seasons, the 28-year-old has hauled in 201 receptions for 2,671 yards and 26 touchdowns. He has established himself as a phenomenal receiver at the position and is clearly the No. 1 target for quarterback Alex Smith.
While he doesn't have the upside of Gronkowski or Graham because of his limited blocking skills, Davis is definitely one of the NFL's best tight ends.
4. Antonio Gates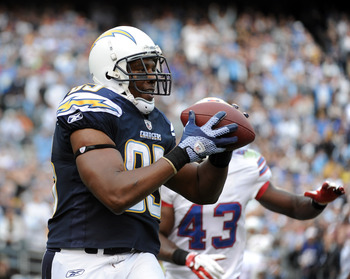 Harry How/Getty Images
I may be one of the few who still believe Antonio Gates belongs this high on the list, but I think when healthy, he's as good as any tight end in the NFL.
While battling foot problems over the past two seasons, Gates has played in just 23 games. In that time, he has posted 114 receptions, 1,560 yards and 17 touchdowns. Those numbers are decent but not by Gates' standards.
Gates is about to turn 32 and is entering his 10th NFL season, so if he slowed down, it wouldn't be a shock. But San Diego Chargers head coach Norv Turner believes his tight end is finally back to 100 percent and has looked as good as he used to during OTAs.
A healthy Gates could post big numbers in 2012, especially with San Diego's former No. 1 receiver Vincent Jackson off to the Tampa Bay Buccaneers in free agency.
5. Jermaine Gresham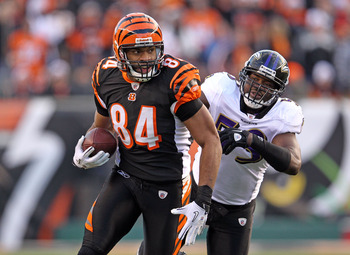 Andy Lyons/Getty Images
Gresham's numbers don't speak to an explosive player at the position, but he is vastly underrated and is ready to have a breakout season in 2012. He has outstanding hands, is a great blocker at 6'5" and 260 pounds and is an imposing presence.
He's just 23 years old and will be entering his third season this fall. In his first two years, he has combined to catch 108 passes for 1,067 yards and 10 touchdowns. The Cincinnati Bengals have a great one in the Oklahoma product.
With a lot of attention sure to be focused on Pro Bowl receiver A.J. Green, Gresham should find plenty of room to make plays in 2012.
Keep Reading