Dustin Pedroia and More American League Players Who Need to Have a Big Week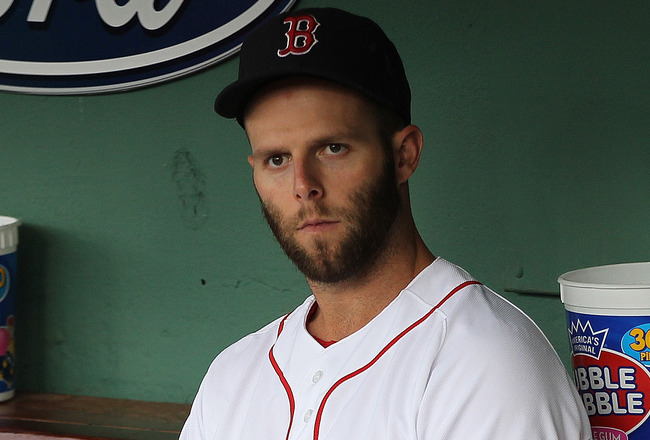 Dustin Pedroia has struggled since returning from a brief injury absence.
Jim Rogash/Getty Images
For the first time all season, Major League Baseball's weekly schedule will consist pretty much entirely of interleague games. For the next seven days, the American League and National League will fight for the fate of the universe.
The drama will play itself out, and in the end, there will be heroes and goats on both sides.
On the American League side of the equation, there are quite a few players who need to become heroes this week. Boston Red Sox second baseman Dustin Pedroia is one of them, as he just hasn't looked like himself since returning from a brief injury hiatus. He hasn't helped a Red Sox offense that is going through some struggles at the moment.
Pedroia is not alone among AL standouts who need to be at their best over the next week. Here's a closer look at several other American Leaguers who will be under the microscope over the next seven days.
Felix Hernandez, SP, Seattle Mariners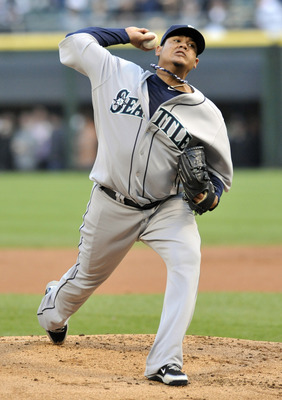 David Banks/Getty Images
Felix Hernandez last pitched on June 1, giving up four earned runs on five hits and four walks to the Chicago White Sox in five innings.
It was the fourth subpar outing in five starts for Hernandez, and it was ultimately determined that a bad back was hindering him. The Mariners decided to shut him down for a few days.
Hernandez will be back in action this week, and he'll be making two starts to boot. One will come against the San Diego Padres on Tuesday against the San Diego Padres, and the other will come on Sunday against the San Francisco Giants.
King Felix couldn't ask for two better opponents to face in his return to Seattle's rotation. The Padres rank near the bottom of the league in every major offensive category, and the Giants rank 23rd in baseball in runs scored and 25th in the league and slugging percentage. These are two teams that don't light up the scoreboard on a regular basis.
And that's why it's so important for King Felix to do well against them. If Hernandez dominates, all will be well. If he doesn't dominate, the Mariners may have to seek further opinions on Hernandez's back.
Obviously, the Mariners will be hoping for the best. The last thing they want is to have to shut down King Felix for a significant amount of time.
Derek Jeter, SS, New York Yankees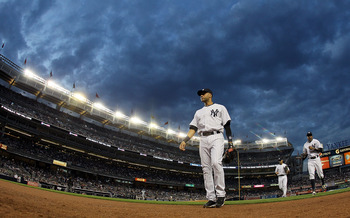 Jim McIsaac/Getty Images
Derek Jeter was as hot as any hitter in baseball for the first month or so of the season. His batting average was over .400 as late as May 4.
In his last 32 games, however, Jeter is batting just .242 with a dismal .280 slugging percentage. He's morphed back into a singles hitter, and even those have been hard to come by.
The good news is that Jeter's struggles aren't killing the Yankees. They've been playing good baseball recently, and they've moved to within a half a game of the first-place Tampa Bay Rays in the AL East. The further good news is that Jeter collected three hits on Saturday and Sunday against the New York Mets, a sign that he may be ready to snap out of it.
If Jeter can find a way to get going again, the Yankees are going to be a hard team to beat—make no mistake about that.
Alas, this is a tough week for Jeter to get going. Though they can be hit-or-miss, the Atlanta Braves have some solid pitchers who they can throw at opponents. The Yankees will then travel to Washington to take on the Nationals and their beastly pitching staff.
If Jeter can give the Yankees a boost at the top of the lineup, it will be very much appreciated.
Dustin Pedroia, 2B, Boston Red Sox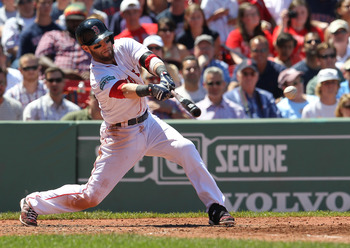 Jim Rogash/Getty Images
Before he had to sit out a few games to give his injured right thumb a breather, Dustin Pedroia was batting .295/.350/.450. Typical Dustin Pedroia numbers.
In six games since returning, Pedroia has three hits in 24 at-bats, none for extra bases. The Red Sox have lost five of those six games.
That should go to show just how valuable Pedroia is to this Red Sox team. His personality is a spark plug in and of itself, but his bat is an even bigger spark plug. When he's hitting out of the No. 2 spot in the lineup, Boston's batting order is that much more dangerous.
The Red Sox are facing a six-game road trip at the Miami Marlins and Chicago Cubs this week, and they need to do well in these games if they want to avoid falling further behind in the race in the AL East. They enter the week six games behind the first-place Rays. Pedroia can do them a big favor by recapturing his usual form.
If Pedroia continues to struggle, the Red Sox will have every right to ask if Pedroia's thumb is hurting more than he's willing to admit. That's when the team would consider a DL stint, which would be a worst-nightmare scenario.
The last thing they need is another star player on the disabled list.
Carlos Santana, C, Cleveland Indians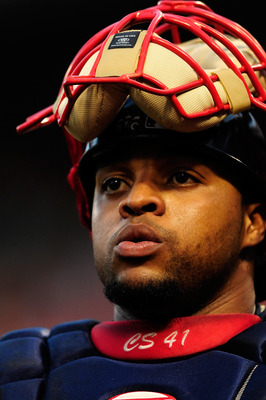 Jeff Curry/Getty Images
Indians catcher Carlos Santana isn't having an awful season; he's just not having as good a season as many people expected he would. A .225/.341/.354 line is nothing to write home about.
Granted, Santana's numbers are down in part because he had to sit a few days with a mild concussion, and he's had a rough time getting back into the swing of things over his last six games. In those, he has just two hits in 23 at-bats.
But Santana's struggles extend further into the past. Overall, he has just five hits in his last 48 at-bats. Only one of those hits went for extra bases, and it was a double.
Santana's slump has happened to coincide with up-and-down play from the Indians. They're hanging tough just behind the Chicago White Sox in the AL Central, but they've won just six of their last 15 games. The Tribe could use a good pick-me-up.
That would be Santana's cue. Perhaps Cleveland's three-game series at the Great American Ballpark this week will be just what the doctor ordered.
Max Scherzer, SP, Detroit Tigers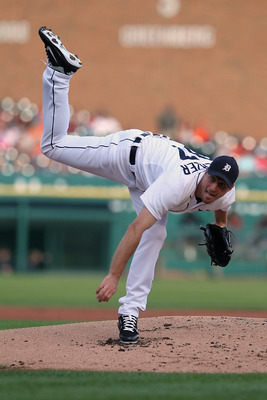 Leon Halip/Getty Images
Oh, Max Scherzer. What are we going to do with you?
Scherzer is well on his way to having yet another disappointing season, as he checks in with a 5-4 record and a 5.88 ERA after 12 starts. He just hasn't been able to establish any consistency this season, much to Detroit's chagrin.
The good news for the Tigers is that they managed to take two of three from a very strong Reds team over the weekend in Cincinnati, and they showed considerable grit in doing so. All they need to do now is keep up the good work in Chicago against the Cubs and back home against the Colorado Rockies this week.
Scherzer will start two games for the Tigers this week, one at Chicago against Paul Maholm on Tuesday and another at home against Jeremy Guthrie on Sunday. If he can find a way to do well in these two starts, the Tigers could finally be ready to make a move in the AL Central.
If Scherzer is his typical self, all the good vibes that the Tigers established in Cincinnati will disappear, and the team will once again be looking for answers.
No pressure, Max.
A Few More
Jeanmar Gomez
Leon Halip/Getty Images
Josh Beckett, SP, Boston Red Sox
He'll make two starts this week, and the Red Sox very much need him to keep up the good work he's been doing recently. However, the offense needs to score some runs for him, which has been easier said than done in his recent starts.
Brian Fuentes, RP, Oakland Athletics
After Fuentes' blown save in Arizona on Friday night, the word from the San Francisco Chronicle is that Bob Melvin has decided to adapt a closer-by-committee approach. It's time for Fuentes to earn back his manager's confidence (good luck with that).
Jeanmar Gomez, SP, Cleveland Indians
His last couple starts haven't gone well at all. He has a chance to snap out of it with two starts this week. If he doesn't, his spot in the rotation will be in question.
Mark Reynolds, 1B, Baltimore Orioles
He has zero hits in his last 16 at-bats, and he's only homered once since returning from the disabled list.
Sean Rodriguez, SS, Tampa Bay Rays
He has four hits in 27 at-bats this month with a single RBI.
Keep Reading