Rob Gronkowski's Biggest Meathead Moments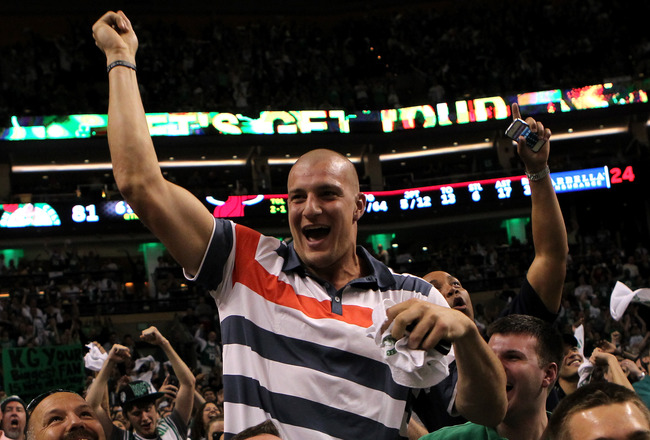 Jim Rogash/Getty Images
The New England Patriots star tight end Rob Gronkowski is one big meathead, and damn it if we can't get enough of the guy.
Gronkowski is back at it once again as he bros out.
His ability on the field make him one of the best players in the game, but his antics off it are the biggest reason you know his face.
According to the Boston Herald, Gronk attended ZoliOke—a karaoke charity benefit hosted by Patriots' punter Zoltan Mesko. It seems that Gronk can't simply attend a party, he must become the party.
We are not about to hate on the man.
Consider this a greatest hits of the meathead with so much passion for life.
Here are the best moments of Gronk being Gronk.
8. Gronk Takes over ZoliOke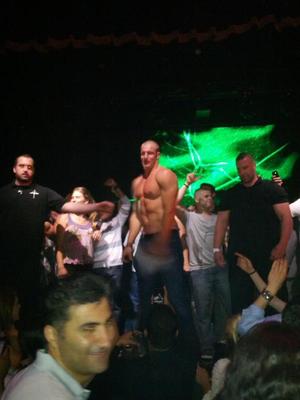 Photo Credit: Deadspin
7. Gronk Pleads Madden Case
Rob Gronkowski would have loved to be the cover of Madden 13. So much so that he had his Zubaz-wearing bros work out while he nursed his leg.
Please be warned that the video has far too much bro than is necessary.
6. Rob Gronkowski and Bibi Jones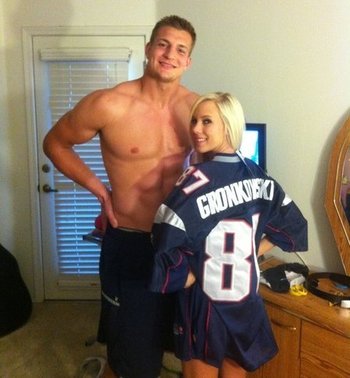 Photo Credit: bostinno.com
Back in October of 2011, a couple of photos surfaced of Gronk with porn star Bibi Jones.
The pictures of the two were so appalling to fans that Gronk actually had to apologize. I am not sure how this qualifies as inflammatory, but apparently, it does.
5. Gronkowski Beer Bong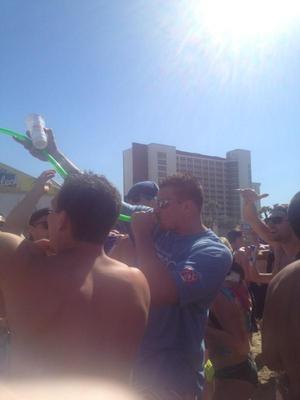 Photo Credit: Kelly Jauch Twitter
I am waiting for the geniuses at Miller to create a beer can that has a long tube attached so you can just take the beer straight to the dome.
Gronkowski knows what's up as he tries to imbibe beer as quickly as possible. Hooray for mass consumption of alcohol.
The picture come from the Twitter feed of Kelly Jauch who tweeted it at NFL analyst Adam Schefter this past March.
4. Rob Gronkowski on Tim Tebow's Virginity
I am not sure if this means Gronk is a huge fan of Tebow's virginity, or absolutely despises it. Either way, he's far more interested in Tebow than I am.
The crowd goes wild after Gronkowski pontificates on the Jets' newest quarterback.
3. Gronk at Spring Break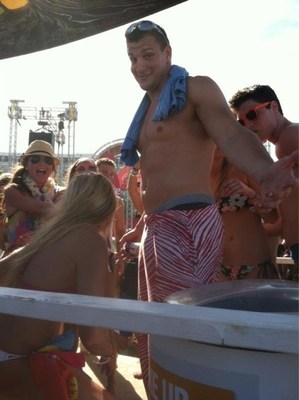 Photo Credit: Deadspin
Spring break, a wonderful moment for college students that features drinking way too much alcohol and making way too many decisions once that's accomplished.
It seems only natural that Gronkowski would party it up at said event.
Deadspin had the report on Gronk, still nursing his injured ankle, making time with the local co-eds.
2. Gronk Single-Handedly Takes Down the Art of Dancing
The Patriots had just lost the Super Bowl, and Rob Gronkowski was nursing a hobbled ankle. Nothing that a little booze couldn't cure.
Here is the most famous, and grainiest, video of Gronk going wild.
1. Yo Soy Fiesta
Of course, the pinnacle moment in all Gronk-dom has to be the time he spoke with an ESPN Deportes reporter and tried his hand at Spanish. MassLive reports.
His parting shot was simply, "Yo soy FIesta."
Indeed, Gronk. Indeed.
Follow me on Twitter for Gronk-level awesome.
Keep Reading