MLB Free Agency: Carlos Beltran and the 12 Biggest Steals of the 2012 Class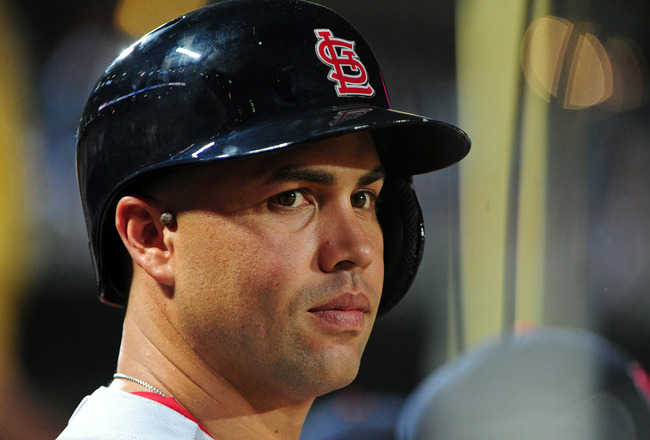 Scott Cunningham/Getty Images
Assuming that he played in every single regular-season game, Alex Rodriguez would be earning just over $179,000 per game this season. Except that he's not going to come close to playing in every game, nor will he come close to meeting the expectations that come along with a $29 million annual salary.
Such is the nature of baseball—some contracts work out far better than others.
Leading up to the 2012 regular season, we saw a number of players, both high-profile and under-the-radar types, switch teams via free agency.
Out of all these players, who is giving their new employers more bang for their buck than anyone expected that they would?
Let's find out.
Honorable Mention: Ryan Theriot Signs with the San Francisco Giants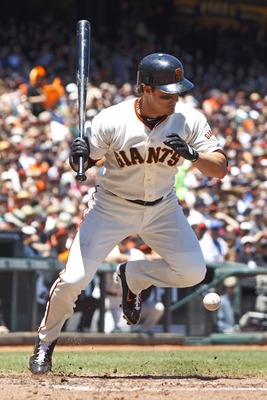 Jason O. Watson/Getty Images
The Deal: One year/$1.25 million
2012 Stats: 35 G, .263/.315/.316, 10 RBI, 10 R
With incumbent second baseman Emmanuel Burriss struggling at both the plate and in the field, 32-year-old utility infielder Ryan Theriot has stepped in and solidified the position.
It's fair to say that Theriot, who entered the season with a career slash line of .282/.344/.353, isn't living up to expectations at the plate, but he's not killing the Giants either.
Considering that he's now the team's starting second baseman, this has to rank as one of the bigger steals of the winter—how many other contenders are paying their starting second baseman less than $2 million?
Not many.
12. Erik Bedard Signs with the Pittsburgh Pirates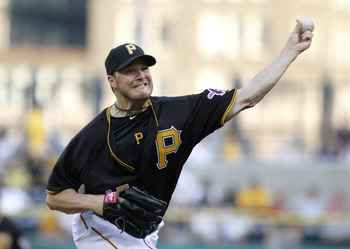 Justin K. Aller/Getty Images
The Deal: One year/$4.5 million

2012 Stats: 12 GS, 4-6, 3.59 ERA, 1.37 WHIP, 8.76 K/9, 4 QS
Erik Bedard is supremely talented but is never able to remain healthy over the course of a full season, so the Pirates took a calculated risk in signing him to a one-year contract for $4.5 million this winter.
Bedard filled a need to be sure, and while he's avoided the disabled list so far in 2012, he did have to leave his May 9 start against the Washington Nationals after only one inning due to back spasms.
While he's hit a rough patch recently, he got back on track against the Kansas City Royals last Friday, picking up his fourth win of the season, holding the Royals to two earned runs and five hits over seven innings of work.
The Pirates have to be pleased with how Bedard has performed overall, and they will keep their fingers crossed that he remains able to take the ball every fifth day and keep the Bucs in contention for their first postseason berth since 1992.
11. Bartolo Colon Signs with the Oakland A's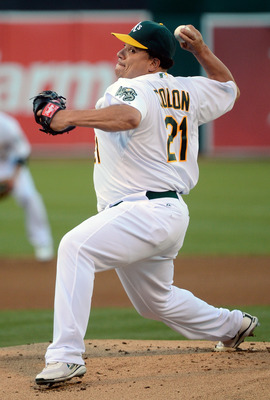 Thearon W. Henderson/Getty Images
The Deal: One year/$2 million

2012 Stats: 13 GS, 5-6, 3.92 ERA, 1.26 WHIP, 5.33 K/9, 7 QS
Former Cy Young Award winner Bartolo Colon, 39, has been a pleasant surprise for the A's in 2012.
After a hot April, Colon labored through May, winning only one of his five starts while posting a 7.92 ERA and 1.92 WHIP and looking every bit like a pitcher who had reached the end of the road.
But as the calendar flipped to June, Colon flipped a switch and has been outstanding in his two starts, allowing only two earned runs and 13 hits in 15 innings of work.
If Colon continues to prove that May was just a bad month and not a precursor of things to come, he could bring the A's a decent prospect at the trade deadline—not a bad return on a $2 million investment.
10. Jonathan Broxton Signs with the Kansas City Royals
Ed Zurga/Getty Images
The Deal: One year/$4 million

2012 Stats: 23 G, 0-1, 1.59 ERA, 1.24 WHIP, 5.56 K/9, 14-of-16 SV
No longer the strikeout artist that he was with the Los Angeles Dodgers when he was posting an 11.5 K/9 ratio, soon-to-be 28-year-old Jonathan Broxton has been a pleasant surprise for the Royals in 2012.
Originally signed to set up incumbent closer Joakim Soria, Broxton was pushed into the role of closer when Soria was lost for the season with the second Tommy John surgery of his career.
Since blowing his second save of the season against the Baltimore Orioles on May 16, Broxton has been at the top of his game. He has not allowed a run over his past eight appearances, scattering five hits over eight innings of work while converting each of his six save opportunities.
With the Royals 10 games under .500 and eight games out of a playoff berth, Broxton could find himself on the move at the end of July if things don't turn around in Kansas City.
Whether he stays a Royal or not, when you consider that there are a number of higher-profile closers who are making far more than Broxton for less production, there's no disputing that this was one of the better signings of the winter.
9. Kevin Millwood Signs with the Seattle Mariners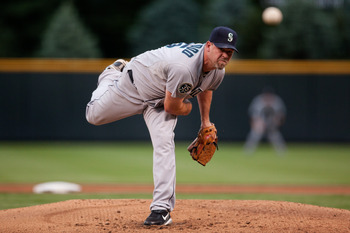 Justin Edmonds/Getty Images
The Deal: One year/$1 million

2012 Stats: 12 GS, 3-5, 3.57 ERA, 1.29 WHIP, 6.62 K/9, 6 QS
Originally signed to a minor league contract, 37-year-old Kevin Millwood has arguably been the Mariners' best starting pitcher after Felix Hernandez in 2012.
In his last start, he threw six innings of no-hit ball against the Los Angeles Dodgers before leaving the game with a groin injury, but five Mariners relievers kept the no-no going, making Millwood the latest starting pitcher to get a no-decision in baseball's most recent combined no-hitter.
8. Wei-Yin Chen Signs with the Baltimore Orioles
Jim Rogash/Getty Images
The Deal: Three years/$11.388 million ($4.75 million team option for 2015, $372,000 buyout)

2012 Stats: 11 GS, 5-2, 3.49 ERA, 1.30 WHIP, 6.85 K/9, 6 QS
For a team that needed an injection of quality starting pitchers, 26-year-old Wei-Yin Chen has been a solid addition for the Baltimore Orioles.
He's been shaky of late, allowing five or more earned runs in two of his last four starts, accounting for his two losses on the season.
To his credit, Chen has followed up each of his poor starts with a strong one, most recently holding the Boston Red Sox to one run on seven hits over seven innings of work last Wednesday.
While Asian pitchers don't have a great track record in the majors, so far Chen looks like a keeper for the Orioles.
7. Cody Ross Signs with the Boston Red Sox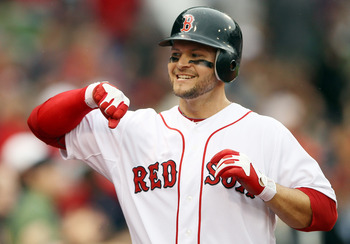 Elsa/Getty Images
The Deal: One year/$3 million
2012 Stats: 37 G, .271/.349/.534, 8 HR, 28 RBI, 24 R
Originally expected to platoon with Ryan Sweeney in left field, injuries to Boston's outfield forced the duo into daily playing time, with Ross seeing action at all three outfield positions.
While he's been out of action since mid-May with a small fracture in his left foot, Ross's eight home runs place him third on the team, and his 28 RBI rank fifth.
6. Luis Ayala Signs with the Baltimore Orioles
Rob Carr/Getty Images
The Deal: One year/$925,000 ($1 million team option in 2013 or $100,000 buyout)

2012 Stats: 25 G, 2-1, 1.93 ERA, 1.07 WHIP, 5.46 K/9, 6 Holds, 1-of-2 SV
Who has had the best bullpen in baseball over the first 10 weeks of the season?
The Baltimore Orioles, that's who, and Luis Ayala has played a large role in their success.
Ayala, 34, received only minimal interest this past offseason after posting a 2.09 ERA and 1.27 WHIP over 56 innings of relief in 52 games for the New York Yankees in 2011.
To put into perspective how good the Orioles bullpen has been, Ayala's 1.93 ERA ranks fifth among Orioles relievers.
Fifth.
Ayala cost the Orioles virtually nothing, and with a team-friendly option for 2013, his signing becomes only that much more of a steal.
5. Andy Pettitte Signs with the New York Yankees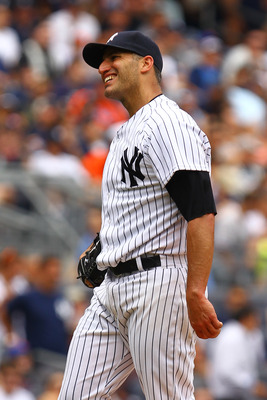 Al Bello/Getty Images
The Deal: One year/$2.5 million

2012 Stats: 6 GS, 3-2, 2.81 ERA, 1.03 WHIP, 8.64 K/9, 4 QS
It's amazing what a year away from the game can do for someone.
Out of baseball in 2011, 39-year-old Andy Pettitte's signing with the New York Yankees during spring training was thought of as a decent insurance move, but not one that anyone believed would result in a rebirth of Pettitte's career.
But that's exactly what's happened, as Pettitte is throwing the ball more like he did in the late '90s, and the argument could be made that Pettitte, not CC Sabathia, has been the Yankees' best starting pitcher thus far in 2012.
For a team that's battled inconsistency and injury with its starting rotation, Pettitte has been nothing short of a godsend.
4. Juan Pierre Signs with the Philadelphia Phillies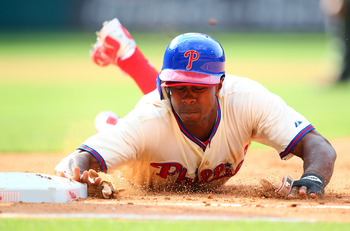 Rich Schultz/Getty Images
The Deal: One year/$800,000

2012 Stats: 54 G, .322/.359/.372, 12 RBI, 23 R, 11-of-13 SB
After beating out fellow veteran speedster Scott Podsednik for the fourth outfielder spot in spring training, Juan Pierre figured to see minimal playing time during the regular season.
Instead, Pierre has replaced John Mayberry Jr. as the starting left fielder in Philadelphia, bringing solid defense along with a consistent bat. Among Phillies starters, Pierre's .322 average and .359 on-base percentage trail only catcher Carlos Ruiz.
3. Chris Capuano Signs with the Los Angeles Dodgers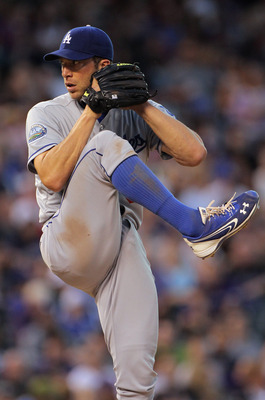 Doug Pensinger/Getty Images
The Deal: Two years/$10 million ($6 million mutual option for 2014, $1 million buyout)

2012 Stats: 12 GS, 8-2, 2.82 ERA, 1.08 WHIP, 8.1 K/9, 9 QS
A large part of the Dodgers' early season success, 33-year-old Chris Capuano has been the team's second-best pitcher so far, behind Clayton Kershaw.
June has not been a good month for him, as he's allowed eight earned runs and 11 hits over 10.1 innings pitched in two starts this month, raising his ERA from 2.14 to its current 2.82.
Nobody expected Capuano to be this good, and even if he falls back to the low expectations that people had for him entering the season, his signing still works out in the Dodgers' favor.
2. Fernando Rodney Signs with the Tampa Bay Rays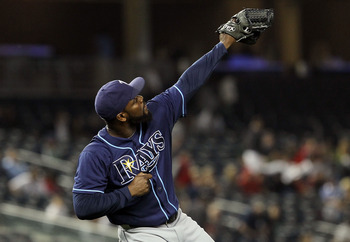 Jim McIsaac/Getty Images
The Deal: One year/$2 million ($2.5 million team option in 2013 or $250,000 buyout)
2012 Stats: 30 G, 2-1, 0.94 ERA, 0.77 WHIP, 8.16 K/9, 18-of-19 SV
Nobody gave it much thought when the Rays signed Fernando Rodney this past winter, and rightfully so.
The 35-year-old hadn't posted an ERA under 4.00 since 2006 and was viewed as nothing more than a bargain-bin signing by the Rays, and most people had a chuckle when Rodney told the Associated Press that he planned on competing to be the Rays closer.
Who's laughing now?
Rodney has had a rebirth in Tampa and is currently throwing the ball as well as he ever has. His 18 saves are tied with Baltimore's Jim Johnson and Atlanta's Craig Kimbrel for second in all of baseball, trailing Cleveland's Chris Perez by two.
With Rodney a virtual lock to make his first All-Star appearance, the Rays have already gotten their money's worth out of this signing—and if Rodney can continue to shut down the opposition, Tampa might not have to worry about the ninth inning in 2013 either.
1. Carlos Beltran Signs with the St. Louis Cardinals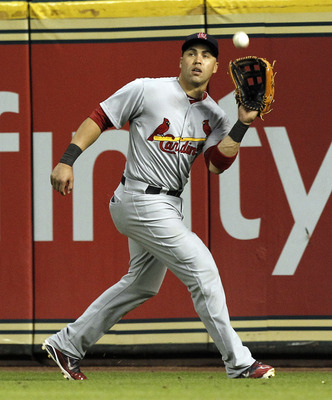 Bob Levey/Getty Images
The Deal: Two years/$26 million
2012 Stats: 59 G, .290/.378/.594, 18 HR, 46 RBI, 6-of-8 SB, 37 R
Through the first two months of the season, Beltran is putting up numbers that are reminiscent of a 2006 season where he hit .275 with 41 home runs and 116 RBI, finishing fourth in the NL MVP race.
Interestingly enough, who are two of the three players that Beltran finished behind in that MVP race? Albert Pujols, who Beltran was signed to help replace, and Beltran's current teammate Lance Berkman, who is out for the foreseeable future as he recovers from knee surgery.
Concern over his knees will always be in the back of everyone's mind, but of all the batters who moved this past winter, Beltran is giving the Cardinals more bang for their buck than anyone else.
Keep Reading