What Might the NFL Look Like in 100 Years?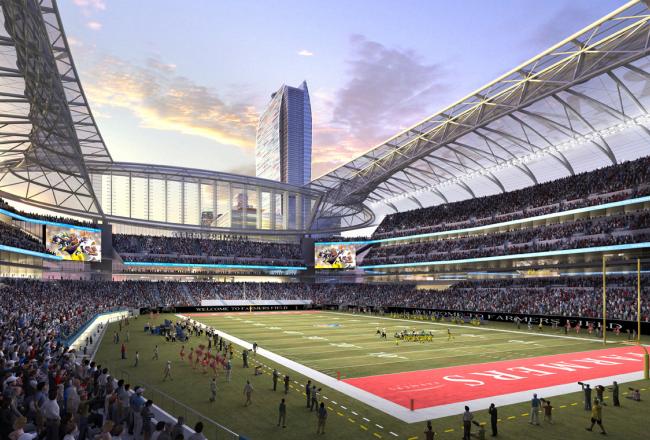 Handout/Getty Images
At 2:00 a.m., after a day and a half of debate, the bleary-eyed leaders of American football finally put a controversial rule change to a vote. By a margin of one, the change was approved: The forward pass was banned.
But according to The Anatomy of a Game, western and southern members of the NCAA Rules Committee threatened to leave the organization. Chairman Edward Kimball Hall reconvened the committee and reversed his own vote.
That was in 1911, and the forward pass became an integral part of the game for a century hence.
Neither Hall, nor or anyone else, could have imagined football as it is today: a multi-billion-dollar entertainment industry that gets broadcast into space, then back down via satellite to the 40-plus-inch HDTVs located in millions of homes around the world.
So what will happen in the next hundred years?
Not the next big trends in the NFL, but how the game will look decades after everyone reading this is either dead, or reduced to a talking head inside a glass jar.
Field Technology
In 1912, the year after the forward pass debate, they shrank the field from 110 yards to 100 yards, but added a 10-yard end zone to each, well, end. In 2112, the field may or may not be the same size, but it won't be made of anything like grass.
Artificial surfaces have made huge strides since AstroTurf debuted in the 1960s. Modern playing surfaces are much more comfortable, and much less likely to shred people's tendons, than the old green plastic concrete. They're not even always green!
As the technology advances, field safety will continue to get better. Not only can stuck feet and twisted ankles pop ligaments, concussions can happen when heads hit the ground. One hundred years from now, they'll have minimized the risk of both.
Further, if the fields already aren't colored the same as grass, there's no reason for it to be composed of "blades" of fake grass either. Cleats may go the way of the dinosaur, as the playing surfaces of next century won't need spikes sunk into them to get traction.
7-on-7
Throughout football's history, it's slowly moved away from from its rugby roots.
Offense and defense have always been locked in a cyclical cat-and-mouse game, but over time football's consistently moved from running towards passing, from control of the line of scrimmage to control of space and from tooth-and-nail battles over single yards to picking up yards in chunks.
Already, we've seen offenses spread out as far as they can spread. Already, we see offensive and defensive lines spreading out to match.
Line play used to be about strength versus strength; it's now becoming offensive linemen's athleticism vs. defensive linemen's speed. A disproportionate amount of football's most violent hits come from (or between) these two units.
So why not eliminate them?
High school players are increasingly attending offseason 7-on-7 camps; how long before we see 7-on-7 tournaments? High schools switching to 7-on-7 to cut down on risk and expense? NFL teams already use 7-on-7 extensively in OTAs and training camp.
Eventually, getting rid of traditional offensive and defensive lines could be seen as the only way to solve the concussion epidemic.
Smaller Players
Whether the role of the lineman evolves or disappears, NFL football has to stop pushing the boundaries of how big, how fast and how dangerous each player can be. It's simple physics: Bigger players moving faster generate much more severe impacts.
Beyond that, the health risks of pushing 300 or even 400 pounds are their own set of issues. If players aren't obsessively getting bigger, a lot of the more dangerous supplements stop being used too.
But people won't tune in just because the game is safer.
Smaller players can be more exciting too. Players like Wes Welker are proving that speed and skill can both be effective against players with elite size and be exciting to watch. Dozens of would-be rookies every year are cast aside for less-than-prototypical size; how many good football players aren't currently getting an opportunity?
Many players, when they leave the game, lose dozens of pounds to get to a sustainable weight. If the time and energy spent on making players enormous is spent on making them better, the game might actually be played at a higher level.
Or Maybe It'll All Be Robot Holograms or Something
A recent vodka commercial posited the evolution of greyhound racing as a bunch of robot dog-like machines being remotely controlled by DJs "spinning" the controls of holographic dog-analogues.
In 100 years, who knows? Maybe football will be played by laser guitarists levitating above the not-grass field.
Obviously, the growth and development of football will be heavily influenced by the growth and technology of the society around it. We can't even conceive of the kind of technology that'll come into play.
Some players have played football with replaced Kevlar ACLs. How long until NFL players are getting artificial ligament "upgrades" voluntarily? Artificial joints or limbs?
Whatever the future holds for football, it'll be fast, it'll be loud and it'll be worth watching.
This article is
What is the duplicate article?
Why is this article offensive?
Where is this article plagiarized from?
Why is this article poorly edited?