Mark Trumbo: LA Angels Slugger Blasts His Way to AL Best of the Night Honors
June 6, 2012

Stephen Dunn/Getty Images
Los Angeles Angels all-purpose slugger Mark Trumbo went into Tuesday night's tilt against the Seattle Mariners looking to snap out of a minor funk. He was 1-for-16 in four June games, and he had donned the Golden Sombrero on Monday night.
It suffices to say that Trumbo snapped out of said funk, much to Seattle's chagrin.
Trumbo did something he had never done before in 204 major league games: He smacked two home runs, both of which came off of Mariners right-hander Blake Beavan.
The first homer was a towering solo shot that landed in the bleachers slightly to the right of center field with one out in the bottom of the second, and it gave the Angels a 1-0 lead. Trumbo smacked his second homer to straightaway center with two outs in the bottom of the fifth. That one was a two-run job, and it gave the Angels a 6-1 lead.
In between the two dingers, Trumbo notched an RBI single on a looping liner to right field with two outs in the bottom of the third.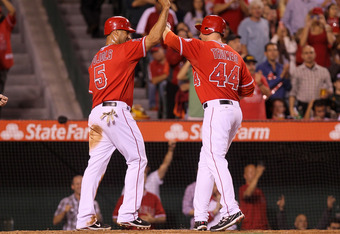 Stephen Dunn/Getty Images
The saying goes that two-out RBI hits will get you to heaven, so there's clearly an Angels joke to be made here. I'm not finished with my first cup of coffee yet, so I'll leave that to anyone who feels like making use of the comments section.
At any rate, Trumbo finished off his night with a double down the left field line with one out in the bottom of the eighth. Thus, he ended the day with four hits in four at-bats, two home runs, four RBI, two runs scored and 11 total bases.
Trumbo's batting average, which had fallen all the way to a mortal .322, jumped up to .337, which ranks third in the American League. In addition, his slugging percentage jumped from .585 to .634. That number ranks second in the American League.
On balance, not a bad day at the office. If you missed any of it, MLB.com has the highlights you're looking for.
After the game, though, all Trumbo wanted to tweet about was Garrett Richards' strong seven-inning performance that earned him his first career win:
Stellar performance by @Grichards26 and big congrats on his 1st win. Awesome all around game for everyone. New challenges tomorrow. #Angels

— Mark Trumbo (@Mtrumbo44) June 6, 2012
Man, he can hit for power and he doesn't like to brag on Twitter. What a swell guy. If I had a daughter, I'd let Trumbo date her.
Since that's out of the question for the time being, I'll just go ahead and bestow American League "Best of the Night" honors on Trumbo. He earned it.
While I'm at it, I'd like to offer a Public Service Announcement. I couldn't help but notice that Trumbo doesn't feature very prominently in the AL All-Star voting so far. It's admittedly kinda tricky because he's penciled into the ballot as a third baseman, but he definitely deserves some votes. Head on over to MLB.com if you feel like showing Trumbo some much-deserved love.
Otherwise, the AL quad could somehow find itself without a very good player, and that would be a very bad thing. This thing counts, you know?
Or so they say...
If you ever want to nominate somebody for American League "Best of the Night" honors, hit me up on Twitter.