Fantasy Football 2012: 5 Superstars You Shouldn't Trust with No. 1 Overall Pick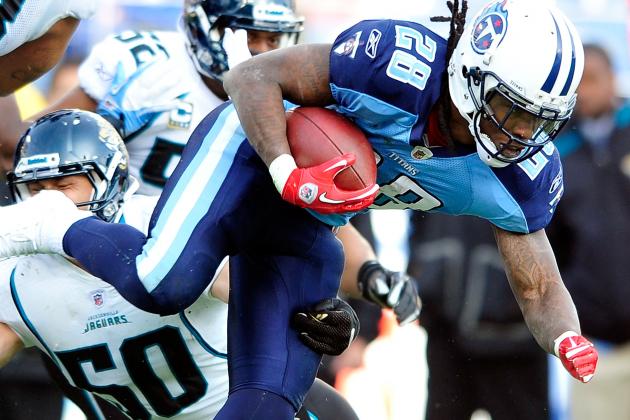 Grant Halverson/Getty Images

Every year there are a few players that could potentially be the No. 1 overall pick in your fantasy draft. Usually, it's an elite running back. Occasionally it's a dynamic dual-threat QB. But every year there are a couple of guys you should just stay away from when you have the No. 1 slot. Last year, that player was Michael Vick, who a lot of people took first only to be disappointed.
This year there are a lot of potential NFL players who could go first in your draft. However, you should carefully examine what you are doing, as picking the wrong player at the top of the draft could spell doom for you in your 2012 fantasy football season.
Here are the five NFL superstars that you shouldn't trust with the No. 1 overall pick.
Begin Slideshow

»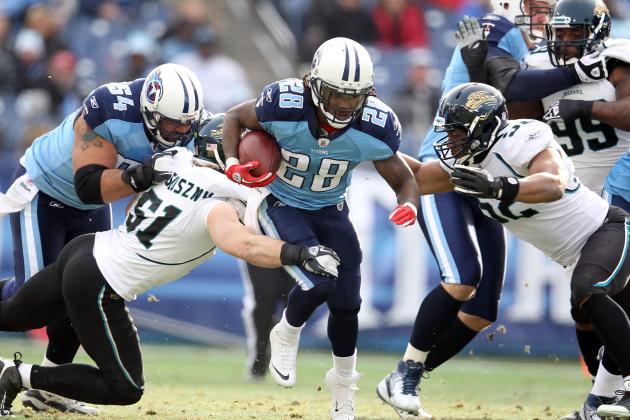 Andy Lyons/Getty Images

Chris Johnson is a flashy running back with world-class speed. He is the self-proclaimed best RB in the NFL, despite having an underwhelming season last year in which he barely cracked 1,000 yards and failed to rush for more than 61 yards in the final four weeks of the season, which is fantasy crunch time.
You just can't trust Johnson and put all your eggs into his basket with the No. 1 overall pick. He's got ridiculous talent, that's for certain, but his performance is mercurial to say the least. Johnson may have a stellar season, but is it worth investing the No. 1 pick in a guy who shockingly rushed for under 65 yards in a game twelve times last season?
You be the judge. But there's no way you can convince me that Johnson is worthy of the top spot in your draft, no matter how fast his 40-yard dash time is.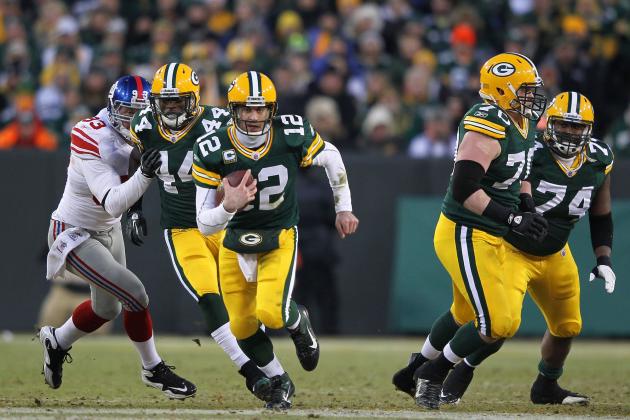 Jamie Squire/Getty Images

It seems like every year in one of my real or mock drafts, someone makes the idiotic move of selecting a quarterback first overall. Last year, Mike Vick got drafted first in a lot of drafts only to spell fantasy disaster for his owners. I repeat, if you have the No. 1 pick in your draft, do not draft a QB. It should be a fantasy commandment.
The top QB on most of this year's draft boards is Aaron Rodgers, and deservedly so. Rodgers is coming off a terrific season and is probably the best player at his position in the league. He puts up a lot of fantasy points and doesn't get injured all that often. So he seems like an attractive option, right?
Wrong. You can always get a quality QB in the second, third or fourth round. Coupled with the fact that the difference week to week in points from the top QB to the No. 5 QB isn't all that different. For instance, in my league last year the No. 1 QB, Rodgers, had 397.2 points. The No. 5 QB, Matt Stafford, had 341.3 points. That's a difference of only about 3.5 points per week.
So your top pick would best be spent elsewhere, on a player who you can't find a suitable replacement for a few rounds later.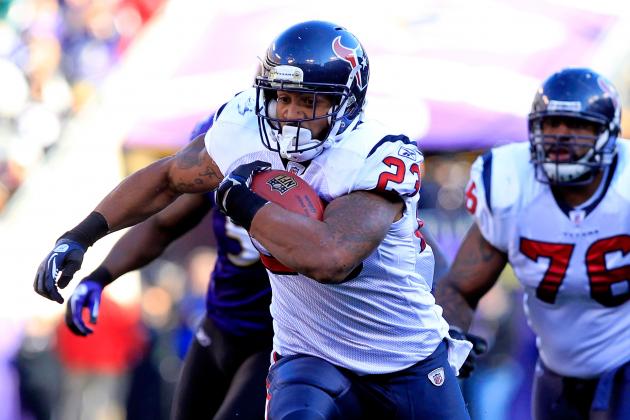 Chris Trotman/Getty Images

On the website that I usually look to for fantasy advice, fftoolbox.com, Arian Foster is currently ranked as the No. 1 overall player on the top 200 big board. While I don't doubt Foster's skills, he's certainly a more than capable RB, I would hesitate to draft him if given the No. 1 overall pick in my draft this year. Here's why.
Foster is great—when healthy. Last year he had a very solid season and played in 13 games, but he was hampered by injury for the entire season and caused his owners a lot of distress on whether or not he was going to perform at a high level, or even play at all. Foster needs to prove that he isn't suffering any lingering effects from his injured hamstring.
Also, I see the Texans giving a lot more carries to Ben Tate this season, as he has made a lot of progress and improvements this offseason, which will put a (small) dent into Foster's production. He could very well put up No. 1 overall quality numbers, but I would stay away from him in favor of a running back who will get a ton of touches, doesn't have any injury history and won't have to possibly split carries with anyone else. LeSean McCoy or Ray Rice, anyone?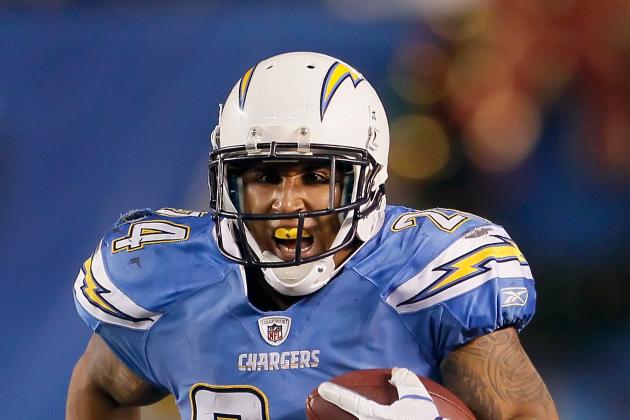 Jeff Gross/Getty Images

Ryan Mathews has shot up the big board and, in a lot of fantasy owner's minds, could be a potential No. 1 guy. Well, you just can't put that big of a commitment into Mathews. Your No. 1 overall guy is someone who needs to produce for you week in and week out and, even more importantly, have as low a risk of injury as possible.
While Mathews is a talented player, and I actually am a pretty big fan of his, he lacks the ability to stay injury-free. Throughout his rookie year, he dealt with various injuries, only played in 12 games and wasn't at full strength for many of them. Last season, while he upped his games played to 14, he still was hampered all season by nagging injuries that hurt his performance.
Mathews may be a guy who in a couple years is worthy of the first overall pick, but for now, steer clear of Mathews and go with a safer option if you're in the first slot of your draft.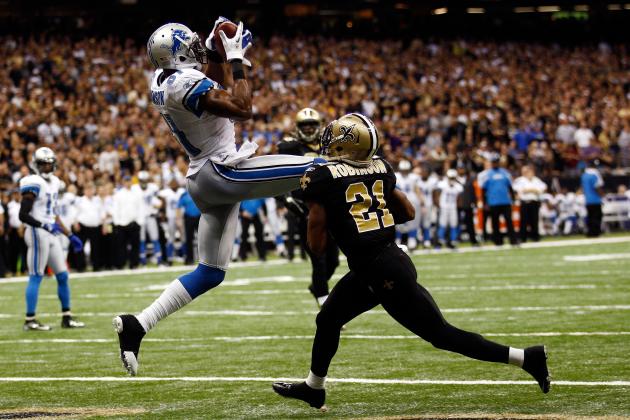 Chris Graythen/Getty Images

One of my friends told me the other day that he would consider the man they call Megatron as the No. 1 overall pick if he gets it on our draft. I immediately scoffed at his sentiments.
Megatron is undoubtedly the best WR in the NFL at the moment, but taking him at No. 1? No way, absolutely no chance. Another fantasy draft commandment should be to never draft a wide receiver in the top three.
Johnson had an amazing season last year, finishing in the top four in receptions, touchdowns and yards. However, you should look elsewhere at No. 1, despite the huge numbers Johnson is guaranteed to put up. There were 10 players last season who finished ahead of Calvin Johnson in fantasy scoring. Even Matt Ryan outscored Johnson.
So, while Calvin Johnson is no doubt a very special player who will have some stellar weeks for you, you just can't put draft a guy No. 1 who played all 16 games and didn't even finish in the top 10, no matter how great his highlight tape may appear.