2013 MLB Mock Draft: Early Predictions for Next Year's Top 10 Picks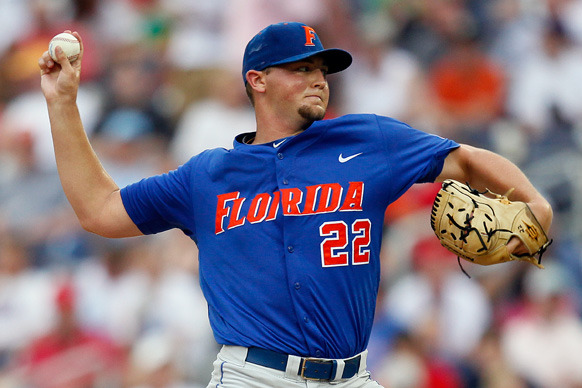 Photo Credit: University of Florida
With the 2012 MLB Draft in the books, it is now time to start looking forward to the 2013 MLB Draft.
Like this year's draft, there is no one superstar who truly stands out, but there are a number of very talented players that have the potential to be perennial all-stars.
Teams that are struggling during the 2012 season will pick up early draft picks next year, and they will try to find a player that can help be part of a group that turns their organization around.
There are high expectations for players who are selected during the first 10 picks, but all of them have the potential to live up to these lofty projections.
It should be noted that these projections are preliminary and subject to change, as they will depend on the players' performances in the 2013 season.
Begin Slideshow

»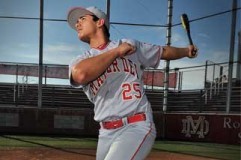 Photo Credit: Prospect Nation
When ESPN HS released its list of top 60 high school baseball prospects in the Class of 2013, Jeremy Martinez was at the top of the list.
He is a catcher from Mater Dei High School in California.
Martinez has committed to the University of Southern California, but he may choose not to go to school if he is selected during the first 10 picks of the 2013 MLB Draft.
He has been noted for being an outstanding defender, and he has room to grow offensively.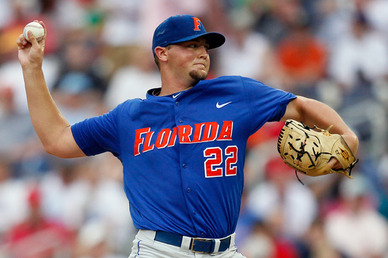 Photo Credit: University of Florida
After dominating high schoolers in Florida, Karsten Whitson was selected by the San Diego Padres with the ninth overall pick in the 2010 MLB Draft.
He chose not to sign with the team and enrolled at the University of Florida.
There is no reason to believe that Whitson will not be selected in the top 10 once again. He has three pitches that could be plus pitches by the time he is drafted next year.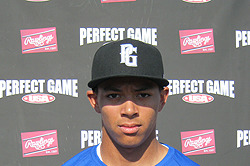 Photo Credit: Perfect Game
Major league teams love to go after projectable high school arms during the early parts of the first round.
Teams might not find a better option than Clinton Hollon.
ESPN HS deemed Hollon as the best right-handed pitcher in the Class of 2013.
According to the scouts at Perfect Game, Hollon has a smooth delivery and four high- level pitches.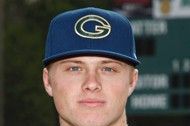 Photo Credit: ESPN HS
Austin Meadows is currently slated to attend Clemson University following his senior year of high school, but it seems more likely that he will head to a minor league team after being drafted in the top 10.
Meadows is considered to be a five-tool player, and he has both plus speed and plus power.
This helps make him the top high school outfield prospect in the class of 2013.
Photo Credit: NCAA
Ryne Stanek chose not to sign with the Seattle Mariners after they drafted him in the third round of the 2010 MLB Draft. Instead, he went to the University of Arkansas.
While at college Stanek, has improved his control to go along with his outstanding stuff.
This improvement makes Stanek a possible No. 1 overall pick in the 2013 MLB Draft, according to Aaron Fitt of Baseball America.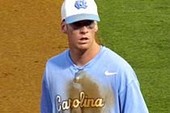 Photo Credit: College Baseball 360
Colin Moran may not have been drafted out of high school, but he will certainly be drafted when he is eligible in 2013.
The third baseman has been absolutely dominant at the University of North Carolina.
In 2011, Moran was named as Baseball America's Freshman of the Year. He was also named to two different All-American teams.
Moran was once again a leader for the Tar Heels in 2012.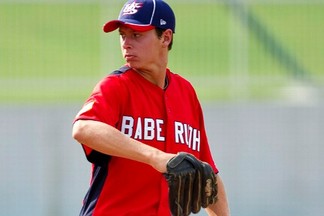 Photo Credit: ESPN HS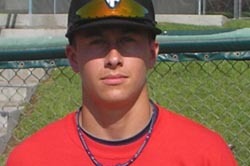 Photo Credit: Perfect Game
Dominic Ficociello was able to step in as a true freshman for the University of Arkansas in 2011, and he showed why he was one of the top recruits in his class.
Ficociello led the Razorbacks with 50 RBI in 2011 and was outstanding defensively. This helped Ficociello earn multiple first-team All-American nominations.
He has once again been a leader for the Razorbacks this season.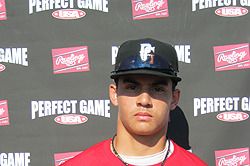 Photo Credit: Perfect Game
ESPN HS ranks William Abreu as the second best outfield prospect in the Class of 2013 because of the fact that, on top of his current abilities, he is a very projectable player.
Abreu has demonstrated good speed on both the basepaths and in the outfield.
The Mater Academy student takes aggressive swings from the left side of the plate and can hit for good power.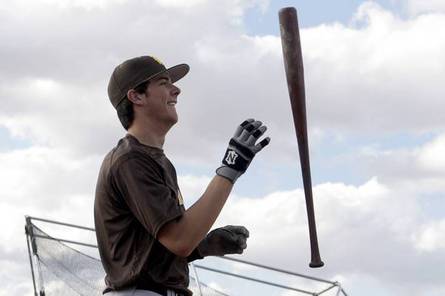 Photo Credit: Los Vegas Sun
Heading into the 2010 MLB Draft, some people believed that Kris Bryant could be a first round draft pick.
That was not the case, as the Bonanza High School slugger was not selected until the 20th round.
Bryant could be a first-round pick this year after his strong performances at the University of San Diego over the past two years. He was an All-American during his first year in college, and he could be one once again in 2012.