AL Cy Young Award Rankings: Justin Verlander Stumbles While Chris Sale Charges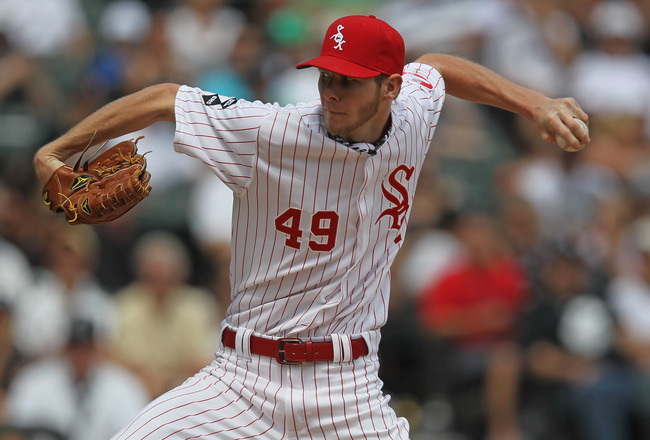 Chris Sale is the American League's hottest pitcher.
Jonathan Daniel/Getty Images
No pitcher in the American League is hotter than Chicago White Sox lefty Chris Sale right now.
In early May, the White Sox suddenly got concerned about Sale's elbow and shifted him to their bullpen. That experiment didn't last for long, however, and Sale has since proven that he's just fine in the starting rotation, thank you very much.
In five starts since May 12, Sale is 4-1 with a 1.87 ERA and 39 strikeouts in 33.2 innings pitched. His last two starts have featured a 15-strikeout performance and a complete game.
Yeah, he's been good. He's been so good, in fact, that he is now very high in the running for the AL Cy Young award.
Here's a look at this week's rankings.
Note: Feel free to check out last week's rankings.
Honorable Mentions (new feature!)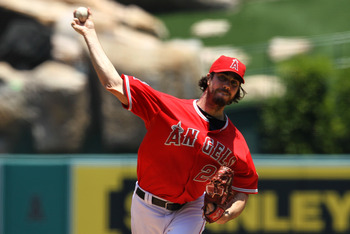 Dan Haren
Stephen Dunn/Getty Images
Jason Hammel, Baltimore Orioles
He's the only reliable starter the O's have.
Dan Haren, Los Angeles Angels
He's been very good in his last three starts. The top five is within his sights.
Jeremy Hellickson, Tampa Bay Rays
He shouldn't be as good as he is, but he is. So bravo.
Derek Lowe, Cleveland Indians
One bad start has ruined what would otherwise be excellent numbers.
Brandon Morrow, Toronto Blue Jays
He used to be in my top five. He's occasionally great, but he should be great all the time.
CC Sabathia, New York Yankees
He's been good enough to at least be in the discussion since joining the Yankees, but he has yet to make a legit run at the top five this season.
Jered Weaver, Los Angeles Angels
If he wasn't injured, he'd be in the top five.
5. C.J. Wilson, Los Angeles Angels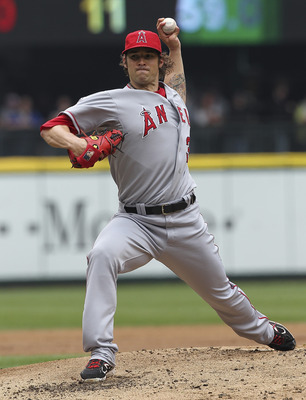 Otto Greule Jr/Getty Images
Last Week: Unranked
For a guy who signed a five-year deal worth over $75 million this offseason, it's amazing how little press C.J. Wilson has gotten since the start of the season.
It's as if some other high-profile free-agent signee was in some kind of slump or something. After that, it's like the Angels got hot thanks to an awesome rookie and a position-less power hitter.
Whatever the reason, it's past time Wilson got some credit for the season he's having. It's been a good one to this point.
In 12 starts, Wilson has a record of 6-4 and a 2.54 ERA, the third-best mark in the American League. He's had his issues with walks (4.09 BB/9), but those issues are offset by his impressive .190 opponents' batting average.
That, by the way, is the best mark of any pitcher in the American League.
To boot, Wilson has been hot lately. In his last three starts, he has a 3-0 record with a 0.45 ERA in 20 innings pitched. Keep an eye on him as we move deeper into June.
4. Jake Peavy, Chicago White Sox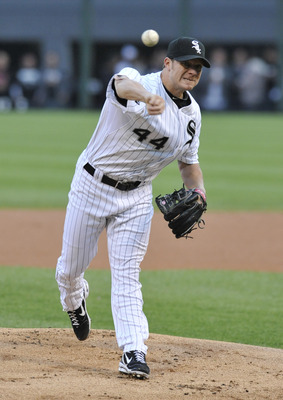 David Banks/Getty Images
Last Week: No. 4
Jake Peavy was arguably the best pitcher in baseball through his first seven starts. He had a 5-2 record and a 1.89 ERA in 52.1 innings pitched.
Peavy has come back down to earth in his last four starts, as he has a record of 3-1 and a 5.55 ERA. He's given up five home runs in 24.1 innings.
Nonetheless, Peavy's numbers for the season are still solid. He has a 6-1 record and a 3.05 ERA, not to mention a solid 1.76 BB/9 and an even more solid .204 batting average. He has an AL-best 0.93 WHIP.
The best thing about Peavy is that he's done a great job of eating innings for the White Sox this season. He's logged at least six innings in all but one of his starts, and he's pitched at least seven innings five times.
Among AL starting pitchers, only two hurlers have Peavy beat in terms of WAR, according to FanGraphs. He hasn't been sharp lately, but his Cy Young resume is still very strong.
3. David Price, Tampa Bay Rays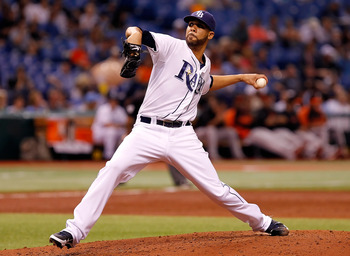 J. Meric/Getty Images
Last Week: No. 3
Some of David Price's numbers suggest that he shouldn't be having a dominant season. He has a modest 2.70 strikeout-to-walk ratio and an opponents' batting average of .242. His WHIP of 1.21 is good, but not great.
Nonetheless, Price has a 7-3 record and a 2.44 ERA, the second-best mark in the American League.
What gives?
It's simple: Price is at his best when he has runners on base. Per Baseball-Reference.com, his opponents' batting average, on-base percentage and slugging percentages all drop with men on base, and that has helped him achieve an AL-best 83.3 LOB (left-on-base) percentage.
This is a sign of Price's maturity. He's come a long way in just a couple of seasons, and the scary part is that he's still only 26. He's going to get better as he gets older, and it wouldn't be at all surprising if he got better as the 2012 season went along.
So keep a close eye on Price too.
2. Chris Sale, Chicago White Sox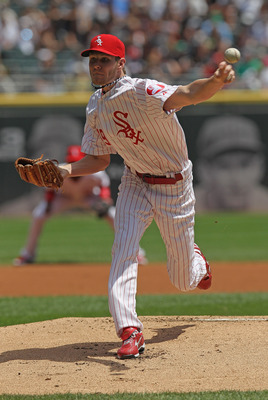 Jonathan Daniel/Getty Images
Last Week: No. 5
Some have gone so far as to compare Chris Sale to Randy Johnson, which is high praise. The Big Unit is the greatest lefty pitcher of all-time, and he had great stuff for a long time.
But right now, it's kinda hard to argue the point. Sale has looked a lot like Johnson in the last month.
As I mentioned in the intro, Sale's last five starts have been excellent. He hasn't given up any more than three earned runs in any one of them, and he's pitched at least seven innings in each of his last three starts. His elbow looks just fine.
Thanks to this recent hot stretch, Sale's numbers look excellent pretty much across the board. He has a 7-2 record, an AL-best 2.30 ERA, a 0.98 WHIP and a K/9 of 9.32.
According to FanGraphs, Sale has a WAR of 2.2. Only one pitcher in the American League has him beat in that category.
And he's coming up next...
1. Justin Verlander, Detroit Tigers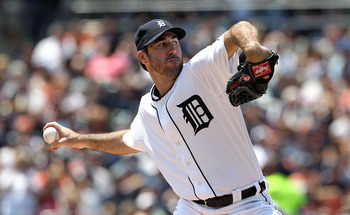 Leon Halip/Getty Images
Last Week: No. 1
It's become a very close race, but Justin Verlander is still the man to beat in the AL Cy Young race.
The only thing that's not impressive about Verlander's 2012 season so far is his 5-4 record. Everything else is solid. He ranks in the top five in the AL in virtually every major pitching category, including ERA (2.67) and WHIP (0.97). He's first in the AL in innings (87.2) and strikeouts (86), and he's the only pitcher in the Junior Circuit with three complete games.
He ranks head of Sale for two reasons: He has him beat in innings by a wide margin, and he has him beat in WAR.
However, Verlander is slipping. He's lost three straight decisions, and he got knocked around by the Boston Red Sox and New York Yankees in his two most recent starts. Combined between the two starts, he gave up 19 hits and 10 runs (eight earned) in 12.1 innings.
Verlander's track record tells us this won't last, but it's not about to get any easier. His next start will be against the Cincinnati Reds. After that, he'll face the Colorado Rockies.
So stay tuned. This could be Verlander's last week at No. 1.
Last Week's Rankings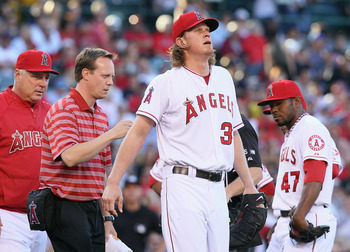 Jered Weaver
Jeff Gross/Getty Images
5. Chris Sale, Chicago White Sox
Movin' on up.
4. Jake Peavy, Chicago White Sox
Steady as she goes.
3. David Price, Tampa Bay Rays
Ditto.
2. Jered Weaver, Los Angeles Angels
It may be a while before he can resume his Cy Young hunt. Back injuries are tricky.
1. Justin Verlander, Detroit Tigers
Like GLaDOS, he's still alive.
If you want to talk baseball and/or Valve video games, hit me up on Twitter.
Keep Reading