NFL Hall of Fame Should Be Reserved for Elite Players, Not Just Any Big Name
March 17, 2017
The importance of a place in the Hall of Fame is in danger of being diluted. The instant any player with a pretty good career behind him retires, the discussion starts about whether or not he belongs in the Hall.
The term "future Hall of Famer" seems to be thrown around by announcers and commenters the second a player strings together a couple of top seasons, and we are getting to the stage where players are making it to Canton who were arguably never one of the best players in the league, let alone of all time. 
The Pro Football Hall of Fame first opened its doors on September 7, 1963 with 17 charter enshrinees, but at that stage the NFL had been in operation for more than forty years. There was a serious backlog of talent to get through, especially given the role some of those players had in the early years as the game developed and grew.
As of now there are 267 men with bronze busts in Canton, fewer than three per year that the NFL has been in operation. In any given season the NFL sees over two thousand players take the field, but less than three hundred have made it to Canton in the 91-year history of the NFL. Do the math; that is the kind of rarefied air we are talking about when we analyze the hall.
With that in mind, we need to be more careful before we start throwing around terms like "future Hall of Famer" just because a very good player we are all familiar with in today's age of saturation coverage does something worth talking about.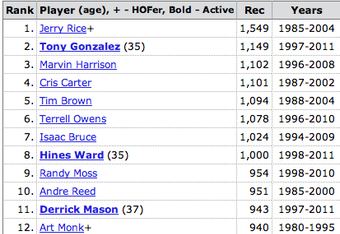 Players today have a big advantage over their predecessors. The NFL is big business now and coverage is everywhere. Statistics are both more in-depth and easier to come by as the game develops, so all-time records are being shattered by the season and statistics that once looked untouchable are becoming commonplace amongst retiring players.
When Art Monk retired in 1995 he had more receptions than any player in NFL history. In 75 years of NFL play nobody had caught more passes than Monk, but less than 20 years later he is 12th , three receptions behind Derrick Mason. Does anybody seriously think that Mason is a Hall of Famer?
That presents a problem when analyzing candidates. You can't simply point to statistics, especially cumulative statistics and expect them to tell the whole story. Except in cases when players are so far out ahead of the pack that the numbers speak for themselves, simply reaching a milestone like 1,000 career receptions, or the top 10 in all-time rushing yardage isn't going to stand the test of time.
Instead you have to use the only yardstick that means anything—how did that player compare to his peers when he was actually playing?
Hines Ward has been suggested by many as a potential Hall of Fame candidate, and so has Isaac Bruce. Both were great players, but in 30 seasons between them, the only time either one of them lead the league in any meaningful category came in 1996, when Bruce's 1,338 yards led the NFL, 18 yards ahead of former Viking Jake Reed. 
Ward had more seasons under 1,000 receiving yards than he did over, and scored more than seven touchdowns in a season just three times. Both played long enough that they have amassed more than 1,000 catches, both rank in the top 20 all-time in receiving yardage (Bruce is currently third), but even at the height of their careers there were few that would tell you they were the best receiver in the game, let alone one of the best of all time.
They were very good players for a very long time, which is laudable, but it doesn't make you a Hall of Famer.
Curtis Martin was just elected to the Hall of Fame at the second time of asking. On the surface all seems well with that. He has the fourth-best all-time rushing yardage figure, scored 90 touchdowns and was known for helping to turn around the two franchises he played for in New England and the New York Jets.
The problem is that Martin just was never that special a runner; he was very good, for a very long time. "Compiler" is a term that has been used for years to describe players that built up impressive-looking statistics through years of less-than-impressive play, and while that isn't what I am saying about Curtis Martin, what I am saying is that he was less impressive than his cumulative career statistics indicate.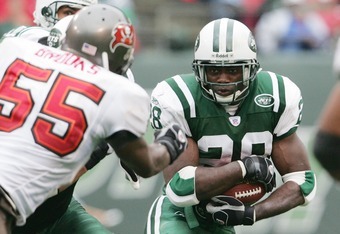 Nick Laham/Getty Images
Only once did Curtis Martin lead the league in any significant category—in 2004 when his 1,697 yards came as a result of a massive 371 carries. He led the league that year by a single yard more than Shaun Alexander who had both fewer carries and scored more touchdowns.
If you compare his career to a player who was always recognized as an all-time great, Eric Dickerson, we see some interesting results. Both players played for a decade, with each retiring after an eleven-season career. Dickerson notched 13,259 yards to Martin's 14,101, and they each scored 90 rushing touchdowns.
The difference, though, is in the heights each player reached. Martin maintained a consistent level of very good play throughout his career, but may never have been the best back in the league. Dickerson led the league in rushing four times, in yards from scrimmage four times and in rushing yards per game five times. He also managed the small matter of the all-time single-season rushing record with his 2,105 yard 1984 season. He also had to deal with the strike-shortened 1987 season.
The point I'm getting at is that nobody doubted that Eric Dickerson was one of the best running backs to ever play the game, either when he played, or when it came around to Hall of Fame voting time. Can the same thing be said about Curtis Martin? I'm not so sure.
I think that after six years passed, people looked at the statistics he had accumulated, and a few of the New York-based media involved in the process went to bat for him, and he found his way into the hall as much for his durability and off-field nature than for his performance on the gridiron.
I'm not here to be a hater, and I'm not saying that any of these players sucked, in fact I loved watching each of them for different reasons, but there is a middle ground between hater and Hall of Fame. Just because a player ended his career after a decade of fine play doesn't mean we should be clearing a space for his bust in Canton.
There are still all-time great players out there that don't get a sniff of the Hall, and they shouldn't be sitting there waiting for a phone call that never comes while today's over-saturated media coverage overhypes the players of modern times.
There is a place to honor the great careers of players without putting them in the Hall of Fame. Isaac Bruce belongs in the Rams' Ring of Fame. Curtis Martin belongs in the Jets' Ring of Honor. Hines Ward deserves a place in the Steelers Ring of Honor, but the franchise doesn't have one, so he'll have to do without. We shouldn't rush to bestow Hall of Fame honors on each one just to validate great careers.
The Hall of Fame is about more than that. The Hall of Fame should be there to honor the very best players to ever play the game. That is a very tough benchmark, and falling short doesn't re-define a great career.