AL MVP Rankings: Mark Trumbo Makes a Push as Josh Hamilton's Dominance Wanes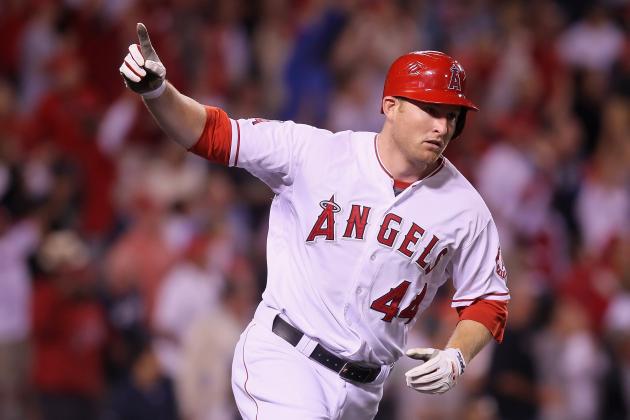 Jeff Gross/Getty Images

After struggling through the first six weeks of the regular season, the Los Angeles Angels are suddenly breathing down the necks of the Texas Rangers in the American League West.
The Angels have many players to thank for their revival. Albert Pujols has woken up, and Mike Trout has given the club a huge boost since being called up in late April. The guy who deserves most of the credit, however, is Mark Trumbo. If the season ended today, he'd be the Angels' MVP.
The question is where Trumbo ranks in the actual American League MVP race. Is he hot on Josh Hamilton's heels, or does he still have a lot of ground to catch up?
That's what we're here to find out. Here's a look at my updated AL MVP rankings.
Begin Slideshow

»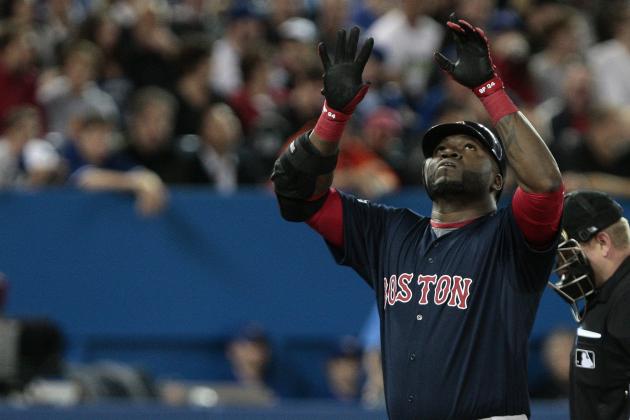 Abelimages/Getty Images

Last Week: Unranked
There are about 10 different guys who could occupy the No. 5 spot in the AL MVP race. Once you get beyond the top four, the race is pretty wide open.
For the moment, David Ortiz has a slight edge. He's been hitting well virtually all season, and he's played a key role in the resurgence of the Boston Red Sox in the last couple weeks.
For the season, Big Papi is hitting .315/.391/.596 with 13 home runs and 37 RBI. He ranks in the top 10 in the American League in several major offensive categories, including fifth in RBI and third in OPS (.987).
Ortiz went through a tough stretch in May, but he's come on strong lately. Over his last seven games, Big Papi has hit .385 with three home runs and seven RBI. His OPS over this stretch is 1.294.
I can't say I'm crazy about the idea of a DH winning the MVP award. But at the very least, Ortiz deserves to feature prominently in the discussion, just as he has on several other occasions in his career.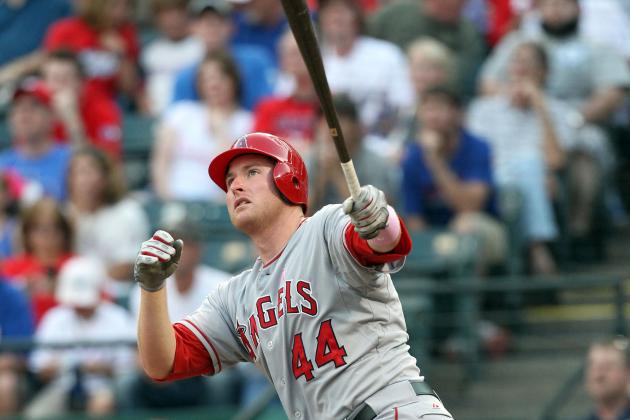 Layne Murdoch/Getty Images

Last Week: Unranked
As I noted in the intro, Mark Trumbo has been the Angels' best player to this point in the season. They've asked him to play all over the field, but he's kept on hitting no matter where he's played.
For the season, Trumbo is hitting .331/.381/.602 with 10 home runs and 27 RBI. He ranks fourth in the American League in batting average, third in slugging and fourth in OPS (.984).
Trumbo has gotten even better as the season has gone along. In his last 22 games, he's hit .364/.406/.670 with six home runs and 15 RBI. He recently homered in four straight games, one of which was a walk-off home run against the New York Yankees.
Trumbo's hot streak has coincided with a team-wide hot streak. The Angels have won 10 of their last 12 games, and they just took two out of three from the Rangers over the weekend.
If Trumbo stays hot and the Angels continue to get production out of Mike Trout and Albert Pujols, the AL West race is going to be close all season.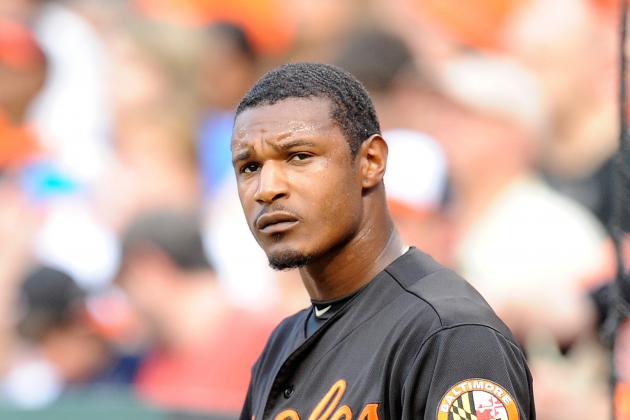 Greg Fiume/Getty Images

Last Week: No. 3
The Orioles are slipping. They've lost 10 out of their last 13 games, and they surrendered first place in the AL East to the Tampa Bay Rays over the weekend.
Adam Jones is not to blame for any of this. Despite the fact he's been banged up, Jones has maintained a hot bat during Baltimore's struggles. In the team's last 13 games, Jones has hit .333 with a .931 OPS.
Jones' numbers for the season are just as impressive. He's hitting .315/.363/.602 with 16 home runs, 34 RBI and nine stolen bases in 13 attempts. He ranks in the top five in the American League in several major offensive categories such as home runs, runs, slugging and OPS (.965).
According to FanGraphs, Jones' WAR for the season is 3.3. The only player who has him beat in that category is Josh Hamilton.
If the Orioles fail to make anything of their hot start this season, it won't be Jones' fault. He's pulling his weight.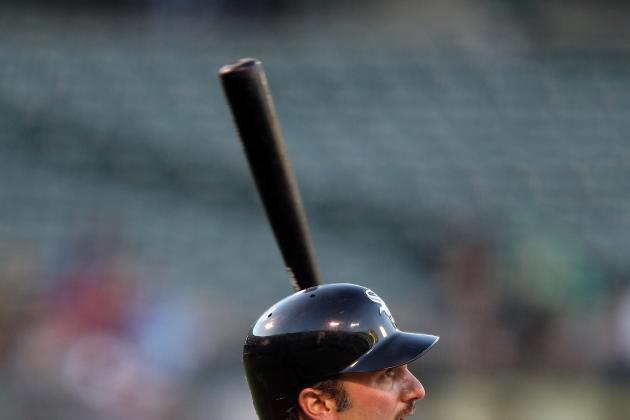 Ezra Shaw/Getty Images

Last Week: No. 2
Paul Konerko recently went through a stretch in which it was impossible to get him out. During that stretch, he helped the White Sox get hot and take over management of the AL Central.
Sadly, Konerko has cooled down a little. In his last five games, he's hitting just .100 with no extra-base hits and no RBI.
Nonetheless, the White Sox have continued to win ballgames. They've now won 14 of their last 16 games, and they've opened up a 2.5-game lead in the Central.
Chicago's winning ways are the main reason I have Konerko ranked ahead of Jones, but it's not like Konerko is lacking in the numbers department. He's hitting .366/.445/.617 with 11 home runs and 33 RBI. He leads the American League in batting average and on-base percentage, and he ranks second in slugging and OPS (1.062).
Konerko has never gotten the credit he deserves, but it's awfully hard for anyone to not notice what he's doing this season.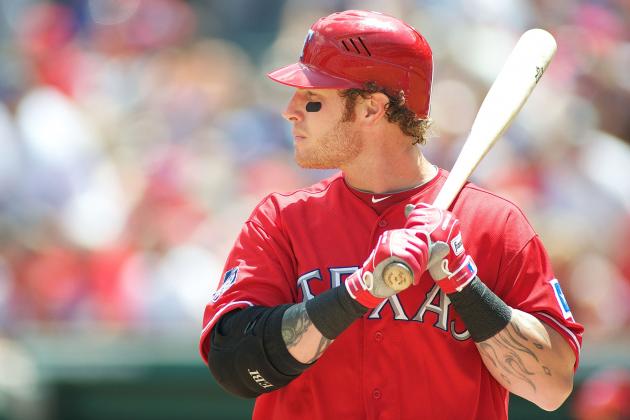 Cooper Neill/Getty Images

Last Week: No. 1
For a time, Josh Hamilton had a stranglehold on the No. 1 spot in my weekly MVP rankings. He's been the best player in the American League for much of the season, and his MVP stock has been particularly high because he's been the best player on the best team in the AL.
Things have changed. The Rangers are the only team in the AL with 32 wins, but they've had to go through some ups and downs in the last couple weeks. In the process, Hamilton has steadily fallen back down to earth.
But let's not get carried away. Hamilton is still having a very, very good season.
Being the best player on the best team in the AL helps, but Hamilton is at the top of the discussion primarily because of his numbers. He's hitting .354/.410/.728 with 21 home runs and 57 RBI. He leads the AL in home runs, RBI, slugging and OPS (1.138).
Per FanGraphs, Hamilton has the highest WAR not just of any player in the American League, but in all of baseball.
His grip on the top spot is loosening, but he's still the man to beat in the AL MVP race.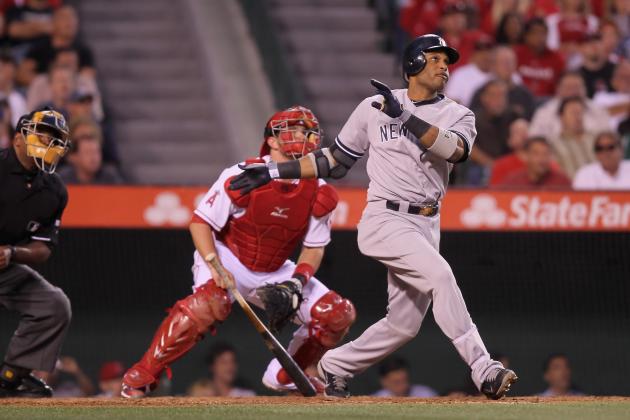 Jeff Gross/Getty Images
Robinson Cano
Here are last week's rankings:
5. Justin Verlander, SP, Detroit Tigers
The Boston Red Sox and New York Yankees didn't have much trouble getting to Verlander last week.
4. Robinson Cano, 2B, New York Yankees
He's still in the running, but his bat has gone cold, and there's really no apologizing for his .140 batting average with runners in scoring position.
3. Adam Jones, CF, Baltimore Orioles
Steady as she goes.
2. Paul Konerko, 1B, Chicago White Sox
Ditto.
1. Josh Hamilton, OF, Texas Rangers
Double ditto.
If you want to talk baseball and/or exotic donuts, hit me up on Twitter.