2012 MLB Rankings: Josh Hamilton and the 10 Best Outfielders in Baseball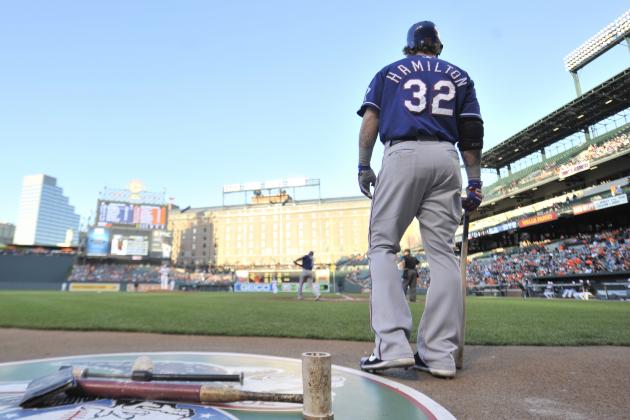 Mitchell Layton/Getty Images

Many of baseball's best players reside in the outfield. To be considered one of the best, they must be able to hit for power and for average, run the bases well, excel at fielding their position and exhibit a strong throwing arm.
Essentially, they should be a five-tool-player.
While countless players possess these attributes separately, very few have been able to combine these abilities and excel at each facet of the game. Many five-tool players play in the outfield, which is fitting considering the aforementioned defensive attributes.
Considering all facets of the game, here are my top 10 outfielders (in no particular order) in Major League Baseball.
Begin Slideshow

»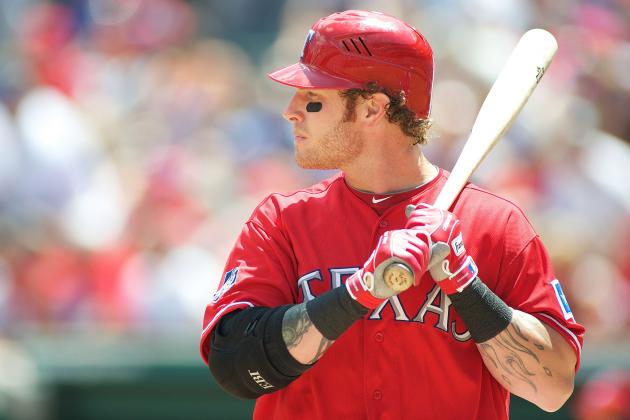 Cooper Neill/Getty Images

Josh Hamilton has been one of the best players, not just outfielders, in the league since 2008. He's a four-time All-Star and will make it five when he plays in this year's Midsummer Classic.
Hamilton leads the majors with 21 home runs and 57 RBI, while batting a fourth-best .348. His ability to hit for power and average is today's league standard.
He showed off his abilities when he put on a batting clinic against the Baltimore Orioles on May 8. The four-time All-Star went 5-for-5 that day, smashing four home runs for eight RBI. With that historic performance, he became only the 16th player in history to hit four homers in one game.
He also shows great patience at the plate, striking out just 45 times in 198 at-bats this season.
As if Hamilton needed more proof that he's a great player, his defense barely takes a back seat to his success at the plate. The fact that he patrols center field at Rangers Ballpark proves that he possesses outstanding range and his 35 career assists from the outfield shows his strong throwing arm.
He is the definition of a five-tool player and has set the standard of a complete baseball player in the modern era.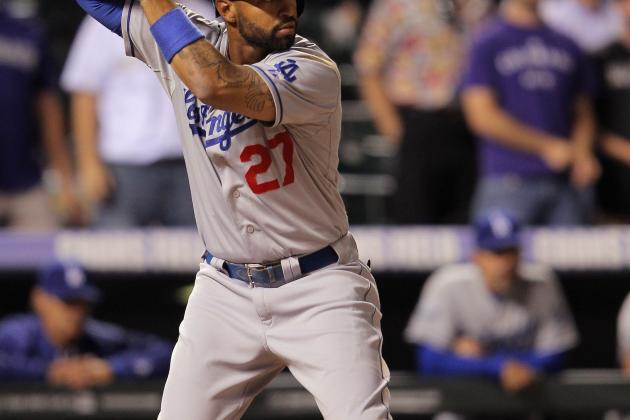 Doug Pensinger/Getty Images

Matt Kemp, like Josh Hamilton, is one of the most physically gifted players in baseball. He's built like a rock at 6'2'' and 225 pounds, yet he has outstanding athleticism and speed, making him one of the most versatile players in the league.
Kemp has been the best player in baseball last season and this year combined. In 2011, he led the Dodgers in nearly every offensive category: batting average, home runs, RBI, stolen bases, slugging, total bases, walks—the list goes on and on. He was just one home run away from becoming the fifth player in MLB history to have 40 home runs and 40 stolen bases in one season.
This year, Kemp has missed considerable time (18 of the Dodgers' 54 games) due to a strained hamstring. Still, the All-Star center fielder has put up All-Star numbers. He is still 14th in the league with 12 dingers and before going on the DL, he was leading the league in RBI and batting average.
Kemp is also no slouch in the field. His two Gold Glove awards and 49 career outfield assists are testaments to his ability in the field. He is constantly running down balls hit in the gaps, turning potential extra-base hits into outs for his pitchers.
He's widely considered as a top MLB player and at the age of 27, he may even be getting better—a scary thought for opposing teams.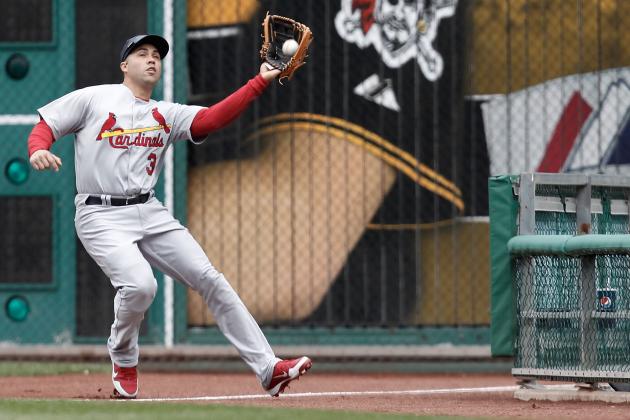 Jared Wickerham/Getty Images

At 35 years old, Carlos Beltran is by far the most seasoned player on this list. Despite his age, he is outperforming his younger counterparts in this revival season.
Beltran is sixth in both home runs (15) and RBI (42), and has helped replace the void left by Albert Pujols' departure in the St. Louis lineup.
The six-time All-Star is having one of his best seasons in recent memory. He's on pace to have his first 30-home run season since 2007 and first season with at least 100 RBI since 2008.
While Beltran may have lost a step in the outfield, hence the shift from center to right field, he is still a very capable fielder. He has three Gold Glove awards to his name, the last one coming in 2008.
Despite his age and slowing speed, Beltran's ability in the field and at the plate constitutes him as one of the top 10 outfielders in the league today.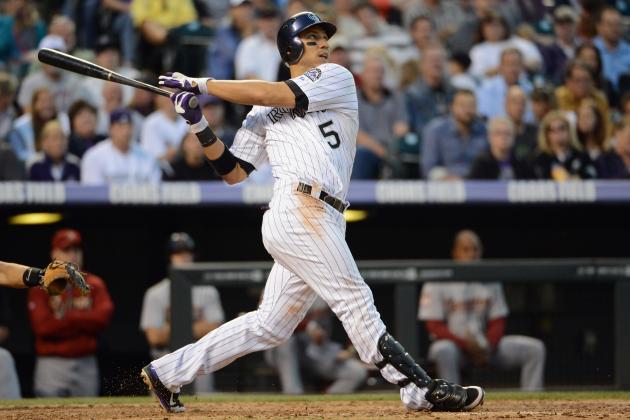 Doug Pensinger/Getty Images

In 2010, Carlos Gonzalez had a breakout season for the Rockies when he hit 34 home runs, knocked in 117 runs while batting a league-best .334 at the plate. While his numbers dipped just a bit in 2011, Gonzalez is on pace to set new personal bests in all of those offensive categories this season.
This season, he is tied for seventh in the league with 14 home runs and has a third-best 45 RBI. Gonzalez is also one of just 11 players in the league who have double-digit home runs and are batting at least .300, showing his ability to hit for power and average.
Gonzo, at just 26 years old, is already one of the most exciting players in the league and will surely improve multiple facets of his game, although improvement may be hard to come by due to his exceptional ability on the diamond.
After just over four seasons in the majors, Gonzalez has only made four errors in the field, proving he is a wiz with the leather. His exceptional arm strength and range make Gonzo one of the most complete players in the league, excelling both at the plate and in the outfield.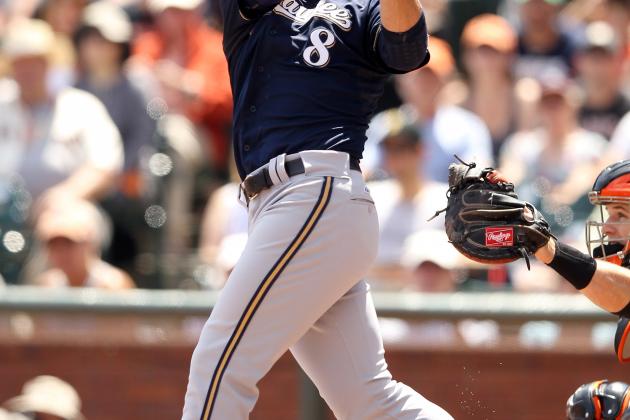 Ezra Shaw/Getty Images

Since coming to the majors in 2007, Ryan Braun has been one of the most consistent players in the league. In five full seasons, Braun is averaging 32 home runs and 106 RBI, while never batting less than .285 at season's end.
Today, Braun is one of the elite players in baseball and, despite his already-gawdy numbers, he may just now be entering his prime. He is tied for seventh with 14 home runs and tied for fourteenth with 36 RBI.
What's even more impressive is Braun is the only player in the league with a .300 batting average, double-digit homers and double-digit steals, truly exhibiting his outstanding versatility.
This type of ability is extremely hard to come by and Brewer fans should feel grateful to have one of the best young players in the league leading their team.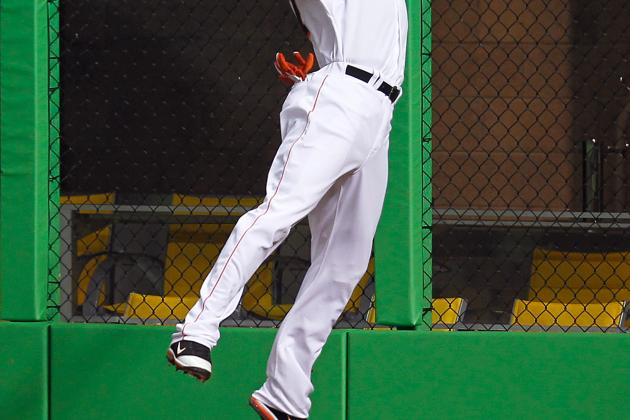 Sarah Glenn/Getty Images

Perhaps the most exciting player in baseball today besides Josh Hamilton, Giancarlo Stanton, formerly known as "Mike" Stanton, is an absolute stud.
In just his third season in the majors, Stanton is 11th in the league with 13 home runs, one of only seven players with 40 RBI, and is rocking a .295 batting average. Oh and did I mention this guy is only 22 years old?
Yes, you read it right—22! It's scary to think what Stanton is capable of if he's already one of the best players in the league at age 22.
Stanton had a ridiculous month of May, tallying 30 RBI and belting an MLB-record 12 home runs. The league rewarded Stanton for his historic month with the National League Player of the Month award.
2012 will most likely be Stanton's first of many All-Star seasons as he continues to develop and improve specific areas of his already-excellent game. Look for big things from Stanton not only this season, but for many seasons to come.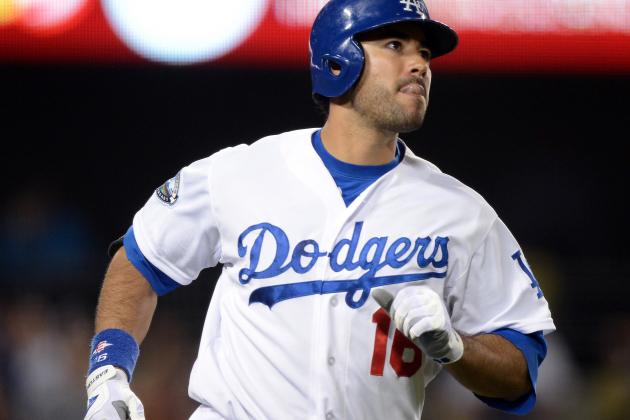 Harry How/Getty Images

While Matt Kemp has gotten most of the attention in Los Angeles, and rightfully so, Andre Ethier has quietly put together an All-Star season.
The 31-year-old has 46 RBI, good enough for second in the league only trailing Josh Hamilton, and he is batting .314. While Ethier has just nine home runs, he is very capable of putting up impressive power numbers, evidenced by his 2009 total of 31 home runs.
In 2011, Ethier won his first and only Gold Glove award and his 50 career outfield assists prove his prowess in the field.
2012 is a contract year for the two-time All-Star, and if Ethier continues his early success, he will surely be cashing in come winter.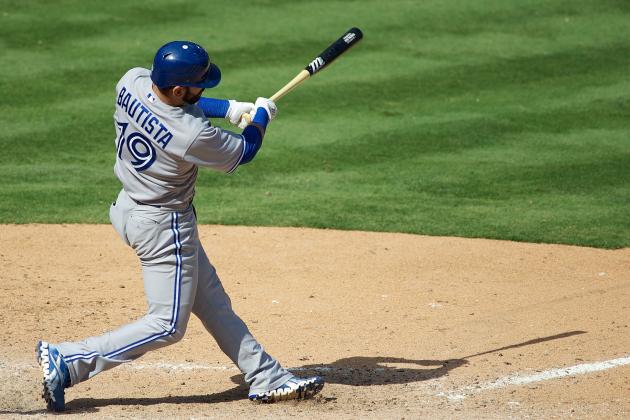 Cooper Neill/Getty Images

Toronto Blue Jays star Jose Bautista has had one of the most interesting and baffling careers in recent memory. Today, he is one of the most feared hitters in the league and is an excellent fielding outfielder.
In 2010, Bautista had a breakout year, smashing 54 home runs (by far his highest single-season total) and knocking in a personal-best 124 runs. In the four seasons prior, from 2006 to 2009, Bautista combined to hit just 59 home runs and averaged just 52 RBI.
This dramatic improvement has been attributed to Bautista's swing change. Apparently, that change has worked extremely well. Over the last two seasons, nobody has hit more home runs than Bautista.
This season, Bautista has continued his home run-hitting ways as he is tied for seventh in the league with 14 home runs while compiling a tenth-best 37 RBI.
Despite the fact Bautista doesn't exhibit great speed on the bases, nor does he hit for average particularly well, his power numbers alone are enough to put him among the top 10 outfielders in baseball.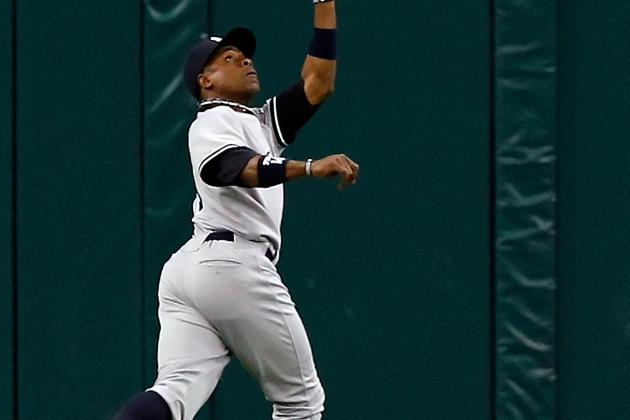 J. Meric/Getty Images

Despite being listed at just 6'1'' and 185 pounds, Curtis Granderson has been one of the most prolific home run hitters in recent seasons.
In every year which Granderson has played at least 100 games, he has hit no fewer than 19 home runs. And last season, he finished second in the league with 41 long balls, proving he possesses some top-notch power.
Granderson has also exhibited his tremendous speed both on the basepaths and in the field. In his six full seasons, the 31-year-old has stolen 106 bases. That rare combination of power and speed has made him into one of the most versatile players in baseball.
In 2012, Granderson is once again near the top of the league in home runs with 17 (tied for third) and is on pace to set a new career high in home runs.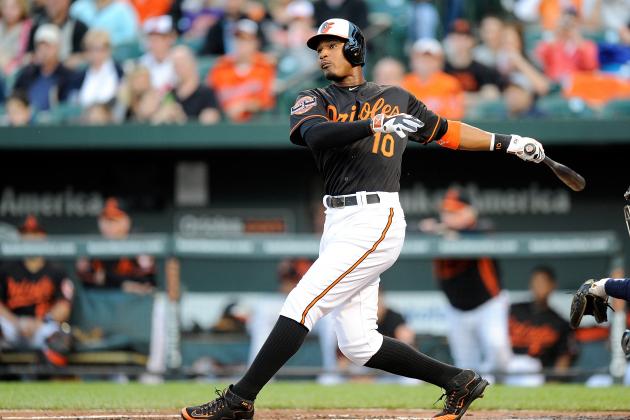 Greg Fiume/Getty Images

Adam Jones is in the discussion with Ryan Braun, Giancarlo Stanton and Matt Kemp as the best young outfielders in baseball. At 26 years of age, Jones has shown the potential to become a superstar in the majors.
After setting career bests in home runs (25) and RBI (83) in 2011, Jones is on pace to shatter those numbers. He already has 16 homers, good enough for fifth in the league, and 34 RBI. Jones will also set a new career high in stolen bases this year, as he has already successfully stolen nine.
As if those numbers weren't enough, Jones also won the Gold Glove in 2009, due to his amazing athleticism and arm strength shown in center field.
The Orioles and I apparently agree with Jones' potential. Earlier in the year, Jones signed a six-year extension worth $85.5 million, the largest in Orioles' history, making Jones the second-highest-paid center fielder in baseball behind the Dodgers' Matt Kemp.