MLB Draft 2012: A Look at the Players Who Will Be Present at the Draft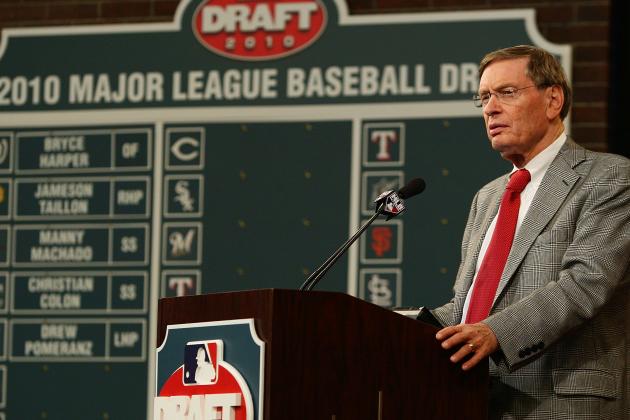 Mike Stobe/Getty Images

The MLB draft doesn't have the extensive monthly ESPN coverage that the NFL and NBA drafts do, nor does it have giant "green rooms" for players who attend the draft.
In fact, in the past three Major League Baseball drafts combined, only two players total have attended the draft. Meanwhile, in April's 2012 NFL draft, 26 players were present to hear their names called.
In 2009, current Los Angeles Angels outfielder Mike Trout was present in his home state of New Jersey to hear his name called with the 25th pick in the draft. Last year, Georgia prep product Larry Greene made the trip to attend the 2011 draft, where he was selected with the 39th overall pick by the Philadelphia Phillies.
On Monday, June 4th, five players will be in attendance at the 2012 MLB draft, which will be broadcast live on MLB Network at 7 p.m. ET.
Here is a quick look at those five players and when they might get drafted.
Begin Slideshow

»
Even though he will be one of the youngest players selected, Carlos Correa could end up being the best player to come out of the 2012 MLB draft. At 6'4" and 190 lbs, Correa is getting a lot of the same comparisons to Alex Rodriguez that 2010 Orioles first-round pick Manny Machado got when he was entering the draft.
With the potential to hit for plus-power and a solid average, the only questions surrounding the young Puerto Rican center around his ability to stick at shortstop at the next level. With a tall, lean frame, Correa has plenty of room to add strength, which could affect his range and force a move over to third base.
Even if he has to move over to the hot corner, Correa has a strong arm and quick actions, along with the bat to profile there as a perennial All-Star. However he is an incredibly hard worker and will get every opportunity to make it as a shortstop.
Some reports have him going as high as No. 3 overall to the Mariners. He certainly won't make it past the Pirates at No. 8—if he slides that far.
The only college player who will be be in attendance on Monday, Andrew Heaney has had a breakout year for Oklahoma State. It was recently announced that Heaney was named a Louisville Slugger First-Team All-American for his performance in 2012.
The lanky 6'2" lefty led the country in strikeouts with 140 in just 118.1 innings pitched. He also only allowed 74 hits and 22 walks on the year, and his three shutouts were one shy of the Big 12 single season record.
Heaney comes right at hitters with great command of all three of his pitches, which all profile as above-average at the major league level. He has an easy arm action and a smooth delivery, which causes his fastball to sneak up on hitters at times.
While he may not be an ace in the Majors, Heaney profiles as a middle-of-the-rotation innings eater who shouldn't need much seasoning in the minor leagues. He could go as high as No. 9 overall to Florida, but I don't see him getting past the Nationals with the 16th pick.
Baseball bloodlines are always a good thing when you're a draft prospect. Gavin Cecchini is the younger brother of Boston Red Sox third base prospect Garin Cecchini. He doesn't quite have the power bat that his older brother did coming out of high school, but his speed and fielding ability should allow him to stick at shortstop.
Gavin hit .432 with seven home runs his senior year. He also showed off that speed by stealing 32 bases. While he may not be the flashiest player in the draft, Cecchini has solid tools across the board, which play up due to his baseball intelligence and sound fundamentals.
A coach's son, if you want to hear about dedication and work ethic, just read this article about Cecchini and you will understand the kind of drive he has.
Cecchini is one of those prospects who really doesn't have a set slot of picks in the draft where he could go. I would expect him to go anywhere from No. 12 to the Mets to No. 17, with that being the farthest he could drop.
For teams that like strong, powerful corner outfielders, Courtney Hawkins could be the player they choose on Monday.
A First-Team All-State player as a pitcher and an outfielder, Hawkins hit .412 with 11 home runs and 38 RBI through 34 games this spring. The 6'3", 210-lb University of Texas commit rose up draft boards with an outstanding summer, showing great power at the 2011 Area Code games.
He profiles well as a corner outfielder with plus power and a strong arm. Hawkins can hit any fastball he faces a long way, but it is the breaking pitches that give him trouble early in his career. He may take several years in the minor leagues before he starts facing big league starters, but if realizes his potential, Hawkins could turn into a Nelson Cruz-esque player.
He's been rumored as high as No. 9 or No. 10 to Florida and Colorado, but it is more likely Hawkins will hear his name called somewhere in the middle of the first round.
Strength is the name of the game with Clint Coulter, and the former wrestling state champion utilizes it at the plate and behind it.
At 6'3" and 215 lbs, Coulter is built like a linebacker and plays with the same intensity day in and day out. He has plus-power potential with a short swing, where he just uses his strength to punish the ball.
As a catcher, he will need to improve his mobility behind the dish, but he has a strong arm and good actions. Coulter is a vocal leader out there on the diamond, and the Arizona State commit gets high praise from coaches for his outstanding work ethic.
Coulter is the one player attending the draft who might not hear his name called on Day 1. There have been several rumors, however, of teams like Milwaukee and Texas potentially taking a flyer on him late in the first round. If he doesn't go there, Coulter will surely be one of the earlier draft picks on Day 2.