Philadelphia Eagles: Which Rookies Will Make an Immediate Impact in 2012?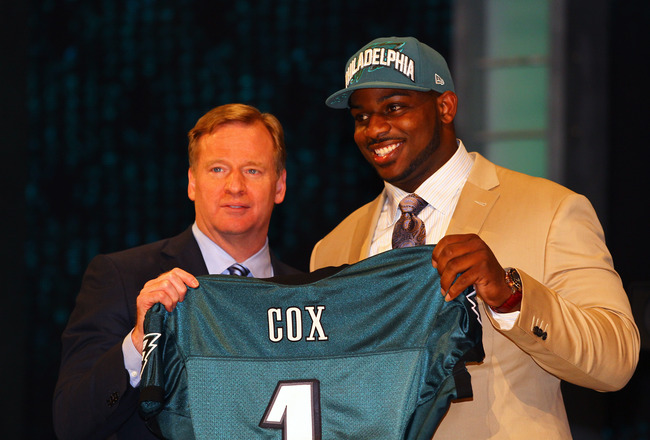 It all begins here. Smile for the camera, Roger.
Al Bello/Getty Images
Telling most Philadelphia Eagles fans that their team won the last four games of the regular season would ordinarily make them very happy. But when winning the last four games only got the Eagles to 8-8, feelings at the Linc were further from "very happy" than Donovan McNabb is to returning to the NFL as a starting quarterback—i.e., FAR.
So, maybe more so than in years, the Eagles had to get the 2012 draft right.
What follows is how we think they did.
Fletcher Cox (DT, Round 1, No. 12 Overall)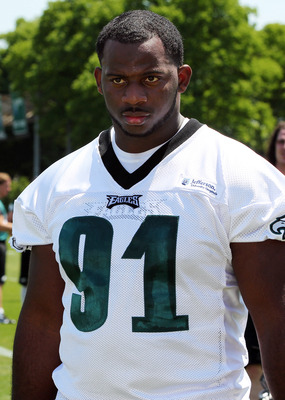 "This is me looking mean, or at least annoyed."
Rich Schultz/Getty Images
The Eagles spent a lot of 2011 watching their defensive tackles watching opposing ball-carriers probing the defense's second level.
Excoriated though it was, the Wide 9 is apparently returning, and so the Eagles needed a big, fast, athletic defensive lineman who could play in the spaces the scheme creates.
They think Fletcher Cox is that player.
With Cullen Jenkins and Mike Patterson showing signs of decline (nine and eight years in the league, respectively) Cox will play early and often.
Mychal Kendricks (LB, Round 2, No. 46 Overall)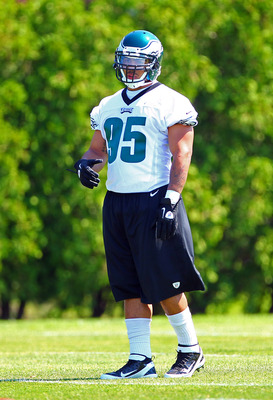 Minicamp is literally only the beginning.
Rich Schultz/Getty Images
In Mychal Kendricks, the Eagles hope they have found someone to stanch the bleeding from the gashes the front seven sustained against the run last season.
Kendricks is not undersized, per se, but at 6' even (or 5'11" as the Eagles have listed him) he is not going to be confused with the New York Giants' Mathias Kiwanuka or the Denver Broncos' Von Miller.
As with Cox, though, the corps Kendricks joins was so ordinary last season that Kendricks will probably be given the chance to earn starter's reps, if not a starting position by midseason.
Vinny Curry (DE, Round 2, No. 59 Overall)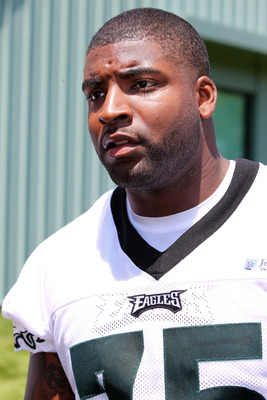 The face of hope, i.e., the Eagles hope he is better than Brandon Graham.
Rich Schultz/Getty Images
The Eagles have spent the past two seasons watching Jason Pierre-Paul of the New York Giants terrorize the NFL generally and the NFC East specifically, after passing over Paul to pick Brandon Graham two spots earlier in the 2010 NFL draft.
The Eagles liked Curry enough to spend a second-round pick on him. They would love him to play like Jason Pierre-Paul, but they would probably be satisfied if he just plays better than Juan Pierre or Sean Paul.
Or Brandon Graham.
Brandon Boykin (CB, Round 4, No. 123 Overall)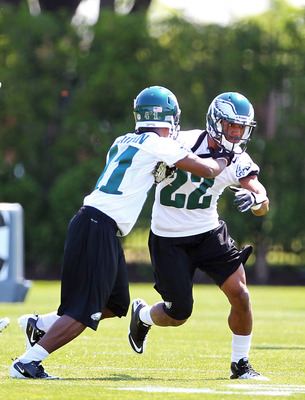 Only within the first five yards, Brandon.
Rich Schultz/Getty Images
Brandon Boykin was selected in the fourth round largely as insurance against injury to Nnamdi Asomugha, continued ineffectiveness by Dominique Rodgers-Cromartie, and a possible trade of Asante Samuel.
In the absence of a spate of missed games by the highly-paid "name" players in the secondary, Boykin is likely to serve as roster depth and on special teams.
Marvin McNutt (WR, Round 6, No. 194 Overall)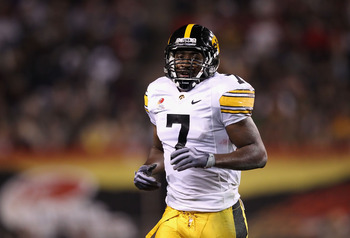 From the Iowa Hawkeye files.
Christian Petersen/Getty Images
Normally, one could dismiss the likelihood of a sixth-round wide receiver seeing the field for the Philadelphia Eagles as remote.
But while the Eagles have a strong receiving group, 2011 proved that nothing can ever be taken for granted. DeSean Jackson's troubles were well-documented and he has a concussion history. Jeremy Maclin missed three games, was ineffective in a few of the games he played in and saw his receiving touchdowns cut in half from 10 to five.
Jason Avant is a reliable slot guy who does not miss time, but going into his seventh season in the league, you wonder how long that can last. McNutt may yet have a chance this season to play, and anyone on the field with Michael Vick can be dangerous.
Bryce Brown (RB, Round 7, No. 229 Overall)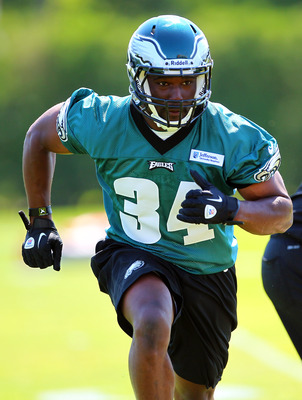 Bryce Brown. Among other things, he is not Ronnie Brown.
Rich Schultz/Getty Images
The Eagles just gave LeSean McCoy $20 million-plus in guaranteed money, so Bryce Brown does not figure to supplant him as the Eagles' RB1 in the near future.
But the Eagles have expressed an interest in finding someone to ease the load on McCoy (285 touches in 2010, 321 in 2011) and the efforts of Ronnie Brown and Dion Lewis led at least in part to Michael Vick being the team's second-leading rusher.
That is unlikely to change, but the Eagles would like to see a running back ease the burdens on both McCoy and Vick, and they would be thrilled if Brown could be that player.
Nick Foles (QB, Round 3, No. 88 Overall)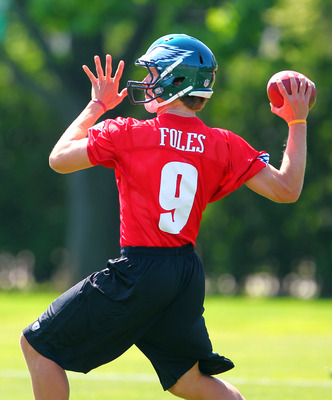 Boy, Vince Young wasn't gone five minutes and they gave his number away.
Rich Schultz/Getty Images
The Eagles must really like Nick Foles to spend a third-round pick on him; they have to, because aside from having Michael Vick to start games at quarterback, they also have Mike Kafka (who played for them last season and knows the offense) and Trent Edwards (who has starting experience in the NFL) on the roster to back Vick up.
Truthfully, Foles' lot in 2012 could be anywhere from the practice squad to, um, the third quarterback behind Kafka or Edwards. There is not much else for him to do in 2012 but watch and learn.
Dennis Kelly (OT, Round 5, No. 153 Overall)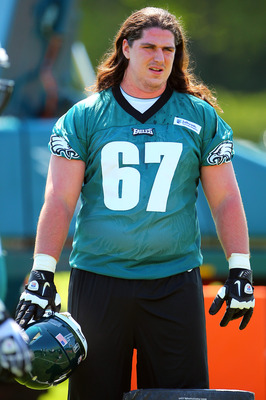 You tell him his hair is too long.
Rich Schultz/Getty Images
Dennis Kelly joins a long and distinguished list of mid-to-late round offensive linemen (Jason Kelce, King Dunlap, Todd Herremans) who nobody has ever heard of before draft day and yet will be given every opportunity to work into the rotation and/or start when one of the regulars misses time.
Brandon Washington (OG, Round 6, No. 200 Overall)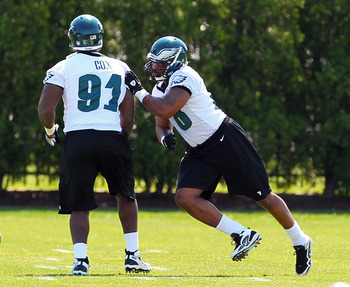 Only one of them seems to know that practice started.
Rich Schultz/Getty Images
Brandon Washington could see some time at guard for the Eagles this season, particularly if Danny Watkins continues to struggle with durability and/or performance.
Chris Polk (RB, Undrafted Free Agent)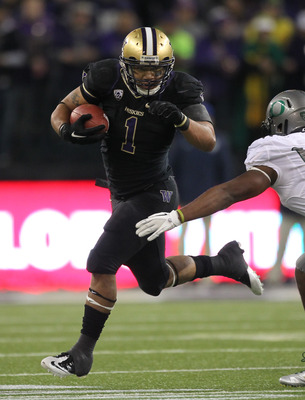 Durability questions submarined Polk's draft stock.
Otto Greule Jr/Getty Images
Chris Polk started all 13 games for the Washington Huskies last season, rushing for 1,488 yards and 12 touchdowns.
Keep Reading

Philadelphia Eagles: Like this team?