10 Outstanding Individual Seasons in MLB That Nobody Is Noticing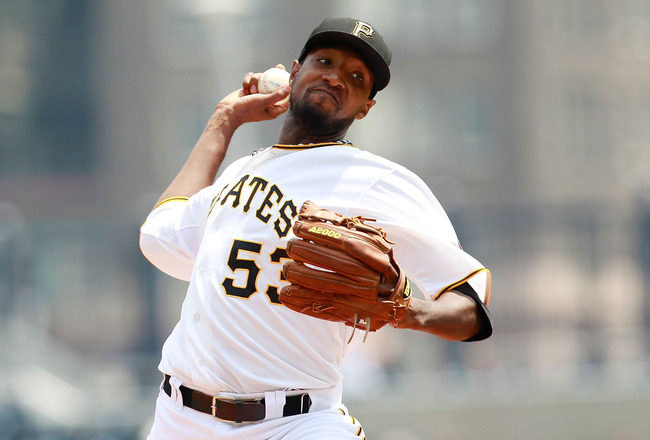 Pittsburgh Pirates hurler James McDonald has been one of the best pitchers in baseball this season.
Jared Wickerham/Getty Images
Even the average baseball fan knows everything there is to know about Josh Hamilton, Justin Verlander, David Wright, Joey Votto, Giancarlo Stanton and Gio Gonzalez. These guys are all having tremendous seasons, and they're getting the credit they deserve.
Sadly, there are quite a few players out there who are having great seasons, but not getting the credit they deserve.
This is a damn shame, and I aim to do something about it. Who's with me?
[Waits...pretends to hear cries of "Yay!"]
Good, I'm glad you're all coming with me on this one.
What we (meaning I) are going to do here is shed some light on some awesome individual seasons that are happening way under the radar. I see 10 players in particular out there who aren't getting their just deserts.
Let's start the show.
10. Scott Atchison, RP, Boston Red Sox
Hannah Foslien/Getty Images
Wait, a Red Sox player not getting credit for something?
Is this...is this some sort of paradox?
Ordinarily, yes. Red Sox players tend to get a ton of credit when they're doing well, oftentimes too much credit. 'Tis the way of things.
Scott Atchison, however, has managed to fly under the radar even in Boston. For much of the season, he's been a godsend for a Red Sox bullpen that has needed as much help as it can possibly get.
Entering Friday's action, Atchison was tied for the league lead among relievers with 29.1 innings pitched. In those 29.1 innings, he has allowed three earned runs, good for an ERA of 0.92.
Among qualified relievers, only six pitchers have Atchison beat in the ERA department. He also has an impressive 4.00 strikeout-to-walk ratio, and he's holding hitters to a .196 batting average.
In short, he's been arguably the best non-closer relief pitcher in baseball this season.
9. Jason Vargas, SP, Seattle Mariners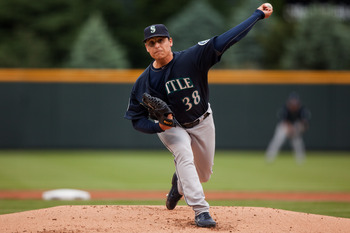 Justin Edmonds/Getty Images
Justin Verlander leads Major League Baseball with 81.1 innings pitched. He's been a machine.
Anybody care to tell me who ranks second in the league in innings pitched?
Yup, it's Jason Vargas. Of course it's Jason Vargas.
Vargas has pitched exactly 78.1 innings in his 12 starts. He's pitched at least six innings in all but one of them, and he's allowed three earned runs or fewer in nine of his 12 starts.
Vargas isn't doing anything fancy. His K/9 is a mere 5.74, and he has a modest strikeout-to-walk ratio of 2.50. Even his ground-ball rate of 40.6 fails to impress.
Nonetheless, Vargas is holding hitters to a .214 batting average, and he has a 1.03 WHIP that ranked fifth in the American League entering Friday's action.
He hasn't been great, but he's been as consistently good as any pitcher in baseball.
8. Josh Reddick, OF, Oakland A's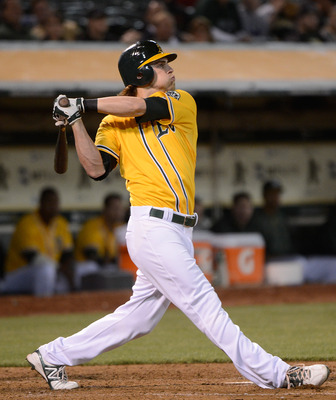 Thearon W. Henderson/Getty Images
When they make a movie about Josh Reddick's 2012 season, it shall be called The Chronicles of Reddick.
I know. Awful. But you know as well as I do that it had to be done.
At any rate, Reddick is basically the only guy in Oakland's everyday lineup who can hit. He's hitting .268/.335/.546, to be exact, and he has 14 home runs and 27 RBI.
Heading into this season, Reddick had 10 home runs and 37 RBI in parts of three seasons with the Red Sox. He's on pace to hit 44 home runs this season.
I would say the Red Sox would love to have him back, but Ryan Sweeney has been very good, and they're going to get Andrew Bailey back at some point.
So on balance, the trade that landed Reddick in Oakland is going to end up working out for both clubs.
7. Jed Lowrie, SS, Houston Astros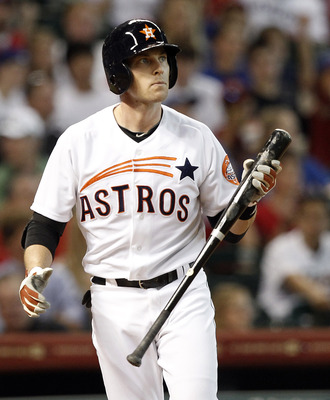 Bob Levey/Getty Images
Jed Lowrie is finally getting a chance to play every day, and he's making the most of it.
Lowrie, whose tenure with the Boston Red Sox had plenty of ups and downs, is hitting .283/.357/.482 with eight home runs and 21 RBI. His .839 OPS ranks fourth among major league shortstops.
Lowrie has been surprisingly good in the field as well. He never had a reputation of being a great fielder, but so far this year he has a 5.0 UZR and three defensive runs saved. Both of those numbers are better than average.
Add it all up, and you get a player with a WAR of 2.2, according to FanGraphs. The only shortstop in baseball with a higher WAR is Elvis Andrus.
Clearly, there's something in Texas water that agrees with shortstops.
6. A.J. Ellis, C, Los Angeles Dodgers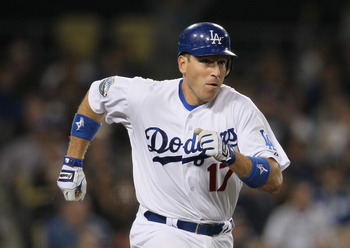 Victor Decolongon/Getty Images
Who's the best catcher in baseball right now?
Well, the numbers say it's not Yadier Molina. It's not A.J. Pierzynski either.
The numbers favor A.J. Ellis.
Ellis is having a great season offensively, as he's currently hitting .316/.429/.493 with five home runs and 23 RBI. He leads all qualified catchers in on-base percentage and OPS.
Somewhat surprisingly, Ellis is also having a great season behind the plate. He has a highly respectable 3.31 catcher's ERA, and he's thrown out 16 would-be base-stealers.
According to FanGraphs, Ellis leads all catchers with a 2.5 WAR.
Not bad for a guy who played 59 games at the Triple-A level last season.
Author's Note
A lot of commenters have pointed out that Phillies catcher Carlos Ruiz is having a better season than A.J. Ellis.
This is true, and that's my bad. When I was double-checking catcher numbers Friday evening, Chooch was absent from FanGraphs' list. I presume that this was because he lacked the minimum plate appearances (he has missed games with injuries this year, after all). Or maybe I was just temporarily blind and didn't notice him.
Whatever the reason, I shouldn't have spaced on Ruiz's awesome season. Oops.
Regardless, Ellis' place on this list is still justified. He's having an excellent season, and he's not getting as much credit as Ruiz and other top MLB catchers.
5. Jason Kipnis, 2B, Cleveland Indians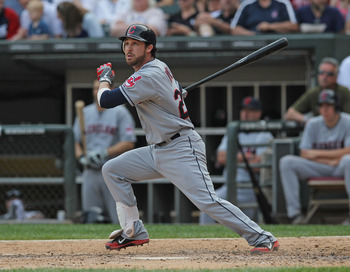 Jonathan Daniel/Getty Images
All hail the JK Kid, as he is known on Twitter. He's on his way to becoming the best all-around second baseman in the American League, maybe even in all of baseball.
Kipnis can do it all. He's hitting .283/.344/.463 with nine home runs, 34 RBI and 12 stolen bases.
If he stays on this pace, he's going to end the season with 29 home runs, 108 RBI and 38 stolen bases.
Indians fans have started to come around recently, but the club is still dead last in baseball in attendance, according to ESPN.
Once they start packing the ballpark on a consistent basis, Kipnis' legend will start to grow.
4. Martin Prado, LF, Atlanta Braves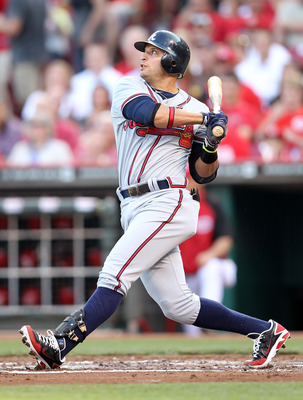 Andy Lyons/Getty Images
Josh Hamilton has been hands down the most valuable left fielder in baseball this season. It's not even close.
After him, it's a toss-up between reigning NL MVP Ryan Braun and...Martin Prado?
Apparently, yes. According to FanGraphs, both Braun and Prado have a WAR of 2.9, and that ranks second behind Hamilton among major league left fielders.
Prado is having a very good year offensively. He's batting .332/.408/.495 with three home runs, three triples and 16 doubles. He's added seven stolen bases.
Prado has played other positions besides left field, to be sure, but he's having a very good season in left defensively. He has a UZR of 8.3 in his time in left, as well as six defensive runs saved.
If you haven't voted for All-Stars yet, Prado deserves some love when you finally do.
3. Mike Moustakas, 3B, Kansas City Royals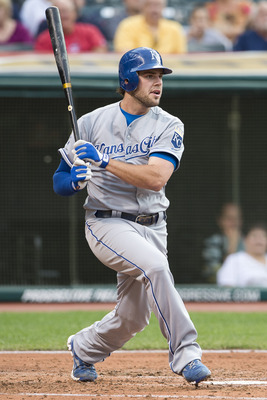 Jason Miller/Getty Images
Right now, it's hard to argue that the best third baseman in baseball is anybody other than David Wright. He's having a great season.
But the best third baseman in the American League? That honor goes to Mike Moustakas.
Moustakas is having a great season at the plate. He entered Friday's action hitting .272/.335/.485 with eight home runs and 24 RBI. His .820 OPS ranks third among AL third basemen.
It's not just what Moustakas is doing at the plate that makes his 2012 season special. He's also having a Gold Glove-caliber season in the field. He has a 9.7 UZR and six defensive runs saved.
According to FanGraphs, Moustakas' WAR is 2.2. The only third baseman with a higher WAR is Mr. Wright.
2. James McDonald, SP, Pittsburgh Pirates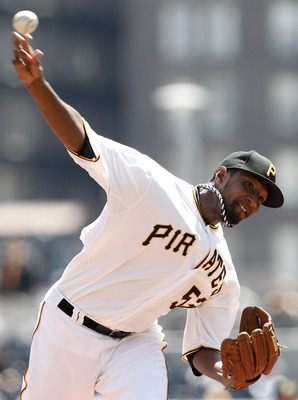 Jared Wickerham/Getty Images
Gio Gonzalez is the best pitcher in the National League right now. There's really no argument there.
But James McDonald isn't that far behind him. Very quietly, he's having a Cy Young-caliber season.
In his 10 starts, McDonald has a modest 4-2 record, but he also has a 2.20 ERA and a 0.96 WHIP. He's struck out 63 hitters in 65.1 innings pitched, and he's walked only 19. Hitters are hitting him at a .196 clip.
McDonald was particularly good in the month of May. He only gave up six earned runs in his five starts, and he gave up one run or fewer in four of them.
It's too bad he pitches for the Pirates.
No, seriously. He deserves better than the Pirates. They couldn't score runs if you paid them to score runs.
That, of course, is the front office's problem.
1. Michael Bourn, OF, Atlanta Braves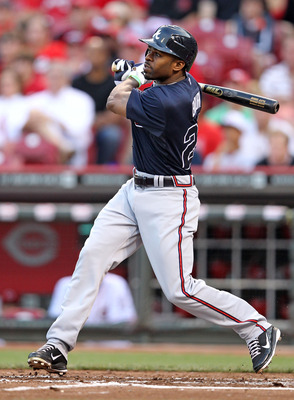 Andy Lyons/Getty Images
Admittedly, Michael Bourn is getting some love from the national media. Nobody is completely blind to what he's doing this season.
Nonetheless, I still don't think Bourn is getting the credit he deserves.
Bourn is hitting .299/.354/.439, and he's once again stealing bases at an impressive rate. He has 14 steals already and is on pace to steal over 40 bases when all is said and done.
He's hitting for more power than usual too. Bourn is up to five home runs already, which means he's already tied his career high for a full season. He's on pace to hit 16 home runs this season.
That's not all. In the field, Bourn is arguably the best defensive center fielder in baseball, as he has an 8.9 UZR and 10 defensive runs saved. He and Martin Prado cover a ton of ground in the outfield.
All told, Bourn has a WAR of 2.8, according to FanGraphs. That ranks him ahead of players like Paul Konerko, Andre Ethier and Carlos Beltran.
If the Braves make a run at the postseason this year, Bourn should get some MVP love. He's been that good.
If you want to talk baseball, hit me up on Twitter.
Keep Reading