This Week in MLB History: Lou Gehrig Starts Something Special on June 2, 1925
June 1, 2012

Welcome to "This Week in Baseball History," a special feature on B/R's Horsehide Chronicles blog meant to get you up to speed on baseball trivia. The game of baseball has provided us with a ton of memories since it was born in Hoboken, New Jersey in 1846, and this is where those memories will be revisited.
When the 1925 season began, Lou Gehrig wasn't "The Iron Horse" yet. He was just a 21-year-old ballplayer trying to make a name for himself.
Gehrig played sparingly in the first couple weeks of the 1925 season. New York Yankees manager Miller Huggins only gave him spot duty in the outfield and pinch-hit appearances here and there. When the month of May came to an end, Gehrig had made only 11 appearances (five starts), and he had four hits in 23 at-bats.
When Huggins called on Gehrig to pinch-hit in a game against the Washington Senators on June 1, nothing was out of the ordinary. He stepped in for Paul "Pee Wee" Wanninger, made an out, and returned to the bench.
The next day, Huggins made a drastic decision. With regular first baseman Wally Pipp struggling to the tune of a .244 batting average, Huggins decided to give Gehrig the start at first base.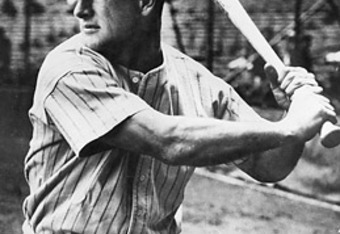 He responded by notching three hits in five at-bats, scoring once. With those three hits, Gehrig upped his batting average from .167 to .241.
Gehrig started at first base again the next day. And again the day after that. And again. And so on straight through to the end of the 1925 season, which he finished with a .295 batting average and 20 home runs.
It wasn't until April 30, 1939 that Gehrig finally missed a game. Starting with that surprise start on June 1, 1925, he went on to play in 2,130 consecutive games. That record stood for nearly 60 years until Cal Ripken, Jr. broke it in September of 1998.
Gehrig, of course, was forced into an early retirement in 1939 after he was diagnosed with amyotrophic lateral sclerosis. He retired with a .340 lifetime batting average, 493 home runs, 1,995 RBI, and one truly amazing speech.
He died on June 2, 1941, exactly 16 years to the day after Huggins had decided to give him a start at first base over the struggling Wally Pipp. 
Special thanks to Baseball-Reference.com for the vital information.
If you ever want to talk baseball history, hit me up on Twitter.